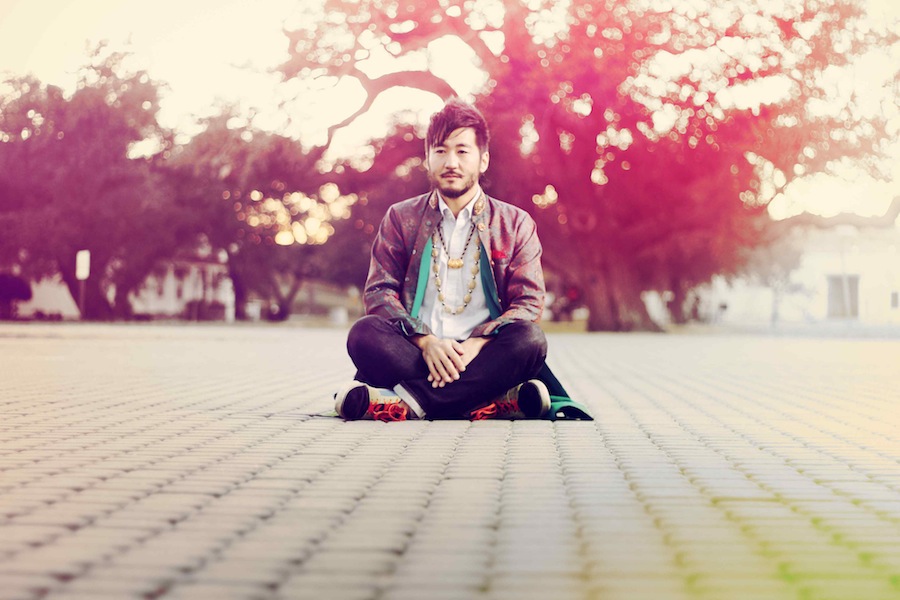 Words by Arye Dworken
It's hard to know where your eyes should go during a Kishi Bashi set. Should they watch the one-man orchestra pluck his violin, beatbox and harmonize alongside his own self-perpetuating loops, or should they scan the crowd–a dumbfounded mix of amused smirks, tilted heads and sporadic bouts of silence, the kind rarely seen on the opening act circuit?
Sparked by a successful Kickstarter campaign, the part-time Of Montreal violinist recently embarked on a solo career with 151a (Joyful Noise), a decidedly old-fashioned pop record that's built on the back of jubilant choruses and candied charm. A shift to headliner status, like Andrew Bird and Owen Pallet before him, can't be far behind…
Kishi Bashi is a pseudonym for your real name, K Ishibashi. How did you wind up with a first name only as a singular letter?
My Japanese grandfather gifted me my first name, which is Kaoru. For Americans, two consonants are impossibly difficult to pronounce correctly. I got "cow doo" and "kangaroo" a lot so at 13, I decided to just go with K.
Where did you grow up? And what kind of music were you exposed to as a child?
I grew up in Seattle, Ithaca, NY, and Norfolk, VA. My parents honestly love music, so they really encouraged me to play from an early age. I listened to a lot of classical music and I remember my mom had some Beatles and Platters albums.
Aside from the costs of touring with a band, why perform solo on stage? And having played along with a band, how much does it differ being up there alone?
Playing solo is extremely satisfying because of the intimacy you can get with your audience. You can single-handedly ride the emotion of the audience. Being in a band is great because you can party with the audience in a way that only a rock band can. I like both. I get my party fix by performing with of Montreal.
You're also the lead singer of the band Jupiter One? How does your songwriting differ as a soloist than the material you write for the band?
Jupiter One is an aggressive synth rock band, so I was only really able to showcase that side of my songwriting. It was all pretty guitar and keyboard based songwriting. I really tried to push myself in a different direction by writing on the violin, which is a tricky instrument to write on.
On the Jupiter One Wikipedia page it lists release dates for music up until 2022. Is that ambition, or a creative Wiki contributor?
Haha. I think that's Kevin Barnes. I got back at him by contributing to his…
You've toured with both Regina Spektor and Of Montreal: who has the more debauched backstage antics?
I'm sure we can all guess the answer to that one. Although Regina has a pretty spicy personality.
You funded your new album through Kickstarter and surpassed your goal. Did you anticipate that kind of response?
I definitely did not. I was really amazed at how generous and genuine people were in supporting me. I realized that a lot of people want to get involved beyond just buying the album or coming to the show. People really wanted to see me succeed, and I'm eternally grateful to them for that.
The sound on the album is overly sunny. Would you describe this as your disposition?
I generally have a very positive outlook on life, although there are no limits to how dark my imagination can get. One focus was that I tried to make this a very enjoyable positive album.
There have been many comparisons of your music to Animal Collective, Owen Pallett and Andrew Bird, but I'd like to know whom you attribute your influences to?
They are influences for sure. I love Andrew Bird, and I listened to [Animal Collective's] Merriweather Post Pavilion a lot. For this album, I really dug into the sonority of the violin and tried to get inspired by those sounds. Musically, I can't pinpoint any major influences, because I literally listen to and absorb everything, from world music to contemporary classical music and electronic things. Songwriting wise, I lean towards very simple songs that create imagery, like Dylan, Tom Waits, Paul Mcartney and Leonard Cohen.
Personally, I hear '60s psychedelic folk influences on the record, like Love, Incredible String Band and Pearls Before Swine. Can you speak to that presumption?
Oh, yeah. I love analog synthesizers, so I'm at home with that sound very much. I love ELO, Kraftwerk, Giorgio Moroder and all things synth. I also use zithers and Nashville tuning on my acoustic guitars on the album, which tend to sound like harpsichords.
You recorded your album on your own without a label; since the album release, has there been changes for you?
Yes! I'm on Joyful Noise now and they really helped me make a splash with this debut. I debuted on the Billboard charts!
You seem to dress up in a traditional garb for live shows–can you explain the reason or the symbolism of that?
Haha. It probably looks ethnic because I'm Asian. I'm just used to adding flair because of touring with of Montreal.
The music is at once childish and playful yet evocative and heartfelt. What are some of your influences outside of music that capture or inspire some of these sentiments?
After working on two of Montreal albums, I realized how conservative my production was. I tried to be as interesting and wild as possible for my debut just to push myself. I'm still a simple songwriter, but I decided early on to make my album very multi-layered.
How do you approach lyrics–as a part of the overall soundscape, or as a medium of conveying a message? To get more specific, the "suck my finger" declarative in "Atticus, In the Desert."
I like my imagery to be powerful and I also like them to be provocative as well. If you dig deep enough, you'll find a healthy does of sexual frustration.