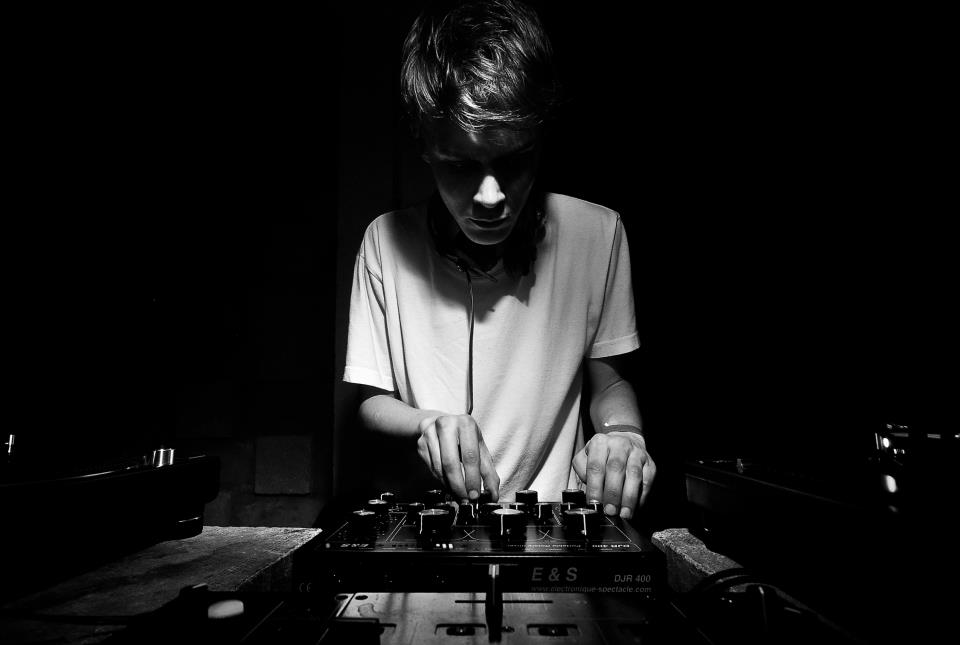 Words by Mitch Strashnov
The saying "the more things change, the more things stay the same" does not apply to Arthur Cayzer, better known as Pariah within the world of underground electronic music. Over the last couple years, the producer's soulful take on UK garage took a sharp left turn with the help of fellow R&S labelmate/Karenn collaborator Blawan. Together, the two established Works the Long Nights (or SHEWORKS), a label dedicated to break of dawn beats.
Equal parts experience and techno intrigue, SHEWORKS has already released heavy material from Sunil Sharpe, Midland and Karenn themselves; however their latest double pack provides an encompassing new look into the Karenn process that hadn't been unearthed until recently. A project that has firmed its own footing, Karenn is evolving rapidly, with a hardware-centric live show that changes with every performance. And while the live show is the epicenter of what's actually being heard, it's not the end of the story in the slightest. Pariah spoke to s/t about the past year, the inception of the label and Karenn project, and why it should be treated as something completely separate from his solo work…
self-titled: Let's start with the fact that it seems like the Pariah that people have known since "Detroit Falls" has been kind of phased out. What brought upon the stylistic changes in your sound and how would you describe the transition since that time?
I wouldn't say that it's phased out for good, but I would definitely agree that my music has changed over the past year or so. I went through this weird stage last year where, for some reason, I was unhappy with the music that I had released and that's maybe why the shift in sound occurred. Looking back on it though, I was being silly and overly self-critical and, two years on from "Detroit Falls" and Safehouses, I'm really proud to have been involved with those records. Recently I've been really striving to get more melody into my music and I guess one of the remixes I did for Lucy was an attempt to kind of make a link between my old stuff and my new stuff; but I guess every producer goes through different phases. I mean, for example, one of the things that I love about someone like Levon Vincent is that he can put out these really dark, menacing tracks like "Double Jointed Sex Freak" and then completely flip it with tracks like "I Owe You Everything," which is a beautiful piece of music.
It's not a rule that you just have to do one thing or the other; diversity is really important to me.
That being said, the latter half of 2012 has been full of Pariah releases, whether it's your own self-released work, the Rift EP on R&S or your very straight-forward remixes on Lucy's latest release. What do you think you've accomplished in terms of letting people where Pariah's headed next?
Well, the Lucy remixes are probably the most straightforward, functional tracks that I've made but that alludes to the point of them–I want to make some music that is nice to DJ with. The Rift release was actually all written last year, and it was a nice addendum to "Left Unsaid" on the R&S label compilation, IOTDXI, which was released a few months prior. The collaborative release with Midland had been in the works for a long time. One of the tracks was written over two years now and the other one at the beginning of the year. For me, it really made sense to put the records out on Works the Long Nights because the tracks fit in with the ethos of what we're trying to achieve with the label. But yeah, it's been really nice to have relatively frequent releases in the last half of this year, considering it had been a long time since I'd put anything out.
While Pariah is your own sole production alias, you and Blawan started Works the Long Nights about a year ago, with a serious focus on the darker side of techno. How did you and Blawan meet and come to the point where you realized the label had to be created?
We met about two years ago and we played a load of shows together because of our R&S connection, where we soon realized we had very similar tastes and a lot of the same records. We decided it'd be cool to make a track together, and it turned out that West Norwood Cassette Library asked us both to do a remix separately, and we just gave him one together as our first experiment. We made some more music and sent it out to labels but none of the labels wanted the exact tracks that we felt were the right ones to put out. So it just made sense to do it ourselves:that's how the label began. There wasn't really much of a plan at the start but now we have clear idea about where we want to take it.
What's the sonic ethos of the label?
The name really embodies the musical direction of the label: music to be played and experienced in a club environment. It's this idea that really informs every decision that we've made about the label. It's why we press the tracks on vinyl. It's not a purist thing; it's a matter of personal taste and preference that, on a good club system, we believe that vinyl sounds better and that is how we would like people to experience the music. It's also the reason why we press up on 180g–because the records themselves are more durable and less prone to scratches.
Speaking of the label, SHEWORKS004 is in all seriousness, a stunner. It's a pure presentation of absolute techno bombast. It could actually come off as frightening to some and demonstrative to others. How did you guys approach making this collection of tracks as opposed to the first release on the label you did together?
Well the first release was made entirely on a computer and this new EP was made entirely without the use of a computer. This is because it is supposed to be a representation of the live show and we approached the recordings with tracks done in one take. Knowing the tracks we put out, there are actually some mistakes in there, but the arrangements seem natural and they're not stuck to a pattern, they're just jams. The Karenn project now revolves entirely around the live show; there's no point in a Karenn-billed DJ set, it's just Blawan b2b Pariah. Doing a live show cements our work as something different and its own separate entity. I'm looking forward to the day when the names Blawan and Pariah don't need to be placed in brackets next to Karenn.

Pieces of the release can be very broadly referred to the likes of Regis and Surgeon's (now-revived) British Murder Boys project. What were some of the influences you two had in making this record?
British techno in general, has a very strong link between punk, noise and industrial–sort of abstract aggression. Throbbing Gristle is always the link for the Downwards stuff in my mind, but I listened to a lot of punk and hardcore back in the day; being in this project reminds me a bit of being in a band as a teenager, but rather than jamming with instruments, we're jamming with machines. I think it's safe to say though that one of our biggest influences is The Analogue Cops. They taught us so much about the methods that we use when we record our music and their whole ethos to make music is very inspiring.
What's next for yourself in the coming months as well as SHEWORKS?
I don't have any firm plans; I'm writing tunes and seeing what happens. I've always felt uncomfortable with the expectation that some people have for producers to be constantly releasing new music all the time. I'm never going to release a record just for the sake of it. That being said, though, I'm hoping to release something within the first half of the upcoming year. With SHEWORKS, we're hoping to put out more records from Sunil Sharpe, others and ourselves. Stay tuned.