NO AGE: Ready for their close up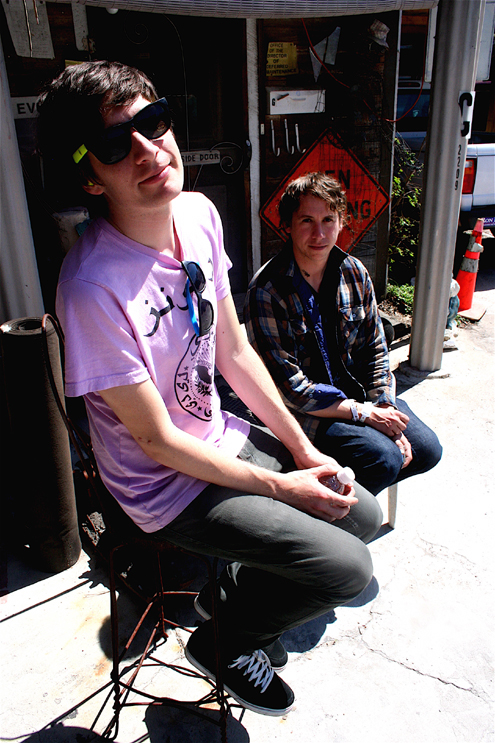 [Photo by Andrew Parks]
By Aaron Richter
As we all know by now, new releases hit record-store shelves and digital-download services each Tuesday. So every week self-titled presents a new release you'd be stupid not to own (Buy It), one worth checking out if you're the curious type (Burn It) and something you might have heard about but probably should avoid (Skip It). Simple, ain't it?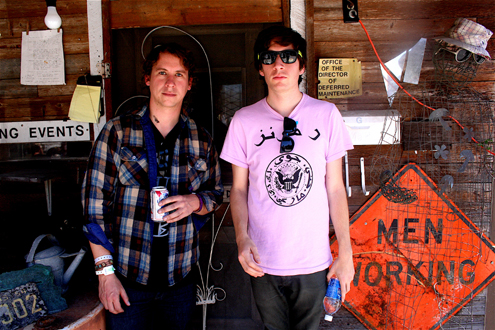 Buy It
No Age, Nouns (Sub Pop)
Holy Insane Hyperbole, Batman!!! Nouns is the most important indie rock album of 2008, just as No Age is the year's most important indie rock band. In a week that revealed that blog-bait band the Black Kids has signed to major label Columbia Records, music-nerd conversations centered on variations of the threads "Of course it makes sense that this band would want to cash in as quick as possible" and "Of course this band is exactly what Columbia Records is looking for." Because this is what being an indie bands is about today, right? Put in no work. Get a big-time management company based on less than 10 favorable blog blips. Sign to a major based on four shitty songs that you barely know how to play. Cash in. Go for the big time. Because that's exactly what major labels are looking for right now.
Fuck that, kids. How depressing is it that we can look at a band like the Black Kids signing to Columbia and consider it obvious, normal and expected? Grumble, grumble, grumble. Spit. Snort. Poop.
Thankfully, No Age is our burrito, an indie-rock band that's putting in the work, playing the shows, making the great music, not because they're trying to attain some grandiose level of instant-grat stardom that'll (maybe) make sure their children's college tuition is paid, but simply because this–exactly what they're doing now–is their dream and it's also their job. Michael Azerad wrote their bible. This is what they love. Do it your damn self. DIY(DS). And that dedication sure does show in their music.
Keeping with much of the same formula it set with the 2007 compilation Weirdo Rippers, No Age plays slash-and-smash anthems on guitar and drums with occasional strains of ambient breathers (though the Nouns' ratio of rockers to dreamy bits is clearly in favor of the circle pits). Drummer/vocalist Dean Spunt plays as if he's always slightly ahead of the beat, urging each track forward with a raucous, on-edge vitality most bands would reserve only for their live shows. Opener "Miner" wastes no time diving right into all the hard-driving sloppiness and is done before you know it. Tambourine knockin' and guitar jangled, "Eraser" starts all light and goofy, showing the group's ear for melody amid the chaos. And with its "this is this one" opening guitar bit, "Teen Creeps" is easily the best song the band has yet to writte. Spunt and guitarist Randy Randall play like they really love their songs. And each time you listen to Nouns, it's as if they're trying to prove to you that "Sleeper Hold" is the crazy rocker that makes the Minutemen sound like a bunch of wimps or that "Brain Burner" should be the soundtrack to the next time you pour a bottle of beer over your head on a hot summer day (Saturday @ 3:37 PM). This band could be your life. And, more importantly, it should be.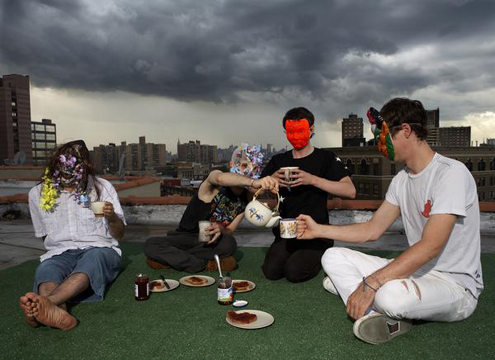 Burn It
Animal Collective, Water Curses EP (Domino)
A product of Animal Collective's Strawberry Jam sessions, the EP's first three songs–"Water Curses," "Street Flash," "Cobwebs"–seem like logical extras from the group's 2007 album. (The EP's fourth track, the forgettable but pretty "Seal Eyeing," was recorded with Nicolas Vernhes at his Rare Book Room.) "Water Curses" strikes the strongest pose with fluttering whistles and aggressively playful, choppy, hard-hitting drumming. Featuring some wicked vocal manipulation right before the two-minute mark, the song builds, builds, builds until it's over. "Street Flash," on the other hand, is light and miniscule, similar to the group's more unaffecting moments until, as the music travels away from its initial theme, the vocals cascade into a screaming wash and then pull back to become the centerpiece above distant zoinks and croaks. Of the Strawberry Jam tracks, Avey Tare continues to show comfort assuming the role of frontman. He pinches and bends his vocals, still using his verses as musical building blocks, though they're a clear focal point. The vocals play less like an instrument and more like a storytelling device, even if the group still doesn't have much of an understandable story to tell. This EP plays like what it is: a collection of not-good-enough leftovers, though, if you haven't heard it, "Water Curses" is definitely worth the download and "Street Flash" is cool enough if you're curious.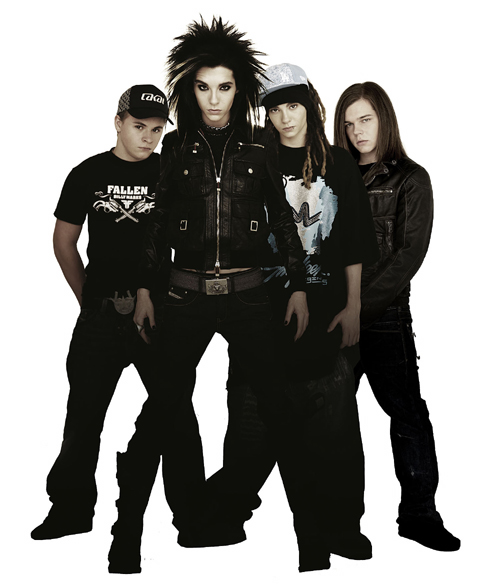 Skip It
Tokio Hotel: Scream (CherryTree)

LOL! (see photo)