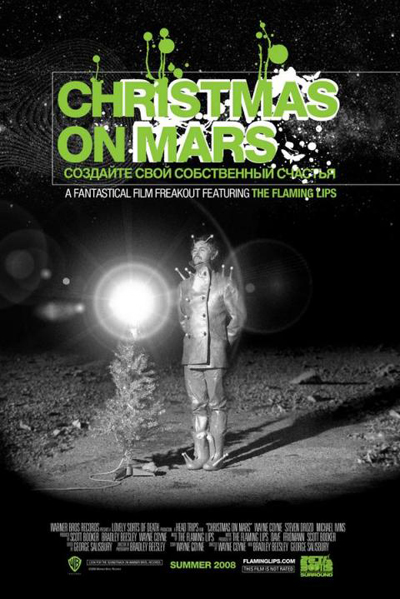 Knee-jerk reactions to Christmas On Mars, the Flaming Lips' long-promised feature film–2003 was its original release date–have started trickling in after premieres at Sasquatch! and Oklahoma City's deadCENTER Film Festival. The most revealing review we've found so far comes from a blogger named Adam Bard, who wrote the following along with a "mild spoiler alert" warning …
The movie was not at all what I expected. I had not watched any previews that existed, although the friend I went with had. I was expecting some sort of rock opera … or something more whimsical, and while there was arguably a great deal of whimsy, the end result is a far more jarring film than I had anticipated.

The film started with an announcement from [frontman/director] Wayne [Coyne] about the film, specifically about how loud it would be. It was explained that this loudness was to increase the intensity of the film, and I must say it worked–I was in a constant state of sensory overload throughout the film, and sitting through it was actually a fairly uncomfortable experience … The film featured many disturbing hallucinations suffered by the protagonist, accompanied by loud, dissonant synth chords, and by the end of it I was feeling rather lightheaded. It was certainly an experience I would encourage to anyone, once, but not something I'm eager to repeat, at least not at full volume. Intense is the word.
Christmas On Mars Trailer/Teaser
[youtube=http://www.youtube.com/watch?v=ub-5zlJPnjM]
As much as we love the Lips' extravagant stage show and deep catalog of acid-damaged rock and arty pop, self-titled's a little surprised (and relieved) by Bard's initial thoughts. Considering this film's been bouncing around Coyne's head for more than a decade, we expected the worst; at the very least, a tolerable cult film for college kids and adventurous Netflix subscribers. But it sounds like the singer actually delivered on his original promise of Christmas being like "Eraserhead or Dead Man crossed with some kind of fantasy and space aspects, like The Wizard of Oz and maybe 2001: A Space Odyssey, except done without real actors or money, and set at Christmas-time."
To make matters even more interesting, Coyne has also laid out the following plans: "We want to show the movie with a mega-sound system and snow machines and just make it like a bigger event than what has become the typical movie-going experience. I'm hoping that people can watch this movie while they drink beer, smoke cigarettes, and have a good time." Whether or not these multimedia screenings happen, live band and all, remains to be seen. Either way, we're actually looking forward to seeing this film with a pair of earplugs in place.