Forget Master of Puppets and the ever-evolving D&D discs of Mastodon for a minute. If there's one metal record we reach for on a regular basis, it's Cave In's first proper full-length, the decade-old Until Your Heart Stops. A dizzying array of chord-climbing riffs, speaker-rattling vocals and traumatic time changes–not to mention the anvil-dropping rhythm section of drummer J.R. Conners and bassist Caleb Scofield–it's a prime example of masochistic pop music, catchy but chaotic stuff that wouldn't sound out of place while driving your car off a cliff.
In fact, it's so chaotic that the band often claims they can't play certain parts anymore. They'll get a chance to tonight, as Cave In continues its post-hiatus run of rare shows at the Knitting Factory's new Brooklyn location. We recently caught up with frontman Stephen Brodsky and asked him to give us a run through of the band's overwhelming back catalog, from the totally '90s hardcore of their first 7-inch to the $250,000 RCA tossed out the window while Cave In created the most bloated record of their career.
While you read, be sure to grab our playlist of crucial Cave In cuts from the past 13 years.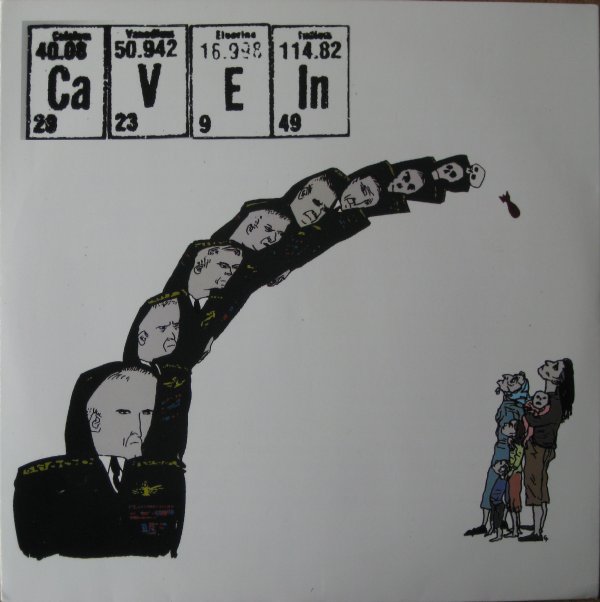 Cave In/Piebald split 7-inch (Moo Cow, 1996)
The Cave In/Piebald split marks a time in the early days when Cave In and Piebald played many a Merrimack Valley show together. Our friends, our tour mates, our pool party peeps…Travis Shettel even played bass in Cave In for a short period of time. Our side of the record cover shows the Cave In "table of the elements" logo, where we defied science by changing the "F" in Flourine to the "E" in "Cave". Seemed clever at the time.
–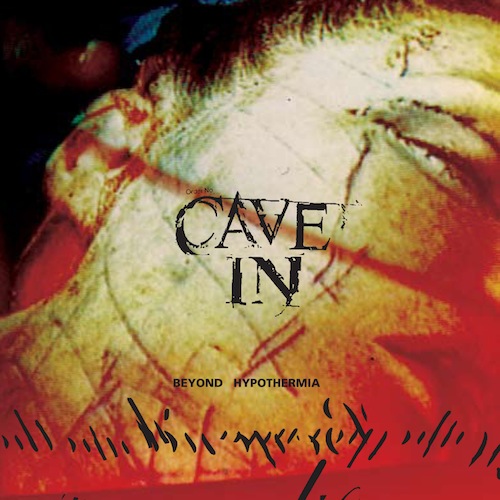 Beyond Hypothermia (Hydra Head, 1998)
A document of transition. Also our debut on CD, which was a big deal back in the mid-to-late '90s. You can hear myself, [guitarist] Adam [McGrath], and [drummer] J.R. [Conners] as being three key components in a whirlwind of lineup changes. Lead vocalists and bass players came and went, along with the experience of many growing pains as a result from the shuffle of it all. But who knows, we might not be where we are today without having this foundation of their participation. That being said, Beyond Hypothermia shows Cave In having something of a two-year-long facelift, hence the front cover–the surgery channel had just hit TV and we were all pretty big on that.
–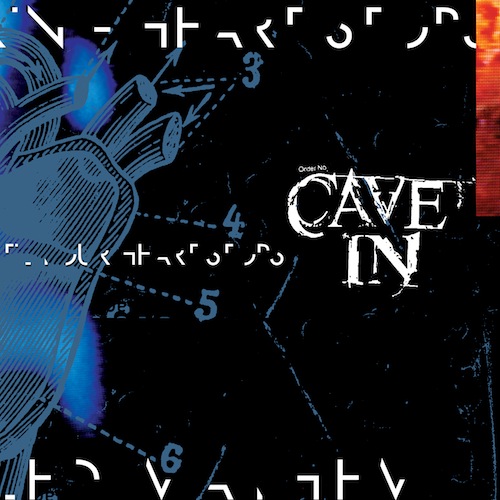 Until Your Heart Stops (Hydra Head, 1999)
The first real Cave In full-length. And it only took us about three years! The lineup felt pretty solid once we had [bassist/vocalist] Caleb [Scofield] on board, which gave us confidence to push through the process. Some of the stuff on Until Your Heart Stops felt almost too technical for our own abilities, which is what made writing it such an exciting challenge.
We really thought people were gonna dislike this one across the board. I remember feeling nervous when [Isis frontman/Hydra Head co-owner] Aaron Turner came by [Kurt Ballou's studio] God City one day during tracking to hear our progress. But he seemed pleased with the results and thankfully we were allowed to carry on with the process.
–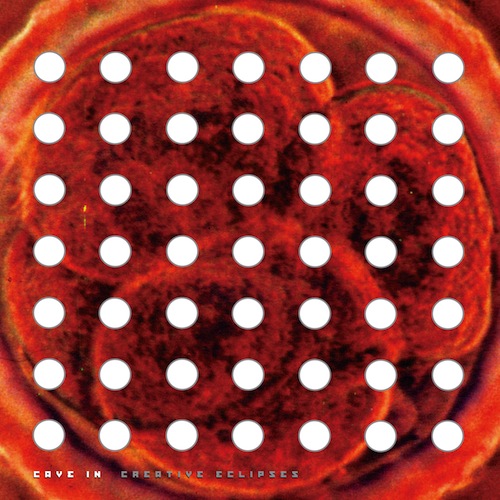 Creative Eclipses EP (Hydra Head, 1999)
We simply didn't have another full-on metal record to follow Until, and it seemed pointless to pretend otherwise. The idea of Creative Eclipses was to ease ourselves into the next step…whatever the next step was going to be. At the time, we didn't really quite know. But it came as a relief to find out that Hydra Head would support us no matter what we handed them. The 7-inch version had cool die-cut holes for a Swiss cheese effect. Managed to save a few of those for myself.
–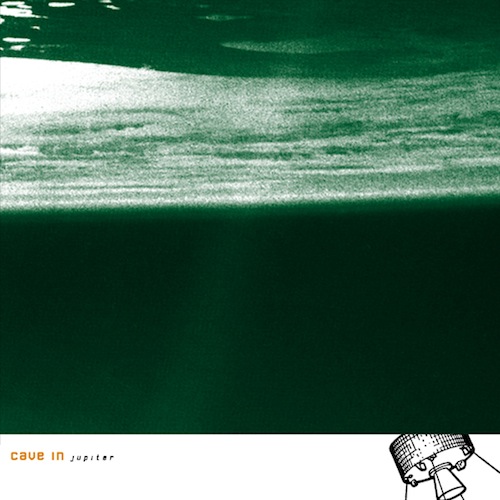 Jupiter (Hydra Head, 2000)
A different kind of chaos lead up to this one. The van fire that burned most of our gear and personal belongings forced us to reset our brains. Musically we were starting change our heads a bit anyway–it's just that the fire pushed us over the edge. Jupiter was heavily inspired by playing some shows with Neurosis. Their Times Of Grace album had just come out and we found ourselves elated by this particular mix of beauty and anger. And then seeing them perform those songs live helped us to realize we could also play melodically without having to sacrifice intensity.
–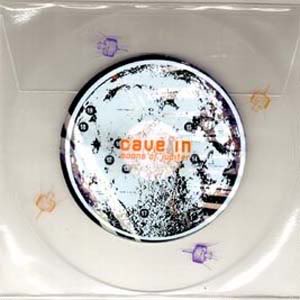 Moons of Jupiter EP (Magic Bullet, 2001)
I remember that [producer] Brian McTernan encountered some frustration with mixing the Jupiter album. Apparently there was a change in the electronics of the monitors at the Outpost after we finished tracking, and it threw everyone through a loop. As an experiment, Brian later did a remix of the song "Jupiter" at Salad Days. With the most noticeable difference being that there was more bass, he offered to remix the entire album in the same fashion. Doing so would have pushed back the release date and we declined, but still very much liking this mix we decided to release it on Moons Of Jupiter. Also on the EP are piano versions of Cave In songs. These were done one summer when I was painting schools in Brookline. I grew very fond of this one piano sitting in dark classroom and then found an old tape recorder to record with during a lunch break.
–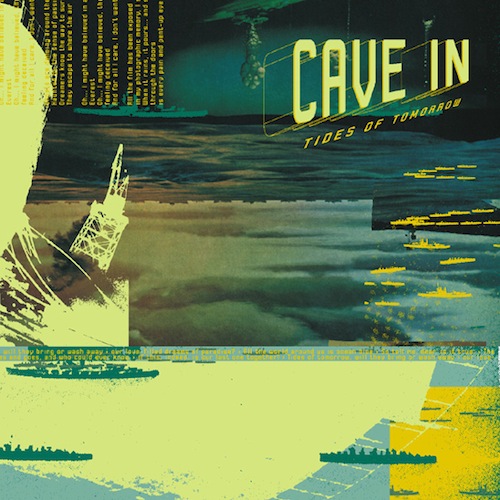 Tides of Tomorrow EP (Hydra Head, 2002)
We got really into constructing songs with an acoustic guitar. You can really hear it on stuff like "The Calypso" and "Everest." We wrote most of Tides Of Tomorrow in a basement rehearsal space in Fenway where apparently Mission Of Burma used to play when they first started. Someone found an old book of battleship illustrations at a nearby thrift-shop which then became the basis for the artwork. The LP release is also the only Cave In picture disc to date. Good memories of doing some tracking at Q Division where there's a vending machine you can buy beer for $.50 a can.
–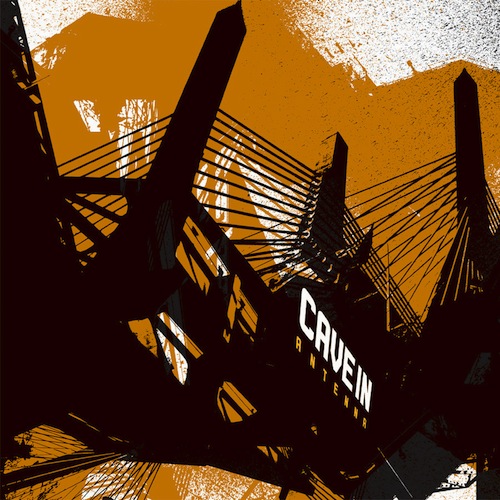 Antenna (RCA, 2003)
The big, slick rock record we spent way too much time and money making. That's basically what happens when too many people get involved in your business. Still, I can stand behind songs like "Seafrost" and "Youth Overrided." Antenna will forever remind me of things like aimlessly wandering around Amoeba Records trying to kill time, hikes in Runyon Canyon–and on one occasion almost running right into Booger from Revenge Of The Nerds–and playing Grand Theft Auto 3 for hours and hours to the point where our hands were too cramped to track instruments.
–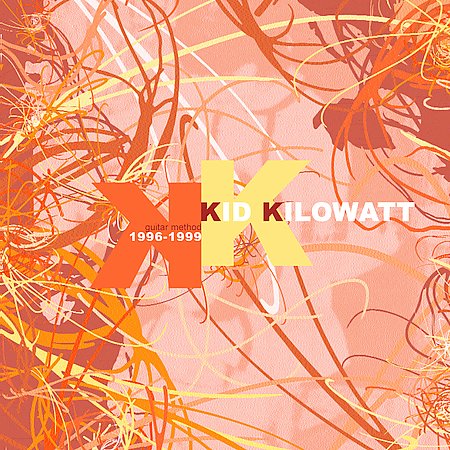 Kid Kilowatt, Guitar Method (Second Nature Recordings, 2004)
A real musical gushing on all things Giants Chair, Sunny Day Real Estate, and early Promise Ring. That's Adam McGrath on bass. [Guitarist] Aaron Stuart of Piebald was in an early incarnation of the band called Ester of Wood Rosin. He quit to focus more on Piebald, which lead us to ask [guitarist] Kurt Ballou to join Kid Kilowatt, who had also recorded the EoWR demo. He and his pink Stratocaster accepted the offer. We played some memorable shows with Regular Watts and Jejune, wearing pastel-colored suits ala the 1990 movie Dick Tracy.
–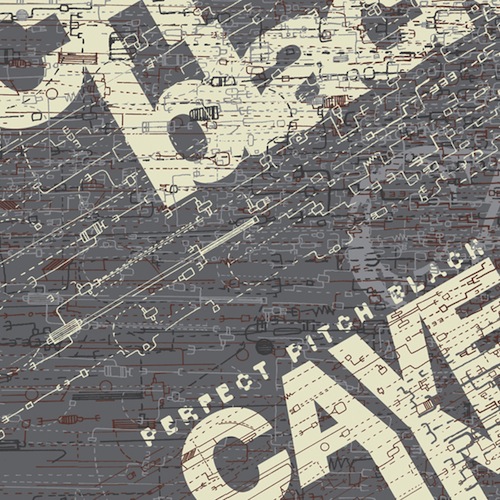 Perfect Pitch Black (Hydra Head, 2005)
It's funny–RCA had no qualms spending a quarter-million dollars for us to record Antenna but fast forward a couple of years, and they start crying over having to fork over a measly two grand to make demos for another album. Then people complained they didn't like the 'backwards progression' we were making or 'the return of the cookie monster vocals'. We started to see the writing on the wall right about the time we were dropped anyway. Thankfully they gave us ownership rights to these demos, and they became the basis for Perfect Pitch Black.
–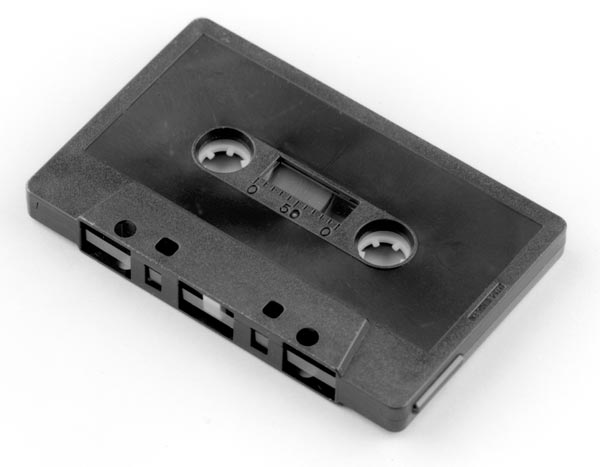 Shapeshifter/Dead Already limited cassette (Hydra Head, 2009)
Perfect Pitch Black was about to get released and we decided that we'd like to tour in support of the album. At the time, J.R. was living outside of the country and wasn't able to participate. When we chose to play with [Converge drummer] Ben Koller, it was somewhat of a natural decision–Cave In and Converge collaborated on the Verge-In recordings in 2004,  and Ben also briefly played in [Adam McGrath's] Clouds [project] less than a couple years later. "Shapeshifter" & "Dead Already" are the only two songs Cave In wrote with Ben, and they mark a unique period for us. We loved playing with Ben and he brought a positive spirit to the band at a time when we needed it.
–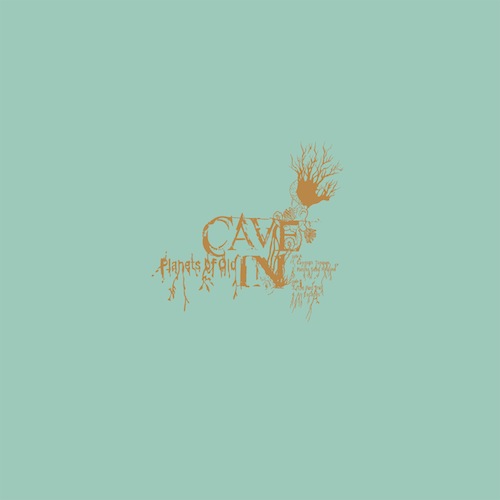 Planets Of Old (Hydra Head, 2009)
This EP is the sound of Cave In after four years of practically no activity. Songs collectively written that detail memories of nightmarish hunting trips, Boy Scout tales, and eyeballs looking back not forward. We recorded and mixed Planets Of Old in two nights, a method of working which proves that we've possibly come full-circle. In the early days we didn't have a lot of time and money to spend on making records and today it seems no different!