FaltyDL has finally shared the details behind Heaven Is For Quitters, the new album he hinted at earlier this summer with the deeply personal single "Drugs". Due out October 21st through the producer's own Blueberry Records imprint, the effort was announced via an interactive site that features a free sampler and the multimedia art of Margot Bowman.
When asked about her series of NSFW animations—all timed to the music, mind you—Bowman wrote (via It's Nice That), "[They're] inspired by our super-connected/super-isolated generation where everyone knows how to take a sexy selfie and yet young people are having less sex than ever. So the site is a kind of a DIY sex adventure that spits out all the different ways we're getting off in 2016. Sometimes with people, sometimes with geometric objects and sometimes with imaginary creatures. It's a weird anonymous world, where pleasure is lit by phone screens and neon lights. It's fantasy but it's just around the corner from the truth."
Here's what Drew Lustman had to say about his fifth LP, followed by the "Drugs" video and a few SoundCloud selections:
This album took two years to make, more time then I have ever spent on anything in my life.

I've always tried to make music for clubs and outward facing experiences, but often in spite of my best efforts I end up supplying a sound that translates best on a private personal level. The communal listening experience is great, but not my favorite, never been. I have been escaping into albums on a solo mission for as long as I can remember. As a result, I've developed a familiar closeness with dealing with myself and the emotions I navigate on a daily basis.

'Heaven is for Quitters' is at its core, about dealing with yourself, both the good and the bad. I share this album with the hope that it can be used by others as I have; a guide, a blanket, a reassurance that the path I have chosen is the right one. It is my job to share my experience and there is a lot of work to be done here on Earth, the thought of going to Heaven too early is paralyzing. I venture to think you'll agree.

It is fitting then that I release 'Heaven is for Quitters' on my label Blueberry Records, as it has become abundantly clear how much I love this label and what it is and can be – my future but ultimately continue to be a platform for others as well. When artists hand me their demos I see what Blueberry can be, this megaphone for peoples inner existence and a clear channel for their articulation. You know that feeling when you are so close to something you can't see the bigger picture, but when you step back you see what you have made and it is a mirror image of yourself? That.

This album is for those who've chosen their own path and all of its uncertainty and end up finding themselves along the way. How the roller coaster of life sounds. It is about Blueberry Records as much as it is about my daily life.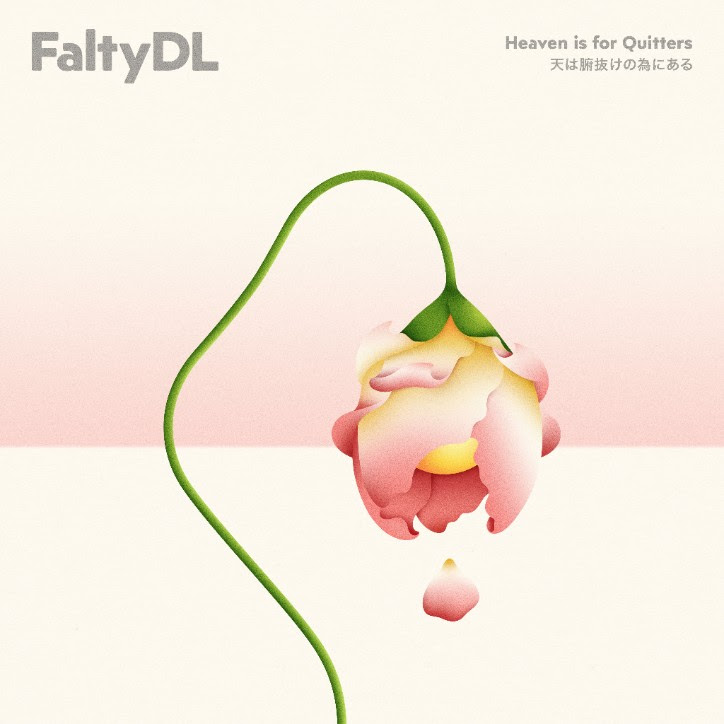 FaltyDL
Heaven Is For Quitters
(Blueberry Records, October 21st)
1. Tasha
2. Infinite Sustain
3. Frigid Air
4. River Phoenix
5. Bridge Spot
6. Drugs
7. Shock Therapy
8. Fleshy Compromise
9. Neeloon (First Kiss)
10. Whisper Diving
11. Beasts Of Heaven
12. Osaka Phantom
13. D & C