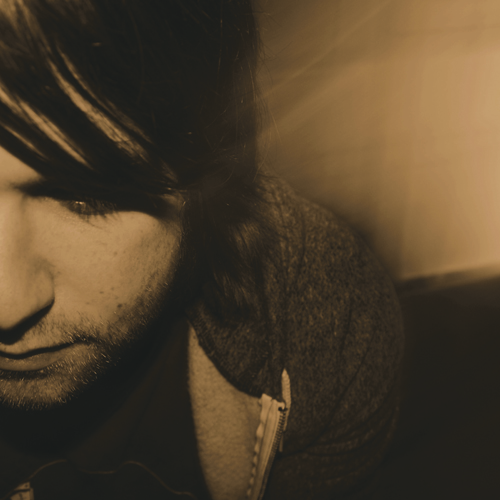 [Photo by Dorthe Winter]
No matter what our mood is at the moment, there's something about James Blackshaw's finger-picked guitar pieces that puts everything in perspective. It's spellbinding stuff, really, a downward spiral into one's subconscious that's hopeful and hopeless.
Don't believe us, though; believe the almighty Michael Gira. The former Swan recently signed Blackshaw to his Young God imprint, issuing the following statement in turn: "Recently, driving around with the car stereo blasting his music I found myself inexplicably weeping. Why??? The music's not sad, or even mournful really. It's just exquisite in an ineffable way, and taps into a place, a dream place, or a pre-thought place, which each of us might recognize was always there inside of us and is suddenly revealed. Like coming home after a painful journey, I suppose…"
Indeed, although we disagree with the claim that Blackshaw's new record, The Glass Bead Game, isn't sad or mournful. Maybe we're more emo than we'd like to admit, but some of Blackshaw's songs make us want to roll up into a ball and cry. Like Gira without the fearsome noise-rock resume.
Anyway, here's Blackshaw's take on his latest LP, complete with a full album stream…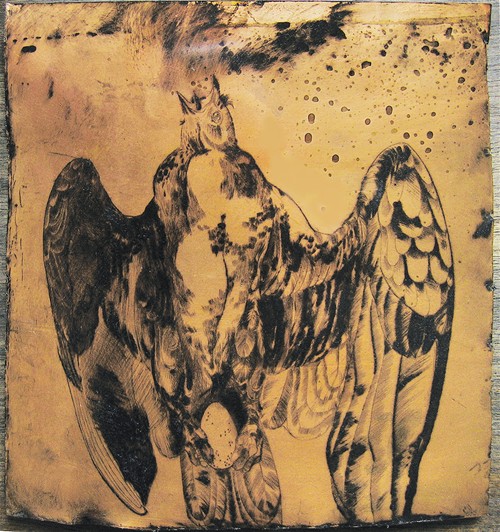 [audio:http://www.self-titledmag.com/gbg/1.%20Cross.mp3]
"Cross"
This is one of the songs I'm most proud of to date, as it feels like the most realized product of something I've been trying to perfect for some time now. I knew that I wanted to add other instrumentation to the guitar part I'd written and had ideas for strings and vocals, but some of my favorite parts of the arrangements came unexpectedly in the studio.
It was a lot of fun [developing] the syncopated "eehs" and "ahs" for Vinnie's (Lavinia Blackwall) vocal parts, which were worked out partly on a cheap keyboard and dictated that way. There's definitely a Philip Glass Ensemble/Meredith Monk feel to them, and I think it works well.
By the way, there are absolutely no religious connotations in the song title, for once.
–
[audio:http://www.self-titledmag.com/gbg/2.%20Bled.mp3]
"Bled"
Less is sometimes more. To me, this sounded like a song for solo guitar from the beginning, but it also feels a little like a final kiss goodbye to a style which I love but feel like I can't add much more to. Regardless, it's exciting to play live and involves a bit more fancy fretwork than usual. My lazy left hand needs a work out sometimes. The sparse opening is a little nod to some of my work with Brethren of the Free spirit, my duo with lute player Jozef van Wissem.
–
[audio:http://www.self-titledmag.com/gbg/3.%20Fix.mp3]
"Fix"
Reading reviews for this piece has been quite funny; it seems people either love or hate it. It's been hailed by some as the album's highpoint and derided by others as too simplistic and obvious.  Well, it is very naive and somewhat unabashedly sentimental and owes a debt to Satie and some of Michael Nyman's work. It started out as a solo piano piece and the beautiful string parts were added by Joolie Wood and John Contreras. I wanted to/needed to do something less busy and chaotic and felt there needed to be more space in my music.
Whether I'll write more pieces like this, I'm not sure, but I feel it works nicely in context with the rest of the record.
[audio:http://www.self-titledmag.com/gbg/4.%20Key.mp3]
"Key"
Another solo guitar piece, but with a greater focus on melody this time. It was one of the last things I wrote for the album and seemed to come together quite quickly and naturally. Again, I considered adding more instrumentation, but decided I like it just the way it is.
–
[audio:http://www.self-titledmag.com/gbg/5.%20Arc.mp3]
"Arc"
This piece started life when I bought a piano at the beginning of 2008. I hadn't played in years and had never learned properly in the first place. I think, as my technique slowly developed, so did the composition. Eno's Music For Airports definitely influenced the opening and the main part of the music feels somehow like an approximation of what I'd been trying to do with guitar on The Cloud of Unknowing, which was in turn inspired by pianists such as Lubomyr Melnyk–whom I recently met and had a wonderful conversation with–and Charlemagne Palestine.
This is a kind of continuous music. The string and vocal parts were improvised, amazingly, by John, Vinnie and Joolie, by listening to the overtones of the piano played with the sustain pedal held down. It took ages to mix–it's so dense, and it has a woozy kind of feeling and takes patience and endurance to listen to, as much as it does to play. I'm very proud of this piece and see things going more in this direction, though not necessarily for classical instrumentation. I believe this is Michael Gira's favorite piece too.