Lead Photo THOMAS ANOMALOUS
Words GAVIN RUSSOM
Ecstatic asked me to make a Paper Eyes mixtape to accompany the recent compilation of tracks I did under that alias between 1996 and 1998. The best way for me to do that was to create a mix that evoked the landscape I inhabited during those years—the sounds I was playing at home via records, tapes, and CDs I bought or was given by friends, the sounds I was hearing around NYC in clubs, at friends' houses and on the street, and the music I would DJ at basement parties (that's how "Astronettes" and "Masquerade" got the skips in them). I culled music from a record collection that still contains many of the same records I had at the time despite having moved a startling 17 times since I moved to New York in January of 1997. It was clearly a lot. I began to work, eventually doing two sessions of mix recording over a 12-hour period that yielded this 5hr 45 min slab of sonic territory. It's still missing a lot of things I would have liked to include. It's very personal and very true to what those years were about for me.
As a result I feel protective of it and want to include a lot of caveats in this text about what it isn't or how NOT to listen to it or think about it. However, I do believe in the power of this music so I'll let it speak for itself more or less. I will say that I absolutely despise genre categorization when it comes to music, and find the term eclectic to possibly be the worst genre categorization of them all. It's not about being contrary or difficult; for a long time, there's been a clear parallel between organizing music into genres and the colonial practice of cutting up the world into artificial states and territories—first world/second world/third world divisions and the inequalities and oppressions that arise from those practices.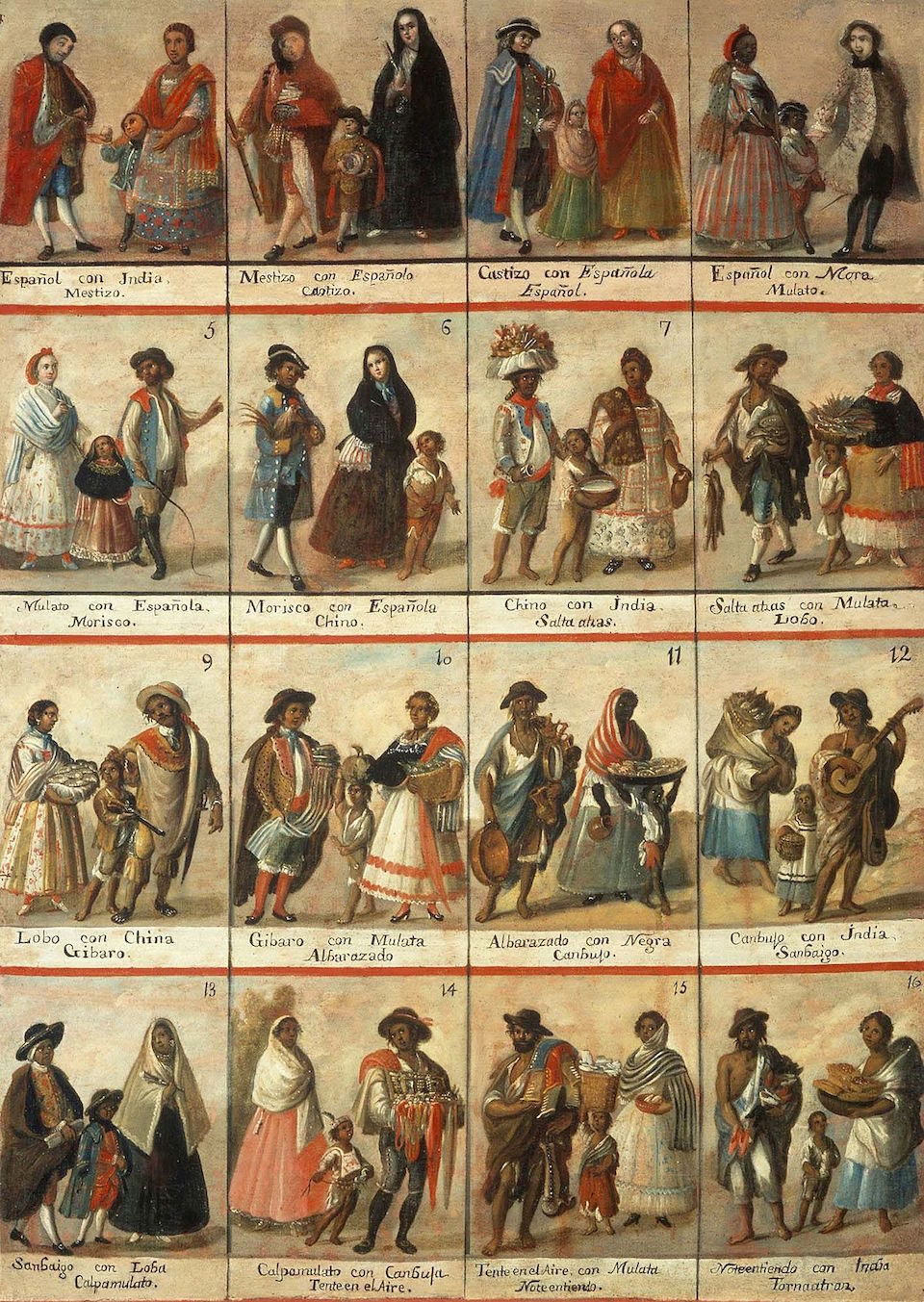 Ever looked at a Casta painting? That's what musical genre categorization smacks of to me, and it's a total gross out that many websites and streaming music platforms use it as the sine qua non of what any given piece of music is, often requiring one to list a genre as a condition of upload. This is not about eclecticism but about striving to find an authentic reflection of a complex inner experience in the outside world through the music that folks who also by and large have a complex inner experience have put out into it; reflecting on a time when I was rediscovering just how many identities were inside me and how fragmented they felt; and where I authentically felt it would be completely unacceptable to be a whole person that honored all of them out in the world. Beyond influence or inspiration—which are words I prefer to avoid because of how slippery they can be in our current capitalist, rip-off shit show—these sounds were permission to just fucking get real despite whatever fears might arise in the process.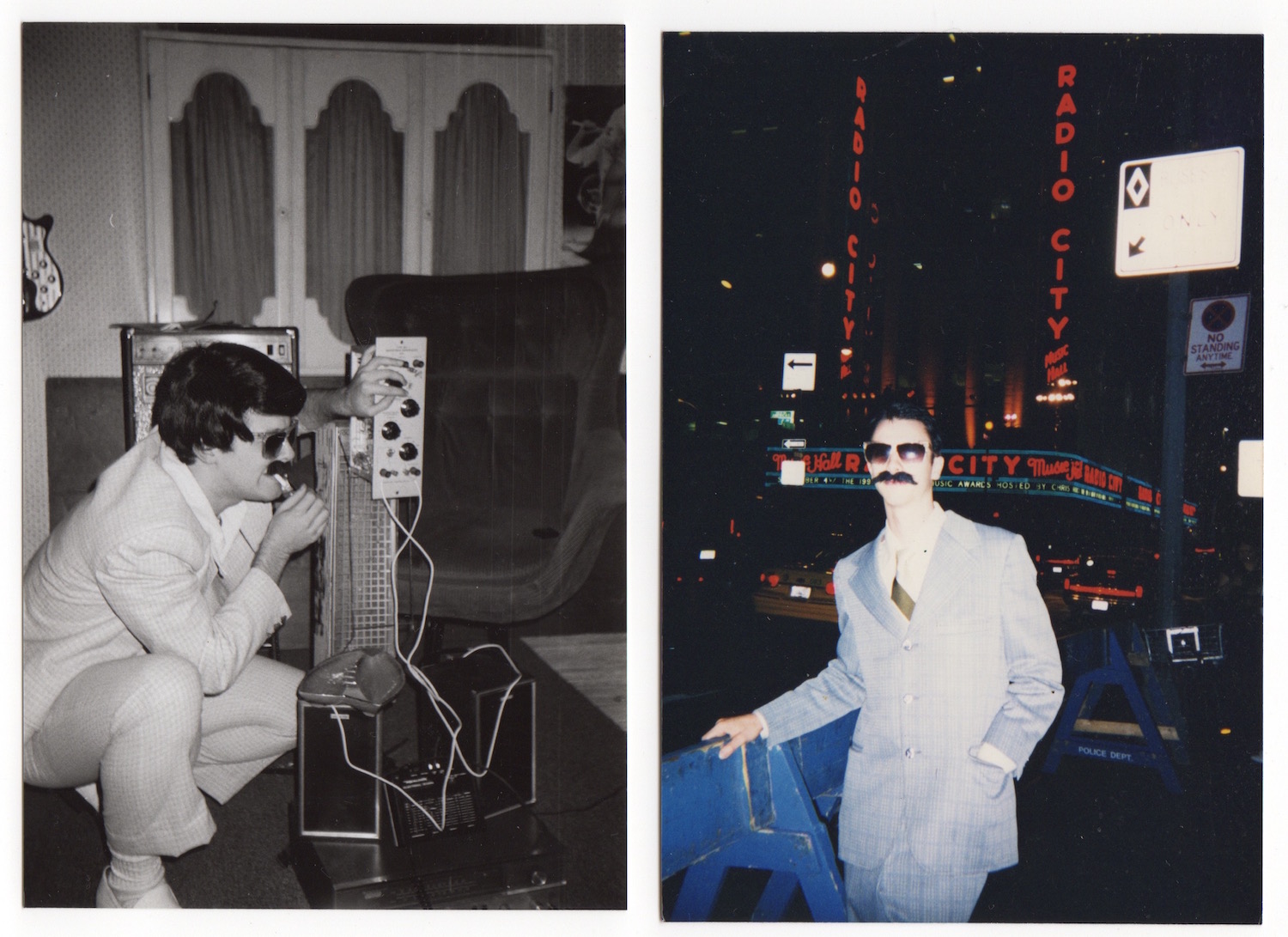 However personal this collection may be it often connects to trends of the time, some more understandable than others. Silver Apples had just reunited and there was a resurgence of interest in their music, which of course blew me away for what I am gonna just say are probably obvious reasons if you know historically what I'm into. Also most of the small group of artists I knew living in Williamsburg at the time were listening to Black Sabbath a lot. Not sure why; it just was like that. Possibly it was because the drum breakdown in "Behind The Wall Of Sleep" was begging to be sampled, looped, and rapped over. I mean, if you really want to know what the summer of 1997 sounded like in NYC, just play "Hypnotize" over and over again. Busta Rhymes' "Put Your Hands Where My Eyes Could See" was another new jam in heavy rotation and I'll never forget hearing a marching band break out into its central groove during a Mardi Gras parade I attended while spending the holiday at Quintron's house in New Orleans, but I was specifically drawn to the album opener "The Whole World Looking At Me" for a kind of ecstatic tension the lyrics and chorus created as they interacted with the shifting, slipping and blinking sounds of the track. A sonic atmosphere that for me connects this track more deeply to "Underground Babylon" than to anything else on this mix. This track made a big impression on me at the time but Busta's public homophobic comments a couple years later turned me away from enjoying and supporting his music going forward.
Beats and rhymes were everywhere and could sometimes create a bridge between us recent arrivals and the longtime residents of the neighborhoods we gravitated towards for cheap rent and a cultural complexity that was often missing from the cloistered academic institutions many of us had relocated from. These moments of connection felt like opportunities for building powerful alliances, much like the layered interplay between punk rock and the first wave of New York's hip hop culture spearheaded by Afrika Bambaataa and the Zulu Nation. Unfortunately we were also unwittingly opening the door for the current horrific epidemic of gentrification and displacement which of course is eroding both the affordable rents and rich cultural environment that made these neighborhoods the places we wanted to call home in the first place. In addition to drawing me to contemporary rap artists the sounds booming out of car radios and pumping at dance parties reignited my interest in records that had been big for me growing up like BDP's Criminal Minded, which saw a vinyl reissue around this time.
Paper Eyes wasn't the only project I was doing through these years, and often one thing I was working on bled musically into another. I was performing magic shows under the name The Mystic Satin and flea market and thrift store disco finds like "Dancing In The Fire" or "The Streaker From LAX" would figure as soundtracks for many of these shows. I had met Kelly Kuvo of The Scissor Girls at a Tony Conrad concert at The Cooler. She had just moved to New York from Chicago and we started a band called Sweet Thunder together. The idea of the band was to make a psychedelic concept record along the lines of Blows Against the Empire or the first couple Moody Blues albums, but our concept was Niagara Falls. Her guitar playing on Staticland had really blown me away so it was an honor.
Conrad's music I had gotten to know through the Outside the Dream Syndicate record which my cousin had passed me after I mentioned reading an article about La Monte Young, whose Dream House I also visited. At the time these were the only opportunities to hear a taste of The Dream Syndicate's music which had become a bit of a Holy Grail for me after reading the article. I was also in a dance-oriented synth band with artist Melissa Brown called New Method, named after the laundry service that inhabited the ground floor of the building where we rehearsed and she lived. I knew Melissa through Shawn Greenlee of Landed who I had played music with while living back in Providence for a bit in '93; they had in turn been in a band together called Computers there before Melissa moved to New York.
At the same time I was playing with Shawn, I became friends with Veronica Vasicka, then a student at RISD. Her and my next door neighbor growing up's best friend Chloe had a radio show and "Clean Clean" came from a tape they gave me of one of their shows which I listened to often after moving to New York. My connection to Providence, having grown up there, meant that I was hearing a lot of the music coming out of there throughout the '90s, and it's definitely significantly represented here.
Initially it was my interest in the tremendous healing capabilities of African diaspora spiritual techniques that guided me to the music of the Caribbean. Alberto Lopez—who later became the percussionist in The Crystal Ark—shared some of this music he was experiencing in New York with me on visits there around '94. When I made New York my home, Carribbean sounds were all around. Being somewhat bookish I was excited to discover that Tompkins Square Used Books and Records had a great selection of Trinidadian and Haitian records—many of them pressed in Brooklyn—and they also had a great stock of second-hand New Wave and Art Rock. I think I bought Shadow's "De Zess Mann", Martha and the Muffins' "Danseparc", Lena Lovich's "Stateless" and Systeme 2000's "Bossou" all there on the same day. I found Fuerza Santera and La Lupe's "Reina de la Cancion Latina" in a stack of records my Puerto Rican neighbor was throwing out.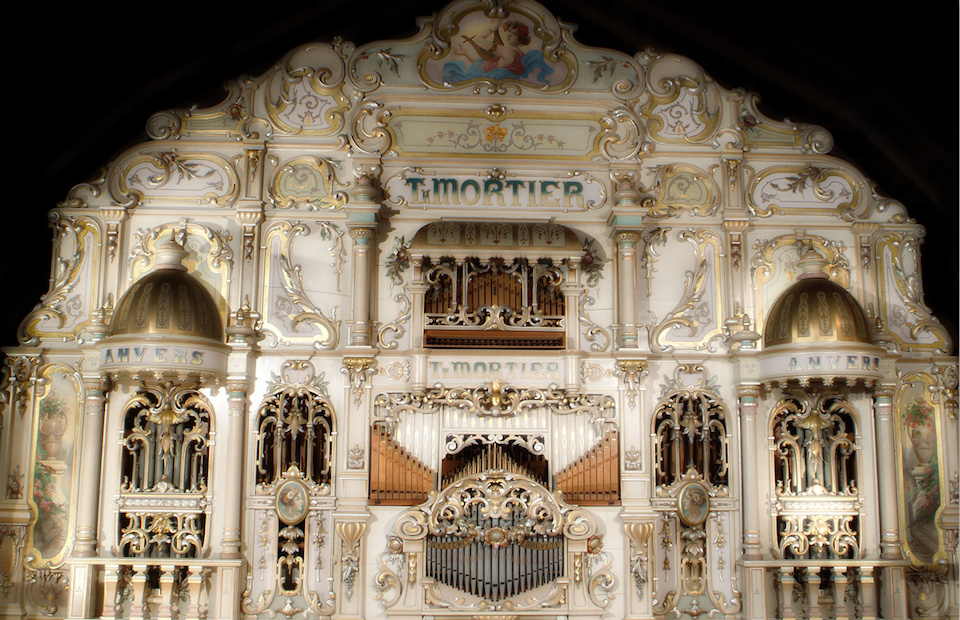 My interest in music machines—which more or less arose from discovering the power of feedback while playing in punk and hardcore bands as a kid—led me to a love of calliope organs and player pianos, which was intensified by a family visit to The Music House in Traverse City, Michigan around '94. A little later my composition mentor Ben Boretz introduced me to Conlon Nancarrow, which took the interest to an even deeper level. Moving to New York I began to pick up calliope records at thrift shops, but could also go to Coney Island and ride a merry-go-round still soundtracked by one of these marvelous machines and watch it robotically perform as I went round and round. Nearby I could also enjoy more fast paced rides that would certainly be blasting a track like "Point of No Return", which I also might hear on a radio mix late at night at home in my loft.
"Dance Party," in retrospect, was obviously my attempt to make a version of "Don't Make Me Wait", a track I fell in love as a teen with when my neighbor Sarah, whose house many of the girls from the punk scene would hang out at to do hair dye jobs, and where I would go to get my mohawk shaved, bought the Enter The Dragon album shortly after it came out. That memory was awakened by hearing tracks like the X-Posed (later Exposé) one at Coney and on the radio.
Some other selections have these kind of direct points of connection to the Paper Eyes material; for example Kenneth Gaburo's "Exit Music", Panacea Theriac's "Musical Makeup" (as Flossie and The Unicorns), and Les Paul and Mary Ford's "Falling In Love With Love" (a record I discovered in my grandfather's collection) all work with similar reel-to-reel tape techniques as I had discovered experimenting with the equipment that became the Paper Eyes setup.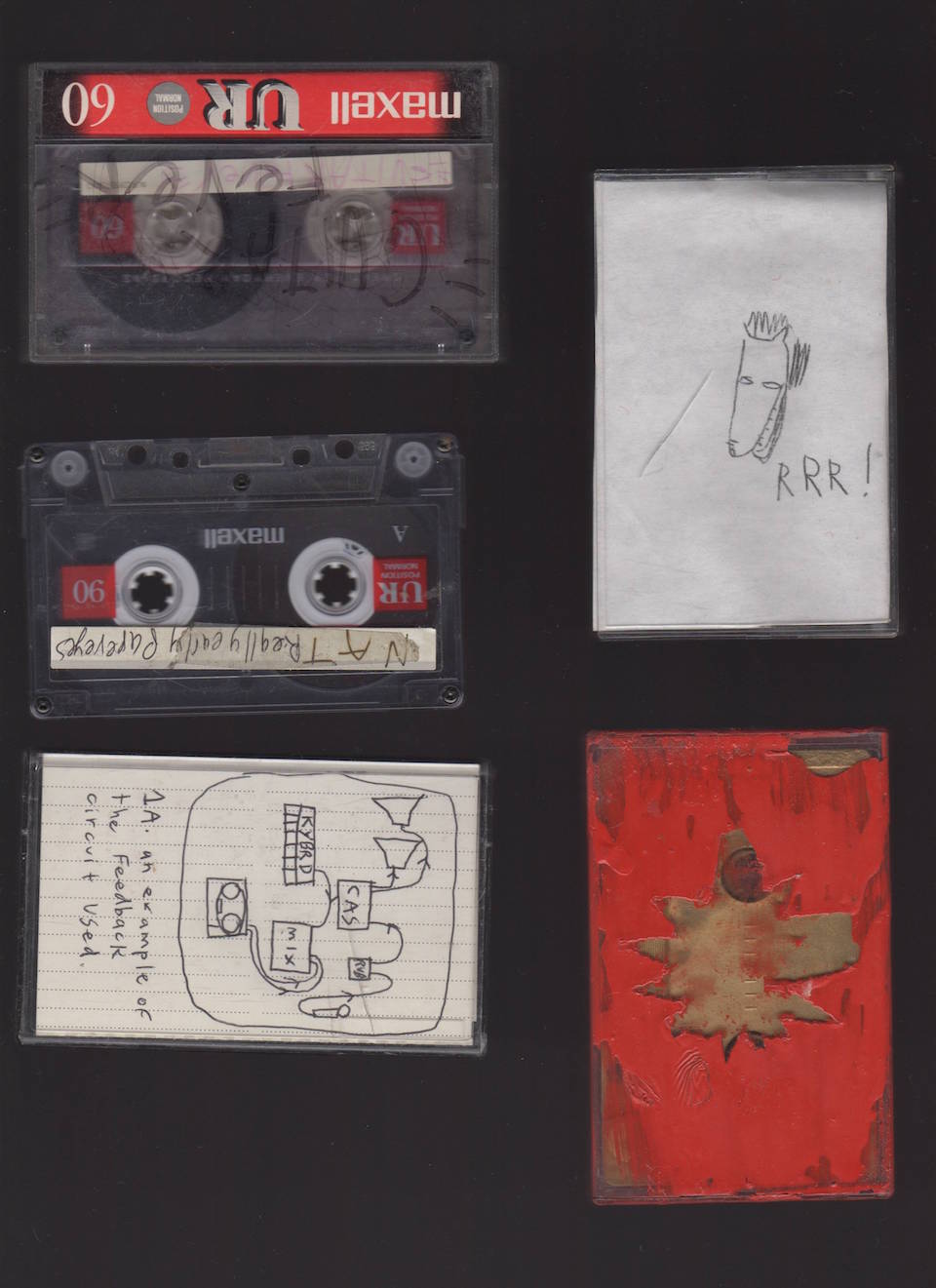 I didn't want to do a tracklist. Again feeling protective, or afraid that people might just read it and be like, "oh yeah, I get it." Or "I don't get it." There's nothing to get; it's about experience, particularly an experience that might leave you in a different place than you were at when you started. I did do a tracklist though because all of this music is important to me and I want to honor and say the names of the people that made it. And it feels appropriate to place the names of brilliant creators such as Adris Hoyos, James Loman and Azita Yousef alongside more canonized names such as Karlheinz Stockhausen or David Bowie.
I suppose the protectiveness is related to something that's a bit difficult to put into words about our current cultural landscape but felt very vivid while working on this. I try to avoid nostalgia because I think it's dangerous. This isn't about that. Recently it seems we've entered a moment I've been calling "the monetization of everything" where music functions as "content", essentially something to accompany the relentless bombardment of advertising. This tends to strip it of whatever its actual content is. That coupled with the odd delusion that is becoming more and more ubiquitous that the more people like or "like" something the better it is, can oddly warp just about any kind of expression into product.
So here's five hours and 45 minutes of time where you don't have to listen to advertising. This isn't an ad for any of this music, or for me or for anything. It's a block of time that has been given meaning through multiple layers of composition. You don't have to feel bad about yourself because you might not know some or any of this music, nor feel superior because you have this or that record or know this or that track. You can, but you can also just show up and take it all in. This is all music I take very seriously. Sure much of it is fun and funny, but taking it seriously actually allows me to enjoy those aspects of it more. There is not a moment of ironic wink-wink distancing in my approach to listening to it. That type of intellectual arrogance would not only be lethal to my own experience of being present for these expressions and rob me of my time, but it would also be an insult to the people whose own time is woven into these sounds.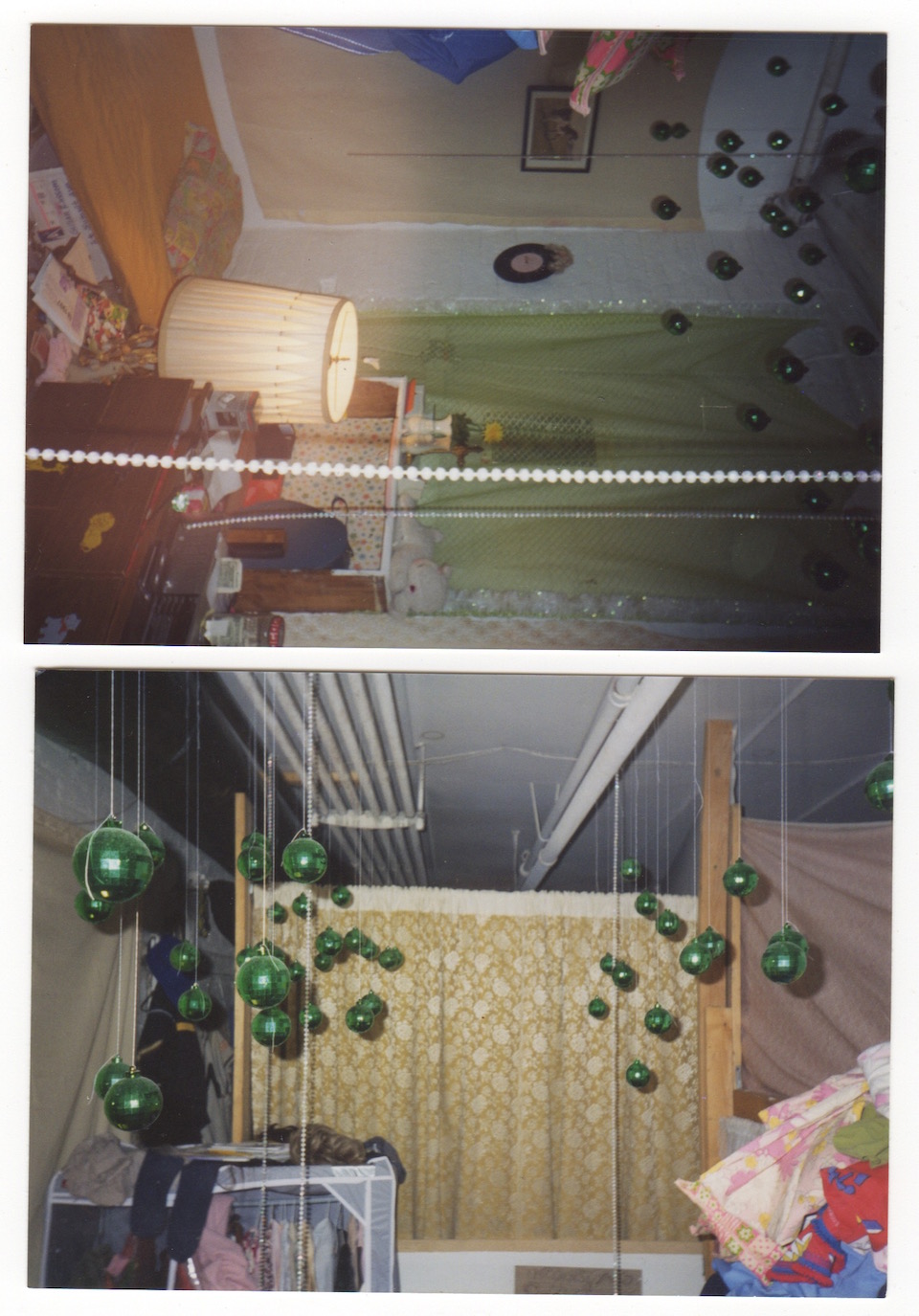 I could go on, but this is long already and there's music to listen to that says more than what I can put into words. Honestly, if you want to know more about anything on here, why I think it's important music or how it relates to my work just E-mail me, for real. It's gavin@gavinrussom.com. And hey, while you're at it, if you're involved in anything that feels resonant with the level of sincere expression and creative authenticity that I think characterizes all of this music, and isn't just another status quo affirming aspirational bummer, please let me know about it. I'm always interested in connecting with real shit.
Here's a couple suggestions for listening to this mix:
A. Take a long walk, subway ride, bus ride, train ride or drive and play this mix. Share your experience with those you care about or with a stranger.
B. Invite some of your closest friends over or some people you've been wanting to get to know. Make some food and put this mix on. Have a conversation about it afterwards.
C. I don't know; if you're short on time maybe listen to one track in the morning before you start your day for two months or so.
TRACKLISTING:
1. Vasilisk – Fangs and Claws
2. Charles Dodge – Speech Songs 1: A Man Sitting In A Cafeteria
3. Theoretical Girls – Fuck Yourself
4. Shadow – Cry Me Blood
5. Can – Thief
6. Ed Rush/Trace/Nico – The Droid
7. Wu Tang Clan – Shame on a Nigga
8. Sweet Thunder – The Trickler
9. Kenneth Gaburo – Exit Music II: Fat Millie's Lament
10. Bomb The Bass – Don't Make Me Wait (7″ Mix)
11. Crass – Walls (Fun In The Oven)
12. Martha And The Muffins – Danseparc
13. Walt Disney's Story Of Bambi – Love Is A Song (Story)
14. Faust – The Faust Tapes (Excerpt)
15. Devotees Of Paramahansa Yogananda (Self Realization Fellowship) – I Will Be Thine Always
16. Herman Ludwig Blankenburg (Played By The Mammoth Fair Organ Of The Carousel Becquart) – Tausendkunstler
17. The Scissor Girls – Towers
18. Bustah Rhymes – The Whole World Looking At Me
19. The Cranium – They Cut Me Open And Were Surprised To Find No Radio
20. Silver Apples – Dancing Gods
21. Delilah – Dancing In The Fire
22. Black Sabbath – Wasp/Behind The Wall Of Sleep/Bassically
23. Systeme 2000 Et Les Freres De Jean – Bossou
24. Smell & Quim – Tuning The Twat Machinery
25. Berlin – Masquerade
26. Six Finger Satellite – I Want Night (It Ends Tomorrow)
27. Lucumí Aña And Singing For Ochosi From Fuerza Santera LP
28. Space Trax – Bounce (Disease Mix By Gangrene)
29. X-Posed – Point Of No Return
30. The Buggles – Clean Clean
31. Doo Rag – 2 1/2 Ft.. Soul
32. Tony Conrad with Faust – From The Side Of The Machine
33. Lena Lovich – Lucky Number
34. Landed – Hit The Land
35. Quintron – 9th Ward Breakdown
36. Whodini – The Freaks Come Out At Night
37. Atari Space Invaders Data Cassette
38. Harry Pussy – Lost/Piece Of My Ass
39. Waitresses – Astronettes
40. Missing Foundation – Kingsland 61/Burn Trees
41. Lil Louis – French Kiss (Remix)
42. Flossie And The Unicorns – Musical Makeup
43. Orchestral Manoeuvres In The Dark – Electricity
44. Paul Kantner/Jefferson Starship – Mau Mau (Amerikon)
45. Mystery Brinkman – Ride A Bike
46. Boogie Down Productions – Criminal Minded
47. Karlheinz Stockhausen – Klavierstück IX
48. V-Effect – New Condition
49. Catholic Discipline – Underground Babylon
50. Communication – Future Shock
51. Go! – Electricity
52. Randy Irwin – The Streaker From LAX
53. The Golden Eagles – Indian Red
54. La Lupe – Este Ritmo Sabroson
55. Conlon Nancarrow – Canon X
56. Merzbow/Kapotte Muziek – Continuum 1
57. Albert Ayler – Again Comes The Rising Of The Sun
58. The Residents – Boo Who?
59. Nancy F. A. Woolnough – Raindrop And The Cloud Convention
60. Les Paul And Mary Ford – Falling In Love With Love
61. Musica Elettronica Viva – Message
62. The Carpenters – Calling Occupants Of Interplanetary Craft (The Recognized Anthem Of World Contact Day)
63. David Bowie – Memory Of A Free Festival
Gavin Russom's Paper Eyes comp is now available through Ecstatic Recordings. A double LP from his long-dormant Black Meteoric Star project—'The Xecond Xoming of Black Meteoric Star'—is due out soon ("you know, vinyl pressing delays," he explains) through Traxx's Nation imprint. Explore more of his music below, including one of our first Needle Exchange mixes and a special Moog collaboration.