Photo DENIS LANER
Morphine Records has finally revealed its first release of the year: Down in the Meadow, the avant-garde debut of Gordan, a new Berlin-based trio featuring world renowned singer Svetlana Spajić (Antony and the Johnsons, William Basinski, Marina Abramović), multi-instrumentalist Guido Möbius (Shitkatapult, Karaoke Kalk), and drummer Andi Stecher (Orchestre Les Mangelepa, Dean Roberts). According to a press release, "Their music is marked by radical reduction, seemingly endless ascension, and a passion for experiments." Namely what happens when you meld traditional Serbian music with more experimental forms of "abstraction, energy, and minimalism."
Gordan wrote and recorded Down in the Meadow during the early days of the pandemic, when the band suddenly had all the time in the world to hunker down and develop ideas unlike anything they'd ever done before. While Möbius and Stecher focused on left-field instrumentals, Spajić brought a wide range of Balkan techniques to the table — dizzying scales, chants, and melodies that reference everything from mountainside vocal movements ("Oh My Rose Flowers") to popular folk pieces ("Don't Ask How I Live").
Not to mention largely extinct methods and modes like the title track's ornamental rendition of a love song once sung in a remote village. Check out its official video below — a concept Spajić captured with the help of filmmakers Luka Papić and Branka Majstorović — along with some track notes from the trio. As for what Morphine Records has on deck next, the label recently announced the imminent unveiling of Morphine Raum, a "studio space for projects and recordings" starting with a special Raed Yassin set….
"Down in the Meadow" is the first in a series of video works made in Svetlana's home in the downtown Belgrade neighborhood of Dorćol in summer 2020. The song also opens the album and shows the singer singing an ancient love song from Kosovo while she is covered with the kilims made by her grandmothers Vidosava and Milka. She didn't have a chance to communicate with them as a child, but they are observing her from above now.

The sound meadow made by Guido Möbius and Andi Stecher transmit the singer into a slumber and peacefulness — into her grandmothers' kilim embrace. All together they now can reflect both the tranquility and wild heart beats of a passionate love depicted in the song.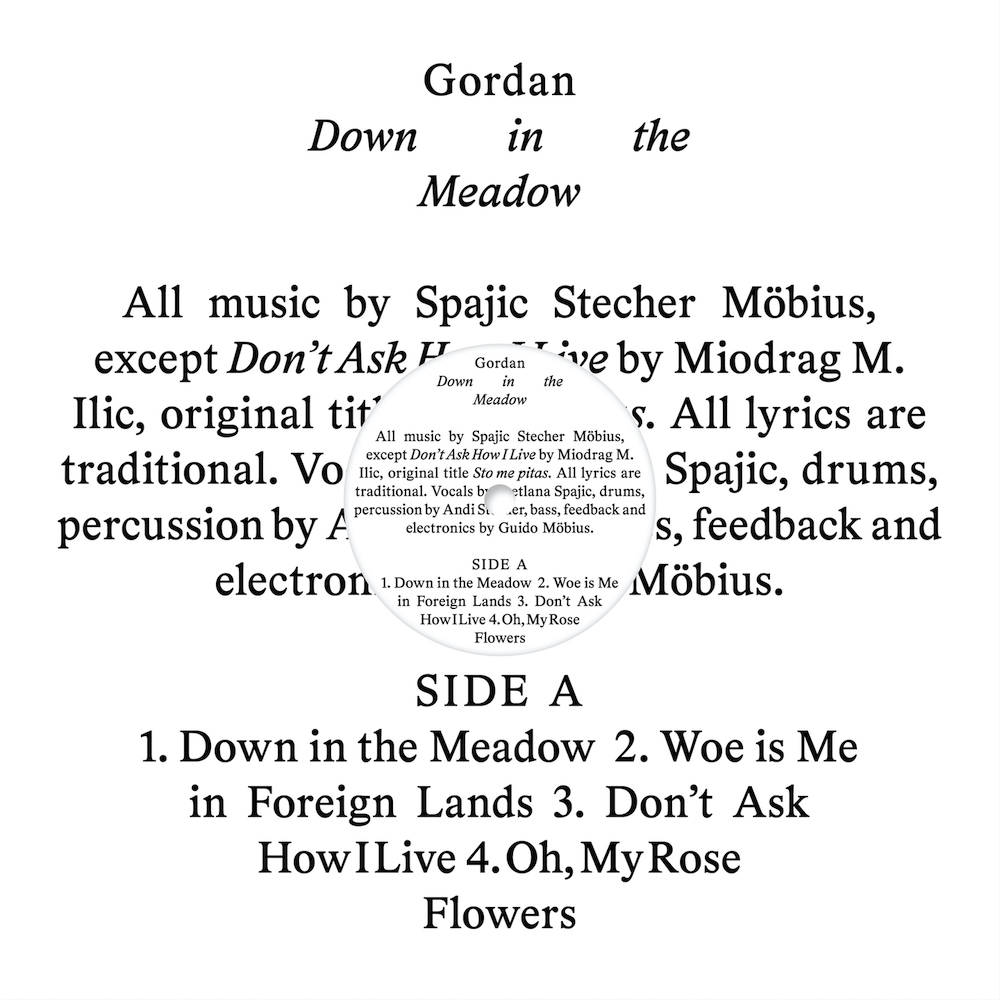 Gordan
Down in the Meadow
(Morphine Records, September 20th)
1. Down in the Meadow
2. Woe is me in Foreign Lands
3. Don't Ask How I Live
4. Oh My Rose Flowers
5. Seediq Song
6. Endless Kraut
7. Konji Vrani