Photo ANDREW PARKS
While Dominick Fernow—pictured here performing as Prurient—is currently stationed in Berlin as part of an Ostgut Ton residency, the noise icon has tapped Brooklyn's Warsaw venue for the first 20th anniversary show of his influential label Hospital Productions. Set to happen on November 5th and now on sale here, the all-day showcase will feature Godflesh performing its seminal Streetcleaner LP in full, along with a special collaborative set from Justin Broadrick's Jesu project, the Philly band Nothing, and Prurient itself.
Also of note: a live ambient/experimental set from Dedekind Cut, the stateside debuts of Rainforest Spiritual Enslavement and Geography of Hell, a DJ set from Downwards founder Regis, and the first Skin Crime show in more than a decade.
Check out a full rundown on the flyer below, along with the dates and details on several other anniversary events. Oh, and you can expect "more exciting news coming soon from Hospital" according to a press release, so there's that.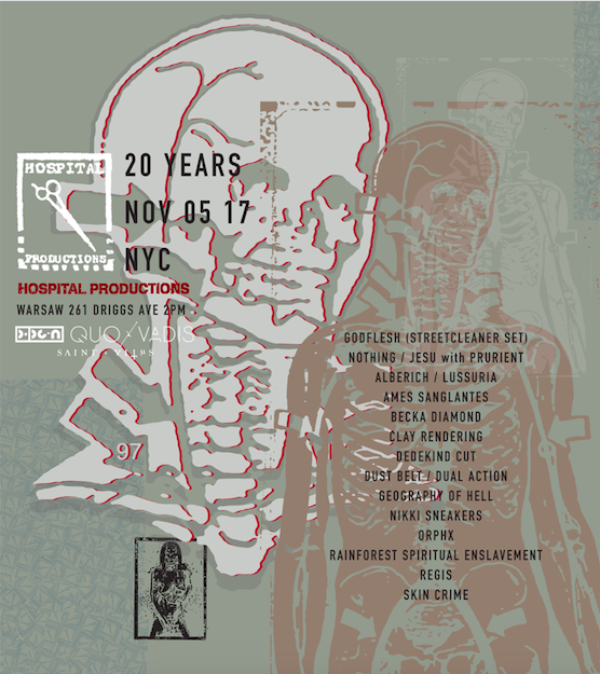 Hospital Productions anniversary shows:
8/26 Montemor-o-Velho Castle, Portugal – Festival Forte
9/22 Tbilissi, Georgia – Bassiani
10/14 Berlin, Germany – Berghain
11/5 Brooklyn, NY – Warsaw