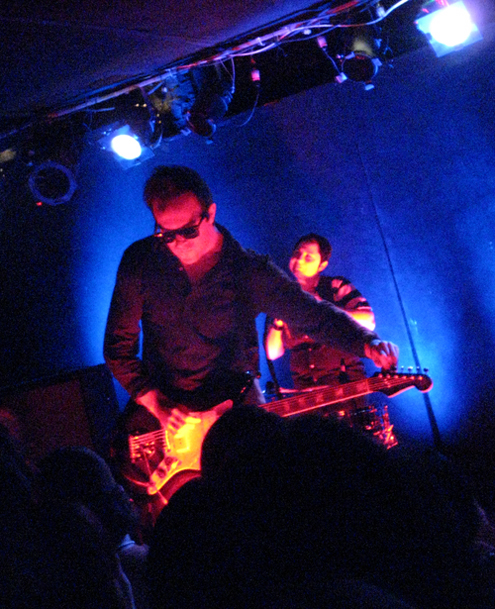 [Photo by SoundBitesNYC]
By Arye Dworken
If NME's current cover is to be believed–and hey, when isn't it?–Glasvegas are "Britain's best-loved band," Scottish saviors of rock 'n' roll that crashed the UK charts at No. 2 with their self-titled debut. (Nipping right at the heels of Metallica's Death Magnetic, mind you.) This time the hyperbole comes with Alan McGee's blessing, too. According to his Guardian column, the Creation Records founder considers Glasvegas "the sound of young Scotland … I first spotted Glasvegas in 2006, playing third on the bill at the King's Tut Wah Wah à  la Oasis. They immediately caught my attention. They were rockabilly neds playing a frenetic homage to Elvis, art punk and noise. I got their MySpace that evening and loved it. In fact I hadn't loved anything that much since the Jesus and Mary Chain demo tape in the '80s."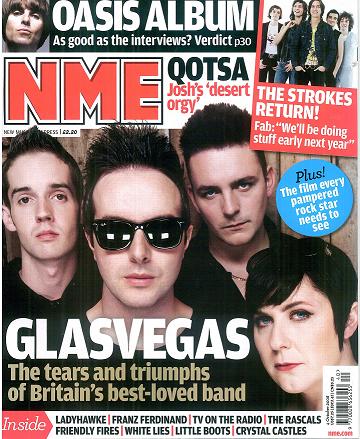 So, yeah, between McGee's blowhard-y blog post and one hell of an icky band name, it'd be easy for any Yank to write Glasvegas off well before their record drops domestically on January 6, 2009. That said, there was some merit to all this imported buzz on Saturday night. The band took the stage dressed in detached black, with frontman James Allen sporting a sunglasses-at-night look for the entire set. Mercury's modest light show setup was on full-blast, too, beaming in bright blotches of white and red.
McGee's comparison between Glasvegas and JAMC is quite accurate in a live setting, except Glasvegas actually sounds passionate about their own songs. For one thing, Allan's weathered voice has a thick Brogue accent, which balances out the schmaltz factor of his lyrics. Let's be honest: a tepid line like "liar liar liar liar, pants on fire" is tolerable when a soccer hooligan's singing it. The same goes for an unexpected anthem about a social worker ("Geraldine"). True to their arena-bound ambitions, the band's guitars were also fuzzy and blown-out, pushing the boundaries of Mercury Lounge with dollops of shoegaze and doo-wop. An unlikely pairing for sure, but one that worked wonderfully on Saturday night.
Consider the buzz justified.