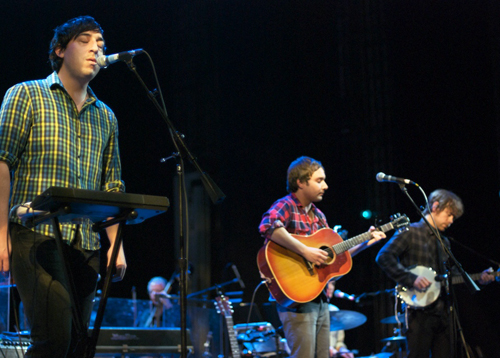 [Photos by willshu]
By Andrew Parks
No, they didn't play "Knife." And you know what? They really didn't need to. As we said after Grizzly Bear's brief New Yorker performance a couple weeks back, the Brooklyn band is on the cusp of something big and nerve-shatteringly beautiful with their third proper full-length, Veckatimest. And by that, we mean something far more resonant than Animal Collective's long-overdue breakthrough with this year's Merriweather Post Pavilion LP.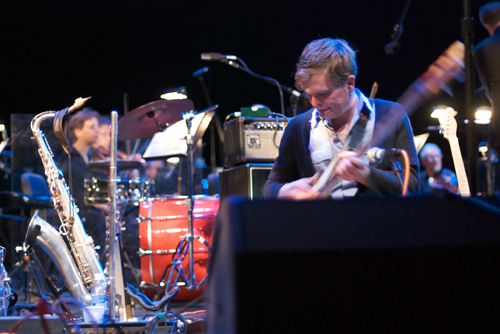 You see, Grizzly Bear performs music we can all relate to–profoundly sad, and pristine, pop songs that dwell on the darker sides of the human condition, even as the tempos change and slivers of light peeks through the blinds. More importantly, the quartet can hold their own among a backing band as rich and room-engulfing as the Brooklyn Philharmonic.
To be honest, Grizzly Bear didn't even need sweeping strings or whimsical woodwinds to color in the lines of their set at BAM last night. Yes, Nico Muhly's arrangements added textures and tones to such standout tracks as "Central and Remote" (performed for the first time here) and "Colorado." Beyond that, we were too mesmerized by Grizzly Bear's two distinct voices–founding frontman, Ed Droste, and Daniel Rossen, also of Department of Eagles–to give a damn about the high/lowbrow crossover happening before our eyes. For all of the drama that supposedly tested the band's lifeline last year, it's clear that Rossen and Droste don't need so much as completement one another perfectly. In other words, we could listen to either singer for a couple hours without growing tired of their haunted harmonies and melancholic melodies. Taken together, they reveal the lasting power Grizzly Bear could possess for the next decade or so. Look, they aren't just 'some indie rock band.' If they were, we'd shun them like self-titled normally does with standard singer/songwriter fare.
Instead, we were practically reduced to tears as Droste closed the night with "He Hit Me," an unflinching tale of broken hearts and black eyes. Damn you for making us feel emo, Grizzly Bear. We'll forgive you if Veckatimest tops our 2009 list later this year, though.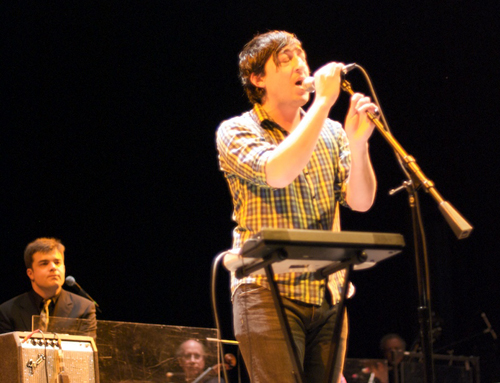 Grizzly Bear @ BAM, 2.28.09:
Easier
Central and Remote
Ready, Able
Two Weeks
Plans
Colorado
Reprise
Little Brother (Electric)
Campfire
Dory
While You Wait for the Others
Foreground
Encore:
Deep Blue Sea
He Hit Me

Grizzly Bear encore Deep Blue Sea at BAM from lofi.tv on Vimeo.