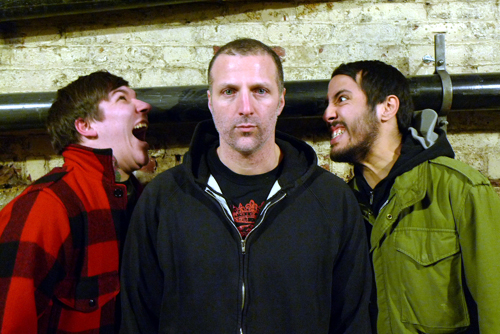 Photos by Aaron Richter
While we certainly appreciate when a band takes a self-titled assignment seriously, we had no idea what we were in for when we asked Tombs to share the prized platters in their respective record collections. All three members–frontman Mike Hill, drummer Andrew Hernandez and bassist Carson Daniel James–responded with some of the rarest 12's and 45's we've seen in years. Hell, we still don't even know what a few of them are after scouring the 'net for more details, but we are intrigued enough to keep looking. And give Hirilorn a spin. Man, they sound like they'd be rad.
Anyway, for more on Tombs, check out our BUY IT-endorsed review of their Relapse debut here and a FEED THE ANGER report from the frontlines of a Tombs show here.
Mike Hill (guitar/vocals)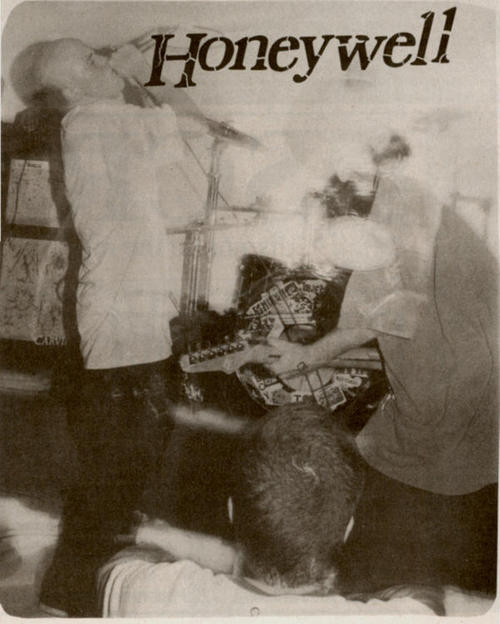 Honeywell, Honeywell LP (Sellout, 1992)
I had a really complicated relationship with this girl a few years ago. She went to Italy and bought me a few hard-to-find records that I had been looking for. I had been trying to find this for quite a while, so when she returned with it, I was stunned. Ultimately, she dumped me and I was so heartbroken that I gave away everything she had ever given me, including the Honeywell LP, a black dress shirt, a black hoodie and the Man is the Bastard/Locust split. My best friend Josh, realizing that I had been driven temporarily insane, offered to trade his second pressing for my first pressing. It appears that we both won in this situation.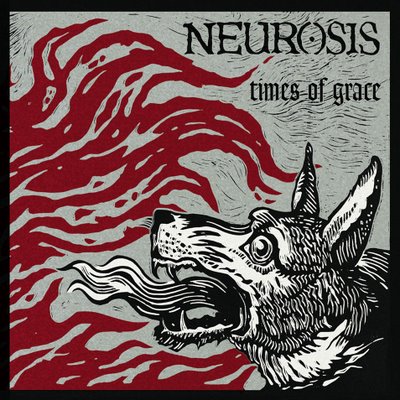 Neurosis, Times of Grace LP (Relapse, 1999)
I remember being so pumped when this record came out. I was sitting in a van driving to Philly–on my way to Stalag 13 with my old band Anodyne to play a show with Isis and Black Army Jacket–when I first heard it in its entirety. Was it the summer of 1997? I don't remember, but it was a good summer for me; one of the best and this was the soundtrack. It was a hint of what hardcore, metal and punk could be if everyone could just free their minds.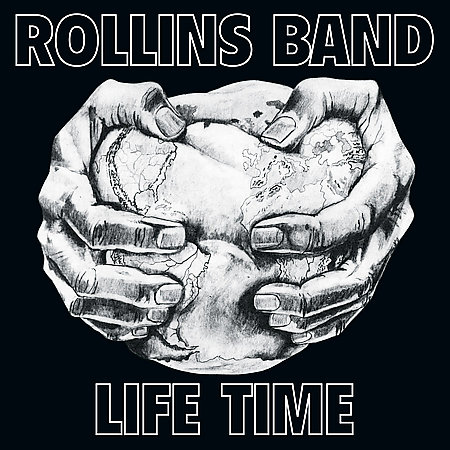 Rollins Band, Life Time LP (Texas Hotel, 1988)
I picked this up for $5 at a record store that was going out of business. I was looking at it after I paid the guy behind the counter and noticed that Mitch Bury of Adams, MA, had signed it. For those of you who don't know who this is, he was the tour manager for the legendary Black Flag. Who knows if the signature is legit or not, but I like to think that it is. Life Time is one of the most powerful records from that time period. I remember thinking that this was rock music played by hardcore kids. It was the alone-in-my-room jam for the down-and-out years.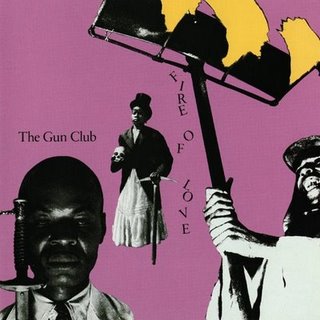 The Gun Club, Fire of Love LP (Beggars Banquet, 1981)
This record makes perfect sense alone at 2 a.m. on a warm summer night. Open the window to your dimly lit room, let the August night air in and pretend that you're Marlon Brando. Ol' Jeffrey Lee Pierce was a wild guy and one of the greatest songwriters of his era. Apparently, the only thing he loved more than heroin was sad, damaged women.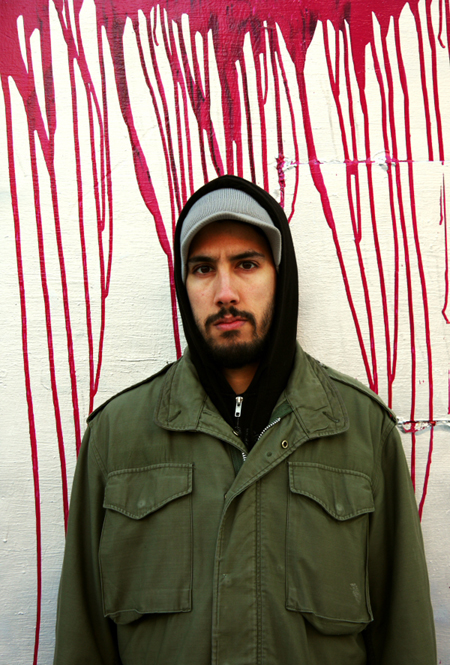 Quadiliacha, Es Muerto 10-inch (Passive Fist/Goat Lord, 1997)
This album captures the awesome melodies of classic Descendants material with the speed of fastcore, raspy pop-punk vocals, very skateable breakdowns, harmonies, and lots of "YAH!"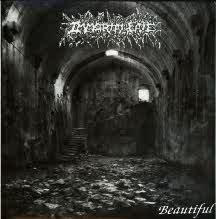 Immortal Fate, Beautiful LP (self-released, 1994; original pressing, green vinyl)
I will go out on a limb and say that no one owns this–maybe the repress on 625 thrash, but not the original. This is one of the best death metal albums ever–hands down.
Combat Wounded Veteran, Combat Wounded Veteran 7-inch (original and repress)
I love this 7-inch. It stomps the shit out of so much power violence and keeps crushing. What went on to be more "art influenced" stood as gnarly, brutal and different on this early release.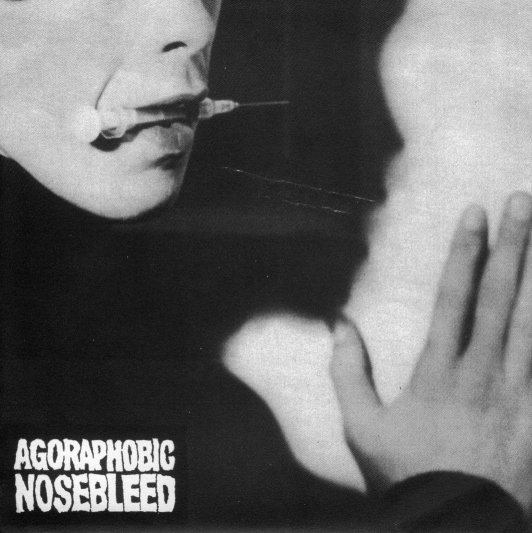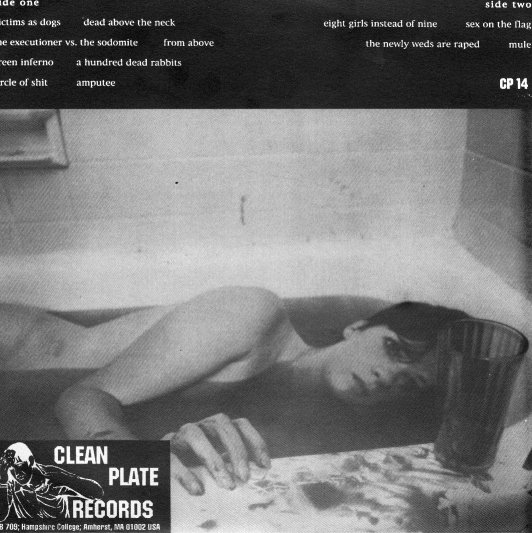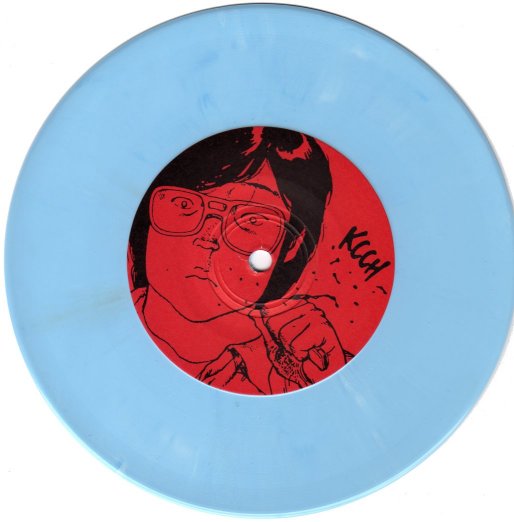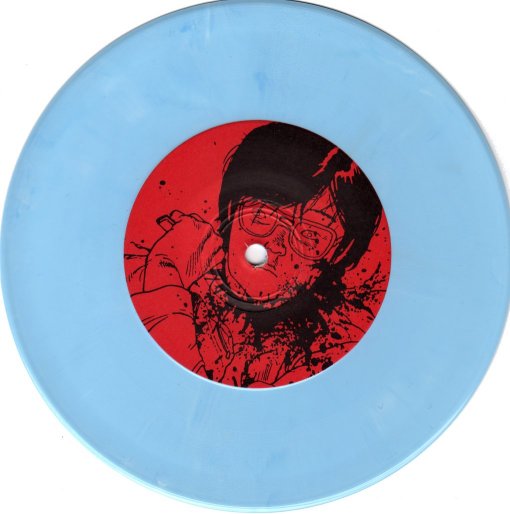 Agoraphobic Nosebleed, Agoraphobic Nosebleed 7″ (Clean Plate, 1997)
I'm not trying to be "true," but I think this is the best A.N. stuff ever. Favorite track: "Eight Girls Instead of Nine."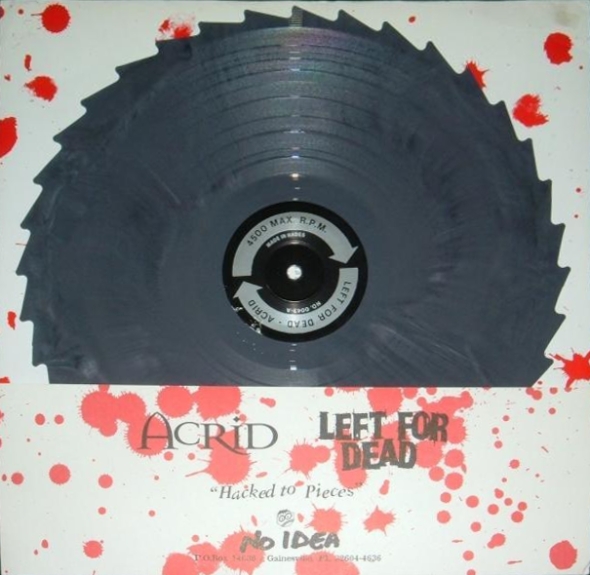 Left For Dead/Acrid, Hacked to Pieces split LP (No Idea, 1997; first pressing, gray buzz-saw vinyl w/red splatter)
I was trying to think of my last pick and when this came to mind, my internal dialogue response was, "DUH." These guys gave hardcore an epitaph and an expiration date. Some may think that's either ridiculously presumptuous or dead right fucking on.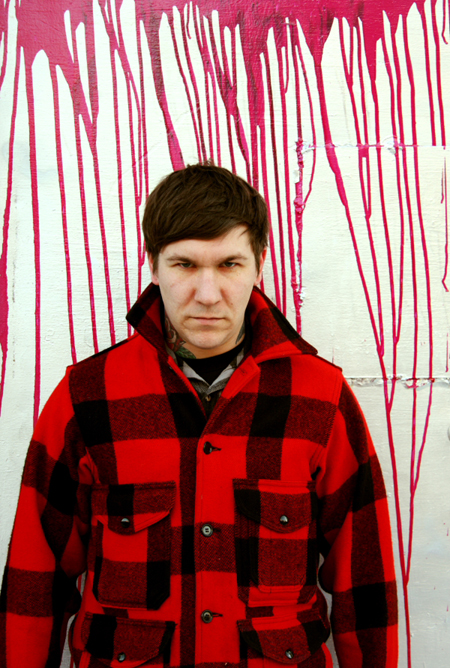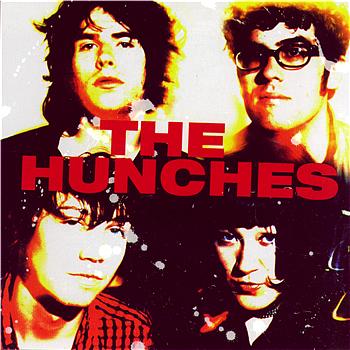 The Hunches, Yes.No.Shut It. LP (In the Red, 2004)
I first met the Hunches during their first European tour. At the time, I was going to art school in :ondon and had been attempting to write a 'zine called Bullfighting On Acid. An interview was set up with the band to take place after their show at the London Highbury Garage. It was attempted (I think) but failed miserably due to the copious amount of drugs and alcohol consumed that night by the band members and myself. Not to mention the fact that everyone was too busy throwing various breakables off the roof of the building and slowly becoming unhinged animals bent on destruction and thirsting for blood. These events rendered speech impossible, let alone trying to work a tape recorder and conduct an interview with any degree of finesse.
This record sounds like losing control. It is a hulking mess of noise and abrasion tied to a frame of beautifully-orchestrated pop rock 'n' roll. The music is much like the band themselves–smashing you in the face with a hammer than driving you to the hospital, icing your wounds all the while saying, "I love you, I'm sorry." The Hunches destroy almost everything out there with Yes.No.Shut It., one of my favorite records from some of my favorite people.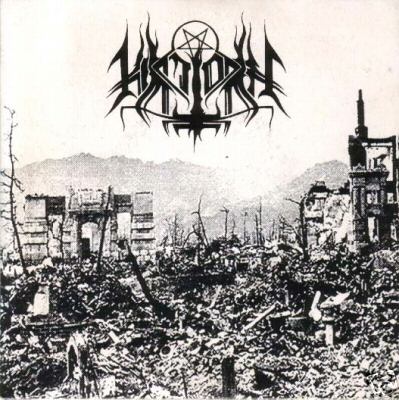 Hirilorn, Depopulate (Prelude to the Apocalypse) 7-inch (End All Life Productions, 1999; hand numbered 123/333)
Hirilorn was a French black-metal band from the '90s that eventually became the great, hallowed Deathspell Omega. This 7-inch came out in 1999, and is completely impossible to find now. I met [guitarist] Olivier [Borzeix] in Montreal on the 4th of July in 2008, at my brother-in-law's house for a independance day party he was having. We got to talking about music, metal, etc., and got to the topic of black metal. I knew he was quite influential back in France, but everyone seemed unclear as to exactly which band he was in. Apparently he had some trouble in France, which led to him moving to Canada.
When I discovered the band was in fact Hirilorn, I was pretty psyched and immediately inquired as to whether or not it was possible to get any of their records. Olivier said he had one or two copies lying around in his personal collection and that he'd trade it to me for the current Tombs releases. Upon returning to New York, I promptly mailed him the records and am now the proud owner of this incredibly  rare piece of black-metal history. "The Guardian of the Final Plague" and "Onward To the Kingdom of Light" are two of the most raw, hate-filled, and brilliant songs I've ever heard. Thank you Olivier, this record annihilates.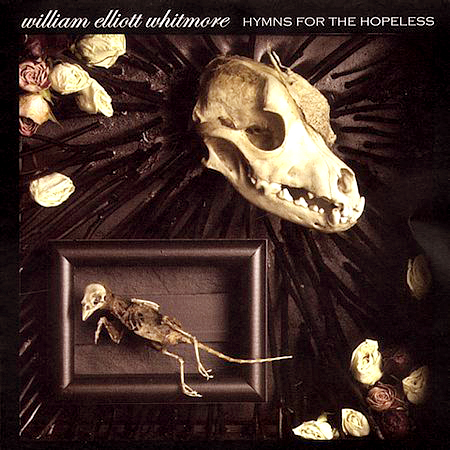 William Elliott Whitmore, Hymns For the Hopeless LP (Southern, 2003)
On August 8, 2007, my younger brother, Trevor Lorne James, was involved in a motorcycle accident on his way home from the doctor in Sicklerville, NJ. Five days later, his body succumbed to the trauma and he passed away, marking the end of his young life and the beginning of one of the hardest times in mine. I was completely devastated, and as a result, quickly took to self medicating with  hi-proof alcohol, all in a vain attempt to numb any semblance of feeling I had.
I can honestly say this record got me through the next year, as I'd sit in Trevor's pickup truck with the windows up and pump this album at full volume, taking the words about death and life into every pore of my body. William has a way of conveying these things in such an intimate way. Hymns For the Hopeless was written after the loss of his parents. You can tell it isn't someone writing in the third person, acting under the guise of a heartbroken and destroyed soul. You can hear the pain in William's voice, and it reached right through to me.
It had been one of my favorite records for sometime before these events took place, too. I met William in London through my friend Thomas Hooper a few years prior and immediately took to the sincerity and conviction in his music. I believe I literally bought this record out of his guitar case at the Old Blue Last in London after a few whiskies and talk of the finer points of the M1 Garand. After moving to NYC, Thomas tattooed the lyrics to the song "Burn My Body" onto my torso, beginning a very cathartic process for me.
The decision to cremate my brothers earthly remains fell on me, and upon finishing the tattoo I'm planning to have some of his ashes tattooed into my skin. Hymns For the Hopeless remains an intensely personal listen for me. I can only imagine it evolving in meaning as I get older. It has resonated deeply in various points of my life, and just recently I was able to listen to the record again without feeling pain and devastation.
It brought me through to the other side, and in a very special way, saved my soul.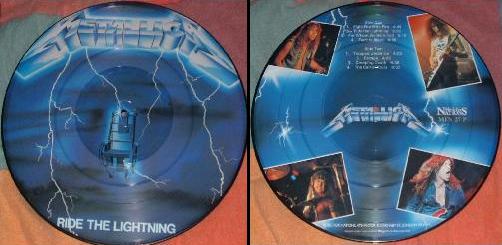 Metallica, Ride the Lightning LP (Elektra, 1986; pic disc, UK pressing w/ cutaway cover)
An ex-girlfriend picked this up in Brighton, England, for my 22nd birthday. Out of the first four completely brilliant, unstoppable Metallica records, this is by far my favorite. Listen to the title track at maximum volume and if that doesn't get you ripping around your bedroom like a maniacal 12 year old on Cola and Pop Rocks, you're a complete fucking idiot and need to be shot on sight.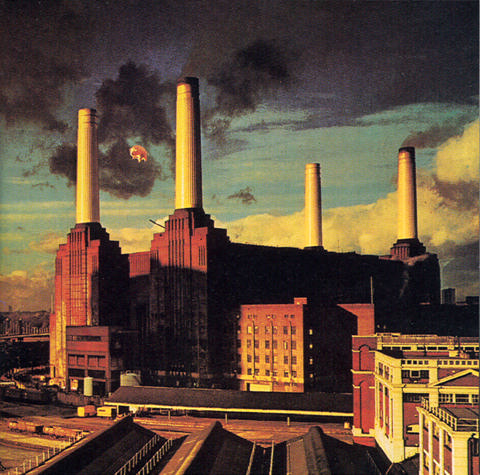 Black Sabbath, Paranoid LP (Vertigo, 1970)
Pink Floyd, Animals LP (Columbia, 1977)
My last pick has to be a tie between these two records. My mother and father are the people who have shaped my musical taste and these albums represent their contributions. My mother Janet has an incredible record collection. When we were kids, my brother and I would get into it and trade LPs like other kids traded baseball cards. Out of all the complete gems in her collection, Animals is by far one of my favorites. It is Pink Floyd in all their post-Syd Barrett glory. Conceptually built around the flaws of capitalism, the record is misanthropic yet hopeful, and really appealed to me before I had begun to care about such matters as economics and the caste system.
A fond memory is when I was first headed south from London to Sussex on the train out of Victoria Station and passed the Battersea Power Station (featured on the cover of Animals) and was totally blown away at the sight of it. I hadnt thought it was a real building! I often listen to this whilst falling asleep. It paints a rich mental picture through the exquisite songwrititng of [Roger] Waters and [David] Gilmour.
My mom is rad and I have to thank her for playing this for me as a child.
Paranoid is the record  that grabbed me at an early age as being one of the heaviest things I had ever heard. This is my father John's contribution to my musical palatte. His original copy is virtually unlistenable–he apparently played it so much as a teenager that he completely wore the record out. I can just imagine him in his room with the headphones on, day-in, day-out, slowly growing his hair and absorbing the complete downer that encompasses Black Sabbath's most well-known and highly-celebrated record.
One can only imagine what kids who hated their parents, their schools and modern western society listened to before this came out. Black Sabbath invented metal, and without them generations of young dissillusioned people would have no outlet for their anger and frustration. This album sounds like war. THANKS DAD!