Photography SHAWN BRACKBILL
From Demdike Stare to Minimal Wave to whatever happened to land on its wall that day, we can't even begin to name the wide range of artists, labels, and records we've discovered through Other Music. One of the reasons is how welcoming the place was once you realized the rules of High Fidelity didn't apply here.
"I really enjoyed upending someone's expectation of what shopping at a record store could be," says former employee Michael Stasiak, who now plays in the Captured Tracks band EZTV. "I think it takes a lot of guts and courage to walk up to a stranger and ask them for their opinion…. It's a level of trust that's essential to expanding your mind and your knowledge; admitting to yourself that you don't know everything is essential to being a good customer and a good employee. The highest compliment from a customer was that 'you don't act like a record store employee'."
While Other Music technically shut its doors last Saturday after more than two decades of shaping New York's underground music scene, the shop is hosting one final in-store performance and a farewell parade (led by Matana Roberts!) today. That'll be followed by an Other Music Forever blowout bill (featuring Roberts alongside Julianna Barwick, Bill Callahan, Frankie Cosmos, Helado Negro, Menahan Street Band, Psychic Ills, The Tallest Man On Earth, Sharon Van Etten, Yo La Tengo, and John Zorn) at Bowery Ballroom tonight. With all of this in mind, we've asked the folks who'll miss Other Music the most—their employees—to reflect on what it's meant to them over the years…
BEANS
I was a Sales Clerk at Other Music when my daughter was born, around the time the store first opened. This band that I was in at the time (Antipop Consortium) was just starting to make a little noise, so I used my position at work to talk to customers and try to sell them our music.
Trust me, it worked.
Not only did my position advance my own purposes, I learned infinitely there and discovered so much music. The education at Other Music was invaluable and will stay with me, personally and professionally, forever.

I heard some great music while working in that store. I can still recall the first time that I heard Muslimgauze, when I fell in love with Kompakt and Autechre, and how elated I was when I first discovered Krautrock.
Other Music opened me up and allowed me the chance to meet all of the fantastic people who shopped and worked in the store. Many of those established relationships are still maintained to this day.
I can't thank you enough, Chris and Josh, for employing me and feeding my musical expansion. I truly love Other Music and there will be never be another like you.
PAMELA GARAVANO-COOLBAUGH
I ended up falling into a clerk job at Other Music as a 19-year-old college student who was also interning for Ba Da Bing records. There, as a sort of bright-eyed student and occasional musician, I got to spend my days consuming copious amounts of music with a group of people who also consumed copious amounts of music and loved to talk about said music. There, I discovered artists I never would come across otherwise: Aphrodite's Child, Cluster, Big Star, Spacemen 3, The Telescopes, Brenda Ray, Laurie Spiegel—I could literally go on forever and then kick myself later for missing some artist that I love, so I'll stop there.
I worked there on and off for about six years in various positions—as a clerk, in the mail-order department, as part of the inventory team, and as a buyer—and came across all sorts of amazing people. To Gigi, the mail-order customer who only ordered CDs by bands with female singers over the phone, you'll always be a treasure to me. I'll also never forget moments like the time that Robert Christgau wanted to buy a Colin Stetson CD that was out of stock. Though, it was coming back in the next day, he was very publicly annoyed because he needed it right then for his dental appointment early the next morning. Many moments like those.
But, perhaps what made Other Music so special was the staff. All the employees who worked there were involved in the creation of art, in some, shape or form. The owner Chris Vanderloo went out of his way—I'm sure it was definitely inconvenient for the staff scheduling—to cultivate an atmosphere where you could create or participate in music or art and almost always keep your job if you needed it to pay some of your bills. While I worked at Other, I did time touring with two bands, Blank Dogs and Widowspeak, and I was always very grateful to have my job at Other Music waiting for me when I came back some four weeks later. I don't know many bosses who care about their employees and customers in the way that Chris Vanderloo did and still does to this day. It also doesn't hurt that he's easily one of the sweetest human beings I've ever met and still one of my absolute favorite people to talk to music about. Same can be said for most of the staff.
Other Music was my home away from home and, though, they say that all things must pass, sometimes, I wish that wasn't true.
MICHAEL STASIAK
When I came to New York for the first time, 15 East 4th Street was the only address that I knew. I probably read about the shop in a guidebook or something, somehow intuiting from a scant couple of sentences that this was the place that I had to visit.
Other Music is the only place that I have ever wanted to work. I think I dropped off a resume once a month while going to school just down the street at NYU. I started out doing some copy-editing work for Gerald [Hammill], the webmaster who ran the MP3 store and edited the weekly email update, and after a couple of years I was hired as a clerk. The moment that I got my name up on the schedule was, in so many ways, more deeply thrilling and more validating than even graduating from college.
As a musician, it's the ultimate thrill to see your tape or your record on the rack next to the Cat Power and Belle & Sebastian records. Things get even more giddy when one of your fellow clerks writes a card that tells other people why they ought to listen to your band…. It's immensely gratifying to me that my colleagues liked something I made enough to listen to it, to think about it, and then talk about it to other people. I can't count the number of times that Chris and Josh and their wonderful, equally supportive wives Lydia and Dawn came to shows that my bands played.
I met a girl at Other Music who became my friend, then my bandmate, then my wife…. I think I'm the luckiest guy alive, to have life and love and music get tangled up like that.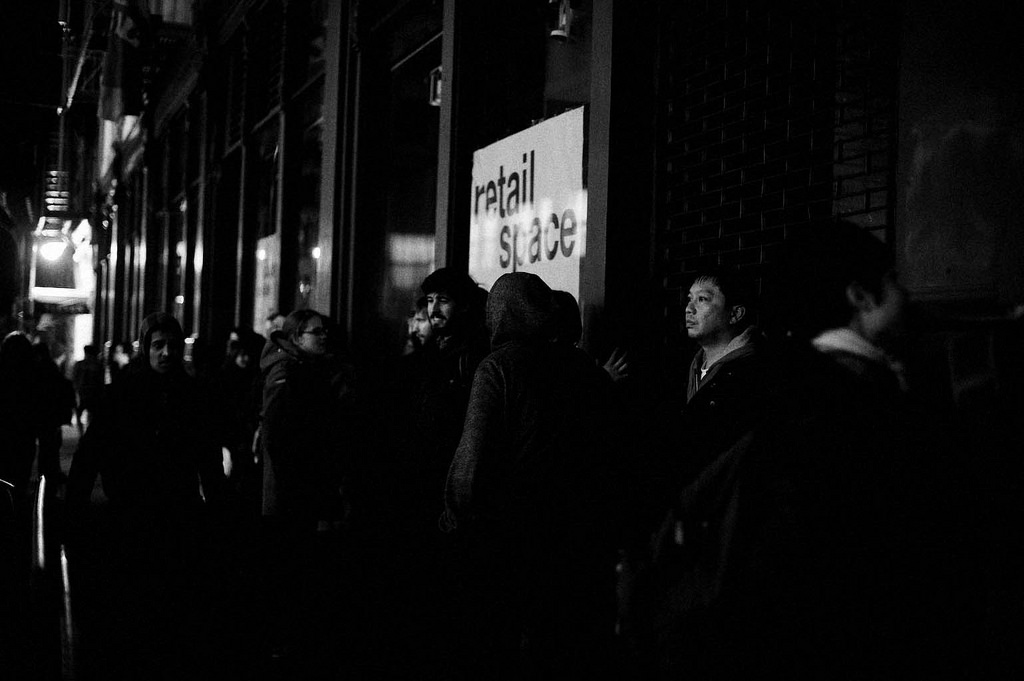 DANIEL GIVENS
Other Music was the first job I had in New York after moving from Chicago in 2000, and is the place I've worked the longest—15 years, a buyer for about half of it.
The store had a reputation for being staffed by music nerds when I started and I felt a little out of sorts in my early days, yet quickly staked my territory within the shop and got to work at digging and sharing. I dove into the culture that drew me here—a love of hip-hop, breaks, post-punk, reggae, experimental, soul, house, world, and electronic music in general.
I often referred to working at the shop as a kind of music research library. We were encouraged to not only share the knowledge we had but to seek out interesting music from our own varied interest. Through the search I began to embrace the role and artistry of the outsider artist. That became a theme with me not only in the music, but in my own creative adventures.
Through the years I cultivated a community of eager listeners, gaining their trust, learning their taste, and providing customers with a selection of music that would blow their minds, become their soundtrack, and open them up things they may not know overall. Those connections with people I will miss the most, as well as having a platform to share quality music. Being the filter that people often needed to navigate through the wide world of music.
After the store purchased an in-house P.A. system, I often ran the sound of the many in-stores we hosted through the years, getting to meet and connect with many of the artist we supported. From Ali Farka Toure and Tinariwen to Anti-Pop Consortium and Laraaji.
Since the closing announcement I've gone through a spectrum of emotions that I've never experienced with such intensity. It saddens me that I can't offer a new option to customers, that music retail in New York is shrinking. And that a community is being uprooted.
It's difficult to put into words, to reflect on something that has been such an intricate part of my life. There has never been a store quite like Other Music, and I am humbled and grateful to have been able to be a part of New York history.
I will miss the wacky array of co-workers, customers and artist I came in contact with and hope that we all continue to embrace and support music that lives inside and outside the mainstream.
Long live the outsider and long live the Other.
AMANDA COLBENSON
I started working at Other Music straight out of a year-and-a-half stint as a clerk at Mondo Kim's on Saint Marks Place.
Before going in for my interview with Josh I'd only really been in a handful or times to hang posters for shows I had planned and then to see Kevin Ayers (who played a very memorable set to just a handful of onlookers as I recall).
https://youtu.be/Vwv6p-D-doo
Maybe it was due to coming from such a soulless place as Kim's to make me carry such devotion to OM that I stayed there for 10 years, but whatever it was, I would not trade my time working at the store for anything. Owners like Chris and Josh made it feel less like a regular sterile retail environment and more like you were the host of an elite listening party with free reign to play some of the most obscure music available.
I've discovered so many artists over the years, but to name a few that'll stay with me always: El Polen, Kim Jung Mi, Congregacion, La Düsseldorf, Harmonia, Felt! Just to name a few. And not only to find these artists but then to reveal them to others; it was a special set up. This of course was paired with having the first listen at so many local artists we've been able to work with throughout their career from self-released albums and onwards, including Au Revoir Simone, Julianna Barwick, Sharon Van Etten, Endless Boogie, Vampire Weekend, Nite Jewel, Crystal Stilts, and Ex Cops.
SCOTT MOU
I remember meeting Noah [Lennox] for the first time before I even worked at the shop. Dan Hougland introduced us. It was at my first solo DJ residency around the late '90s/early 2000s, when techno and house was almost non-existent in bars especially the new "minimal" stuff of the time. (We hosted artists like Zip and Sammy Dee from Perlon, Ricardo Villalobos, Tobias Thomas from Kompakt, and Traxx from Chicago.)
So later, when I started to work at Other Music, Noah was already thinking we should make music together to explore more electronic sounds. We talked about it for some months and finally decided to try it after he got this small effects unit on eBay. It ended up not working at all (!) but at our first practice jam we made do with what I brought and what was laying around the Animal Collective practice space. I made loops with a MiniDisc and a loop pedal and used a keyboard while he used effects and a mic. This became our first track we ever made and later released: "Coconuts".

Later he would bring a small bag of gear to my house and I would jam loops, keyboards, and effects while he vocalized on top. Soon we began to alternate or sing vocals together, recording these raw improv tracks along the way. We asked a few friends if they'd want to release them but no one was interested, so we just burned them to CD-R ourselves. I packaged them in 7-inch sleeves with cover art I designed myself. Noah worked in mail order, so I remember him ordering all of the black CD sleeves and the poly 7″ bags that we used. We designated copies for other labels or artists we would want to work with. (Those were never delivered and I still have those copies! Hahaha.) We then began selling them at Other Music in small batches on consignment. I still remember this older British guy with dark hair telling me he dug the CD-Rs way before we released anything officially, and then having Dan or someone later tell me it was the guitar player from Radiohead! Those kinds of things happened at the shop all the time.