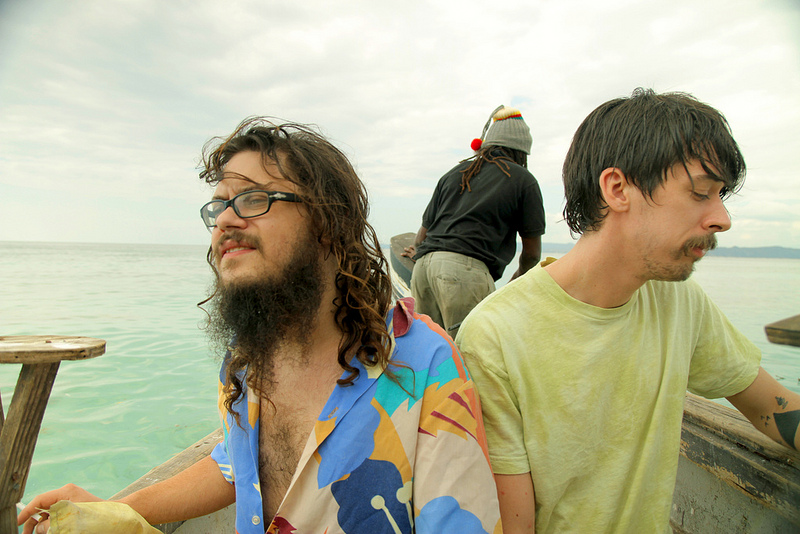 As surprising and satisfying as RVNG Intl.'s entire Frkwys series has been–from Chris & Cosey's black-lit treatment of Excepter to the improvised synth schemes of cult musical figure David Borden and the dream team that is James Ferraro, Laurel Halo, Daniel Lopatin and Samuel Godin–its pairing of "contemporary artists and their progenitors by way of remix, reinterpretation, and original collaboration" has never been as thorough as the collaborative LP that Sun Araw and M. Geddes Gengras (LA Vampires, Pocahaunted, Robedoor) cut at the Congos compound in St. Catherine, Jamaica. The ICON GIVE THANK sessions were so once-in-a-lifetime, in fact, that RVNG asked two filmmakers (Tony Lowe, Sam Fleischner) to document the 10-day experience for an hour-long DVD called ICON EYE.
"All the songs sort of got whipped into a frenzy," explains Sun Araw mastermind Cameron Stallones, when we reach him via E-mail. "We were feeling the lack of time pretty deeply, so we were just doing take after take after take, just blazing through, which is how I like to work–no thinking."
In honor of the album's looming May 1st release and the documentary's 1 p.m. screening/interview session at the Anthology Film Archives tomorrow (presented as part of the Unsound Festival), we asked Gengras and Stallones to discuss the project in depth, along with some details on their respective plans for the rest of the year. Check it out below, and be sure to stop by (Le) Poisson Rouge tonight for a separate Sun Araw set on the same bill as Pole and Emeralds guitarist Mark McGuire…
self-titled: How did you two meet initially? Was it through Not Not Fun since you've both been involved in several records that came out through them?
Cameron Stallones: I met Ged when he started drumming for Pocahaunted. We did a quick tour with the old lineup of Amanda [Brown, of LA Vampires] and Bethany [Cosentino, of Best Coast], and then kept jamming in various bands together.
M. Geddes Gengras: Cameron and I met each other playing shows in L.A. at spaces like the Echo Curio and Synchronicity. We first played together in Pocahaunted and Vibes, starting around 2007/2008, and did some touring together as members of Pocahaunted in 2009/10.
Mark, you've played in a ton of projects over the past couple years. Cameron, you've been pretty focused on Sun Araw. How would the two of you describe your initial rehearsal sessions leading up to the recording of your FRKWYS record? How did they compare to your work with other musicians, and how did you relate to one another, both creatively and personally?
CS:We'd played good hunks of music together in bands, so we know each other's language pretty well, I think. It all felt pretty natural the whole way through. The initial jams we did in LA were just some rudimentary rhythmic improvisations, some drumbeats, some basslines. We tried to keep it real simple so that we could really make the record down there. We just didn't know what our options would be down there, so we wanted to have some skeletons.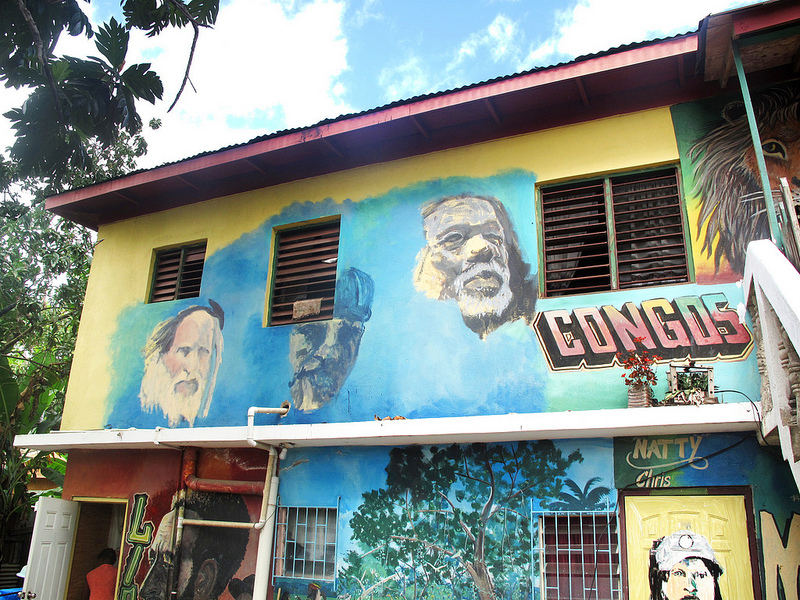 MGG: Having worked with Cameron before, we were at least clued into each other's normal work methods, but more than anything that acted as a lubricant to the recording process, the real challenges weren't in working together but in conceptualizing what the record would become and, in fairness, I don't think either of us had any idea what the end result was going to sound like. We met up a couple times, sometimes here at Green Machines and sometimes at Sun Ark, and recorded some live improvisations, usually just simple rhythmic ideas with a little keyboard or bass. A couple of songs ended up being built around beats I had made in the free version of Ableton and pitched down with my cassette player. We weren't really sure what kind of access we were going to have to recording gear, instruments or other musicians, so we thought it was wise to bring some back-up measures in case these things didn't materialize, and pretty much everything we brought ended up on the album or on the Duppy Gun singles.
I do some producing/engineering out of my home studio, so I'm pretty used to the psychological aspect of working with another artist under less than ideal circumstances and with less time than you'd like. Understanding when to push and when to let up, I think Cam and I quickly fell into a very natural working rhythm and we had no serious problems. You'll never agree on EVERYTHING, but if you can get past that, things go a lot smoother. Playing as a sideman in a lot of other people's projects over the years has made me good at slipping in to whatever roll needs to be filled, musically, but also in terms of personal relations, so I felt as prepared for the sessions as I could have been. Of course nothing was really going to prepare us for what we walked into…
How many concrete ideas did you have going into your sessions with the Congos? Or did you not really have any?
CS: I think we both really tried not to think about it, and just let it happen.
MGG: We really hoped to let the trip–the experience–shape what the record was. Neither of us had any idea of what it was going to be like being there and working with legendary artists like the Congos. Personally, there is a quality in their best work, a sad but proud yearning quality, the spiritual vigor, that we hoped to bring out. We didn't want it to sound like a reggae record, nor a Sun Araw or M. Geddes Gengras record. We wanted it to spring from an honest and open place created in us by the experience.
Were both of you fans of the Congos before this project? If so, can you tell us a little bit about a favorite record or song by them?
CS: Heart of the Congos has always been my number one roots record. "Open Up The Gate" is nailed so tight. That little soul rave-up at the beginning is almost like something from the bridge of a Miracles record, and then that little flush of energy gets laid crossways across this insistent clacking groove. And that dotted bassline stretches the whole thing up and down over and over. Ascendant moves.
MGG: Heart of the Congos has for many years been one of my favorite albums. Lee 'Scratch' Perry at the height of his career, incredible songwriting and production details, and the amazing, haunting voices of Cedric and Roy; it's pretty much as perfect as a roots album gets.
How did the process of working with the Congos in person compare to what you thought it might be like?
CS: Man to be truthful, I had no idea what it would be like. I guess it made an immediate sort of sense. But we really didn't know what the zone would be like at all, and because of that every little thing about it was given like a gift.
MGG: I don't think either of us had any idea how it would go, but once we got over the initial hump of getting to know each other a little bit, they were enthusiastic collaborators–spending a lot of time in the studio well before it was time to track vocals, writing and throwing ideas at us. This was some real EXPERIMENTAL music, in that the whole thing was an experiment, a blessing wrapped up in a series of tests, but the spirit prevailed and we all worked so hard to make it real that, somehow, it all came together.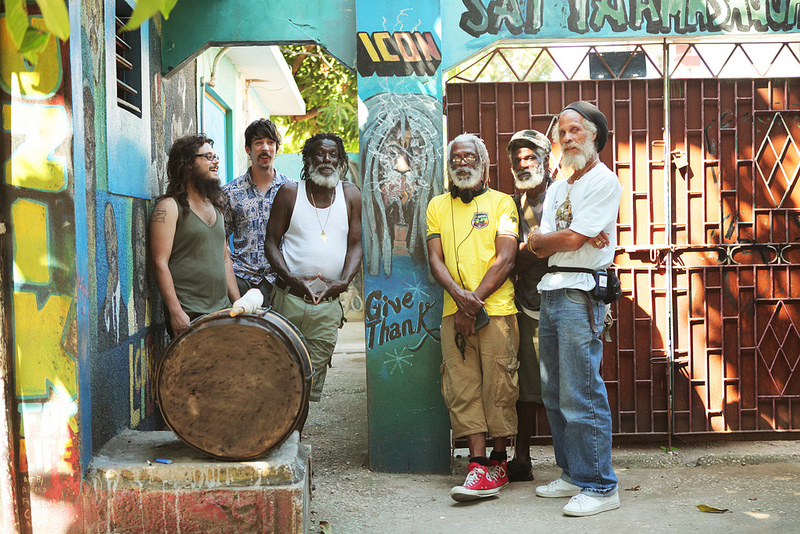 How would you describe the general flow of how the record came together? How much of it was developed together in the same room, and how much was you doing overdubs over one another's ideas?
CS: It was just this sort of stacking cards overdub process. Someone would do a guitar take, then someone would do a keyboard take, then someone would erase something and do a different take. It was just alternating stacks of ideas, and then moving everything around to fit.
MGG: The tracks were pretty much entirely done in three days. We had to get songs into enough shape that we could pass them along to the Congos to write lyrics, so by day three or four, half of the songs were completely tracked and the other half were done by the next day. Man, we hardly left the studio for those first three days. The Rastafari tend to go to bed pretty early, so often after everyone was asleep we would put in a few hours of extra time. We jumped around from track to track, recording overdubs as we got ideas, taking turns trying new stuff out. We knew that it had to be pretty much done by the time we left, so we really only had nine days to make the album.
What's one important life lesson, and one important musical lesson, each of you took away from this experience?
CS: Really deep confirmation that intuition/trust/heartfelt moves lead to connection, even amongst extremely disparate entities with radically different experiences.
MGG: As an artist, I learned a lot about what I am capable of under pressure. I've pretty much designed my living and working situation to allow me to create at whatever rate I'm comfortable with, but seeing how Cameron and I were able to come together and birth this thing, all the while in a crazy new environment, was a lesson in the rewards of intense, hard work. I think the biggest thing i took away from the experience was a new understanding about time, reality, wealth and poverty. Living in Jamaica, even for such a short time, gave me a lifetime's spiritual ammunition, and the lesson learned was that we shape our own worlds and we decide how we experience the things we go through in life. Later in the trip, we ran into an acquaintance we had met a few days back, and when I asked how he had been, he told me he was great, and added "how can it be any other way when life is beautiful?" Giving thanks and praises continually, that is the core value, that's why we named the record like we did. You have to give thanks all the time, be aware of all the gifts life has given, even when they are hidden under your hang-ups and problems.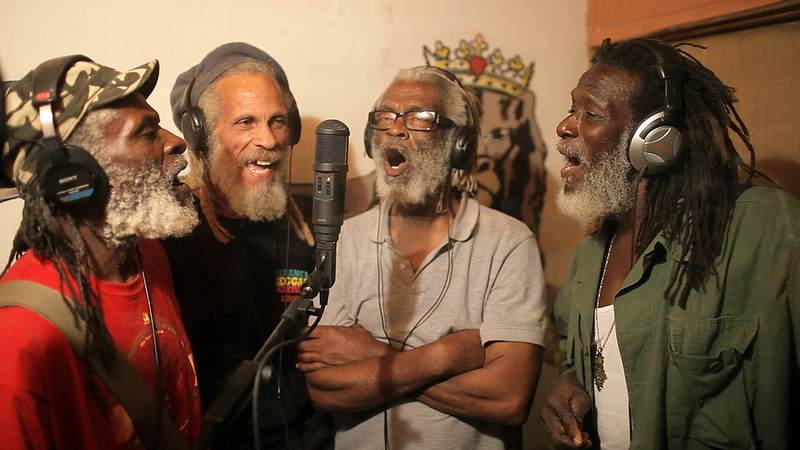 Did the community aspect of the Congos leave you wishing more artists had that kind of thing going on in the U.S.?
CS: Sure, though to be truthful, there really are lots of groups and communities of people just like that in the U.S. Any scene runs on the love of those involved, there are some scenes with legs all over this country. People that care about things like musical expression tend to create spaces for it to live.
MGG: There is a very specific community vibe there that was wonderful and welcoming, but I also think that I already live in a community of amazing and wonderful artists our here in Los Angeles. The lesson is more asking the question 'how can we come together and live as one and respect each other MORE?'
Would you describe the experience of making ICON GIVE THANK as a deeply spiritual one in some ways?
CS: Yup.
MGG: Real artistic expression always taps into the spiritual, and, although we come from different traditions, the Congos understood where we were coming from. Early on, Ashanti Roy told us that we were roots people, and so we would understand each other, and I think what we do and what they do ultimately has the same goal, to put you in touch with that spiritual part of yourself
How would you describe the setting of your sessions, St. Catherine, and how it may have influenced your work? Had either of you been to Jamaica before?
CS: It's an incredible place, I had never really been anywhere like it before. The area we were in was sort of rural, with some sprawl. Not a very safe place,
MGG: It was our first time, so that alone as a big shock. It was a totally alien place, beautiful and terrifying all at once. St Catherine has a weird, almost suburban feel, close neighborhoods 30 or so miles outside the city, close to the ocean. The area we were in seemed to be pretty heavily populated by Rastafari, so there was a lot of ital food around. We were there in January and returned that December and it was always hot. The studio is in the first floor of the house, and is the only air conditioned room. We spent most of our time there or hanging out outside, sitting on a railway tie up on cinder blocks. Everything we ate came from nearby, fruit from a neighbors tree or fish we would go and buy right off the boat. Music is everywhere, blasting out of a million broken down speakers, contemporary dancehall, American rap/R&B, roots and soul oldies. There was a bar about a half block down from the alley they lived on and we would walk there in the daytime to drink beer and listen to music. Everywhere we went, people knew who we were and that we were producers, and we certainly stuck out enough, so we got a lot of attention paid to us. We were told on arrival that it could also be a very rough neighborhood, so we seldom traveled alone and usually stayed in once the sun had gone down.
Could you each tell us about a few songs that you're especially proud of from the sessions, along with how those songs came to be?
MGG: One of my favorite songs on the album, "Thanks & Praise," almost didn't make it into existence. The raw track we brought with us was just a slow bass line and some inspired flailing on my Simmons electronic drum pads. We were going to chuck it, but we decided there was something there and asked Likkle David (guitarist for the Congos) if he would track some acoustic guitar over it. his first take was kind of rough, and then Ashanti stepped into the booth and spoke with him for around 45 seconds. Second take, the first two passes were off a little but then he stepped into it and started playing beautifully. The guitar implied a new rhythm and a melody, which I sketched out on keyboard, Cameron re-tracked the bass part and added the lead keys at the end, and all of a sudden it was starting to make sense. The Congos laid down some beautiful vocals, but they only lasted for the first half of the song, so I copied and pasted the backing vocals in over the rest of the track and ran them through heavy tape echo, figuring that the second half of the song could function as a dub of the first. The last thing we tracked was Ashanti's giant drum, which I played to emphasize certain elements of the lyrics and singing, not in a straight rhythm.
"Happy Song" was the first track to really feel DONE; it came together fast. The basic beat I had brought back from L.A. and by the end of the first day we had done a couple passes on keyboards and guitar. Cedric walked around for days singing the melody that he heard for a chorus, but hearing it with the full four part harmonies in place made it so REAL. We were using a lot of visual language to describe the sounds we were hearing or wanted to hear, it was a pale green. So much of the tonal feel was dictated by the fact that we didn't have an amp there, all of the instruments were recorded straight into the desk. We used an old '80's Ibanez rack mount analog delay/stereo chorus on almost everything, the chorus screams out on the lead guitar on this track. Often one of us would play an instrument while the other one tweaked the delay or filter, jamming on the same part.
I was blown away by the vocal arrangements for "Jungle"; we had tracked the beat with Cameron on keys and myself on bass back in L.A., but hearing the way their voices bobbed in and around the bass line drops and fills, it sounded like we were all in the room together. Watty latched onto this song immediately, he wanted us to add more "strange sounds, like you don't know what is going on." He said this song didn't need a message, just "some weird shit that makes you say 'huh?', animal noises and all that shit."
CS:I feel similarly about "Happy Song." It came together in this strange way where it's still hard when I hear it for me to pick apart what's going on. It alchemically fused into something that really stands up–that's pretty immediate feeling–but it's probably the strangest track in some structural ways. What's actually making it walk is a real delicate balance between a lot of really wonky instrumentation. I'm really happy with the underwater clavinet on that one.
Now that you played together on this record, have their been talks about the two of you performing together on the next Sun Araw album, or in another entirely unrelated project?
CS: Ged played in the Sun Araw Band on this last tour, that band gets changed all the time. We jam together on the regs; we'll continue to. But yeah, Sun Araw is just my solo project, so the records are always made by me.
MGG: Sun Araw is really Cameron's thing. I've played in his band before and I'm sure I will again in the future, but he's always made the records pretty much all by himself. Future collaborations are always in the works, plus we'll have more material from our dancehall imprint DUPPY GUN PRODUCTIONS coming out soon, maybe a month or two from now.
Cameron, what's your Unsound performance going to be like? What can we expect from your DJ set with Heat Wave?
CS: It's gonna be molotov cocktails man. We got Jon from Janka Nabay/Bubu Gang on v-drums. Digital tantric rhythms.
What else do you two have on tap for 2012?
CS: The Inner Treaty, the new Sun Araw album, just finished it. Hope it'll be out in the summer.
MGG: Lots of new solo material on tape and vinyl, including my first LP coming courtesy of amazing L.A.-based Leaving Records, a 12" on new label Peak Oil of my minimal techno side project Personable, collaborations with Matthewdavid, video artist Miko Revereza, and others, new bands, tour dates, LONDON–it's the year everything changes so put on a tie and tuck in yr shirt.