Lead photo: Alexander Robotnick
"It is a balance, of course," says Medical Records founder Troy Wadsworth, a hematologist/oncologist who happens to run one of Seattle's most promising imprints when he's not working at Tacoma General Hospital. "This is what makes life interesting right?"
Right. Did we mention Dr. Wadsworth also has a 5-month-old daughter to tend to at night? Well he does, and yet it's only taken him three years to put his lovingly curated limited vinyl releases—a mix of "minimal synth, cosmic disco, wave (cold/new), dream/gaze pop and futuristic music"—on the same plane as admitted influences like Minimal Wave and Vinyl-On-Demand. In the following profile, we look towards 2014 while paying tribute to the past and exploring Medical's lavish layouts alongside an exclusive mix…
[youlist pid="PLlxVAExh_bYYXezm3GdSKKIy8pWLVpDk6″ width="960″ height="540″]
When did you first get into this kind of music, and what were a few gateway artists/albums that made you want to dig even deeper?
I was first enthralled by synth-pop in my childhood, while listening to the radio. I used to love hearing songs like "Fade To Grey" by Visage or "Don't You Want Me" by the Human League. I would make cassette compilations all the time and play them on my cheap, horrible sounding portable tape player. As I got older, my tastes travelled through many styles, including metal, lots of Prince, and early breakdance music. By the time I was in high school, I became interested in the Cure, Depeche Mode and the Smiths. Somewhere in the '90s, my friend bought a copy of The Pleasure Principle and I was hooked. I had of course heard "Cars" a million times, but had no idea of the depth and power of that record. From there, it was all downhill so to speak. That was the catalyst that sent me on the quest that I am still on today. One layer deeper was Travelogue by the Human League, which is still my favorite record from that time period.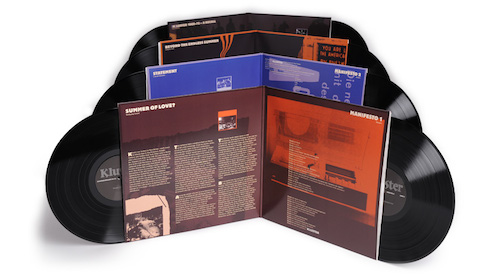 What were the early days of Medical Records like? Was the business side of reissuing out-of-print/rare records harder than you anticipated?
Well, I had a lot to learn. I had no previous knowledge about record pressing plants, contracts, etc., etc. I had to learn as I went along, but I was lucky to have the help of Frank Maier from Vinyl-On-Demand, who I still think of as a mentor and someone I look up to. As far as having success on the first few records, I think it was a bit of luck and what I would like to think was good selection skills for the first two releases: Deutsche Wertarbeit and Alexander Robotnick. People (including me) seem to be very hungry for these reissues in general, so the growing audience for already established labels certainly made life a bit easier at the time as well.
What are some labels that informed the aesthetic and overall goals of Medical Records in your early days?
Well, I absolutely idolized Vinyl-On-Demand for their comprehensive releases and packaging. Those types of elaborate archival box sets are a bit out of my league, but I still aimed to release high quality record pressings with well thought-out artwork and layouts. Both Tyler (my art director) and myself are big fans of '60s Pop Art and space-age stylings. I like my records like I like my furniture and decor—bold and retina-burning with lots of clashing colors. I used to always want to have a living room that looks like the bedroom in Beyond the Valley of the Dolls, and I guess my choices for colors on the releases is an extension of that.
What were some of the biggest roadblocks in the beginning? Now that you've been around for a few years, is there anything you'd do differently in retrospect? Any advice you'd give to someone trying to start a reissue label in 2013?
The biggest challenges arose from being a label no one has heard of, and the difficulties in finding and convincing artists that they should take a chance and let me reissue their lost gem. There were multitudes of unanswered emails, dead ends, etc. The stars finally did collide—after about 9-to-12 months of contacting artists—when Dorothea Raukes (Deutsche Wertarbeit) and Maurizio Dami (Alexander Robotnick) both decided to work with me, and the rest is history. Matters became much easier after those first two releases. After I tracked down Chrisma, they were more than willing to let me reissue their early albums. With those foundations, I think people began taking Medical Records seriously.
Honestly, I can't say I would do anything too differently. On a technical level, I have learned a lot, so I might handle things differently with regards to master tapes, source material and the like, but that's about it. I am very pleased with the evolution overall. My advice to someone trying to do what I'm doing is to never compromise your standards and make damn sure you are 100-percent passionate about the music you want to reissue. In other words, if you don't absolutely think it is crucial listening, then don't bother.
"It takes a lot of time to build that trust"
The sound quality of your records is obviously very important, and reflected in the heavy, loud vinyl pressings you do. How familiar were you with recording/remastering techniques before starting the label? Has that been one of the hardest parts of it—replicating old tapes in the best manner possible?
I was very unfamiliar with all the technical logistics of transferring, baking tapes, remastering, etc. I knew nothing actually. As time went on, I learned a lot working with the pressing plant and getting advice and facts from as many people who would want to talk with me. One of the main challenges of this is ensuring we have the absolute best possible source material for which to press the vinyl. Almost every release has been different, but it can range from actual restoration of analog 1/4″ tape from the '80s to transferring and EQ'ing a dusty cassette all the way to simply taking previously digitized masters and simply using them. My experience is that the more work we put into it, usually the more rewarding the process becomes. An example is the upcoming Aloa LP, which we sourced from the original tapes. Using modern technology to restore those tapes completely brought that music back to life. The original LP doesn't even begin to compare to the sound quality of the restoration. It is very exciting.
You must meet some interesting characters in the process of tracking artists down to ask for their permission to reissue their records. Any stories that stand out from over the years? Anyone who deserves their own documentary or at least the simple act of sitting down and actually reading the liner notes that come with a record?
Well, most of the artists I have worked with can be quite private people, who have been living their lives far removed from their brief sonic experiments in new wave in the early '80s. On the other hand, some of them are still quite active producing, remixing and performing music to this very day. I have a very special place in my heart for Maurizio Dami (Alexander Robotnick), as he was kind enough to drive me and my wife all over Florence last year while we were on vacation in Italy. Still one of my favorite overall stories is the creation of the Axxess record, which as you may know, was the brainchild of Patrick Mimran who was running Lamborghini at the time. The liner notes have the whole story, of course. Someone who I think probably deserves a documentary is Tom Ellard (of Severed Heads fame). We are releasing two of their seminal LPs next year. He is an absolute audio/visual pioneer, and I would certainly love to sit down for two hours and watch an in-depth feature on his life, times, and accomplishments.
Who is involved with the label on a regular basis and what are their respective roles?
The original trio was myself (the boss, if you will), my wife Heidi (books and moral support), and Tyler Jacobsen (my oldest friend and artist). Though the core three of us are still intact, there is more of an expanded team these days. We work closely with Nick Mariano, who runs the Crispy Nuggets blog. He is an excellent idea man, and we have collaborated on three releases so far. Tyler's brother Jacob is also working with us now, doing a bit of mastering and helping out with some of the fine print with regards to the audio. Then there a huge number of people who are constantly sending me suggestions, ideas and requests for reissues. This is one of my favorite parts as it quadruples my exposure to music I likely haven't heard. Some of these suggestions have directly led to reissues (I Signori Della Galassia). We also receive a fair amount of demo materials from contemporary bands which is a lot of fun as well.
There's been a noticeable rise in labels reissuing synth/cold/new-wave records in recent years. What do you think sets Medical Records apart in what's become an exciting but crowded market?
I think we—the community of labels—all have something quite different to offer, actually. The common thread is synth-based wave and the like, but there are pretty big differences in the way we all release records, the aesthetics and styles, and other details. I feel we have built the reputation at this point that people will hopefully buy one of our titles and know they can trust it will be interesting and meet their expectations for what they have heard us release in the past. It takes a lot of time to build that trust.
Do you feel like the act of tracking rare/out-of-print releases down for reissue has gotten more competitive, where it's almost like a race to find that next great hidden gem very few people have heard before?
I think there is a never-ending amount of stuff that is out there. Yes, we will bump into each other occasionally tracking down these artists, but it's more rare than you might imagine. I can count on one hand how many times that has even happened so far. And if it does, we sometimes even collaborate and consider a split release. I don't feel it's a race at all. In fact, the backlog of potential records gets so long sometimes that I have to force myself to "stop looking" for a bit to get caught up!
Has the rise of reissues made you want to shift your focus to discovering new artists? There's certainly a lot making this kind of music out there, many of which have been influenced by the kind of records you reissue.
Funny you should mention as we just released our first contemporary band this month. Illustration Sonore is a French duo, and we fell in love with their tunes. I have been wanting to work on releasing new artists for some time but was waiting until the right one crossed my path. So, yes, this will be an ongoing goal to release artists of this style.
The tagline for the label is "purveyors of classic synth, cosmic disco, wave (cold/new) and future music." Do you feel like that's still the best description of what you do?
Ha, yes, I still do. We also added "dream/gaze pop" to that description, as we are starting to venture into '90s and '00s shoegaze-type territory as well. I have always been obsessed by the vision of the future dreamt up by all my favorite early '80s artists, so I still like to think of this style as "future music." The disco and classic synth additions cover the gamut of diverse reissues we have released that don't fall exactly in the new-wave definition such as Axxess, Paul Nelson, etc.
One of the things I think people don't understand about labels like Medical Records and Minimal Wave is that the sound of your releases isn't limited to one simple sub-genre. Everything has a distinct vibe to it, united by superficial elements like the use of synthesizers, melancholic moods, etc. What are some releases you've put out that really hammer this point home and show the diversity of the label?
Expanding on what I was describing when discussing the tagline, I totally agree with your statement. I would not want to rigidly release only synth-pop reissues. Of course I love all that, but the label's reissues, such as I Signori Della Galassia, Deutsche Wertarbeit and Lou Champagne System, mirror my own diverse taste in music. I listen to a lot of proggy synth records, like artists on Sky Records (and Bureau B reissues), as well as tons of Italo disco and space disco. I think it all meshes well with new wave, as the best disco, in my opinion, is almost wave-crossover and less jammy, rock band-oriented disco, which is what most people are aware of. I'm less into the rock-oriented prog rock, but I absolutely love material like Richard Pinhas, as well as library music and and early electronic pioneers.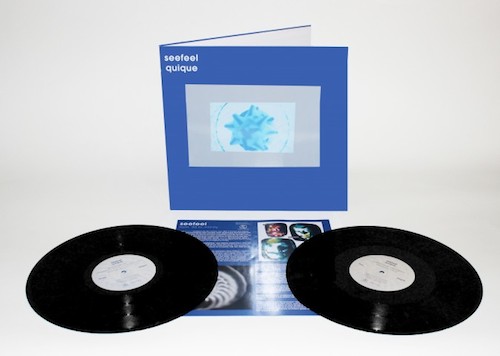 How did the Seefeel collaboration with Light in the Attic come together?
Quique is hands down one of the most important records of all time. (In my opinion, of course.) When I started considering doing some '90s reissues of my favorite shoegaze/crossover-type artists, Seefeel was very high on my wish list. I learned rather quickly that licensing a reissue of Seefeel might be out of my league. Well, I have been working with Light in the Attic for a while now as they are my biggest distributor (and are here in Seattle). That led to us eventually proposing a co-release on a much larger scale than Medical. It all worked out and was approved by the major label that holds the rights. The record came out a few months ago and was received quite well. In fact, it is already becoming quite scarce…
You've mentioned doing more releases like that in the near future. Any details you can share?
Yes. In 2014, I will be doing a 2-LP that contains the first two albums by Spain's Silvania. It is a breathtakingly beautiful collection. The first album follows the same path as Slowdive and sounds like a cross between Just For a Day and maybe a heavier Ride. The second LP in the set is an evolution into more electronic soundscapes that actually has some similarities to Seefeel or Locust. I have one more surprise in this category as well but it is too early to discuss unfortunately until the details are confirmed.
What are some releases you're especially excited about in the coming months?
The three that just came out are all quite exhilarating. Vortex is a fantastic, synthed-out masterpiece by Portland resident Paul Nelson. Our first compilation of singles (A+B) also came out, which is a collaboration with Crispy Nuggets. There will be many more of those to come. And as mentioned earlier, we released our first new artist, Illustration Sonore. I must say that I am extra excited to reissue the British Electric Foundation (BEF) early cassette, which we have modified the name to Music For Turntables. Me being the Travelogue addict that I am, this was obviously a dream come true, as these recordings sound like the same session at times. It will be a nice embossed jacket as well, which is a new feature for us. It should be out in January or February, we hope. 2014 will also be the first time we have participated in the Record Store Day craze. We are releasing two Record Store Day exclusives including Electroconvulsive Therapy Vol 2: Fuzz Dance, which is a compilation of rare Italo 12″ singles on the Materiali Sonori sublabel and the other is Alexander Robotnick's Vintage Robotnicks which is a comp of early tracks and singles. They will both be fantastic!
Anything else you'd like to add about Medical so far or what we can expect in the near future?
You can always expect to be surprised; that, I promise.
ALOAS – "BANANE ZITRONE"
This is a very obscure Neue Deutsche Welle artist that we are reissuing in early 2014. A very diverse album, with unusual synth textures and subject matter. Archived from the original 1/4″ analog tapes.
HUMAN LEAGUE – "THE DIGNITY OF LABOUR PART 3"
I pretty much went to a different planet the first time I heard Travelogue and this EP. It immediately conjures up vivid, imaginary scenes from Blade Runner, crossed with a futuristic, cold nightclub. Absolutely brilliant, pointed synth lines ala the Jupiter 4 and co.
PAUL NELSON – "VORTEX 3"
This is a great cut off one of our newest releases. A synth odyssey meets the best Tangerine Dream/Schultze sequences with even more of a DIY/human element. Pacific northwest wizardry at its finest.
OMD – "ABC AUTO INDUSTRY"
Dazzle Ships has to be one of my biggest influences after Travelogue. The moods and atmosphere of that record are truly unique. I love the samples and interesting interludes. It's funny how OMD seemed almost embarrassed of this record in interviews. Definitely my favorite work of theirs.
CHRISTOF GLOWALLA – "ERDE 80"
This track was one of the first really obscure "cold wave" tracks I ever heard. It has to be one of my top 10 tracks of the period. I liked it so much that I had to track him down, which eventually resulted in the 10″ we released. Intensely dark and stormy moods oozing out of those keyboard tracks!
FLYING LIZARDS – "HANDS 2 TAKE"
Another of my early influences, delving into the far and odd reaches of new wave. Dave Cunningham is a fascinating artist. Flying Lizards seemed to really genre-skip, which made them quite interesting. I also love Peter Greenaway's film The Falls, which includes some of their music, really setting the mood.
ILLUSTRATION SONORE – "INSTRUMENTAL"
A nice and deep instrumental track by the the first new artist on Medical Records. Just released this month.
SEVERED HEAD – "BIG CAR"
I am incapable of making a DJ set without at least one Severed Head track. I absolutely adore them, and feel they are so under-appreciated. We are releasing City Slab Horror and Since the Accident next year, both of which I am ecstatic about. Just emailing with Tom Ellard makes me feel like a giggling school girl. Needless to say, I'm a huge fan.
SUN LA SHAN – "CATCH (DUB)"
If it's not obvious, I'm also a huge fan of the synthed-out Italo-disco strains. This track will forever be my favorite from that genre. For me, this is "sit in the back of the room and space out" disco, absolutely perfect in every way. I have to thank my good friend Thomas Fischer for turning me on to the Italo underground stuff when I was living in Philadelphia.
SUPERSEMPFFT – "BE A MAN YOU FROG"
Amazing German outfit who are well known in the cosmic/proggy synth circles. A collection of their material was recently reissued in a limited run, but I'm hoping the proper LP is eventually reissued. Crucial listening.
PSYCHIC YOUTH – "THE FUTURE NOW"
This is one of the super rare and out of print 7″s included on our newest comp, Electroconvulsive Therapy Vol 1. This is a Boston-based act led by Perry Geyer who also worked with Manufacture. The LP includes the A + B sides of the original 7″ record.
BRITISH ELECTRIC FOUNDATION (BEF) – "A BABY CALLED BILLY"
Upcoming release in early 2014. For the uninitiated, BEF is Martyn Ware and Ian Craig Marsh of the aforementioned and amazing Human League during the first two albums. They left before the League went on to do Dare and made this instrumental masterpiece. They then went on to form Heaven 17 and also made other BEF records which are quite different to this in comparison. This is very similar to the instrumental tracks on Travelogue…
JOHN CARPENTER, "CHRISTINE (REMIX)"
This is one of those nebulous Carpenter remixes, but it sounds amazing. I have to think watching all those horror movies as a child influenced me to get into wave and synth music. Those creepy climates were unbeatable.
ROLADEX, "CATHODE RAYS"
This is the debut album by my artist and friend Tyler Jacobsen and his bandmate Elyssa Worley. They have been gathering a nice following on Soundcloud and social media, and it is high time a full length LP is unleashed on the world. We are very excited for this one.
CHRIS AND COSEY – "WALKING THROUGH HEAVEN"
Last but not least, this song (and whole album) has remained another of my all time favorite tracks. Their influence is far and wide and well-deserved. Chris Carter is a programming genius. This track is so haunting yet beautiful. Perfect closer for this mix!
And now, art director Tyler Jacobsen takes us through his favorite Medical Records layouts and some of the outside sleeves that have inspired him over the years…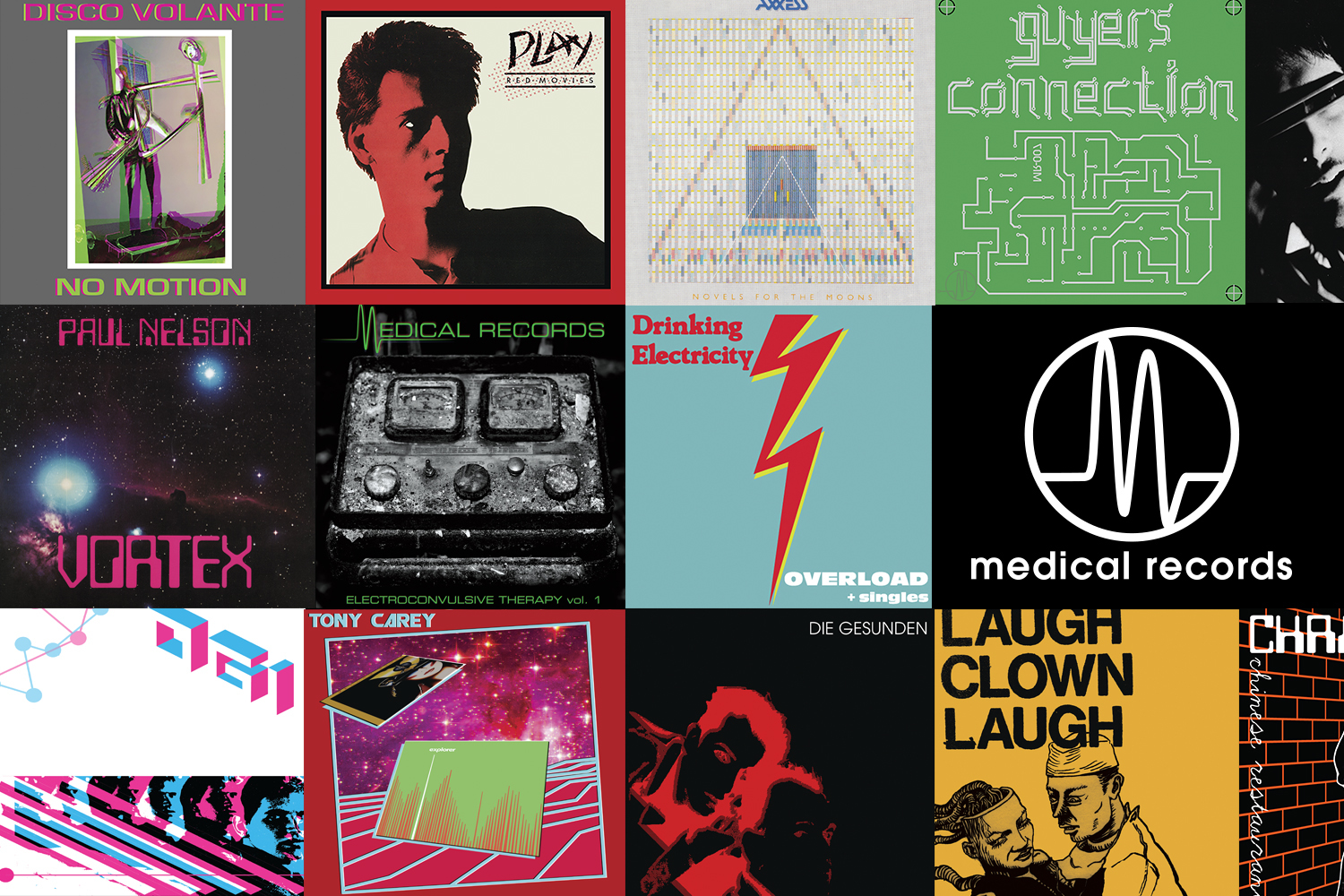 Words by Tyler Jacobsen
When Dr. Troy—one of my oldest friends—came to me in 2009 and asked for my help with the art/design for a record label, I was thrilled. Finally we could make the leap from obsessive fans to actually making records. I knew how passionate Troy was about music, and now with Medical Records we could share this passion with other people. For the look of the label/LPs, Troy and I try to give the listener a window into what we love about this type of music when they pick up a Medical release in the shop, while still paying respect to the original vision of the artists.
Our iconography often includes, but is not limited to: circuit/schematics/synthesizer/technology fetishism; off-registration new-wave neon/Pop Art/punk Xerox art; vintage science/engineering textbook photography; outer-space cosmic themes; '60s Riley/Vasarely-influenced design; vibrant geometric forms like that of Josef Albers-era Bauhaus; and even the dismal, dystopian ideas of J.G. Ballard-ish futurist ideas.
We also want to subtly let people know that they are looking at a Medical LP. When designing, I often try to clandestinely slip on my "latex gloves" and quietly drop references to a "medical/surgical" theme, without being to up front or oblivious about it.
Here are some of my favorite designs we have done, in no particular order…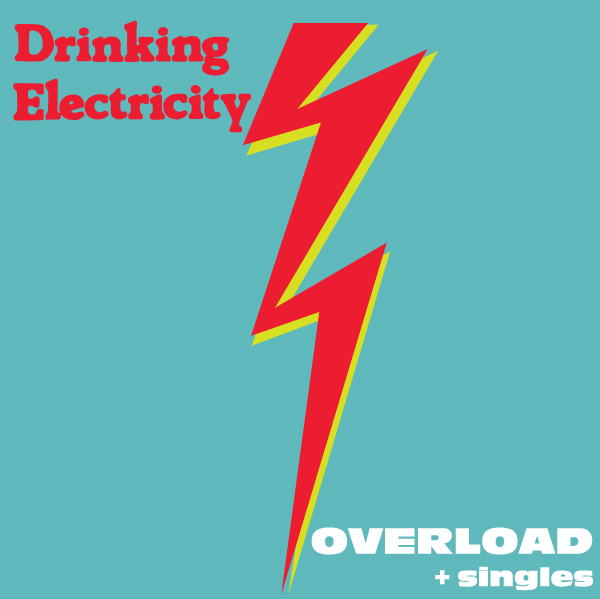 1. Drinking Electricity, Overload 2xLP
I loved doing this one. we used Drinking Electricity's lightning bolt logo as a basis for the design. They had used a similar cover for a 7" single in the early '80s and were not happy with the original jacket of the Overload LP. I tried to use vibrating, elastic colors to play with peoples' eyes, especially on the gatefold layout pattern inside.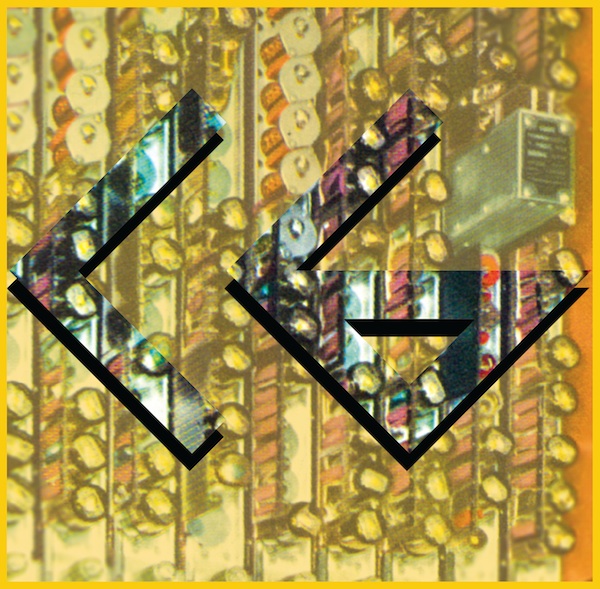 2. Christof Glowalla, Erde 80 10" EP
This one was fun. I used a scan of photographs from antiquated Bell Laboratories' computers as a background and tried to offset that with Glowalla's logo. I then did a sort of op-art layout for the reverse, borrowing from the washed-out colors from the photograph. I enjoyed early digital, utilitarian results.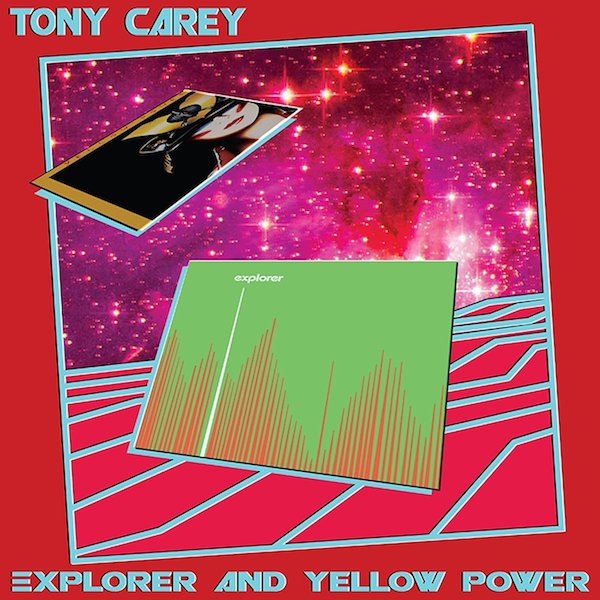 3. Tony Carey, Explorer and Yellow Power 2xLP
This sort of prog/cosmic disco release was a lot of fun to layout. I wanted to find a way to present the two original covers while referencing the music of the era. I found influence from VHS compilation videos from the early '80s. I mixed this sorta futuristic digi-vector landscape with a NASA photograph of a horsehead nebula, with the original covers flying out of the depths of space like the Kryptonian criminals in the end of Superman II from 1980. I thought it was a good way to present these two spaced-out, synth-disco gems.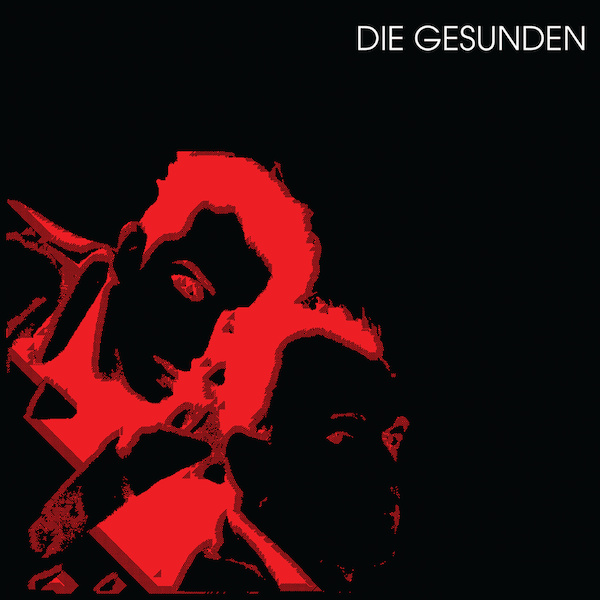 4. Die Gesunden, Die Gesunden LP
This record was interesting because I wanted to allude to the original cover while coming up with something completely different, dark and minimal, to stand against the steamy NDW that is Die Gesunden. The band gave me photographs they had shot in the early '80s, used for the original LP. These photographs had a film noir, sort-of-dark new romance to them. I took the cover photo and actually converted it digitally to a very "rubber stamp," photocopy look, and then actually made that file into a short video clip, which I used to create a video feedback effect on top of the image. The final cover is a single video still from those feedback experiments. For the reverse, I used an unused photograph from that original shoot, which I tried to integrate into the black background in a German Expressionist/neo-noir fashion.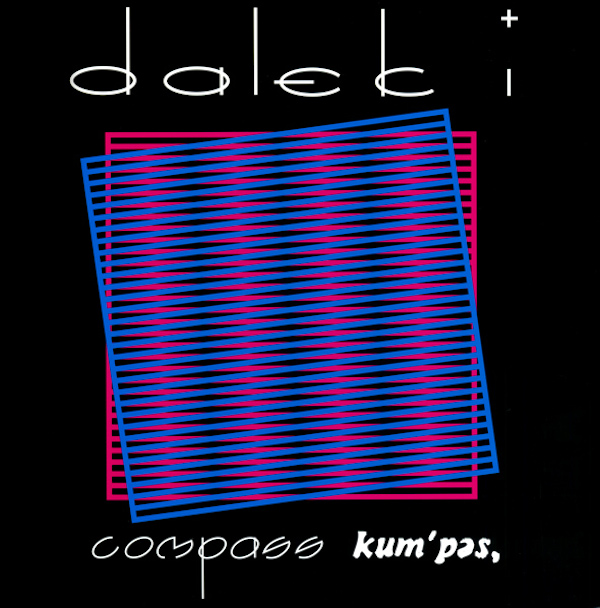 5. Dalek I, Compass Kum'pas LP + Flexi Disc
This was one of the first records that Troy and I talked about reissuing, even before the label had started. It always had a special place in our synth-pop hearts. This was another case of the band wanting a complete redesign. I really tried to use the band's look and mix that with the '60s op-art minimalism (which, at the time, influenced early '80s sunglass-at-night Patrick Nagel miniblindness).
Here are some record covers that have informed my own design aesthetic…