Light In the Attic's Cinewax imprint has confirmed the Tangerine Dream-like Jodorowsky's Dune soundtrack for a November 6th release. Featuring liner notes by composer Kurt Stenzel and a "cosmic swirl" pressing limited to just 1,000 copies, the album is meant to be heard like one—spread over four distinct sides and unfolding like a film itself.
"I wanted it to play like the records I grew up with," explains Stenzel, "where every side was a journey."
In case you missed its low-key release last year, Jodorowsky's Dune is director Frank Pavich's documentary about Alejandro Jodorowsky's failed attempt to adapt Frank Herbert's cult sci-fi novel Dune. Believe it or not, the film was supposed to feature music from Pink Floyd and Magma, set and character design from H.R. Giger (pictured above),and appearances by Salvador Dalí, Orson Welles, Gloria Swanson, David Carradine and Mick Jagger.
The way Stenzel sees it, "Jodo's voice is actually the soundtrack's main musical instrument–listening to him was almost like hypnosis, like going to the guru every night."
Sample one of those songs down below, right alongside the film's official trailer. Stenzel's synth-glazed score can also be pre-ordered here.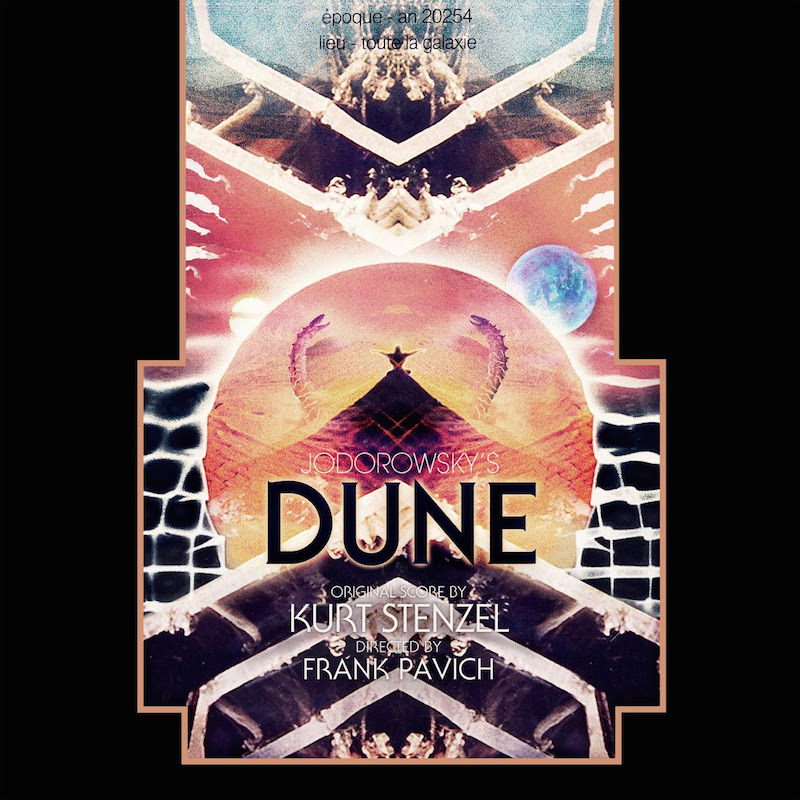 Kurt Stenzel
Jodorowsky's Dune Original Motion Picture Soundtrack
(Cinewax, November 13th)
1. Coming of a God
2. Greatest Movie Never Made
3. Parallel World
4. Parallel World (outro)
5. Leap of Faith
6. Time and Space
7. Optical World
8. Nebula
9. Invitation
10. Point of View
11. Moebius
12. Arrakis
13. Millions of Stars
14. Into the Galaxy
15. O'Bannon Meets Jodo
16. Finding the Others
17. Spiritual Warriors
18. Conception of Paul
19. Ships With Souls
20. The Pirate Spaceship
21. Rescue From a Sandworm
22. Mad Emperor
23. Burning Giraffes
24. Baron Harkonnen
25. Giger's Theme
26. Deepest Darkness of the Soul
27. Feyd Rautha
28. Total Extermination
29. I Am Dune
30. Hollywood
31. Fingerprints
32. Open the Mind
33. Try