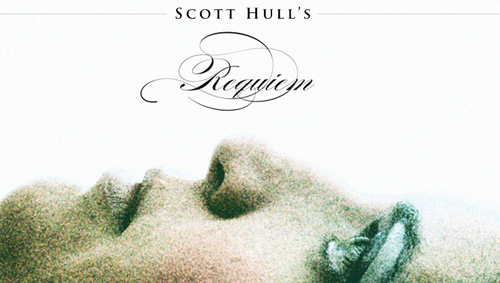 Some building maintenance motherfucker has been using a power drill right outside self-titled's office door for the past two hours. Actually, now he's up in our area.
So what did we do in defiance to such distractions? Why, we put on Scott Hull's accidental debut, a scrapped film score that has nothing to do with his daily grind routine in Pig Destroyer and Agoraphobic Nosebleed. Quite the complete opposite, actually.
Scott Hull (far right) with the rest of PIG DESTROYER
A melancholy, downright beautiful meditation on "the pathos of death, the burden of guilt, and the weight of consequence in all their stages," Requiem is Hull's first fully-realized collection of cuts that reference everything from Tangerine Dream (the rain showers and shimmering synths of "Santificato," the 14 lost-in-the-clouds minutes of "In Paradisum Deducant Te Angeli") to Neil Young's seminal Dead Man soundtrack (the country-fried segue of "Shootout"). If you can't tell already, Hull's a little too literal with the song titles, as if to spell out "this one's influenced by Morricone and that one's a total Goblin tribute." Not that it matters when the music itself works without ever sounding like trace-over tracks.
Honestly, the only disappointment here is the disc's total running time: just 36.5 minutes, 14 of which are dedicated to the closing track. This may sound like a mute point considering Hull typically churns out whip-smart, minute-and-a-half snippets of blast beats and bewildering riffs, but it's hard not to feel like most of these songs could have been explored and expanded much further.
Ask Hull about the album and he'll probably respond with a shrug, however. As he explained via a MySpace posting earlier this year, "[Requiem] wouldn't really have been my FIRST choice as a solo artist to release, because it was music written for a specific purpose, so I don't REALLY consider this a solo record. But I hope some of you out there can get into it."
We just did.