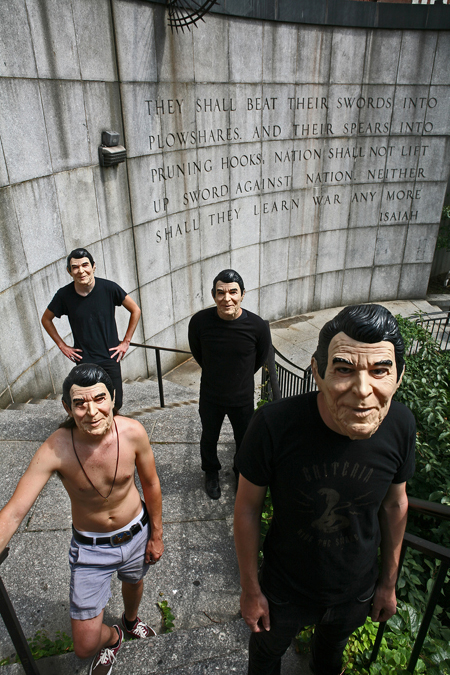 While it's not exactly the "power violence" throwback promised by a press release (except for, say, the shock treatment tactics of "I Keep Living the Same Day"), United Nations–a top-secret side project featuring members of Thursday (vocalist Geoff Rickly), Glassjaw (vocalist Daryl Palumbo), Converge (drummer Ben Koller), Made Out of Babies (bassist Eric Cooper) and more–is a total screamo record. Not in the Atreyu/Taking Back Sunday sense of the word; we're talking angry & angular noise cadets like Orchid, Saetia, and Reversal of Man.
Translation: tracks that bludgeon and bolt their way across your speakers, cramming 11 songs into 25 minutes. This would get tiring and, well, a bit silly if it were tracked like a blink-and-it's-over grindcore record. (Having Jim Hauty of the infamous KLF collective do the band's cover art–the Beatles' Abbey Road … up in flames–certainly doesn't help in the "is this a joke?" department.) Instead, Palumbo screams bloody hell throughout the entire album (he's never sounded this angry, honestly), while Rickly belts hearty melodies into an incredibly tight mix of post-hardcore nihilism.
The twist? Some tracks even leave enough room for actual dynamics, from the smoke screen guitars and psych-pop verses of "The Shape of Punk That Never Came" (yes, that's a Refused reference) to the sax solo that carries "Say Goodbye To General Figment of the USS Imagination" out to sea. Other than that, this is a disc that'll definitely get a lot of plays in the self-titled office between now and Election Day. As for the group's reported children's record, United Nations Play Pretty For a Bunch of Fucking Babies, we have one suggestion: send that one to Palin's camp ASAP.