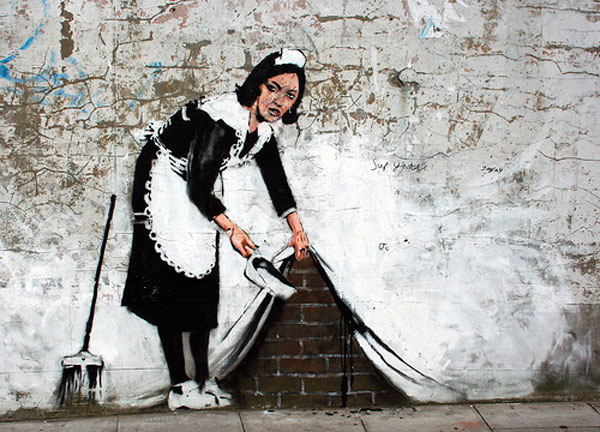 Chris Palko first stormed onto the underground hip-hop scene as Cage with "Agent Orange," a Clockwork Orange-sampling single from his 2002 album, Movies For the Blind. His free associative film column pays tribute to that record and runs on our daily site at the start of every week.
I have to admit I was wrong. I saw the trailer for Kick-Ass and thought YUCK. But then I skimmed through the graphic novel it's based on and thought, 'FUCK, I might need to see this.' This is one of the best black comedies I've seen in a while. At this point, you should know what the movie is about, but what you might not know is how gory and twisted it is. For instance, there's an 11-year-old super girl whose sadistic father makes her test bulletproof vests, promising her ice cream if she can take a few more shots to the chest. Yep, this movie is awesome.
GEEK WARNING: Hit Girl reminds me of Carrie Kelly, the 13-year-old female Robin from Batman: The Dark Knight Returns, except Hit Girl is chopping off limps and dropping C-bombs. I was hysterically laughing as she impaled, sliced and shot her way through assailants in Matrix-style malays. The main Hero, Kick Ass, is okay but Hit Girl leaves you frothing at the mouth, awaiting her next scene. Considering she's way underage, that's disgusting.
If I still wore hats, I would eat mine for doubting this movie. That said, I was assaulted by kids in homemade superhero costumes on the way out. They were demanding that I pick up the popcorn bucket that I dropped on the floor. (As I usually do when I leave.) I thought it was cute, and I laughed, but when I got to the escalator the leader of the Super-Kids stopped me, called me "citizen" and even put his red-gloved child hand on my chest. I noticed his cape wasn't moving around so I kicked him down the escalator, only to find that 10 year olds can indeed fly. I was then jumped by a half dozen masked children with weapons. What pussies. ★★★1/2
–
When I was a kid, the only thing I cared about was fame. And the only way to acquire that was with markers and cans of spray paint. There was only one problem: I was terrible and had a black book full of wack tags to prove it. Feeling uber-nostalgic, I started my viewing of Exit Through The Gift Shop by bombing the Sunshine Cinema's bathroom. Okay, I didn't smoke it out, but I did write "Cage" on the stall while standing at the urinal. (If any of you stop by, see if I'm still up.)
There have been many docs throughout the years about graffiti (aerosol art for you purists), most notably Style Wars. This is unlike any that you've seen, though. (Like Banksy, who you will not see. Even his off-screen voice is disguised.) Filmmaker Thierry Guetta ends up having the camera switched on him by none other than the star himself, with Banksy becoming the director. This movie is pretty great. Running alongside the artist at night takes me back to the glory days, like when Jeru the Damaja said, "Before trains were graffiti-proof, I used to get loose." (Actually, that happened long before I even knew what graffiti was.) Anyway, the movie is entertaining enough to satisfy the uninformed, as well as the know-it-all historians whose fingers haven't smelled like Krylon since 1989. ★★★★
–
Until The Light Takes Us is a Norwegian black-metal documentary from 2009. I shouldn't have to say much else, but I will. I was just discussing this film and others like it (Det Svarte Alvor, Satan Rides the Media) with my pal Daryl Palumbo. We both agreed that if there was ever something to stumble upon that might suck you into a musical genre it would be the massive church burnings in Norway and the cover of Mayhem's Dawn of the Black Hearts. (It's a photo of the band's lead singer Dead, literally dead from a shotgun wound to the head.)
This is the best black-metal doc in my opinion. I have heard complaints like, "oh they glorify them…blah blah blah." FUCK YES they do–like superheroes, and I back it. If you love Norwegian black-metal, it's especially a must see. That said, a chimp could put a doc together on this and it would still rule. I like every one of the black-metal docs, especially the Norwegian ones. This one has prison interviews with Varg Vikernes of Burzum (he killed Euronymous, the guy who took the photo of Dead's body), not to mention an awesome performance by Frost of Satyricon–setting the room on fire, stalking and stabbing a couch, then slicing his arm and neck open. Now that's performance art. I have to thank my DJ Chauncey for making sure my iTunes is stacked with DM.
Now put on some corpse paint, invert all the crosses in your mom's house, and worship Satan. Or watch this if you are afraid of commitment. ★★★★
–
IN SEARCH OF THE GRAND GUIGNOL:
Where's the beef? It's in I Stand Alone, a French film which features a single dad/butcher/borderline pedophile doing the best or worst he can raising his mute daughter. The day she gets her first period, he believes she was raped, stabs a man and goes to jail. The insanity ensues as they say and it is a wild ride. I saw this movie years ago but Daryl Palumbo and myself were discussing great scenes in films to recommend and this was on the list for sure. Director Gaspar Noé likes Stanley Kubrick and proves it with huge title cards and loud sound effects with edits. There's also a scene where Mr. Ed is slaughtered because they eat horsies in Europe. Seriously, they love that shit. Some sick camera work and great gore. This is a great introductory to French horror or a nice throwback if you're well-versed in the genre already. ★★★★
–
Calvaire is a Belgian psychological horror film from 2004 that'll be frightening to any man. A struggling male pop singer breaks down in the middle of nowhere and a weird horny old man helps him out for the night. The singer stays a few days, only to wake up one morning and find his van being looted and burned by the very same old goat that put him up. He begins to believe that the "pop star" is his long-lost cheating whore wife. Why can't this happen to male pop singers in America? He's forced to sing silly songs and he even gets a nice haircut by his new admirer, but I'm not ruining it for you. It gets better. Inbred families, a little bestiality, a crucifixion, fighting over a calf for sex, and of course, male rape. I had no clue what this movie was about when I blindly went into it, so you're welcome. ★★★
–
SICK PICK:
Frontier(s) is from 2008 and is like Texas Chainsaw meets Hostel, and that's not a bad thing. Some call it torture porn; I call it a French horror film. High Tension is another one to check out if you like this style. I can't believe I didn't see this until recently. but I am glad it didn't get away. Palumbo suggested this one also because he is a sick fuck like me. During the race riots in Paris a heist gone wrong, leaving our future torture subjects on the lamb to take refuge at a hostel occupied by neo-Nazis who like that Method Man song "Bring The Pain."
I can't believe the dude that made Hit Man (Xavier Gens) also made this movie. Hit Man was garbage; this is worth consuming, and it does exactly that…consumes you. It was originally supposed to be one of the Eight Films To Die For. Oddly enough, none of them were even worth stubbing a toe over. That is a very good thing because Frontier(s) can stand on its own. ★★★★