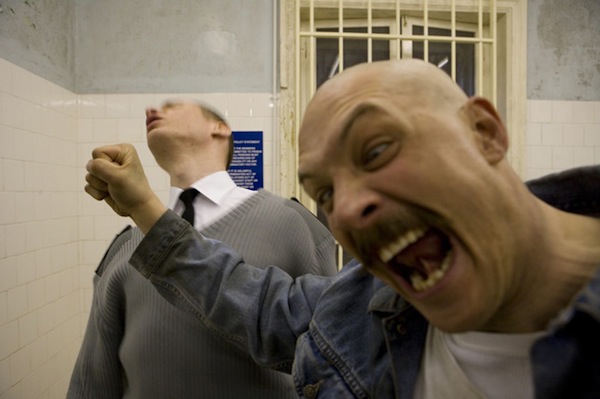 By Chris Palko
Hello everyone. It gives me extreme pleasure to report back from the Oscars that aired last night. I was afraid I was going to miss it because of the whole Cablevision scandal with ABC. It's a good thing I'm a slave to Time Warner Cable because what would I have done? Download it like all the Cablevision subscribers, that's what. Which would have been a bad idea because then I would miss all the awesome commercials.
It looks like I tuned in just in time to catch the stars on the red carpet doing what they do best:shining brightly. Best Supporting Actress nominee Mo'Nique from the film Precious got a thumbs up on her gown. How did they put it? Oh yeah–perfect for 'that type of body'. I'm only 15 minutes in, and I'm losing my fucking mind.
OMG, the last Barbara Walters Oscar special– say it ain't so. Kick rocks, you old cougar. You're bumming everyone out with your in-depth sexual abuse prodding of Mo'Nique. Incest ain't my bag, get out of here with this shit. Stop acting surprised she has an open marriage; she just told you she fucked her brother. Twenty minutes in, and Mo'Nique can't get a break. Let ol' hairy legs live.
God, the Oscars haven't even started and I'm already out of weed. Where the hell did they find Kathy Ireland and why does she talk like that? She's an over-annunciater. I don't know if that's a real word but I do know her gut rules in that dress, pregnant or not. So far everyone is talking about all their dreams coming true and I am opening this bottle of Jameson to numb the pain, because all of my dreams are dead.
Thank god George Clooney has his hot Italian girlfriend Elisabetta Canalis with him so I don't have to look at his stupid dashing face. Have you seen Up in the Air? My grey-faced pit bull can't make a pile of shit that big. What? It's nominated for Best Picture? District 9 is the real film of the year; that, or Bronson. Wait, Bronson isn't even nominated? Sorry, I'm learning all this as I watch. If you haven't seen Bronson, it's easily one of the top three films of 2009. If you dare disagree, it's because you're an idiot–clearly. (Editor's Note: We actually watched Bronson the other night, and thought it was one of the most brilliant, and disturbing, true crime movies we've ever seen.)
Okay finally, it's starting. What the fuck is Doogie Howser doing here and why am I watching a musical? I have to say that blow job face he ended the number with could only make me think of one thing: how much better a blow job would be than watching this drivel.
Wait a minute. Is Alec Baldwin trying to save the show with the comedic genius that his co-host Steve Martin lost in the '90s? So far the funniest thing that's happened is the ticker on the bottom of the screen that says Cablevision is Channel 7's bitch and they are coughing up the green. Thank god. We wouldn't want anyone missing out on Oprah and the shittiest season of Lost ever. Thanks JJ–make a Cloverfield 2 already.
Best Supporting Actor should go to that Nazi (Christoph Waltz) from Inglourious Basterds. He was so spot on. Yes, he won! Wait why is he still talking like a Nazi in his acceptance speech? So far I am two-for-two, as Up just won for Best Animated Film.
Random note related to the onscreen action: Miley Cyrus is hot and legal in some states. If the age of consent is 18 in your state and you want to catch her on tour, there is a website with an age countdown: http://www.mileycyrusage.com/.
What am I–the Oscardamus? I am now three-for-three. Crazy Heart just won for Best Song ("The Weary Kind"), and it really is a great song and movie. "The Dude" as a drunk, washed-up old country singer–fuck yes. SPOILER ALERT! The ending sucks.
Robert Downey Jr. appears once again to let everyone know he's better than all of you and he's right. The John Hughes tribute was pretty cool except now I want to watch Plains, Trains and Automobiles. "Those aren't pillows!"
The tribute ended with most of the stars from the Hughes films standing on stage and I'm glad to see Judd Nelson still using drugs, sweaty, and wearing shades indoors. How sick would it be if they remade The Breakfast Club? What they already are? Fuck yes!
I knew Music By Prudence was going to win Best Documentary: Short Subject. Who was going to beat them–China's Unnatural Disaster: The Tears of Sichuan Province? Get the fuck out of here. What the fuck is Van Wilder doing here? Ben Stiller dressed up like an alien from Avatar and spoke a little Na'Vi. It was either really funny or I am really drunk.
What? Did they just say we'll be right back with a tribute to horror? I don't know about you (seriously) but I am obsessed with horror films. Especially gory foreign ones with shaky cams and subtitles. Sigourney Weaver just took the stage and you know what that means? Yup, Xbox 360 on split screen. This shit already looks better with Battlefield Bad Company 2 on the screen. This game rules. Pause city! Kristen Stewart just took the stage for the horror tribute, full screen time! Finally for the first time The Academy acknowledged my favorite genre with a wonderful display of my favorite horror films like…Edward Scissorhands and The Sixth Sense?
You're pulling my leg Charlie–these aren't even horror films. Back to split screen for some 360 killing. From a tiny little window in the corner of my enormous flat screen, Mo'Nique takes it for Best Supporting Actress, but all I can think about is what her brother did to her in explicit detail, thanks to that GILF Barbie Walters.
Sandra Bullock won for Best Actress even though Carey Mulligan (An Education) kicked her ass. Speaking of asses, when Sandra Kardashian Bullock walked on stage they should have been playing "Baby Got Back," 'cause she got that fat ass.
Jeff Bridges wins for Best Actor and The Hurt Locker wins Best Picture, but I still say Bronson shouldn't have been ignored and District 9 should have won it, but what do I know about award winning movies? They usually suck.
See you guys on Friday with another piece of shit collection of opinions on films I am seeing this week, including Alice In Wonderland 3D, Brooklyn's Finest, A Prophet and The Dead Outside.
Chris Palko first stormed onto the underground hip-hop scene as Cage with "Agent Orange," a Clockwork Orange-sampling single from his 2002 album, Movies For the Blind. His new rant/rave film column pays tribute to that record and runs on our daily site every Friday. Cage's latest LP is Depart From Me. He's currently looking for a new label after the sudden dissolution of Definitive Jux Records, so get at him if you'd like to hear some of his new material…