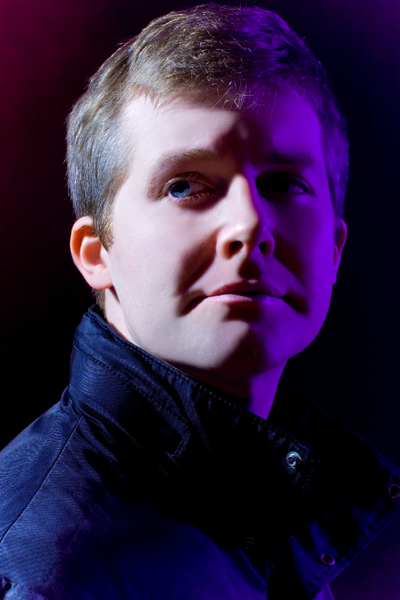 [Photos by Jimmy Edgar]
Much has been made of Kelley Polar's expulsion from Juilliard, which happened soon after his "Kelley Polar Quartet" swaddled such key Metro Area cuts as "Miura," "Dance Reaction" and "Caught Up" in rich string arrangements. Since the producer/pianist/violist still has a soft spot for classical music, we asked him to share his favorite jams made by (long) dead men, as well as explain the whole Juilliard thing in detail …
I was drawn to classical music at a young age because my parents (specifically my mother) decided that my dear sister Blevin should play when she was about 3–when I was born. She also bought a puppy around this time. So my sister practiced the Suzuki method of violin playing and my first germinative months were spent with her playing "The Happy Farmer," "Aunt Rhody" and "Perpetual Motion."
So when I was around 3 I started playing as well.
I get asked questions about Juilliard a lot, and I never really change my answer; maybe I should, but I'm not sure how … Classical music is conservative by nature, and I like that. The music is good enough to stand on its own, and classical musicians that have intelligence and integrity can make it fresh and personal.
I've never really wanted to "fuse" classical music and electronic dance music. The glossy, DayGlo dunes of reprehensible projects trying to do just that pile higher and higher with every year: the string quartet "Bond" with high-NRG versions of Vivaldi concertos, string quartets playing Kraftwerk, orchestras playing Aphex Twin and music from "Halo," dance music people conducting orchestras, concertos for turntable … on and on. Probably Juilliard would have been ok with that, because it was "hip" and might get them press for being "progressive"–they've been trumpeting their "innovative" new JAZZ PROGRAM. Edgy.
All I want to do is make the music that is in my head, and I've listened to classical music and dance music pretty much my whole life, so they intermingle–and I'm very lucky and grateful that Environ will put it out, and doubly lucky that people will listen to it. But I have no agenda for "bringing classical music to the masses in a new exciting way," nor do I want to bring Beethoven back to San Dimas High.
But to answer your question, Juilliard was a horrible factory for training monkey-musicians. Much, much worse than that–they cared nothing for the holistic growth of the students, intellectually, spiritually or emotionally; they cared only for continuing to line their own pockets with the aged fools gold of the Upper West Side and the unending ascent up the unending spiral of self-aggrandizement.
Here's five recommended classical records for you:
1. Lorraine Hunt-Lieberson, Bach: Cantatas BWV 82 & 19
Lorraine Hunt-Leiberson was a violist who decided she liked singing, and is dear to my heart (she has unfortunately died since this recording was made), although I will never sing even in the same nest of universes as well as her. Bach, like Michael Jackson and David Oistrach, is the Greatest of All Time–music perfectly constructed that still somehow sounds like the divine, and not a computer.
2. Deak, Musical Fantasies
This is a recording by the group I play with now, but a long, long time before I joined. Jon Deak is a bassist with the New York Phil and seems to actually enjoy it. His pieces integrate text into the music in incredible cool ways, and are very engaging and accessible across the spectrum of audiences. Probably the biggest influence on my classical compositions. Good performances, too
3. Kim Kashkashian, Hindemith Viola Sonatas
This is for the Hindemith Viola Sonata op. 11 no 4. I'm a professional violist, and this is a piece that I feel like indie rock kids or dance music peeps would enjoy. Hindemith is a really intelligent composer in the German tradition–this piece is intricately constructed, uses folk melodies, has an unbelievably poppy first movement … just all around generally awesome.
4. Shostakovich String Quartet, "No. 15"
Shostakovich String Quartet no. 15 is the last he wrote; he was like hooked up on life support or something. This is like the darkest motherfucking piece ever, it's all elegies and funeral marches and such. There's one movement where the quartet takes turns just playing a single note, and over the course of one bow gets louder and louder, finally ripping it off the string as someone else has entered really softly. So it's like this bizarre, monophonically terrifying worm note … and this one is live … I lived on this recording when I was about 14. Better than Rush.
5. Fauré, "Requiem"
I've also been obsessed with the Durufle Reqiuem, for the worst of reasons … but the ending of this one is, I think, about as close to what it would sound like entering heaven as I can imagine. (I'm a hard, hardcore atheist.) I'm in training to run the 100-mile race across the Sahara, and this one is in the playlist that I'll pull up on the iPod if I'm dying of heatstroke. It's important to be prepared.