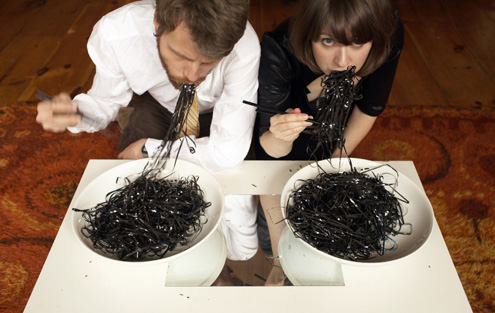 [Photo by Jason Frank Rothenberg]
By Aaron Richter
Maybe it was the bass (which just about ruptured our ear drums and jostled our stomachs into fits of woozy delight). But when self-titled caught a performance by percussion-clattered Brooklyn dance duo Free Blood at Santos Party House a few weeks past, we found ourselves smitten. There's no doubt that the deafeningly sick speaker setup at Santos was the bright red cherry on top of the duo's playfully soulful and danceably grimey performance as a four-piece, but the fairly minimal songs–shambled in appearance, yet remarkably catchy–hold up just as well outside of the club.
Free Blood, which first grew its legs way back in 2003, is ex-!!! guy John Pugh (he's the tall handsome dude, who sang lead on "Dear Can") and fashion designer Madeline Davy (of NYC label Octopi). Both share lead vocal duties.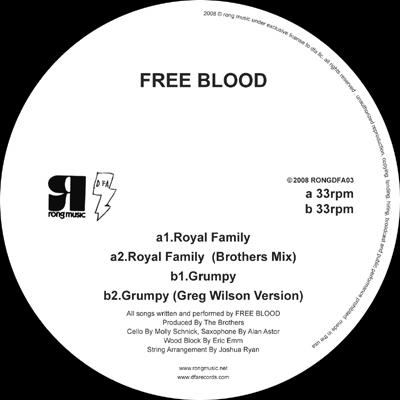 A-side: "Royal Family" w/ Brothers Mix
Chic yet dusty, this track's loose groove digs in over heavy piano plunks and marching-band bass drum slams. It starts small and empty (the short song is barely there for its first 30 seconds) but develops a city-street swagger as the beat magnifies with horn-skronk accents, a skittery breakdown and Pugh & Davy's goofy earnestness. On the remix, the yappy falsetto from the original is an easy focal point for a bit of nu-rave noise repetition. This mix is substantially fuller sounding from the start, with a few wandering breather sections that keep true to the original's minimal core. Eventually the whole thing explodes into an overwhelming bass blanket that wouldn't sound out of place in a Justice set (as awful as that sounds, it's actually pretty rad in its abruptness). Then it pulls back and reroutes before another dose of madness.
B-side: "Grumpy" w/ Greg Wilson Version
Though it's not as rich as "Royal Family," "Grumpy" earns gold stars for enthusiasm and energy. Building its main themes on hectic percussion, double drum-machine bass and mellow cello pulls–by Molly Schnick, formerly of Out Hud; now of Jean on Jean–the track hits a surprising wall of guitar noise (at the Santos show, this section was so overwhelming, it had everyone in the audience covering their ears), and we're left setting our fanboy meters to "worship." The Greg Wilson Version is a bit aimless. He slows down the cellos and smoothing out most of the rough edges (which pretty much nixes the track's character). It has its moments and sufficient buildup, but you'll probably find yourself mixing out of this rework early.