THE MEGAPHONIC THRIFT: Earplugs are a must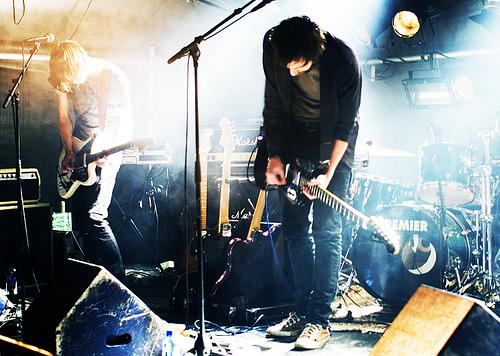 [Photo by Eirik Lande]
By Aaron Richter
After hearing Norway's the Megaphonic Thrift, self-titled was reminded of our dorm-room obsession with Broken Social Scene's "Almost Crimes (Radio Kills Remix)." Years past, from our tinny laptop speakers, we first caught the Canadians' scents of Sonic Youth and Pavement mingling with something totally new and fresh, and we were infatuated for months and waited eagerly for the band's then-import-only album to arrive in the mail. "Acid Blues" has us feeling much the same way.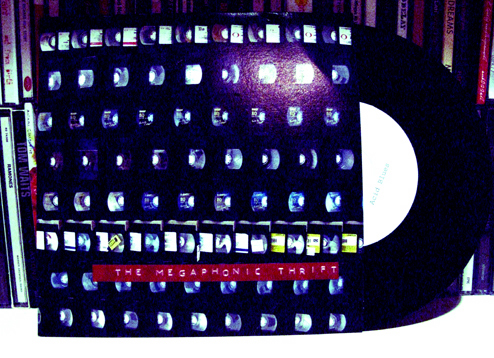 The track's hard-rolling drums, driven by a smashing kick drum, and piercing dual guitars have been ringing in our ears. Falsetto vocals eventually enter, mimicking the guitar melody, which proceeds to slash and burn white hot, one unleashing a blistering squeal, the other thumping out a drunken rhythm. The bass wallop throughout is relentless, and the whole thing's done in less than three minutes, at which point you'll want to hear it all over again. And again. And again. And again.
The group, which takes its name from a Guided by Voices song, released "Acid Blues" as its debut 7-inch (Sounds Gold) featuring another song "Mad Mary" on the flipside. You'll need to crank the volume because Side B is mastered significantly quieter than "Acid Blues." But the burbling underbelly of "Mad Mary" wooshes and grumbles as the song changes from a docile "Schizophrenia" breather into a roaring giant. Halfway through, the Norwegian-accented lyrics give out to a guitar onslaught that howls like its the Thurston & Kim Appreciation Hour.
The record's sleeve, it must be noted, is delightfully DIY, featuring a photo collage of VHS tapes with the band's name and track titles marked in old-school embossed label-maker tape. Crooked? Yep. Awesome? Definitely.