The following story is an expanded version of an interactive feature from our latest iPad issue. Read the rest via our free magazine app.
Photography SUNNY SHOKRAE
Words ANDREW PARKS
"'Losing My Edge' and 'Beat Connection' were the first two songs I ever recorded," singer/keyboardist Nancy Whang says of the seminal LCD Soundsystem single. "It was so novel to me, like, 'Isn't this a strange thing to be doing with my time?' And it was all just for our own amusement. Never in a million years did we expect it to lead us where it did."
Among the pivotal end points of the long, strange journey between that epochal 12" and LCD Soundsystem's last album eight years later was the band's final run of sold-out shows, which peaked with more than three hours of captivating material at Madison Square Garden and a feature-length documentary. And while the focus of that film was frontman/DFA don James Murphy, LCD Soundsystem's victory lap left Whang feeling the very same way: a little lost.
"I never wanted to be a musician, she says, "even well into LCD [Soundsystem]'s career. I didn't give it any serious thought until our last year of touring, when I had to decide what I was going to do next."
One answer came in the form of last fall's In a Dream LP, the most collaborative record Whang's cut with the disco-house duo The Juan MacLean. The Portland native also released a collection of covers pulled from Casablanca's iconic catalog (including songs by KISS, Parliament and Donna Summer), the first step towards making the solo album her spotlight-seizing guest spots have demanded over the past decade.
Here are the stories behind a few, along with our favorite Juan MacLean single and the last track Whang recorded with LCD Soundsystem…
What was Portland like when you were growing up? And what was the first record and/or artist that resonated with you back then?
I left Portland straight out of high school so my experience growing up there probably wasn't that distinctly different than growing up in any other small town in the US. There might have been some interesting things going on, but they were largely inaccessible to me due to my age and because I lived way out in the suburbs.
That said, I did get to see a lot of great bands in weird settings. My first live concert ever was in the parking lot of the McDonald's in Beaverton Mall where I saw Nu Shooz perform. Violent Femmes played a free show in the amphitheater of the Rose Gardens, where they test thousands of international species of roses. Plus we had the X-Ray cafe, an all-ages club that was sort of a destination for punk/hardcore/indie bands on tour. Sort of our ABC No Rio, I guess.
My first experience listening to music came from my brothers. We had a lot of '60s and '70s rock in the house—Beatles, Pink Floyd, The Kinks, The Animals, Aerosmith. My first album was a joint purchase with my two brothers: Wham! Make it Big.
Is anyone in your family an artist as well?
Only my brothers had an influence on me musically. My parents didn't (don't) really care much about music, except for the occasional old Korean drinking song or Christian hymnal. None of them are in the least bit musically inclined, although one of my brothers used to have an amazing ear. He could hear a song and immediately be able to play it on the piano. I was always so envious of that, but he never did anything with it except for entertain me at home.
How would you describe Portland's music scene and when did you realize you wanted to be a musician yourself? In high school or not until you got settled in NY?
Back then? Smelly. At least that was what it was like from my narrow exposure. I mostly went to the X-Ray or this punk house called the Powerhouse to see bands. Also this was around the time that grunge broke and being in the Pacific Northwest, we were soaked in it. Lots of waffle-textured thermal underwear beneath flannel and cargo shorts. There were also two local bands that were pretty big and played often: Cherry Poppin' Daddies and Satan's Pilgrims. And this was well before the whole swing and surf music revivals swept the nation. But as corny as they were, my friends and I just liked to go dance.
When did you decide to move and how long did it take for you to acclimate to New York's local music scene?
I decided to move to New York when I was probably a sophomore in high school. I applied and got accepted to NYU before Christmas my senior year so that was that.
When I first moved to New York, the rave and club kid scene was happening in full effect; this was the mid-'90s. My two dorm mates were really deeply into it, so by proxy, I got into it too. But then I realized I found it pretty unsavory, so I got back to the punk and indie scene. Every Wednesday I would pick up a copy of the Village Voice to see who was playing at Brownie's, Coney Island High, the Continental, and plan my week around that.
DFA has always been more of a family than a record label. You've been involved since the very beginning. You first met James at a party right? What was your first impression of him, and how has your relationship evolved over the years, creatively and personally?
James and I met through a mutual friend at a "cool" magazine party that Fischerspooner played. We all thought it was a pretty silly affair; it was probably the first time he or I got an up close and personal look at what would later become known as "The Hipster." And we were struck with the horrifying realization that we could no longer wear our punky studded leather cuffs with any sincerity. Oh, the irony. Anyway, I thought he was a kindred weirdo, a marginalized (albeit self-imposed) spirit. We've known each other for so long now—a lot of that time spent under high stress and in unnaturally close quarters, much like a real family does. He's basically like a brother to me.
You had only played piano before the early days of LCD right? How long did it take you to get comfortable with singing and performing?
Who said I was comfortable with singing and performing?
When did you get involved with the Juan MacLean on more of a regular basis, and how has your creative process changed over the years, leading up to the latest album?
I met Juan one day when he was working in the studio with James on a track that ended up being called "You Can't Have it Both Ways." He wanted to put some female vocals on the track so James called me and said, "What are you doing right now?" I said "nothing" and he said, "You want to come in right now and sing on this song?" I said, "Okay."
From there our working process went from me recording vocals that I may or may not have written as a finishing touch on a track, to getting into the writing process at an earlier stage and Juan building a track around my vocals, to this last record which was really very collaborative, much more back and forth and building the song together.
What do you miss the most about playing in LCD Soundsystem? What's one of your most vivid memories of that period in your life?
Free daily sandwiches. And playing music with those people. It felt good.
I have so many vivid memories. Also huge swaths of blank spots. But I guess my fondest memories are the ones when, faced with crisis, we rallied together. We were good at rallying. Like that time the truck with our gear got stopped at the Norwegian border and didn't get to our festival stage until 15 minutes before we had to play so it was all hands on deck as we threw our gear up on stage while the Stooges were playing on the stage across the lawn.
Tell us a little bit about your recent collection of covers for Gomma—why you picked some of the songs, who you collaborated with on it, etc. Is the idea for that something that goes all the way back to your work alongside Munk?
Gomma came to me with the idea a couple years ago. Having a history with them through the Munk track made it make sense to work together again, but it was a new idea. (They put out the first collection of Casablanca covers with Peaches just the year before.) And they already had producers in mind to work on the music.
The Casablanca catalog is so huge that it was really difficult to decide which songs to choose. I wanted to choose songs that weren't obvious, but also not too obscure, and also that I could actually sing. But each producer and I picked the songs we did together. Even though two of them wanted to do the same song, it ended up being a good opportunity to do one in another language. Plus that KISS song is just funny.
Are you hoping to make a proper solo album in the next couple years?
That's a tough question. I guess the answer is yes but I'm also hoping to win the lottery in the next couple years so don't anybody hold their breath.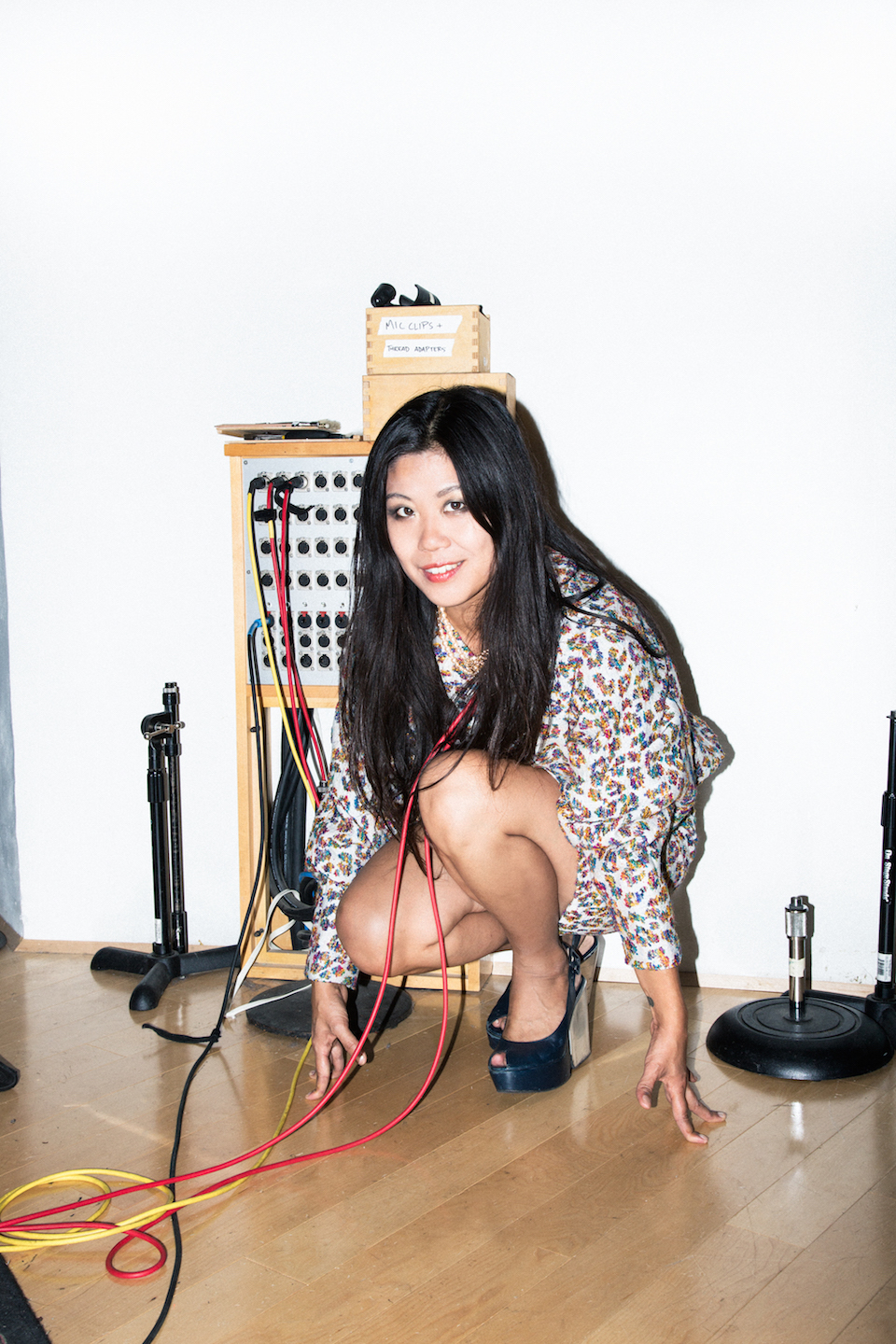 Nancy Whang On…
Soulwax, "NY Excuse"
This song was literally an excuse for Soulwax to get their record label to pay for Steph [Dewaele] to come to New York so that we could see each other as we were dating at the time, hence the lyric "This is the excuse that we're making/ Is it good enough for what your paying?" I kind of hate this song, mainly because I can't stand how my voice sounds on it. Then they went and made a "Nite Version" using elements of "Funky Town," which might be my most hated song ever made. I can't stand the vocals on that song, either. So it's hard on my ears all around. This one time, not long after the song came out, I was at a bar talking to someone who I had just met. It was kind of loud and I was telling an impassioned story and the girl I was talking to interrupted me to say, "Oh my god! That's you on that 'NY Excuse' song!" My heart sank.
All those things aside, I do love our story behind it. It's sentimental. And other people seem to like it so that's cool.
Munk, "Kick Out the Chairs"
Munk sent James a demo track of this song. We liked it because it reminded us of the B-52's. James had had the lyric idea kicking around his head for a while already and it fit pretty well here. We recorded all the vocals in one late night, perhaps a little drunk. A lady he was courting at the time was there to witness it. James was giddy and nervous because she was there, so he was acting like a total goofball, but it made it a fun recording session. I was pretending to be a cheerleader. Did I mention we might have been drunk?
Holy Ghost!, "I Wanted To Tell Her"
Between me, James, Juan and Holy Ghost! and various others on DFA, we all talked endlessly about wanting to cover this song for years. [Ministry's] With Sympathy is a pretty spectacular album, all the more enhanced by the fact that Al Jourgenson categorically denies it any value. We all think he's lying, of course. Holy Ghost! finally took the initiative to make it happen for real. They actually had to get it ok'd by Al Jourgenson. Luckily his wife LOVES the album as much as we do so they got the green light.
Classixx, "All You're Waiting For"
This is the first track I made for someone who weren't my tight bros. I only knew them through Holy Ghost! but they vouched for them. We recorded the vocals with Nick [Millhiser] in his studio. Now we're all buddies! My first time singing with them ever was for Jimmy Kimmel Live. We rehearsed the song like five times the day before. I wanted to throw up all day the day of the taping. But once we got that out of the way, it feels like second nature now. So whenever I'm in town when they're playing I'll jump on stage with them.
Shit Robot, "Take 'Em Up"
This was a tough one but I don't remember exactly why. I think I had some serious writer's block for a long long while. This was also Marcus [Lambkin]'s first solo record and I knew he was feeling a little petrified about the whole endeavor so I wanted to deliver him something really good. I have a vague recollection of walking home in the rain after a weird night and it all started to come together. A lot of the dudes in the DFA family are always trying to get me to rap on a song for some unfathomable reason so I chose this opportunity to throw in a little talkin' rap.
The Juan MacLean, "Happy House"
My writing process is really feast or famine. I'll sit with an instrumental track, sometimes for weeks, and nothing comes to me and then one day—usually while I'm in the studio with everyone looking at me waiting for something to record—I break the seal and get it all out in a day or two. "Happy House" was something else, though. Juan and I were recording at this studio up in Woodstock. I think I had to drive back and forth a couple times for some reason. One of those times, he sent me home with the "Happy House" instrumental and I wrote all the lyrics the next day during the two-hour drive back from NYC with the song blasting on my car stereo and me yelling over it.
LCD Soundsystem, "One Touch"
I'm not sure if my timeline is correct, but I think "One Touch" might be the LAST song I ever recorded for LCD. I'm not exactly proud of this story but it's a funny anecdote…
I was at this wine bar late one night with my friend, and James texted me saying, again, "What are you doing? Wanna come to the studio right now and record vocals?" And I said, "Sure! But I gotta warn you, I've been drinking." We were pretty much regulars at this bar, so when we said we were leaving they poured us each another very large glass of wine. That really tipped us over the edge. So by the time we finished our glasses and fell into a taxi and tumbled out into the studio, I was a total goner. The only thing I remember was this tiny moment of clarity as if I were emerging from under water when I heard Gavin Russom's voice through the headphones in the vocal booth say to me, "You're in a blackout right now, aren't you?" And then I went back under water.
The Juan MacLean start their week-long Brooklyn residency at Cameo tomorrow night. Check out all of the duo's upcoming tour dates at their official site, and an exclusive "deep mix" from Juan here.