Seeing as how the latest 12" from Daniel Martin-McCormick's Lovers Rock label is essentially a Mi Ami reunion in split form (featuring bassist Jacob Long as Earthen Sea, drummer Damon Eliza Palermo as himself instead of his longtime production alias Magic Touch, and Martin-McCormick's own Ital project), we thought we'd ask Palermo to put things in perspective via an exclusive mix and a quick talk that tackles all of the above. Not to mention his Detroit-schooled dance roots, circumstantial New Age collection, and next round of new records…
Tracklisting:
1 SAGE CASWELL – Free Country [White Light 103]
2 GUEM ET ZAKA PERCUSSION – Coller [Voix D'Afrique]
3 XOSAR – Bleed Into Dreams [Valcrond Video]
4 GROUPER – Made Of Metal [Kranky]
5 VLADISLAV DELAY – The Third Quarter [Huume]
6 RASHID ALI & FRANK LOWE – Exchange – Part 2 [Survival Records]
7 SUZANNE KRAFT – VII [Running Back]
8 BURNT FRIEDMAN & JAKI LIEBEZEIT – The Sticks [Nonplace]
9 TUCKER MARTINE – Brood X [Sublime Frequencies]
10 TORNADO WALLACE f/ JOHNNY NASH – Time Of Nectar [ESP INSTITUTE]
11 BOARDS OF CANADA – A Moment Of Clarity [Warp Records]
12 EARTHEN SEA – Beat 13 [Lovers Rock Recordings]
13 BJ NILSEN – Impossibilidad [Touch]
14 MILFORD GRAVES – Nothing 19 [ESP Disk]
15 LOSCIL – Bleeding Ink [Kranky]
16 MAXIMILLION DUNBAR – Oshima Flicks [Trilogy Tapes]
Can you start by telling us about the mix you made—its general vibe, theme, some of the tracks on it, etc. Is it related to your Enigmatic Ocean series at all?
I substitute teach at Musicians Institute in Hollywood and made this mix on their CDJs. The mix is mostly ambient with some additional free jazz drumming, and a couple club tracks. The Enigmatic Ocean mixes were focused on my vinyl collection of older records, whereas this mix features newer releases combined with some older tracks. The mix opens with my friend Sage Caswell's "Free Country," which is one of the tracks from his White Light mix that's nearly an hour of ambient tracks. Felt nice to naturally include a bunch of friends who are currently doing some ambient stuff but have released more records in the techno, disco, house realm (Xosar, Suzanne Kraft, Tornado Wallace, Earthen Sea, Maximillion Dunbar).
When did you first discover the stranger side of New Age music and become more of a serious collector of it?
I'd say in 2009 or so i was collecting New Age records more seriously. I grew up North of Detroit and was kind of shocked at the lack of 12-inches in San Francisco. But also surprised at the abundance of weird/psychedelic/New Age hippie stuff, so I just kinda focused on finding what was around. At that time you could come up with loads of New Age records (stuff other than Windham Hill) in clearance bins and general used bins for cheap. Could even find a bunch of stuff in the classic rock sections. I remember cleaning up a "progressive rock" one in San Jose. There's also a record store in North Beach that has loads of awesome New Age cassettes. Amoeba and Mount Analog in L.A. have great 12-inches so I haven't been collecting as many New Age records anymore.
[youlist pid="ALBTKoXRg38BDJV7WebZSLn6hzu94mTPiz" width="620″ height="349″]
What's one rare New Age record you wish someone would reissue and why?
I would've said Double Fantasy Universal Ave but I just noticed it's not so hard to purchase online for cheap now and saw it in a few used bins recently.
Have you been surprised by the seemingly sudden rise in the popularity of New Age-ish records? Or does it simply make sense given how that music has a calming counter-effect to how "busy" all of our Internet Age lives are?
I haven't really paid attention to New Age reissues much. I'm not opposed to reissues nor a vinyl purist. I always find what I can find in used bins and find it hard to keep up with all of the new reissues from all genres. Not really surprised though; a lot of those records were small pressings and are hard to find/expensive to purchase the originals. But I think it makes sense with any time period to relax during times of turmoil. A lot of people (especially on this side of the country) are into the New Age hippie culture from the health aspect more than a revolutionary movement, so that culture probably doesn't embrace the musical side. On a whole, I think New Age still has a very small fan base.
Shifting back to your own material, what can people expect from your first release under your own name? How does it compare/contrast with your solo work as Magic Touch and the later releases of Mi Ami?
The first track I've released under my own name is "Inner Realm" on Lovers Rock. This track is an arpeggiated Alpha Juno 1 without any drums. Magic Touch is more structured house & disco, and the later Mi Ami releases were more vocal-based with loads of drums.
You played on a couple of Jonas Reinhardt's records. Is this new project similar in tone to his work at all? (More cosmic, Kraut-y, etc.?)
It's hard to say exactly what this new project will be but I think there are differences and similarities with Jonas Reinhardt. That band was two to four people and centered around playing in the practice space—bouncing ideas off one another and flushing out arrangements from there. As far as the sound, I think Jonas Reinhardt was more inspired by the '60s, '70s and '80s, whereas my project is coming from an ambient, techno and darker atmospheric house side. Both projects share the idea of reaching something psychedelic often utilizing repetition.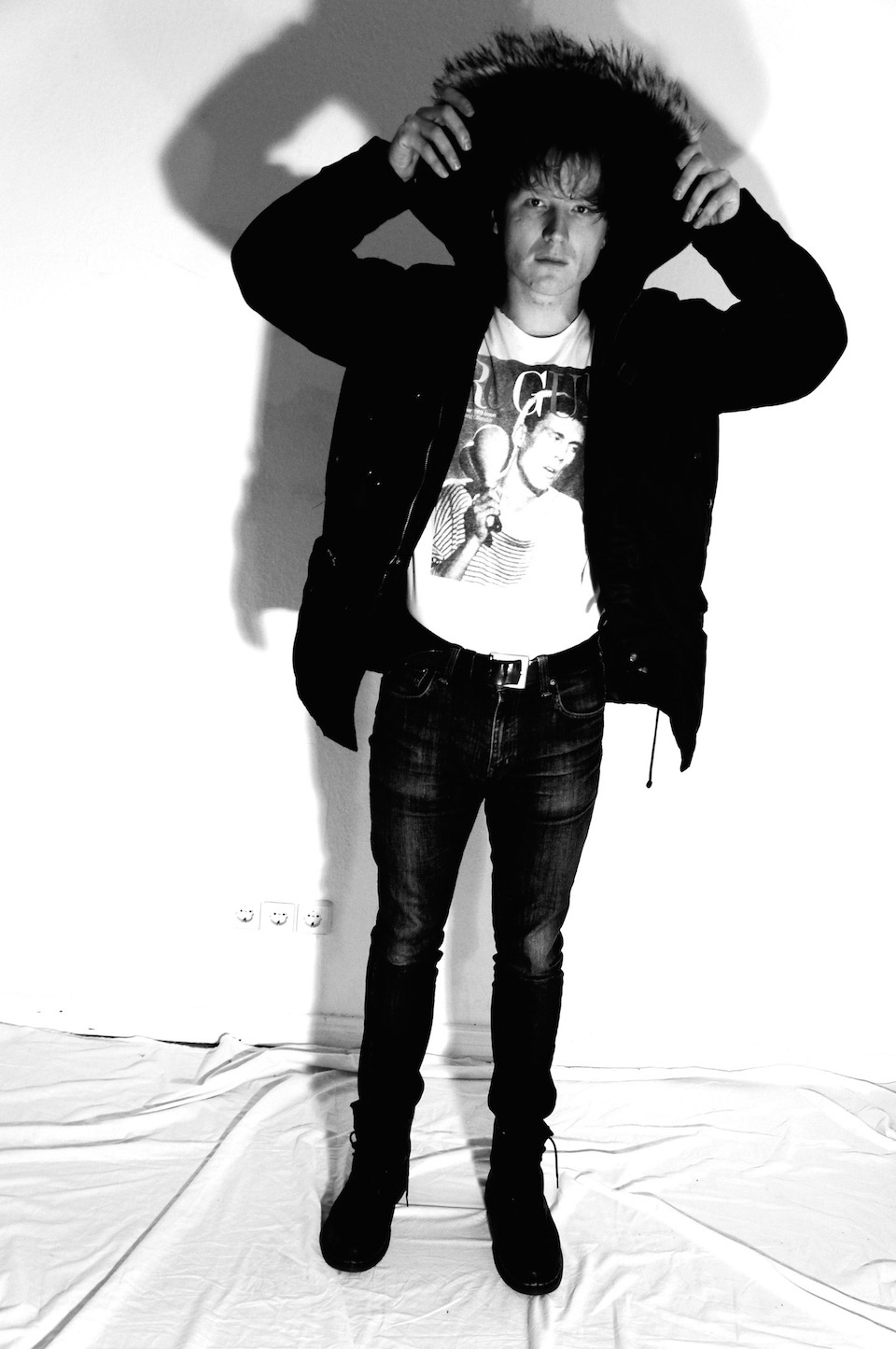 What's the earliest memory you have of connecting with dance music on a deeper level? Was it a party? A record? More of a general period in your life?
A general period in my life. I was playing in a middle school band during the height of Nirvana, Pearl Jam, etc. At the same time, my older brother was getting out of grunge and into Detroit raves, Plastikman and some of the Detroit techno legends, so I sort of followed their progression while researching the origins of techno. So it's all thanks to my older brother and his friends, plus growing up near such a rich musical city. Detroit had Motor Lounge, which was 18 and and over. I remember seeing Derrick May DJ there and didn't quite understand what he was doing but was intrigued and excited after spending so much time at rock and hip-hop shows.
You've spent some time in LA and Berlin in recent years. Where are you living these days and how is it impacting your music, if at all?
I spent 10/11 years living in San Francisco after Michigan. I only lived in Berlin for three months, and have been living in L.A. for about two years now. San Francisco was inspiring because Daniel/Ital, and later Jacob/Earthen Sea, got me back into playing drums and opened my eyes to the world of putting out records and touring which I had no experience with prior.
Bookworms, Steve Summers, Bobby B, and Roche all lived there at the time and were super close friends sharing music and production ideas. There were loads of good bands in San Francisco at the time and everyone was sharing gear, ideas and parties, so it was a great place to be. Berlin was super inspiring—going out and hearing music, going to record shops, and just aimlessly roaming around and thinking about their history and music. But I didn't work on much music at all or collaborate. Think I was content just going out and seeing DJs that I had never had the chance to see in the U.S. L.A. doesn't have the best nightlife scene but it's so nice during the day; I feel like I get a lot done, and have so many like-minded friends doing music here. I can't say clearly how it's impacting my music besides having a lot of people to bounce ideas off of. Not sure if i believe that the sunshine creates the positive Magic Touch vibe because there's also a dark side of L.A.
Considering how close the music you and Daniel make are in spirit, do you see yourself working together on an experimental/electronic music project anytime in the near future?
We haven't really found the time in one city but yes, it's something i'd love to do soon.
Anything else we can expect from you in the months ahead? Any more Magic Touch material? How about one-off collaborations like the one you did with Sapphire Slows?
I have a record coming out on Tensnake's True Romance label in early 2015. It features Charlie Sputnik on vocals, and will have a remix by Art Bleek. I also have a 12″ coming out on a Japanese label (TBA) in the New Year which is more of a disco track I did with The Horses while I was staying with them in Shanghai. I also want to focus on solo tracks and come up with a bigger body of work, possibly an LP. Looking forward to the new year!