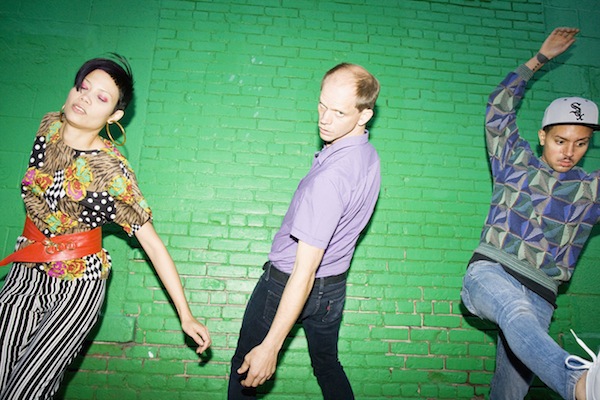 When These Are Powers gave us a Missy Elliott guide last year, they were still shaking off the shackles of their self-proclaimed 'ghost punk' sound. Which was cool and all, but nothing like this–the absolutely killer underground club cuts of Candyman (RVNG), a heavyweight vinyl EP that lets These Are Powers loose in the outer reaches of dancehall, reggaeton and beats that bang harder than your roommate at 4 a.m., after he drunkenly left his keys in a cab. Scroll down to the bottom of this post for a sample of what we mean in video form, but first we're proud to present a Canal Street-ready "10 Bangers You Might Have Missed Last Year" mix from producer Bill Salas (aka Brenmar). Oh, and if you're free tomorrow night in Brooklyn, MNDR, Blondes, and our DJ friends JDH and Dave P are all helping These Are Powers celebrate Candyman's release with a party at Coco 66 in Greenpoint.
1. Red Cafe, "I'm Ill (Feat. Fabolous)"
"I'm Ill" is tentatively a part of Red Cafe's upcoming Bad Boy debut, The Shakedown, due out sometime later this year. Classic hip-hop references abound throughout the track, both lyrical and production wise. How many can you spot?
2. Young Jeezy, "Scared Money (Feat. Lil Wayne)"
I love Young Jeezy. He's usually on top of his game, but I think Lil Wayne might've taken the cake with his verse on this one. Possible lead street single from Jeezy's upcoming new album.
3. Lloyd Banks, "We Remain"
This track is from Banks latest mixtape, V5. There are a bunch of other bangers on it so you should download it. I closed my eyes and just picked one. He also has an album coming out within the next few months, so the buzz is building. I can't say much about the rest of G-Unit, but don't snooze on Banks.
4. Raekwon, "Blood Missiles (Feat. AZ)"
This track is one of many other great ones on Raekwon's OB4CL2 LP. Do yourself a favor and pick it up if you haven't already. Classic.
5. Gucci Mane, "Believe It or Not (Feat. Drake)"
Both Gucci and Drake made a huge splash in 2009. Here, they join forces. Drake will probably only get larger and Gucci is unfortunately in jail right now. Sean Garret shows up on the version of this song on Gucciamerica.
6. Soulja Boy, "All Black Everything"
Love him or hate him, Soulja Boy is doing his thing. Dope beat, one of two lead singles from his upcoming third album.
7. Jim Jones, "Bust A Move (Feat. Shooter Holly)"
A track from Jim Jones' Ghost of Rich Porter mixtape. I'm digging the beat.
8. Trae, "Inkredible (Feat. Lil' Wayne And Rick Ross)"
Possibly from Trae's upcoming album Tha Truth. I'm into this. Trae is going to have a good year. Look him up. I wish I had his voice.
9. Oj Da Juiceman, "When I Get Big"
I like Oj. He seems to get a lot of hate here in NY, though. Sure, he's not the best on the mic but the man has personality. I like my beats hard and I'm not usually into tracks like this but this one's infectious and I love it. Drumma Boy comes correct once again.
10. Big Shane, "Fed Ex. (Feat. Gucci Mane & Dirt Dig)"
One of many heaters off his Google Me mixtape, which dropped a few months back. (Download it.) I think his verse is my favorite and I'm loving the beat.