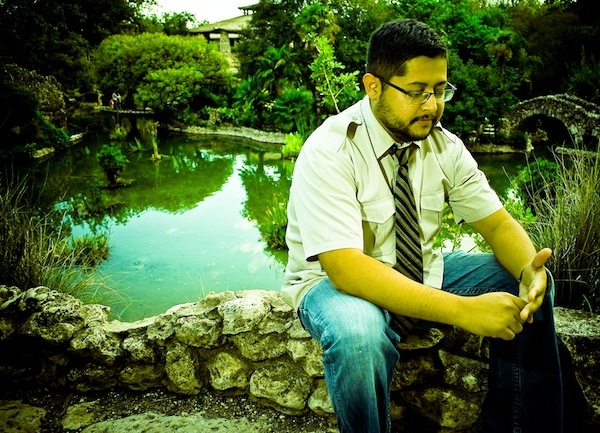 Okay, so the concept's a little Hallmark-y. In a burst of creativity inspired by his wife Devyn, Ernest Gonzales wrote a restless instrumental record that's paired–in typical Friends of Friends fashion–with an art book and bonus collection of remixes from Daedelus, Faunts and 14 others. An extensive site about the Been Meaning To Tell You project is here. It includes free art, remix loops and music–a genre-less blend of candy-colored chords, rubber-soled basslines and snappy beats.
To take Gonzales' love letter concept even further, we asked him to hand over a Devyn-derived mixtape (title: Memories as Units of Measurement) that we could give to our girlfriends and pass off as ours. Yep–we're a bunch of sneaky bastards. 
1. Air – How Does it Make You Feel
AIR is high up on both of our lists. I've always associated with the whispering robot voice of this song. Robots aren't supposed to have feelings but the music swells so much throughout this track it's impossible for the robot not to feel something.
2. CocoRosie – By Your Side
Could quite possibly be one of the cutest songs of all time and one of her absolutely favorite songs of all time.
3. Ernest Gonzales – Drifting Away
A personal favorite of mine from my album Lullaby. I made this album when I found out we were going to have a baby.
4. Grizzly Bear – Slow Life
Devyn's a huge fan of Twilight. New Moon came out on our anniversary and we drunkenly went to go see the premiere at 3 a.m. Her favorite character is Jasper.
5. Bob Dylan – She Belongs to Me
Dylan and her are both poets and chameleons. One of her main sources of inspiration.
6. Phoenix – If I Ever Feel Better
I hope you know you're stuck with me.
7. Chipset Rockwell – 50 Ways
Probably one of her favorite songs I DJ. I can see her dancing with her eyes closed to this song.
8. King Harvest – Dancing in the Moonlight
A good song for us to slow dance to.
9. The Postal Service – Such Great Heights
I think in our own world we imagine this song was written specifically for us. When I first gave her Give Up, she had it playing everyday for months straight.
10. Josh Martinez – BC Trees
We met at a poetry slam. She delved into the world of poetry slams because of Josh Martinez's rhymes.
11. Nobody – This Will Be Our Year
I put this song on the first mixtape I ever made her
12. Micky Avalon – Jane Fonda
I know I can make her feel like a rock star if I included this track on the mix.
13. Animal Collective – Daily Routine (Phaseone Remix)
A good band for both of us to space out to and forget everything else.