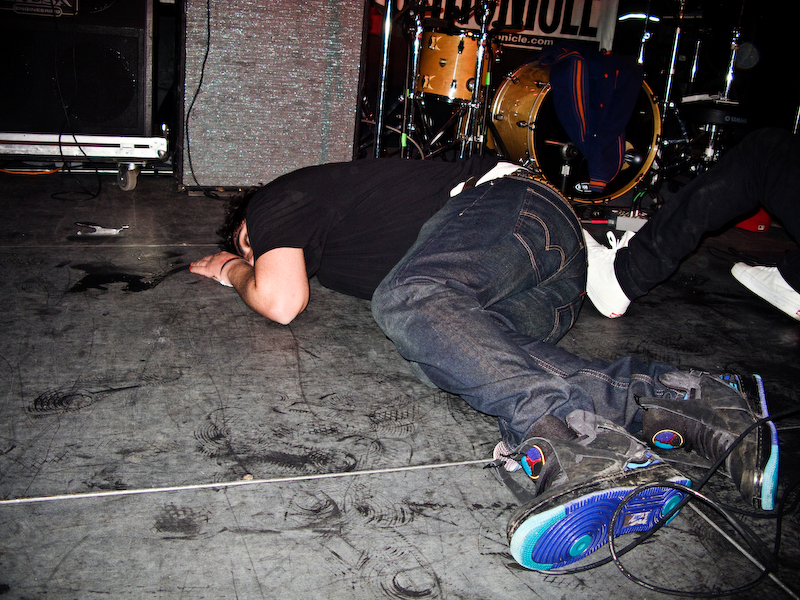 Two Needle Exchange posts in one day? Sorry but we couldn't resist. Not when Das Racist delivered the following in one killer 62-minute mix: Best Coast, E-40, Class Actress, Hell Rell, and…"Funk Dat." Yep. Someone's not fucking around.
Here it is, then–a surefire start to the weekend, delivered with really random drops and a priceless track-by-track commentary. No disrespect to any of our previous N.E. contributors, but this has got to be the most schizo set yet. And the closest you'll ever get to understand Das Racist's creative process.
1. Best Coast, "Over the Ocean"
We really, really like Best Coast. Hope to catch a set at SXSW. I'd like it even if it had nothing to do with airplanes–those magical machines and transporters of immigros. This song's so…pretty. And I too like window seats.
2. Hell Rell f/ J.R. Writer, "Hell Yeah"
Who doesn't miss Dipset? Hell Rell is a scary guy and J.R. Writer is a good rapper. It works well together. And J.R. feels especially like vintage J.R. on this joint. "They don't know you in the heights"…the way he says "get ya guns" at the end of his verse is bonk too. Also, repeating the hook makes the song kind of a depressing banger.
3. Juiceboxxx, "Never Surrender Forever"
Big fans of this song. We're thinking about getting NEVER SURRENDER FOREVER tattoos.
4. Aqueduct, "Hardcore Days and Softcore Nights"
I heard this song in a Buick commercial 5 years ago. Drums go hard. I like when he talks about firearms, too. I want to make a song just like this.
5. Class Actress, "Careful What You Say"
Elizabeth's a friend of ours, but that's only enough to get you to listen to somebody's music one time. We've listened to this song like 200-times-1 times.
6. MGMT, "Hot Love Drama"
Wesleyan. Thanks financial aid! Think Ben and Andrew made this in like 2002? I awno. I still dig it. When i sing it, I change the words to HOT THUG DRAMA though.
7. The Dogs, "Crack Rock"
This little Miami bass chestnut was Disco Rick's first single.
8. Suga Free, "My Dice"
This flamboyant Los Angeles pimp joint uses elements of musique concrete.
9. E-40, "Sprinkle Me"
This is some Bay shit if you didn't know.
10. Safe, "Carefully Desperate"
This is more bay shit in case nobody told you. Chris [Edley] has a nice voice. and I love well-intentioned choreographers. Safe's debut record is out now on cassette, with mp3s and VHS coming soon. He's part of our Greedhead family.
11. Ju'C, "Eat the Cat"
This little New Orleans bounce number has a good message.
12. First Rate People, "Girl's Night"
This song makes me feel like very few seconds of a John Hughes film can make me feel. Not the parts with Long Duk Dong, obviously. Those were racist.
13. Museum De Bellas Artes, "Who Do You Love"
This song made me feel guilty about dancing with one girl, but flirting with another. Never again. I'm a changed man. (Look at the range man.)
14. oOoOO, "Nosummr4u"
This song's a cover of an '80s club dance song that Larry Levan used to play at the Paradise Garage. I think that song's called "Summertime, Summertime." It's pretty good, too. This sounds like they ran it through a WINTER machine, though. Who would want a WINTER machine? Who wouldn't want a WINTER machine.
15. Rappin' 4-Tay, "Back Again"
This is even more Bay shit, if you didn't know.
16. Sagat, "Funk Dat"
"Question: Why is it that every time I turn on the radio, I hear the same five songs, 15 times a day, for three months?" Sagat's just salty because he never has to worry about being one of those songs again. Ever. Sometimes when he yells, "Get a job!", I imagine he's yelling at future Sagat.
17. Summer Camp, "Ghost Train"
There's something amateurish about this song that's very endearing. Something very P.S. 22 about it.