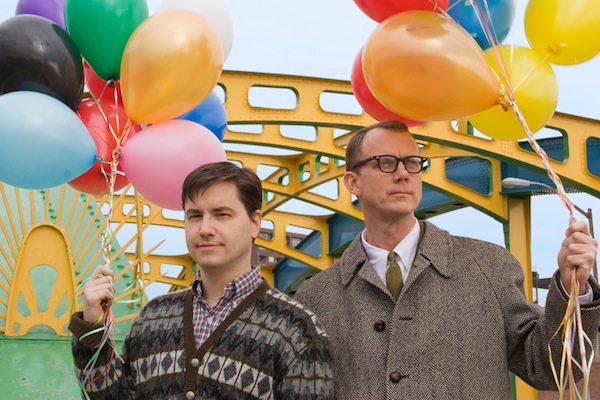 Not to kiss Matmos' collective ass or anything, but we're beyond honored to present the following collection of pause-button edits. (Yep, a mix of cassettes entitled "Rewind the Crystal Shells.") We'd be surprised by the duo's unconventional approach if they hadn't spent the last 15 years stitching together samples of surgeries (A Chance To Cut Is a Chance to Cure), folky/frosty field recordings (The Civil War, Björk's Vespertine era), a mighty mouse (Rat Location Program) and, well, the list goes on. Hell, Drew Daniel and Martin Schmidt's last record, 2008's Supreme Balloon LP, was special because it was rather ordinary–an "ALL synthesizer" album according to their longtime label Matador.
Daniel is tearing through his tenure bid at John Hopkins University (he's an English professor there) at the moment, but he still found the time to write us a little commentary below. He also had this to say about Matmos' upcoming release schedule:
"There is another collaborative 12-inch LP by Matmos/Wobbly/Jay Lesser called Simultaneous Quodlibet, which will be coming out really soon on Important Records, and Martin's other band Instant Coffee! just put out their debut vinyl only LP on the Algha Marghen/Planam label from Italy…We are working on a new Matmos album proper for Matador, but it's going to take years to finish because it's kind of elaborate."
Hmmm, sounds like they're up to…something. For now, there's always Treasure State, a freshly-pressed collaboration with So Percussion. (Le) Poisson Rouge hosts a record release show for its special brand of madness tonight.
Thinking about how to approach this, we scrapped the idea of beatmatching techno with laptops and instead decided to do a mix that was sourced entirely from cassettes. Some songs and sounds are from new tapes made by our friends (mostly people based in Baltimore) and some are thrift store finds and some were loaned to us by family members, or made for us as mixtapes years ago. Sometimes it is hissy and quiet and sometimes it is really loud and harsh; some people get a full song and some people just provide a little glue between songs. Sometimes we get fancy and layer several tapes at once. We hope you enjoy it, and thanks for listening. – Drew Daniel
1. Dan Higgs, "Devotional Songs of . . ."
Dan was our neighbor, and one of the nicest things about living on our block is that sometimes we could hear him singing in his apartment if we sat quietly on our back deck and just listened. This whole tape rules but we just used a teaser from it as an introduction.
2. Drugs Bunny, "Weight Control"
A short sharp taste of real deal noise bros. Their set at the International Noise Conference was ridiculous: Beau [Crawley] was just flailing his hair around while clutching circuit-bent toys and NothingBerryPlasma was kind of haplessly laying on top of his equipment, seemingly trying to swim across his own gear.
3. Gem Vision, "Ants"
This guy has been blowing our minds at shows lately. He does beat-ier stuff as Kid Crusher, but he also brings the gentle tropical psyche-new age underwater muzak thing, and he makes really good video art too. One of those shy, talented people we like.
4. Sick Llama & Tree Tops, "Light Infection"
Honestly, you can only hear a wee twenty seconds of drone off this bad boy.
5. Black Vatican, "Now You've Been Told"
Owen (O.G. Teeth Mountain member, cellist, bachelor about town) is one half of Black Vatican, and he handed us this tape when we told him about our idea for a tape-based mix and we trusted him and now you can hear the results. Jangly and gentle, it's the total opposite of Owen's other band Janitor (who are quickly becoming the Birthday-Party-jams-with-Throbbing-Gristle-and-Omar-Souleyman of Baltimore).
6. Night Porter, "untitled"
Night Porter is Ravi Binning, a tall, dark 'n' handsome goth-synth-noise dude who rattles between Brooklyn and Baltimore. We hope he comes back to Bmore for art history grad school so we can hear him throw down.
7. DJ Dog Dick, "Weird Lakeside"
DJ Dog Dick is Max Eisenberg, an alum of Nautical Almanac and a grand wizard of The Bank (deep West Baltimore ghetto noise party house and nerve central of good times). With his trusty Dog Synth he makes modular tones and groans, and this is one of his more melodic and floaty numbers. Can't remember if one of the Wolf Eyes folks is also guesting on this tape? Help us out here.
8. Vangelis, "Memories of Green"
This is from his album See You Later; the whole thing's great, but you know this one because, duh, it was used in the love scenes in the film Blade Runner. We bought our tape at a Goodwill in the Tenderloin in San Francisco for two dollars and it has that warbly sound that de-tunes some already wiggly synths. Just pretty.
9. Lionel Davis, "Candy Pants"
This was put on a mixtape by my friend Erika Clowes; it was a thing of comedy gold and great savoir faire, so it was hard to play favorites, but this is a sentimental fave for both of us. You can track down the video for it on YouTube. The lyrics are the high point.
10. Warren G, "St. Ides Sampler 94"
My friends Katie and Lecie got these tapes from liquor stores back in the '90s; it's an all-star cast of early '90s rap dudes, smooth R&B dudes and G-Funk folk, singing and rapping about malt liquor. The whole tape is great, but this one is our favorite.
11. Chris and Cosey, "Jink Jive (Version)"
We have a small mountain of classic noise tapes. This is from a really amazing series of cassette compilations of industrial, proto-coldwave and experimental music called Rising From the Red Sands. This is C&C in minimal electro mode. Just amazing.
12. SV's Discoji, "Dil Mein Toohi"
Owen from Black Vatican said that this was great Vietnamese (?) disco music, but that he didn't know much more than that about it. I started to play some noise tapes on top of it for fun, so you will hear some of the following on there…
13. G. Lucas Crane, "Nonhorse"
This guy is a mysterious tape-manipulator who is a fiend with the pause button and the startling use of EQ. If you like, say, Phil Milstein's Tapeworm album or Luc Ferrari, then you need to know more about this dude.
14. Spykes, "untitled"
Spykes is John Olson from Wolf Eyes doing a solo trek to the center of the universe. His show at the Floristree was righteous, and so is this excerpt from his last double-cassette/box set thingie. That object is so heavily encrusted in collages and drawings that I have no idea what it is called.
15. Sissy Spacek, "Norge EST"
These guys really need no introduction, but just in case you've stopped paying attention: noise/grindcore heroes from Los Angeles and beyond, John Wiese and his cohorts know how to fuse musique concrete and powerviolence like literally no one else on this planet. Plus they have great taste in movies. John Wiese has never recommended a bad film to me.
16. Kiowa Lodge Singers, "Looney Tunes"
Martin's sister Victoria, who was a schoolteacher on a Native American reservation, loaned us this tape years ago. It's a group of Sioux musicians who are making music for kids but using traditional drumming and singing styles. This song is about cartoons and it's pretty much completely amazing. There isn't another tape like this one.
17. Keith Fullerton Whitman, "A Bogan Apocalypse"
Keith is a powerful magic user and his control over the Doepfer modular synthesizer is just one manifestation of his skills. I layered some of him over the Kiowa Singers and it just seemed to click. Can't wait to hear him play at the High Zero festival this September.