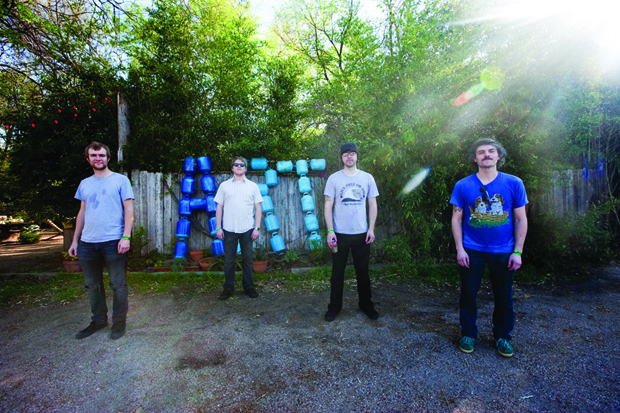 [Photo by Mary Sledd]
Words and Mix by Matt Cherry of Maserati
We got really sick of sound dudes playing some Staind bullshit on repeat during soundcheck and between bands, so we started bringing our own mixes to shows. Typically, each of us makes a separate mix and we alternate depending on the night and how big of a douchebag the sound dude is. Very synth-heavy with bits of psych, early disco, and house, this is the one I made for our upcoming tour. Also good for subway commutes, designing things, and as a background to watching NFL on Sundays hungover on the couch.
1. Deutscher Wertarbeit – Deutscher Wald
A recent discovery of ours and a gem of a reissue. This very German, very synth-based record is absolutely stellar from start to finish. This is one of the standout tracks.
2. Jonas Reinhardt – How To Adjust People
Based on the name alone, you might think this was some peer of Klaus Schulze or Manuel Gottsching, but it's actually a current "band" from San Fran. We really, really dig what these guys are doing.
3. Spacemen 3 – Big City
You might say S3's final album is psych rock's version of Speakerboxxx/The Love Below considering that Sonic Boom created the first half and Jason Spaceman created the second half. This is the first track–basically a solo Sonic Boom creation–a trip through relentless arpeggiated synth goodness.
4. Paul Johnson – Follow This Beat
We love the arrangement of this house tune, especially the way the song drops into some heavy shit after each vocal verse. It's so great. Also, of all the gay, black dudes associated with the birth of house music in Chicago in the '80s, Johnson was that and also in a wheelchair…but on top of that THE raunchiest of the dudes in the scene, which is totally awesome.
5. Harald Grosskopf – Se Weit, So Gut
The drummer from Ash Ra Tempel made a killer hypnotic synth record in 1980 called Synthesist that a lot more people should know about, 'cause it rules.
6. Giorgio Moroder – Utopia
Moroder's not nearly as famous as he should be considering he helped pioneer disco, having produced tracks for Donna Summer and even co-writing the score for Top Gun for fuck's sake. His early solo stuff is particularly great, and From Here to Eternity is a criminally underrated record. The vocals on this track are something we've definitely taken a lot of inspiration from in the studio.
7. Suicide – Touch Me
Although the second Suicide record doesn't really have the conviction that their first record does, it's still punk as fuck for just a dude singing crazy shit over a drum machine and a keyboard.
8. Lindstrøm – The Magnificent
We're not really sure why this track came out on his Leftovers EP other than it just wasn't long enough to make the cut for his Where You Go I Go Too record. Regardless, we love the modulations, simplicity and vocals on this track–it's been on repeat a lot lately.
9. Michael Rother – Klangkorper
Although Rother's post-Neu! stuff is a bit hit-or-miss, there are moments of greatness such as this. Super minimal, super rad, textural goodness.
10. Michael Hoenig – Sun and Moon
[Drummer] Jerry [Fuchs] unearthed this album several years ago and it's been one of our go-to "chill" records for a while now. Can't say enough good things about this one.