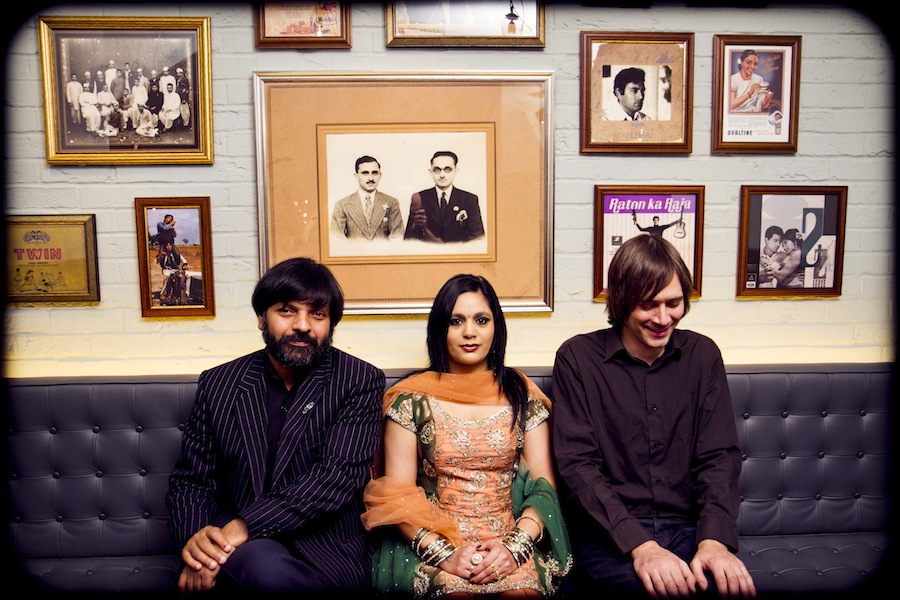 You remember Cornershop right? A brimful of asha on the 45; everyone needs a bosom for a pillow–all that? Well they're back with their best album in years, Cornershop and the Double 'O' Groove Of, a groove-riding, sample-splicing collaboration with Punjabi folk singer Bubbley Kaur.
The long-awaited LP was actually sparked more than six years ago, when the group's core duo (Ben Ayres, Tjinder Singh) courted critics and a particularly pleased John Peel with the speaker-slapping breaks and head-circling hooks of "Topknot." A Pulp-related remix soon followed–featuring bassist Sean Mackey and a certain rising star named M.I.A.–but a completely different album (2009's Judy Sucks a Lemon For Breakfast) dropped before the pair could finish their protracted sessions with Kaur. (She's actually a housewife who happened to cross paths with Singh a couple times before a mutual friend caught her singing at a wedding reception and suggested a full-on collaboration.)
In the following exclusive, Ayres offers up a "crazy mix of tracks we've always loved, some of the more obscure Cornershop tracks, and one or two current artists that we like things by. It will probably sound a muddle. But an interesting muddle hopefully. The idea is as if hearing someone play some records at home rather than a whistles and white gloves disco mix type thing!"
1. The Strange Boys – 'American Radio'
I really love The Strange Boys. They're from Austin and are phenomenal live. Catch them if you get the chance. This track was for a recent split 7". It's much more experimental than their usual garage/blues numbers, but I love its adventurousness and it gives multiple glances of different facets of their sound, which is good I think.
2. Ananda Shankar – 'Raghupati'
This is a track from a record that we searched for ages ago; took a while to find in the years before the Internet! Ananda Shankar recorded a few incredible records in the late '60s/early '70s, and this is a cracking track. It never fails to get the party started, especially if you're friends happen to be wearing robes and feeling a fraction spiritual.
3. Ultramagnetic MCs – 'Intro'
Both Tjinder and myself are massive admirers of Kool Keith. He's a true musical genius. This is a small excerpt from his work with the Ultramagnetic MCs, the groundbreaking and legendary early hip-hop outfit.
4. Cornershop – 'Easy Winners'
This was a b-side, but I've always felt it could have been a great a-side. The sub-bass rumble on this shook a few stomachs to the core in its time. Best heard on a big system, with the bass up high.
5. T.Rex – '21st Century Stance'
Another person we admire and respect immensely. Marc Bolan was fantastic, I've had months in the past where I've listened to nothing else. This is a demo I got a few months ago; I love the directness of it. He was an amazing, imaginative lyricist despite, or perhaps because, he was dyslexic. I recommend his entire musical output, you can't go wrong. And don't believe the folks that say the later stuff is no good. Tracks like "Soul Of My Suit" are astonishing. I think he completely dwarfs Bowie as a musical star from that era.
6. Cornershop – 'Green Peas'
Another b-side of ours–one we both dug from the off. I'm pleased with the simplicity we were able to get and the heavy funk element that's there throughout.
7. MGMT – 'Siberian Breaks'
I really like MGMT, I think they're a quality group, and the new album just underlined that. They made the album they wanted to–no compromise–and it's a fascinating record. This track is great on the album, but this version is like a Hall & Oates-style version, which can't be bad.
8. The Miracles – 'You Really Got A Hold On Me'
I've always loved Smokey Robinson songs. He's obviously got a fantastic voice, but he has also had a knack for coming up with killer melodies. I chose this track to include because it has extra all around power from being covered by the Beatles on With the Beatles, and I think it's important Smokey and co. are given a bit more credit for the original. Maybe this'll help?!
9. Cornershop – 'Mean Mr. Mustard / Polythene Pam'
Another Cornershop rarity. We did this cover of Fab Four songs for MOJO magazine, when they were celebrating the anniversary of Abbey Road. It's probably a track people haven't heard form us, so I thought I'd include it.
10. Alexander – 'Truth'
This is taken from the debut solo album by Alexander, the frontman of Edward Sharpe & the Magnetic Zeros. I really like the spaghetti western feel to it.
11. Cornershop Feat. Soko – 'Something Makes Me Feel'
Here's another lesser known (apart from in Germany, where it's strangely constantly on the radio?!) Cornershop track. We recorded this with Soko, a fantastic French singer. She has a wonderful voice and phrasing. There's been talk of her making an album for some time now. I can't wait to hear it, but I think she's been busy making films too, so who knows what will be next from her? She's one to watch, that's for sure!
12. Unknown – 'Bonus Track'
I found this on a white label whilst on tour in a charity shop. Makes me think of 1970s war radio broadcasts. Best combined with helicopter sound effects merging in and out.
13. Jeffrey Lewis & Laura Marling – 'Brain Damage'
This is a recording made at Tjinder's home studio in London. Jeffrey Lewis and Laura Marling came by and recorded a fantastic and off-the-cuff version of Eminem's song "Brain Damage." An inspired choice by two complete stars of music in my opinion.