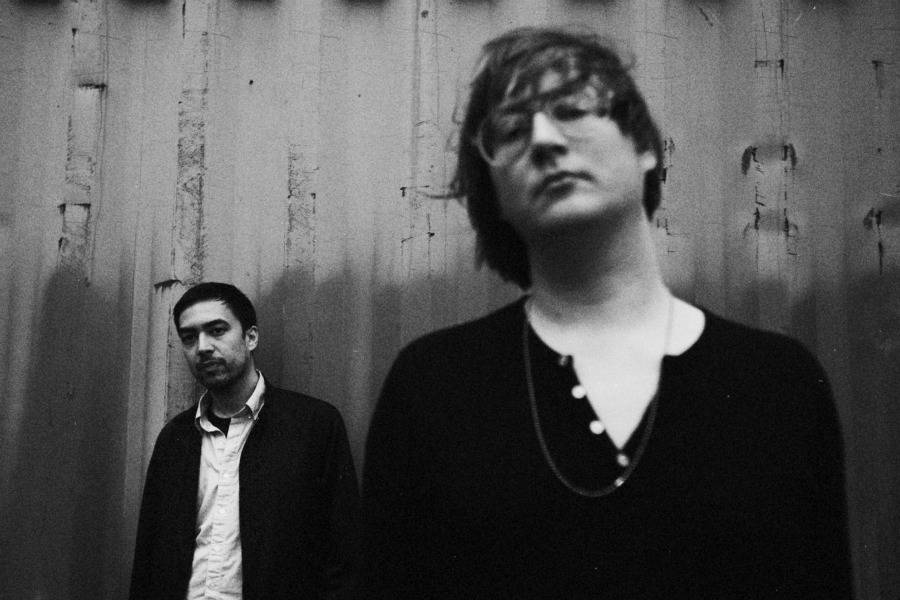 Words by Mitch Strashnov
2011 has been a year to behold in the world of Sepalcure, with the release of their debut LP on Hotflush this week; the fact that the group is now situated between two continents; and the creation of a scintillating audio-visual show courtesy of Sougwen, the artist responsible for Sepalcure's gorgeous record sleeves. Their sound has evolved throughout each release, too, with almost a year and half being the distance between their debut EP, Love Pressure, and their self-titled record. Between intensive studio sessions within Berlin and Brooklyn, the duo have created a record that isn't necessarily "bass"-centric, either. Taking elements of house, funky, footwork and ambient music, Praveen Sharma (Braille) and Travis Stewart (Machinedrum) provide the soundtrack to all things endearing, engaging and evocative, crafting one of the year's finest full-lengths and one of Hotflush's best discs to date, period.
With an audio-visual tour in the works for 2012, the group sat down with self-titled and talked about their origins, their studio dynamic and how their previous works have melded into their group efforts. They also gave us Sepalcure's only U.S. mix…
self-titled: How did you two meet?
Travis Stewart: We were both releasing music on IDM labels at the time and had started talking through [the old chat/file sharing client] IRC a bit. We never made a super-strong connection, but when I got booked in NYC and told Praveen, we coincidentally were playing the same party. We met up, got along and kept in contact. I stayed at his place multiple times and eventually when I moved to New York, I lived not too far away from him and we'd always hang out at his place, playing at the same shows.
There was stuff  like BAPlab and Bushwick Arts Project during that time. We'd jam out and never thought about making tunes together. In time, Praveen moved out of the apartment he was living in and I moved into his old one. He was dating Sougwen for a while, she left for school and I hung out with "depressed Praveen" more. We started dicking around, playing guitar and recording more ambient stuff, then I proposed the idea of using Ableton, and we started making tracks with that and [looks to Praveen] do you want to continue?
Praveen Sharma: Yeah, after that initial period, I had already been playing some of the bass stuff from the UK for Travis, I was already sick of what I was working on at the time and I was bored with how self-analytical I was getting with the music. I got a lot of Travis's immediate work ethic, and suddenly music became fun again. It really took me out of a dark place and was what I needed, personally.
The record is surrounded by echoed vocals, almost like muses; why are the acapellas so predominant?
Travis: People will think it's predominant because its what they relate to. When you hear a voice, it's gonna be like, "Oh yeah, that's the track with the vocals!", but our point of view is that it's an integral part of the song. It's not like we're using trumpets or anything! The vocals fit because they're creating a story; poetic content that the song benefits from.
Praveen: For me, sampling vocals was something I was going to do for a while. For us, this was just for fun. You know this shit wasn't initially going to be released at that time, so we just took it for a ride.
Travis: I mean, I had already been working with vocals as a centerpiece with Machinedrum stuff, so I was just using stuff I know and employing into a new project.
Some tracks are frenetic in pace, similar in some ways to [the Machinedrum record] Room(s). Did the vibe of that album carry over into the Sepalcure sessions?
Travis: I made a lot of the tracks for Room(s) a year, to a year and a half, before the album, so naturally whenever you go into a songwriting process, you're basically taking everything you're surrounding yourself with and putting it into that song. It's not like it was a natural decision to do one thing or another. Even before Room(s), some of the Sepalcure stuff I was doing bled into the album, with the UK-influenced sound. When I was writing Want to 1, 2 and Want To 3, 4, I was trying to cross the gap between experimental electronic and pop music, it was more of an analytical thing. Room(s) was a response to my personal failures of not doing that with the previous album.
Praveen: I can say the same thing about Braille stuff—it opened a lot of doors for us. I was just taking what I was doing and using it to our advantage. It crossed over quite well for us.
How did you get from a sad point to the point where you're at now creatively, this "love"-centric vibe carrying over into a lot of the record?
Praveen: Truthfully, the vibe was almost amped up and things have been more fun. We had a lot of excitement in just getting back to work. The "love" aspect might show through because we were having a blast. I'll never forget those sessions, so much fun.
Travis: And to see that we could still do it was amazing. There was this in-between period with Love Pressure and the album where we would start shit on our own, so we could meet up and do it equal opportunity. With the Fleur EP it was more like work,  we felt like our separate efforts were coming together. So as a result, when we did album sessions together, doing tracks from start to finish, that's how that "love" sound came about. It was us sticking to what we do best and that's working together, diligently.
Praveen: When we got back in that fucking studio, it made me remember why we started this again. None of the stuff sounded forced or preconceived, and it worked out.
Travis: Also, the fact that Hotflush gave us semi-open-ended deadlines. They gave us some wiggle room, but at the same time we knew we wanted to get shit done.
Why all new tracks? It seems like more and more we're seeing albums with fresh tracks.
Travis: I think it has to do with the age we are in right now. With digital releases, no one wants to buy the same track twice. No one wants to see duplicates on iTunes anymore. Do you really want to go on your iPhone or iPod and see the same song twice? Isn't that just extra space you're wasting?
Like Room(s), the last track on this record is essentially beatless, is there any reason to that?
Travis: For my album, "Where Did We Go Wrong" was originally in the middle of the album, and after deliberating with the label and some other people, they told me that it would be better to put it at the end. Contextually with the album it made more sense to be there. We figured as much with this, along with a way to close it out in a really cool fashion.
Praveen: On Fleur we had "Inside", and the only way we thought we could end the album is to do it "Outside." I mean, beatless is kind of the way to go, really give you space to breathe in the end and with us, it worked out perfectly. We're currently starting our live sets within that context, we will start with "Inside," take people on a ride and lead them "Outside" by the end. Sougwen's visuals will provide that for the people who check out the A/V shows in 2012.