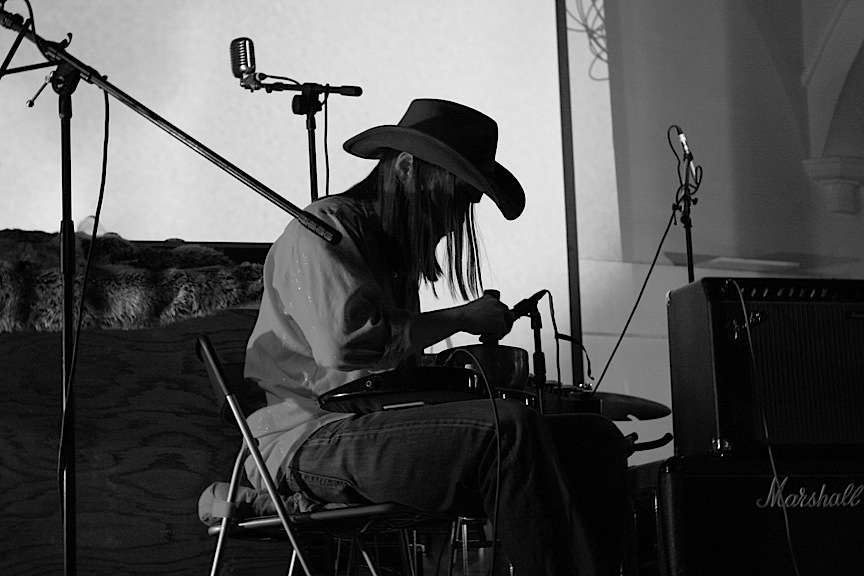 Since he's already emerged as one of the underground's preeminent dark-ambient players (see: last month's The Resurrections Unseen LP and a looming collaboration with former Isis frontman, Aaron Turner), we gave William Fowler Collins some simple instructions for the 81st installment of our Needle Exchange series: send us a mix that's "bleak but beautiful." He answered the call with a skeletal, spooky meditation on everything black metal and Morricone, The Shining and Grouper, and what long New Mexico nights does to a person…
1. Wendy Carlos, "Shining Title Music"
From the perfect soundtrack to a perfect film.
2. Deathspell Omega, "First Prayer"
One of the best bands to ever exist in the genre of metal, period.
3. Xasthur, "The Prison of Mirrors"
I'm not sure there's anything quite like this. The vocals are devastating and otherworldly; the production is raw.
4. Giacinto Scelsi, "Elohim"
Scelsi is one of my favorite composers. His works are powerful and dynamic.
5. Ennio Morricone, "The Second Tavern"
One of my favorite films (Once Upon a Time In the West), featuring one of my favorite composers.
6. Jodis, "Ascent"
James Plotkin's guitar and Tim Wyskida's drums are wonderfully restrained, providing an expansive space for Aaron Turner's vocals. I highly recommend seeking out their music.
7. Nortt, "Dødsrune"
I think Nortt's music transcends the image that comes across in the press. His dark, melancholy sound is beautifully and carefully crafted.
8. Grouper, "Down To The Ocean"
I love the lo-fi, murky beauty of Liz Harris' Grouper project.
9. Krzysztof Penderecki, "Utrenja"
Penderecki is easily another of my favorite composers. He once remarked that "'Utrenja' is a combination of pure, a cappella vocal writing and orchestral effects (for strings and percussion) very much connected with electronic music."
10. Funeral Mist, "Anti-Flesh Nimbus"
Similar to Scott Conner's efforts with Xasthur, Daniel Rostén immerses himself in the character (Arioch) behind the music of Funeral Mist. Amazingly theatrical and intense. I love this project. In this track there are also interesting choral elements and an outro with horns.