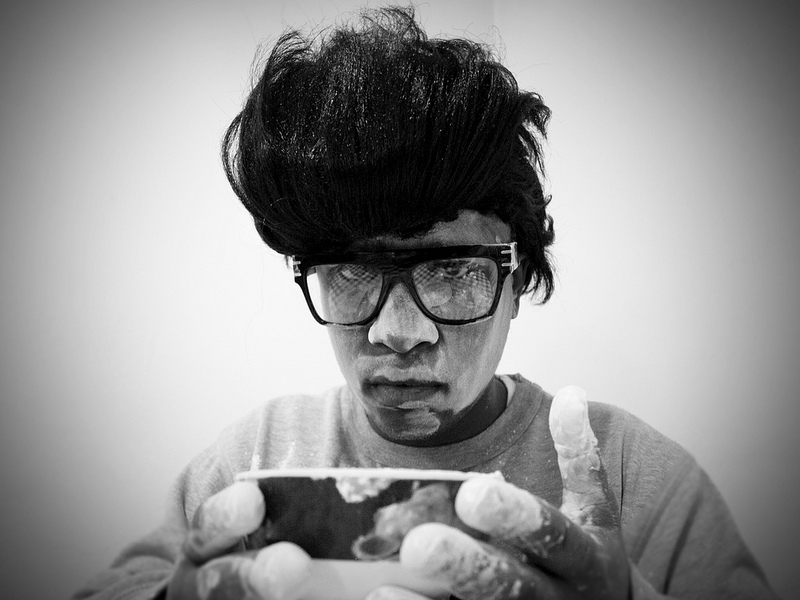 As impeccably produced as Scratcha DVA's debut album (Pretty Ugly, available now on Hyperdub) is, it's also a bit batshit, leaving you with the feeling that something's slightly off from the very start (the flatlining fuzz and percussive pyrotechnics of "Reach the Sun").
The exclusive mix below is just as disjointed, right down to the track-by-track commentary that we ran as is (read: chopped and screwy)…
DVA – Intro 3
Ok so this 1 is an interlude from my album Pretty Ugly. Lots of fuzz, wierd, spacey and out dere. Jus like me apparently. With an intro like that i like 2fink i can kinda go newhere.
DVA – Polyphonic Dreams
Another track frm my album and its also the AA track on my last Hyperdub single. Conceived at 5am in a diffrent consciouss state. Theres a lil bit of talking in the breakdown section. Can u tel where its from? answers at my twitter @ScratchaDVA…. U win a date to YoSushi with Kode9's cat.
DVA – Reach The Sun
I still hear this track and get happy with how it turnt out. Im actully playing an extended mix here which we ended up cuttin down 4da album version. Ul either really hate it, or have a wank about it……shall I pass the tissues?
DVA – Face The Wall
I've had a good response on dis track since i played it out 4da 1st time at The Boiler Room. I love my soul music but i also love my industrial noises. I also like collabing the 2 but this time i put my hard hat on and went in on the microkorg. I called it Face The Wall coz its naughty.
L.Vis 1990 – Rubber Crash
I really dunno wht 2say about this tune. I dont fink deres a track of L.Vis 1990's i havent liked. This is off hes new EP forthcoming on Nightslugs called 'Club Contructions' Vol 1. erm…… He was also the last guy 2date Kode9's cat.
DVA – Tequilla Blackout (Dub Mix)
Been holding dis 1 down 4 a hot minute. I have another version which is a Soule:Power Mix so imagine darkness, rhodes and stringy synths. Its not even mixed down so stop slapping ur speakers, its not u its me. But i fort id buss the dark dub mix 2keep it in the vibe of this mix. Its the soundtrack 2bare nights i cant remember.
DVA – Step 2 Funk (Vip Mix)
This is a slightly bouncier and updated version to the flip of my 2nd Hyperdub release Just Vybe ft Fatima. Big bassy kick drum which drives the track and this time around i playd some leads over the top and brought in some more drums 2play with in the mix.
Cornelia – Aquarius Dreams (DVA's Hi:Emotions Remix)
Its not too often when im arxed 2do a remix that the artist or label sez jus do what u want. So i was happy 2run with this 1 in the studio. Cornelia is open-minded so i pushed a boundry or 2 an they were happy. This 1 came frm space. If u need help dancing 2it, theres a youtube vid 4dat. The track is also available 2buy on Camp Mozart Records.
DVA – Techno God
I dunno I dunno I dunno…
DVA – Outro
I know I know I know….