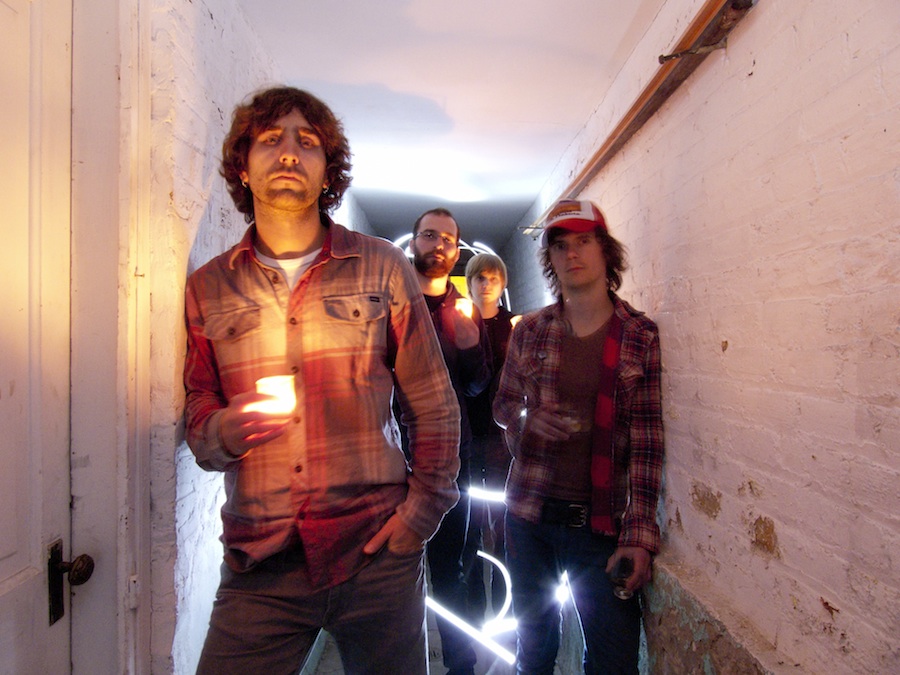 While we're a little hurt that Pelican chose to celebrate the release of their new EP (Ataraxia/Taraxis, which is now streaming at the A.V. Club and available for pre-order here) with a two-week tour overseas–including dates with Chelsea Wolfe and Tombs–self-titled will settle for its consolation prize. And that is a special mixtape featuring selections from all four members: guitarists Trevor de Brauw (see also: Chord, Let's Pet) and Laurent Schroeder-Lebec, and the brothers-in-arms rhythm section that is Bryan and Larry Herweg (also of ÆGES). As expected, it's completely all over the place, although de Brauw spent a considerable amount of time sequencing it apparently…
1. Chavez, "Repeat the Ending"
Trevor: The glorious and lovely intersection of melody and dissonance.

2. Soundgarden, "Black Rain"
Larry: Their comeback single was a beast–a leftover song recorded during the Badmotorfinger sessions with some redone vocals.

3. Octopus, "The River"
Laurent: "The River is the first cut off the recently reissued and mega hard to find psych LP by the British band Octopus.
4. Dax Riggs, "Say Goodnight to the World"
Larry: Highly recommended by 'Dirty' Tony from ÆGES.
5. The Soft Moon, "Total Decay"
Larry: Dark, bleak, drugs, etc.
6. John Carpenter & Alan Howarth, "Hello Grandma"
Trevor: I was indulging pretty heavily in Carpenter films when we were working on the EP. Halloween III is a pretty universally hated movie, but it's one of my favorite Carpenter/Howarth soundtracks.
7. Chelsea Wolfe, "Tracks (Tall Bodies)"
Larry: "She put a spell on me."
8. Harvey Milk, "I Alone Got Up and Left"
Bryan: So slow and heavy, with a beautifully demented guitar solo near the end.
9. Fugi, "Mary, Don't Take Me on No Bad Trip"
Laurent: A '70s rarity by Fugi, who is backed by Black Merda here. This gets any day going for me. Dark lyrics too.
10. War, "Get Down"
Bryan: This song usually starts out a kitchen session. It sets the mood and definitely makes the food taste better.
11. Rolling Stones, "If I Was a Dancer (Dance Pt.2)"
Laurent: This cut off Sucking in the '70s is awesome; you can see how they were loving NY new wave at the time (ESG, Liquid Liquid, Blondie) and just the urgency of that scene.
12. Bedhead, "Extramundane"
Trevor: The Kadane brothers are favorite guitarists of mine. This song is a little left-field for them since it's so straightforward, but I think it's a great example of a perfectly crafted rock song.
13. Burning Witch, "History of Hell"
Bryan: I seem to always want to play this really loud when I get home from work. That says a lot about my day job.
Pelican tour dates:
4/6 Zottegem, BE – Dunk! Festival
4/7 London, UK – The Garage (w/ Chelsea Wolfe)
4/8 Birmingham, UK – Academy 3 (w/ Chelsea Wolfe)
4/9 Leeds, UK – Brudenell Social Club
4/10 Glasgow, UK – Stereo
4/11 Manchester, UK – The Ruby Lounge
4/12 Brighton, UK – The Haunt
4/13 Bristol, UK – The Cooler
4/14 Tilburg, NL – Roadburn Festival
4/15 Paris, FR – La Maronquinerie
4/16 Karlsruhe, DE – Jubez (w/ Tombs)
4/17 Dudingen, CH – Bad Bonn
4/18 Milan, IT – Magnolia
4/19 Munich, DE – Feierwerk (w/ Tombs)
4/20 Berlin, DE – Cassiopeia (w/ Tombs)
4/21 Helsinki, FI – Nosturi
4/22 Istanbul, Turkey – Gajistanbul