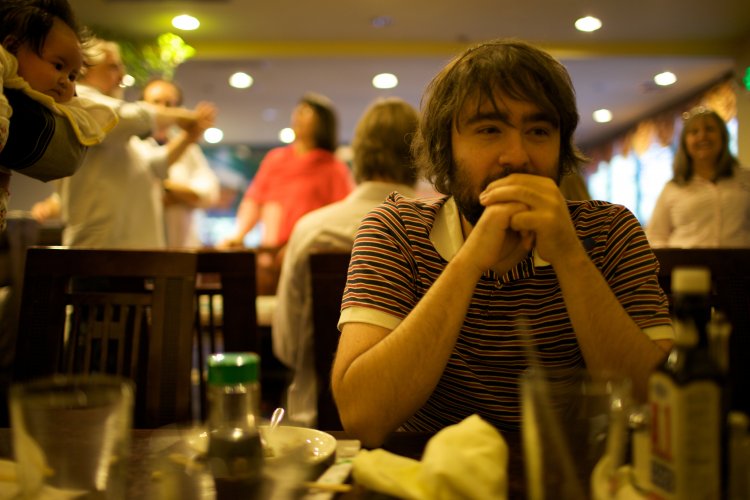 While he's best known as the beat conductor behind Ben Gibbard's short-lived Postal Service project, some of Jimmy Tamborello's best work has been under his Dntel alias, from Sub Pop's recently reissued Life is Full of Possibilities LP to the new album that drops through DJ Koze's Pampa imprint on June 5th. Lighter on the guest appearances than his last record–an effort that featured key members of Grizzly Bear, Bright Eyes, Lali Puna, Rilo Kiley and more–Aimlessness drops a couple sample-driven duets (with Baths on "Still" and Nite Jewel on "Santa Ana Winds") alongside shifting shades of house, dub, glitchy dance grooves, Krautrock and classical.
In the following exclusive mix, Tamborello takes us back to where it all started with a collection of music that was cut in the early '90s, back when he was still in high school and favoring rave-on records over the guitar-guided angst of grunge…
00:00-00:50: Most of the music on this mix was under the name Antihouse. I did this project with my friend David, but I think most of the stuff here was pretty solo. A few years after this, we started our band Figurine with another high school friend. This part was an excerpt from my first attempt at a whole instrumental electronic album, called Experiment #1. I had my mom read a script and then I pitched her voice down a little. I don't know where "Mind Lock" came from.
00:51-02:40: I also had an industrial band in high school called Skillet. At first we were called 9 ½â€ Skillet but decided it sounded too much like Nine Inch Nails. This would have been a moody interlude in our set. Lots of Twilight Zone samples.
02:41- 06:49: For this mix, I didn't rework the songs; I only allowed myself to cut sections out and do some mastering. The cutting-parts-out definitely helped. Most of the songs were too long. I think this is one of my favorites now–kind of housey and laidback.
06:50-10:11: I really wish I had the song titles for all this stuff. I found one floppy disk that just said "Blood Rave." I'm not totally sure what I would have been listening to at this point. I think probably those rave comps you'd buy at the Wherehouse? At some point during this record, I would have been turned on to Aphex Twin and Warp but you can't really hear it until the last few tracks.
10:12-12:13: A lot of these tracks are way too fast.
12:14-15:31: Some housey piano, a jazzy break and some rave stabs at the end.
15:32-17:48: I like how spazzy this is. Maybe I heard some gabber and this was how I translated it.
17:49-19:18: Sometimes I would load up the sequence for one song and the sounds from a different song. I think that's what this one is.
19:19-23:59: Maybe this was "Blood Rave?" The scary samples are from that horror movie Candyman. I like how the ending's kind of John Carpenter-esque.
24:00-26:59: I think this was more in the Skillet category–an icy ballad. It's funny picturing me as I kid sitting at the keyboard with my eyes closed pouring my heart into this.
27:00-31:18: This one has a name! It's called "Study Of A Mirror." It was from Antihouse's Experiment #3. We would make tapes of it and sell them at a local record store. There's basically a whole Brian Eno/Harold Budd record playing in the background with some delay on it. And then I think some Presidents' speeches record. The full track is 12 minutes.
31:19-34:43: "Mars," also from Experiment #3. Lots of bongos.
34:44-39:00: The next three are from Experiment #5. I think I was probably a senior in high school and had definitely discovered IDM. The song "Mercury Harbor" from this tape became our first official release, on Silent Records' From Here To Tranquility Vol. 3. This one's called "Discus." I remember recording myself rolling some dumbbell weights around on the back patio for the main melody.
39:01-46:29: "Nautilus." I think this one's really pretty and I like the sound of the finger-tappy beat.
46:30-52:40: "Golden." My family had a golden retriever named Brandon. (Not inspired by Punky Brewster.) I sampled him a lot for this song. I'm not sure where I was getting the retro vibe–maybe groups like Ultramarine.
52:41-55:49: This was the outro from Experiment #3. The full 14-minute track is called "Propaganda From the New Ruler/Brainwash/Inner Peace (insanity)." Ooof. We borrowed a friend's 303 for it. Sadly I think that's the last time I got to play with one.