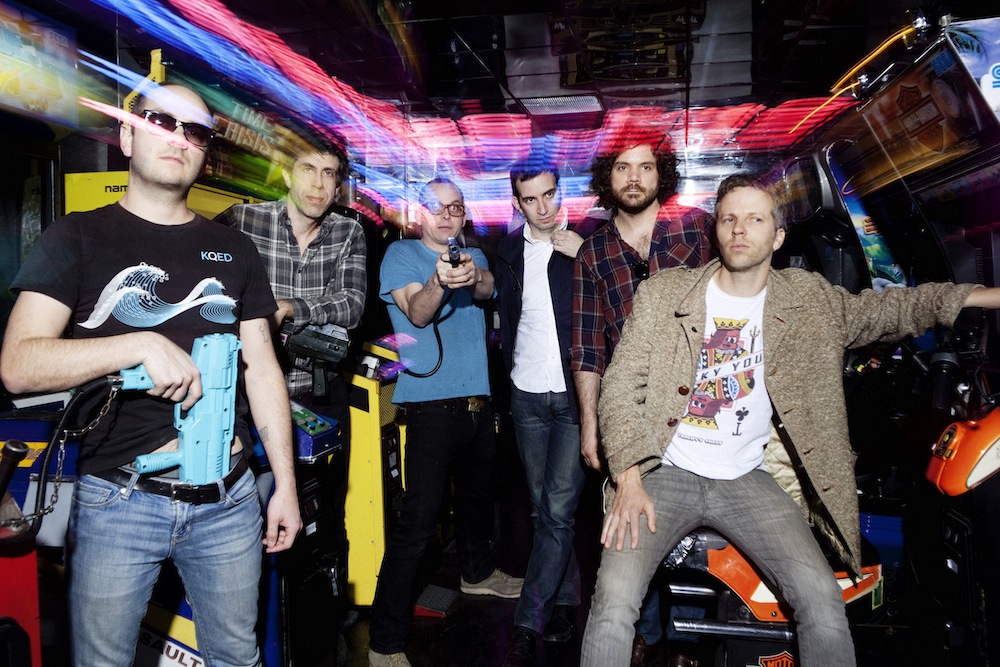 "I don't know if anyone would describe it as positive tension," says !!! frontman Nic Offer, when asked about the give-and-take that's gone into the group's five albums. "It can get pretty dark. But it's important to be able to get your feelings hurt and keep chipping away."
That was certainly the case on the collective's recently released Thr!!!er record, a filler-free argument for keeping punk-funk alive in 2013. In the following exclusive, we share an E-mail exchange with Offer alongside a mix from multi-instrumentalist Allan Wilson…
!!! – Needle Exchange 121:
Sir Eddie Real & the Realistics – Where's The Monkey?
Tessela – Hackney Parrot
Daphni – Springs
DJ Sneak – Wickedy Sounds (Andrea Oliva mix)
A Guy Called Gerald – Umgaia
Dirty Channels – On The Way feat. Rosina
Dennis Ferrer – NJF
The Mole – The Animal Within
Ricardo Villalobos – Tempura
Donnie & Joe Emerson – Baby
self-titled: Let's start with an obvious question: !!! has been through a lot of lineup changes, sonic shifts and various hardships over the years. In a lot of ways, you're one of the last bands standing from the emerging dance-rock scene of the early '00s. What's kept you going all this time?
Nothing else to do, is there? Get a straight job? Nah. But we're lucky enough to have the same hunger for new music that we had when we started and still be friends who are glad to be out having a good time together. We'll probably do it 'til people stop showing up for gigs, then head back to the garage to jam and wait for the call to do the reunion tour.
In the past, you've said music is the one thing you could always imagine yourself doing and if you weren't making it, you'd essentially be settling for something else. What do you get out of performing and writing music that you can't get elsewhere in life?
Watch me onstage, and you tell me what else is gonna give me that kind of adrenaline rush. People are always telling me to write a book, and as much as I love reading, it hasn't obsessed me like music has since I was a kid. And people are best at what they're obsessed with. We did just watch some recent Stones footage on YouTube last night and it was apparent that we can't do this forever, so maybe I will have to write my book someday.
How do you see Thr!!!er fitting into the greater scheme of !!!'s discography?
It seems like it makes sense as a band's fifth record. It's richer, deeper, funkier, catchier and more mature without losing the carefree "fuck it" intentions that we started with.
This record is incredibly tight and varied. How do you keep things fresh every time you head into the studio, especially considering you often write separately from one another?
I attribute it to just always being excited by new kinds of music and wanting to achieve different things. I also like to buy a new synth or drum machine when I start each new record. Getting lost in a new machine usually garners something interesting.
Any chance "Slyd" is the first sign of an Out Hud reunion?
No chance at all of that, I'm afraid. I'm probably literally the only member who would show up for that practice. "Slyd" actually barely features Molly [Schnick]. She only makes like one small small sound, most of the vocals are by Teresa Eggers.
Is "Californiyeah" meant as a subtle commentary on how California has been both a home and a point of contention for !!!, what with how your members have often been split between the two coasts?
Yeah, you're much closer to what it's actually about. Most people just hear us yell California and assume it's an anthem for it. It is in some ways, but in other ways it's more of a NYC supremacy song. "Californiyeah" is a love song to a girl/state I can't be together with.
What are your thoughts on today's club scene in New York? Do you ever feel compelled to write a sequel to "Me and Giuliani Down by the Schoolyard," only now the topic would be the final, soda-regulating days of Mayor Bloomberg?
Wellllll, let's just say I care a little bit more about dancing than I do soda pop, and political songs should only be written if you think you have an original opinion to throw in. When we wrote "Giuliani," we were almost surprised someone hadn't done it before us. I'm not really surprised no one's written a song for the soda pop ban.
I feel like !!! has always had a lot of positive tension in the studio, arising from the fact that you have so many different players/songwriters in the group. What were some positive arguments that resulted in songs improving on this record?
I do advise anyone in a creative relationship to always keep your mouth shut until you try the other person's idea. There's been many times when I rolled my eyes and thought "that'll never work" and it ended up turning out great. Maybe it's just always good for me to learn the lesson about keeping one's mouth shut.
You guys kinda wanted to be Can in the beginning; who does !!! aspire to be now?
Canned Heat.
What were some nonmusical influences on this album?
Well, the opening line of the record is pinched from the Julio Cortazar book Hopscotch. I just added the line about going for a swim and the rest of the song wrote itself.
Anything else you'd like to add?
Oh geez, I never add anything except "stay sweet."