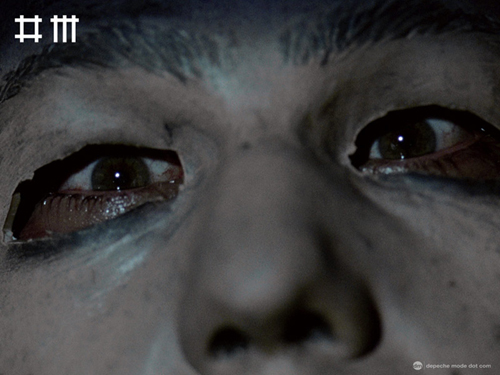 "Disturbing" doesn't even begin to describe Depeche Mode's new music video,  a retina-realigning waking nightmare that'll burrow into your subconscious within a viewing or two. So much so we can't imagine it surviving the censors over at MTV, or any other stateside cable network for that matter.
We E-mailed director Patrick Daughters (best known for two significant buzz clips: Yeah Yeah Yeahs' "Maps"  video and Feist's "1 2 3 4") the second we saw "Wrong" to ask him just what the hell he was thinking when we made the most thrilling three-and-a-half minute movie we've seen in years–a movie that happens to sync up with the most promising Depeche Mode single we've heard in a while.
Sounds of the Universe, we eagerly await you …
self-titled: How did you get involved with Depeche Mode? Were you a fan beforehand?
I was approached by the commissioner and told that Dave really liked my Liars video. I knew their big hits but not much else. I had seen bits and pieces of some of their great videos that Anton Corbijn directed. It was flattering that they went with me after having developed such a good relationship with a director like him.
Did you–and the band to some degree–see this as an opportunity for them to appeal to a younger audience and have a viral video success?
Though it was never discussed, I think viral circulation is a consideration and a goal with nearly every video made nowadays, at least videos with a concept.
Tell us a little bit about the concept behind the video. We've already heard it called "the best 3-and-a-half minute David Fincher video never made." Do you consider his dark, pre-Benjamin Button films an influence at all? What other directors and artists in general may have influenced this video and some of your other work?
It's funny you mention that because when I heard the song I thought of the scene from The Game where Michael Douglas is trapped in the backseat of a taxi. The inspiration was pretty much that and a heavy dose, bordering on mimicry, of Jonathan Glazer, who's one of my favorite directors.
From there, it was a question of revealing the scenario strategically as the song develops.
How did [Liars drummer] Julian [Gross] end up acting in this video? Did Mute suggest him? He's a pretty intense performer, so was he a natural in front of the camera?
He's a good friend. I didn't think the stunt drivers would be great actors so I asked him if he wanted to do it. Anyone who knows Julian can tell you he's quite a character, though he's not an actor. He's so funny and likable it's hard to imagine him doing something serious but he did a good job.
Did you give him any direction or did he just roll with whatever movements came to mind given the situation his character is in?
There was direction.
Did you like the fact that Depeche Mode was cool with keeping their appearance to a basic cameo? Will there be an extended version that tells the story of how the hell this guy got put in such a fucked-up situation?
Yes and I think that really speaks to their respect for other creative people. They didn't want their appearance to compromise the idea and were quite honest about saying that up front. I didn't think it would. After they decided to go with my idea, they trusted me completely to execute it. That's really the ideal kind of artist to work with–where they just let you to do your thing.
Total gentlemen, those three.
What's up with the mask Julian's wearing? Its Michael Myers quality made the video that much more disturbing.
It was actually just something lying around the office from another shoot.
Where and when was this filmed, how many months of editing did it take to complete, and is this one of the biggest budget clips you've ever done?
We shot the band in NY in December and the rest of it in downtown LA in mid January. It took a couple weeks to edit and a few more for post production. It was one of the bigger ones [I've done] but not nearly as big as it looks on screen, which has a lot to do with how well the producer pulled it together and the many many hours of work MPC, the post production company, generously invested in it.
What other artists are you working with in the coming months?
I'm shooting a Grizzly Bear video in a couple weeks in LA.  And later in March we're premiering a video for Department of Eagles at MoMA that I co-directed with Marcel Dzama.
More from Patrick Daughters …