The Cadillac is an exceptionally impractical object. So is La Pieta and le Tour Eiffel and Chopin's Sonata No. 2. So is all art and romance and uneconomical shit-dickery that elicits a dismal sigh from your grandparents when you say that that's what you want to do for the rest of your life.
If we explore deep deep deeper into the furthest reaches of evolution, I'm sure you could muster up some rational reason why Homo Sapiens engage in these seemingly pointless activities. Making yourself seem a more appealing sexual partner maybe, or increasing the general emotional well-being of the clan, offers immediate evolutionary advantages. So maybe art and stupid excessive, gorgeous shit is no less useful than being a lawyer or driving a [insert name of most boring car imaginable; I don't drive so, yeah].
I recently went on a drive to Joshua Tree in a Cadillac with my friends Pete Bibby, Johnny, Jodie, and Nicole. The car was huge and seemed hard to maneuver. It got cold in the wind but we kept the top down. We couldn't hear each other or any music. We got sunburned, but couldn't keep hats on our heads. It was fucking awesome and we all felt genuinely and sensitively connected with each other when it was done. We had a wondrous experience, in a car but still connecting with nature and the ground and the sky. We actually did something that seemed different.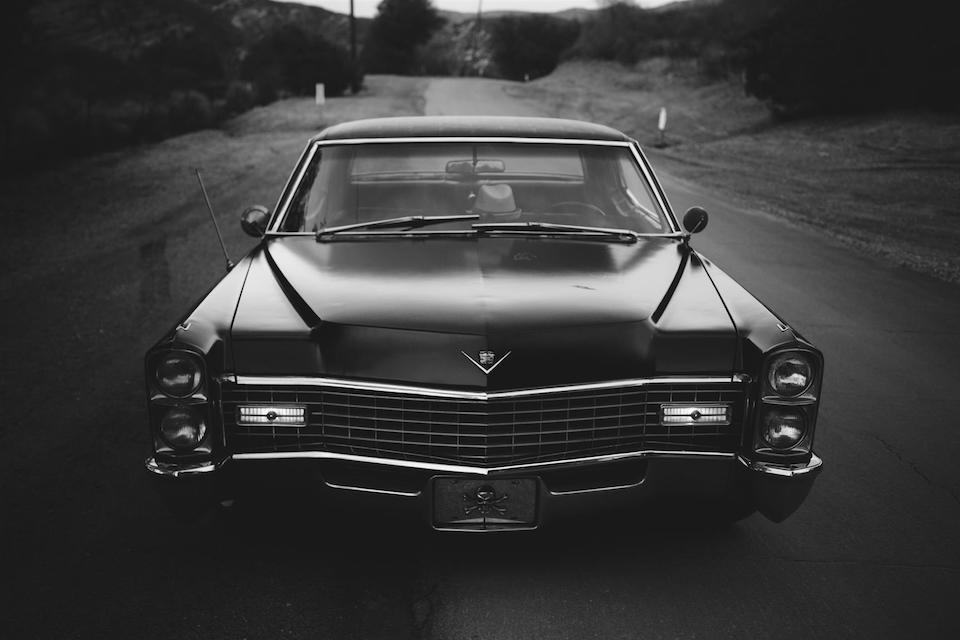 We could've got out there with half the time, effort, and money in any other vehicle, but Cadillacs are not about efficiency. They're about the part of humanity that is more important than a lot of people give credit. In a time when initiatives to build A.I. that is more intelligent than humans is a reality, the question of our own relevance is paramount. If medical science could conceivably iron out our imperfections, what the fuck is the point of us being us? I suppose it's the unique messiness, paranoia, and sensitivity that lets us be creative and loving.
It's this wonderment and joy and human connection that I think (maybe fear is a better word) will be critical in the coming apocalypse. As the world burns—and it will burn—the hyper-productivity and lightning fast flow of vapid information and screens screens screens will have to form a backdrop against which we can finally remember the things that made us connected, and revert back to a basic expression of love. I'm not a prophet, but for fucks sake we are ACTUALLY DYING, so taking the time to do these inconvenient but beautiful things will be all we can do to feel as though we've spent at least a moment of our time on earth as living, breathing humans.
The devil is now in the big picture, and God in the little silly happy-fun-times. The resurgence in popularity of vinyl, tape, film, organic food, lithography, leather-binding and all that other "hipster bullshit" points to this.
I can't drive, and I'm in no way a rev-head, but I think Cadillacs represent senseless joy, and that could be the only thing us peons will be living for in the entropic march of the coming centuries.
Nicholas Allbrook is the frontman of Pond and a former member of Tame Impala. His new solo album, 'Pure Gardiya', is now available through Spinning Top Music. Check out a few out of its singles and some back catalogue selections down below, right alongside a round of European tour dates.
Nicholas Allbrook tour dates:
6/3 Cafe de Zwerver – Middelkerke, Belgium
6/4 Point Ephemere – Paris, France
6/6 Hare and Hounse – Birmingham, UK
6/7 Brudnell Social Club – Leeds, UK
6/8 Deaf Institute – Manchester, UK
6/9 The Courtyard Theatre – London, UK
6/10 The Louisiana – Bristol, UK
6/11 Field Day Festival – London, UK
6/14 Bagno Hana-Bi – Ravenna, Italy
6/15 Monk Club – Rome, Italy
6/16 Spilla Festival – Ancona, Italy