Photo CORINNE MERRELL
As Kid Koala gets set to support his acclaimed Floor Kids soundtrack with a month-long tour of special "Vinyl Vaudeville" and "Satellite Turntable Orchestra" sets, the scratch DJ/producer has unveiled a special 18-minute megamix of the game's manic original music. Available below—along with several official trailers and videos— it's the perfect introduction to his dizzying Floor Kids LP that's due out April 27th through Arts & Crafts.
"I went into the studio and started playing anything and everything I could find," Kid Koala said of the score's back story. "Drums, bass, guitars, pianos, turntables, brass, reeds, spoons, rattles, vintage EPROM and analog drum machines, an array of synths… whatever instruments or audio gadgets would fit the vibe of that specific venue. Often I would record tracks and cut it to vinyl and reassemble everything on the turntables, just to get that dust in there."
On with the show, then, along with a few more words from Eric San….
I recorded this mix on three turntables shortly after receiving the test pressings of the 'Floor Kids Video Game Soundtrack' vinyl. This is an 18-minute live mix that will give you a taste of some of the grooves and battle tracks on the record. I labeled the 12 o'clock point on each record with some stickers and just hit record, needle dropping, quick cueing and back spinning loops as you would do when deejaying at a break battle. There are also a few spoken word elements from the games story cut scenes scratched in there, which reveal some of the in-game philosophy that will help you become a better player/dancer/human!
Kid Koala tour dates:
4/13 Nashville, TN – OZ Arts
4/14 Nashville, TN – OZ Arts
4/15 Nashville, TN – OZ Arts
4/27 Toronto, ON – Mod Club Theatre
4/28 Detroit, MI – El Club
4/29 Milwaukee, WI – Turner Hall Ballroom
4/30 Minneapolis, MN – Cedar Cultural Center
5/3 Seattle, WA – Neumos
5/5 Portland, OR – Mississippi Studios
5/8 Los Angeles, CA – Regent Theater
5/12 Austin, TX – 3TEN Austin City Limits Live
5/15 Durham, NC – Motorco Music Hall
5/16 Washington, DC – Union Stage
5/17 Philadelphia, PA – Johnny Brenda's
5/18 Brooklyn, NY – Elsewhere
5/19 Cambridge, MA – The Sinclair Music Hall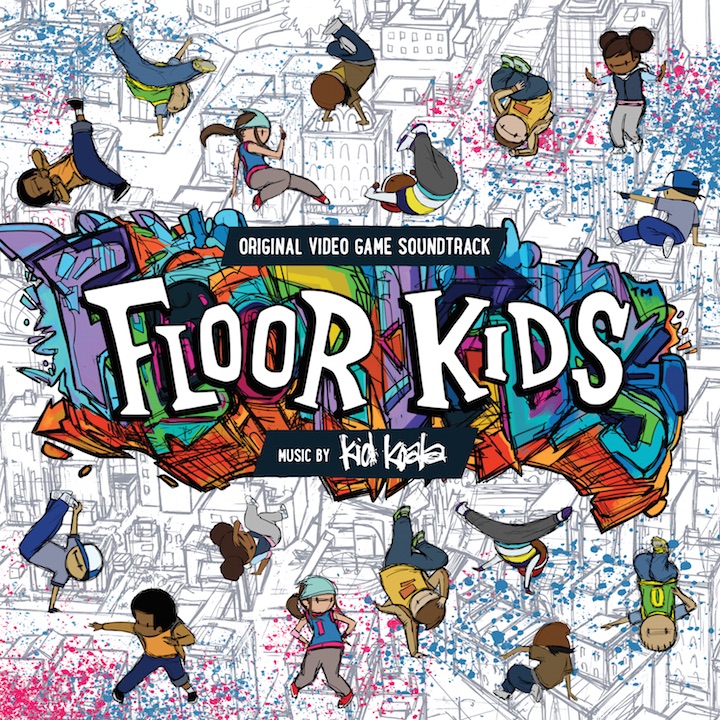 Kid Koala
Floor Kids Original Video Game Soundtrack
(Arts & Crafts, April 27th)
1. Greetings Dance Warrior
2. The Fundamentals
3. The City
4. Blue Prints
5. The Studio
6. Lab Time
7. One
8. Puttin' In Work
9. The Corner
10. Keys & Cuts
11. Afternoon In August
12. Cardboard & Breeze
13. The New Forum
14. Five Spot Stomp
15. The Metro
16. Big Trouble In Little Battle
17. Commuters
18. Turn Style
19. The Grocery Store
20. All-Stars
21. Build Your Crew
22. Bread & Butter
23. The Art Space
24. Laser Tagz
25. Function And Flyness
26. Smock Jams
27. From Spark To Flame
28. Robo Tronix
29. The Arcade
30. Virtual Field
31. Frame By Frame
32. Pinballer
33. The Venue
34. The Showdown
35. Bend Your Moves Around The Time
36. Boogie Down
37. The Peace Summit
38. Matter And Motion
39. Your Crew Your Strength
40. The Ones
41. Denouement Bonus Beat
42. The Rooftop