The following cover story originally ran in our dance music issue last fall. It's available as a fully enhanced tablet magazine here, and commemorated in a limited record bag at The Merch Table. Future issues of self-titled can be read via our new iPad app or by subscribing to a year of quarterly journals direct from our shop…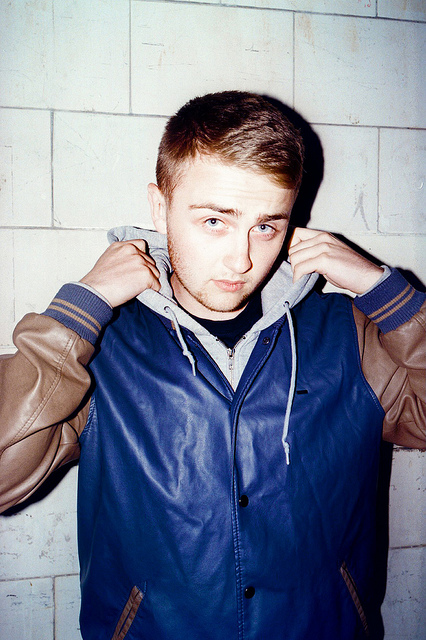 Photos by Bella Howard
Words by Camille Dodero
Guy Lawrence is hesitant to enter the abandoned house, the one with the windows punched out and no front door. "It smells funny," he whispers, glass shards crunching under his black Nike trainers. "I'm a little worried there's going to be a dead body in here."
We've been driving around Detroit's rustbelt wilderness for almost two hours with Guy, now 22, riding shotgun and his younger brother, Howard, 19, alone in the back seat. Together, they comprise the British dance-music duo Disclosure, a rising UK garage/house act who would not exist without Detroit's influence, a dotted-line ancestry they honored by setting the video for their future-R&B single "White Noise" here.
"We're just fascinated by the city," explains Guy, as he navigates us out of downtown with an iPhone. "So much music we like from here. Everything about J Dilla and that kind of scene, Slum Village. But also house-wise—Juan Atkins, Kenny Larkin, Derrick May."
This is the brothers' first time visiting the birthplace of techno, so everything is a tourist attraction, especially Motown's post-industrial desolation. "That whole road back there was empty!" shouts Guy, as if we'd just spotted our first elephant on an afternoon safari. "Every single house. But look! This one's not as bad."
It is a very Detroit juxtaposition: two parallel side streets sharing a connective cul-de-sac, one road inhabited with cars and kids and lawn furniture, the other a vacant row of pillaged husks. The 2012 documentary Detropia, an elegiac meditation on the bankrupt city's economic plight, proffers the statistic that that every 20 minutes, a family moves out of the metropolitan area. This seems like supporting evidence. We circle back to observe more closely.
That's how we end up trespassing into 17258 Bloom Street—a misnomer considering the block's overwhelming desiccation—and walking past a vestigial no soliciting sign, stepping over a toy Spider-Man with an amputated leg, with Guy wondering if we'll find a rotting human carcass.
We find no corpse. There is, however, a unmatched construction boot standing upright in a common area, as if someone just stepped out of it. Sledgehammered walls reveal wooden-lath teeth. A thick coating of plaster dust layers the moldy carpet, where a broken Vaseline jar has left greasy stains. Every appliance is missing; there's a discarded toilet seat where the kitchen sink used to be. A grocery store shopper from nearby Seven Mile Foods dates the last occupants back to March 2012.
March 2012 seems like a lifetime ago in Guy and Howard Lawrence's world. It was the month BBC Radio 1 playlisted Disclosure's techno remix of "Running," a sultry incantation by Mercury Prize–nominated British soul singer Jessie Ware, which the elated brothers described online as "MAD. NESS." It was before Disclosure sold out live shows in New York City, signed to the Interscope venture label Cherrytree or closed out this year's Coachella. March 2012 was before their smash "White Noise," featuring AlunaGeorge's Aluna Francis, hit No. 2 on the official UK singles chart, before Disclosure effectively ruled their home country, their wildly rapturous two-step anthems spilling out of cars and blasting in taxis, before they became "not household names—but getting there," as Luke Monaghan, the 25-year- old director for the "White Noise" video, put it recently over Skype. March 2012 was before Disclosure really happened.
But now it is 2013, and Disclosure are happening. Skrillex has somehow fit their gorgeously emotive triplet-groove single "Latch" into his live sets. Mark Ronson, an expert radio- hit manufacturer, endorsed them on Twitter ("nice guys, dope album"). Brooklyn trap-rave producer Baauer, the Diplo confrere whose future-crunk meme "Harlem Shake" debuted at No. 1 on the Billboard Hot 100, dropped a sneak preview of an upcoming Disclosure remix at Coachella (and that short clip was more widely circulated online than his signature-hit encore). Nile Rodgers, the '70s-disco icon behind Chic's triple-platinum "Le Freak" and Daft Punk's "Get Lucky" guitar boogie, just announced plans to collaborate with the brothers. Most importantly, Disclosure just released their debut album, Settle, a sheeny, enormous dance record of crisp hi-hatted club hits, UK-garage revivalism and deep-house love-step pop serenades, featuring vocals from the likes of Friendly Fires frontman Ed Macfarlane and Lily Allen satellite Eliza Doolittle. And it is fucking amazing.
"From seeing them play a gig in a basement in Brixton two years ago, where Howard wasn't even old enough to be there, to seeing them smash it now is just the best thing," says friend and ardent supporter Jessie Ware, one of Settle's eight guest vocalists. "They are such a talent."
In a year from now, Disclosure will probably be in a very different, and much bigger, place. "Maybe," says Guy evenly, backstage at Saint Andrew's Hall, before headlining Detroit for the first time. "Hopefully. But we still won't be dickheads."
TEACHERS
Some things we learned about Disclosure in Detroit: Guy is very paranoid about guns, so much that he initially vows not to get out of the car. ("I wish your country didn't give out guns. It's not cool.") Howard plays Game Boy to pass time on tour. Guy is the one who turns on the dressing room stereo. (Backstage at St. Andrew's, he chooses Vondelpark's "Always Forever.") Howard saw Sonny Moore's old emo band, From First to Last, when he was 13 and still prefers that music over Skrillex's robot metal. ("Can't believe you just admitted that," Guy scoffs.) Guy thinks Tyler, the Creator's newest record, Wolf, is great; he's particularly taken by "Bimmer," an uneasily sensual vignette in which the Odd Future ringleader likens his girl to a BMW. (Guy sings the refrain as we're paused at a stoplight.) Howard got kicked out of college for poor attendance—his Disclosure obligations conflicted with his classes—but now his school wants to claim him publicly as a model achiever. ("Now the college is calling me and e-mailing me and texting me and asking me to big-up them and say, 'Go, Surrey College! They taught me, and look where I am," Howard says bemusedly.) So far, they aren't annoyed with the task of having to answer the same questions over and over. ("How can you ever be angry at anything?" asks Guy. "It's not even a real job.")
As future pop icons, the brothers appear atypically regular. They perform in white T-shirts and jeans; offstage they favor varsity jackets and hoodies. Howard is taller than Guy, but not by much. Guy's full of energy; Howard has honest eyes and a gentle spirit. Guy admits a "fetish" for Nike Air Max trainers; Howard often reps an Adidas logo. They don't wear hats. Next to Jessie Ware, a uniquely styled woman prone to shoulder pads and gargantuan hoop earrings, they look like university students who just left the pub.
"It took us, like, a year to get a few 100 Facebook likes" — Guy Lawrence
They took a limousine to Detroit from Toronto, where they'd headlined the previous night, but they don't exude any measure of extravagance. Yet they're already self-aware enough to be conscientious about becoming, in their words, dickheads. "We've definitely had a glimpse into why people become that," confides Howard. "You don't see your friends. Period. You're on your own a lot, just on the tour bus. You go a bit mental." Before all this escalated to the point where they were Glastonbury draws, he'd catch up with his friends at the pub. But now with Disclosure's schedule so tightly constrained, constantly shifting among international time zones, he has to hunt down free time to call them: "I have to make such a conscious effort to contact my mates just to have a chat. And I never had to do that before, so it's quite weird."
The Lawrences hail from Redhill, a Surrey suburb with little discernible nightlife, where writer Nick Hornby was born. "It's really kind of middle-class, but not posh," reports Guy. "There's not a lot of crime at all. You can leave your car unlocked on the street, and it'll probably be all right for a night."
They came from a robust musical lineage. Their grandparents performed in orchestras. Their father, a guitarist and singer who worked as an auctioneer, was in a moderately successful band that toured Canada and met with record labels, but never succeeded with a major deal. Their mother, Carolyn, recorded radio jingles and entertained on cruise ships; she now gets paid to update the official Disclosure blog.
Since instruments were always around the house, it was inevitable the brothers would learn how to play something. Guy attacked the drums at age three; Howard started messing with the bass guitar at eight or nine. Their parents preferred '80s pop, but Howard gravitated more toward musically instructional genres like funk and jazz, singer-songwriters like Kate Bush and Peter Gabriel, and his dad's prog-rock collection. In high school, Guy listened almost exclusively to hip-hop, stuff like A Tribe Called Quest, Gang Starr, Busta Rhymes. And the elder sibling drummed in an indie-dance band that had primarily social ambitions. "It took us, like, a year to get a few 100 Facebook likes," he remembers. "Our main priority was playing as many house parties at college as we could."
They weren't exposed to electronic music until Guy started going to clubs in Brighton, a 45-minute drive away. "I wish we had been," he admits. "Our parents weren't into it. But as soon as we heard house music and garage and hip-hop—that's what I'd been looking for."
The Disclosure origin story has all the dramatic arc of a homework assignment. Howard was teaching himself the production software Logic Pro, and Guy, who'd introduced him to Burial, asked to remix some of those files for fun. A few weeks later, on a lark, Guy uploaded a couple of the completed tracks to MySpace; the project had no name, so Guy cribbed the word "Disclosure" from a nearby car insurance form. Guy cites Joy Orbison's 2009 formative ecstasy lift "Hyph Mngo" as the first track to trigger his interest in an electronic-music songwriting. You can hear that single's atmospheric influence in the ethereal post-dubstep wash of 2010's "Street Light Chronicle," one of the brothers' first finished compositions. Amusingly, Disclosure not only have Joy Orbison to thank for their creative inspiration, but also for their online connections: To promote those first tracks, Guy friend blasted Joy Orbison's MySpace fanbase. A respected music blog got the alert, posted their MP3s, and within a week, the siblings were fielding inquiries from prospective managers. In fact, Disclosure's status as a spamming success story might be one of the band's best-kept secrets.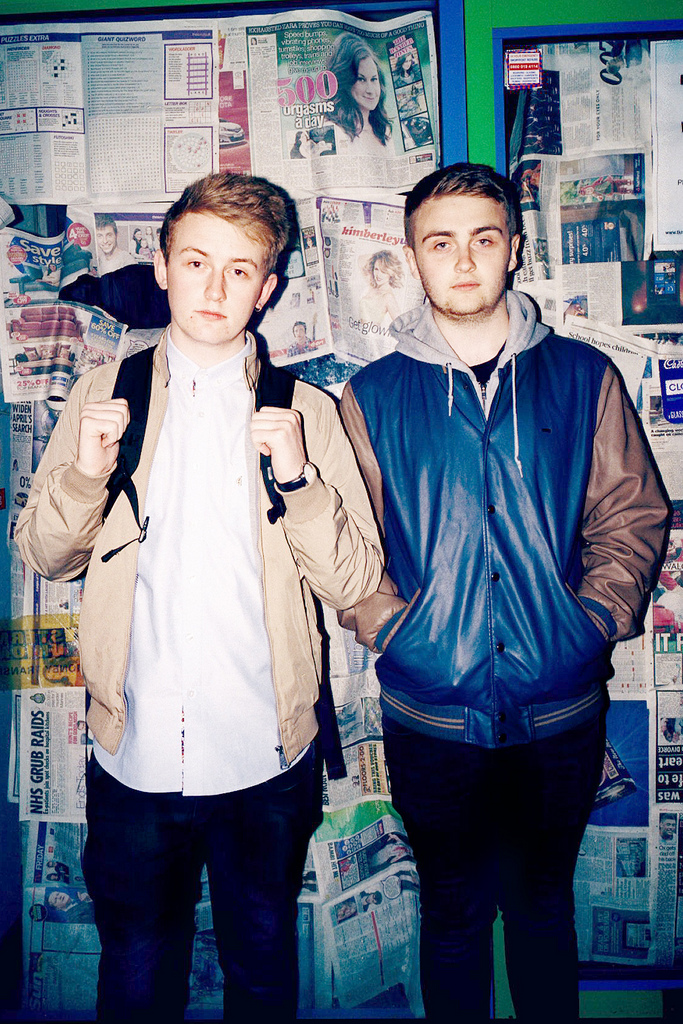 Dollars to Donuts
When we first met Guy and Howard at Saint Andrew's Hall, we'd planned on tracking down one of the locations where "White Noise" was shot. The video stars local 313 urban-dance legend Grand Master Kafani, playing the role
of a guy who takes care of derelict buildings and privately channels their former glory by throwing one-man dance parties in them. Places like the Packard Plant, a crumbling 35-acre ruin that's become an international emblem of Motor City's decline; the Michigan Central Station, a popular urban spelunking spot only a 10-minute drive West from Saint Andrew's; or the Eastown Theatre, a former 2,500-seat concert hall where the Kinks, MC5 and Stooges once performed. But the Lawrences weren't interested in admiring their own micro-legacy; what they really wanted to do was find Conant Gardens, the Northeastern Detroit neighborhood where auteurist hip-hop producer J Dilla grew up.
Disclosure are massive Dilla fans. Guy calls him "the best producer who ever lived—and probably ever will." In interviews, they gush about him endlessly. While crafting Settle, Guy kept a few seminal records by his studio computer as visual lodestars of towering greatness: D'Angelo's neo-soul monument Voodoo; Fantastic,Vol. 2, the sophomore installment from Dilla's rap crew Slum Village, in which he was billed as Jay Dee; Onra's 2010 retro patchwork Long Distance—all of which have ties to Dilla. (Long Distance boasts a cameo from his Slum Village cohort T3.) Somehow, Disclosure even finagled a Dilla sample for Settle, which appears in the bubbling scale-climbing club jam "Grab Her."
Heading to Conant Gardens, we aren't sure what we're looking for, exactly, but we do find Pershing High, the school where Slum Village's three founding members attended their senior year. We whiz by McNichols Road, and Howard asks to pull over; the street is mentioned in "Conant Gardens," the bass-thumping hood- shouting Slum Village tune, and he wants to take a picture. "Let him do it," says Guy reluctantly. "But don't get shot."
We'd hoped to discover a Dilla plaque somewhere—fellow Detroit musical luminary Carl Craig has, in fact, pushed for one—but the closest we come to any sort of official designation is a Conant Gardens historical marker in a park on the corner of East Nevada and Conant Street. We trudge out to poke around in the heather- gray weather, and the Lawrences have us take a photo of them posted beside the tall sign, which they immediately upload to their social-media accounts. "Truly humbled to be in Detroit today," reads the caption. "Home of all things musically great, techno, house and J Dilla."
Since this trek came together on a whim, we're not sure where anything else is, so our collective imagination animates the decaying scenery, like children who see a plundering pirate ship in a rotting picnic table. Every Conant Gardens house may've been Dilla's crib; every possible matriarch on the street might be his mother, Ma Dukes; every rusty trailer set off from the road might just be holding the next Eminem. Mound Correctional Facility, an ungainly state-prison sprawl circumscribed by 12-foot razor-coil fences, conjured superlative villains. "The people who are in there—think what they've done," posits Guy. "Like the worst of the worst things."
"Some people Tweet us saying, 'How do you even know about garage? Why are you trying to make it? It's not yours to make.' It's like, 'Fuck off. They pressed it onto records so it would last.'"
In fact, as we later learn, Dilla's childhood home is located on the corner of MacDougal and Nevada, which we missed by a block; Eminem never lived in a trailer (that was his fictional 8 Mile alter-ego, Rabbit); and Mound Correctional Facility hasn't had inmates since January 2012. But exploring with an ignorant curiosity and filling in the blanks with enthusiastic speculation was a fitting thing to do with Disclosure. That's the same process that led Guy and Howard to their particular strand of UK garage and house revivalism: They became enchanted by post-dubstep acts like Burial, Mount Kimbie, and Joy Orbison, yet had no sense of context or history, so they worked their way backward out of compulsive interest, self-administering a retroactive education in electronic music.
"You know when you kind of get really interested in something and you end up researching it for days?" asks Howard. "That's what happened." James Blake traced back to two-step titan MJ Cole, UK garage godfather Todd Edwards, Craig David accomplices Artful Dodger. Glaswegian party DJ Jackmaster led back even further, to Chicago house colossus Farley "Jackmaster" Funk, deep-house pioneer Mr. Fingers and legendary house progenitor Frankie Knuckles. "Mixes were quite important," remembers Howard. "We'd be hearing music and you'd look at the tracklist and go, 'This one's good, as well. It was made in…1989. Oh.' " Five years before Howard's birth.
Their youth is such a curiosity that there were initially whispers among their peers that the duo couldn't possibly be mixing their own songs; the sound quality was just too impressive. How could teenagers be making pitch-perfect garage and house tracks? The same method that allowed all of this to start in the first place: technology. "Some people Tweet us saying, 'How do you even know about garage? Why are you trying to make it? It's not yours to make.' It's like, 'Fuck off. They pressed it onto records so it would last,'" says Guy, when we get back to Saint Andrew's. "There'll be a load of purists who will just take the piss out of us for just reading about it off the Internet. They'll hate us. But what else was I supposed to do?"
Disclosure emphasize that they've taken great pains to show reverence for their forebears. They've toured with Todd Edwards, covered Ralphi Rosario's sassy 1987 Chicago-house hit "You Used to Hold Me" live and remixed Artful Dodger's overlooked 2000 track "Please Don't Turn Me On." There are moments on Settle that conjure the buoyant exuberance of, say, Derrick May's Rhythim Is Rhythim cross- continental breakthrough, "Strings of Life," even though it's not a Detroit techno record. Guy says these allusions, both subtle and overt, are deliberate. "We are referencing a lot of old stuff in our music—especially the production side of things—with the sounds that we choose, the drums that we choose. It's almost like, 'This is how house would've sounded if they'd had better equipment.' "
Settle, as it happens, is a worthy homage. It is massive, a rare feat of marrying human emotional exuberance with machine-made perfectionism. Veritable opener "When a Fire Starts to Burn" uses a thrillingly enormous breakbeat to turn an ardent preacher's sermon into a life-affirming dance-floor banger. "You & Me," an ebullient serenade that debuted on the UK charts at No. 10, turns cheeky frivolity Eliza Doolittle from trifling pop accessory to dance-floor nightingale. The brothers' primary achievement is applying pop structures to house music's ethos, hip-hop's production acuity to two-step toolkits, and Settle relies far more on the magnetism of bridges and choruses than just builds and drops. "We don't make techno— we don't make anything like techno—but it's the same principle: They were making something fresh and new, and that's what I'd like to do," says Guy. With Settle, they have.
We're now in the dressing room after soundcheck, devouring BBQ delivery from a nearby joint the Saint Andrew's staff recommended. Guy and Howard are regaling their tour manager, Toby Iddison, with anecdotes from this afternoon's adventures: fearing dead bodies, seeing Dilla's neighborhood, cruising down the urban- suburban division of 8 Mile.
"The shittiest city in the world is our favorite city," says Guy proudly.
"If I had to be shot and survive, I would love to do that in Detroit," Howard imagines deliciously. "Just so when someone asks, 'What is that scar?' I could say, 'I got shot in Detroit.'" Then Howard finished his pork-butt sandwich and retreated to a window seat to play his Game Boy. //