The following story is taken from the spring issue of our fully interactive iPad magazine, which is now available via the App Store…
Photos by James Pearson-Howes
Words by Kevin EG Perry
Ellesmere Port is a industrial town in northwest England, 13 miles south of Liverpool. It's quiet here. There's an oil refinery, a chemical plant and car factories that keep the area's main arteries clogged with Vauxhall Astra automobiles. But times are changing. Lately, Ellesmere Port's center of gravity has shifted toward the big retail park on the other side of town. Those who move away after school often dismiss Ellesmere Port entirely, telling new friends they're from the well-heeled city of Chester.
Josh Leary is different. He had planned on becoming a teacher here. But lately, another gig has kept him flying to Paris and New York: Under the name Evian Christ, Leary makes left-field loops for Kanye West's production team, Very G.O.O.D. Beats, and throughout the past year, he's found himself fielding meetings with artists looking for a sound like "I'm In It," Leary's gritty and gutsy Yeezus track that rubs West's carnal rhymes against lurching bass lines, shadow-boxed soul, drums that slam like steel doors, barking dogs and queasy waves of ambient noise. This weekend, Leary worries he'll miss a lads' night out in Bangor—a city even smaller than Ellesmere Port—because a pop hopeful named Sasha Keable wants some "weird stuff" to sing over.
Today's a rare day off, though, so he's struggling with the stubborn steering wheel of a knackered Volkswagen Ludo as we pull into a bay at Europe's second biggest Marks & Spencer outlet. Leary sighs. "Fucking hell," he says. "Work on a Kanye West record, and I still can't get a car with power steering."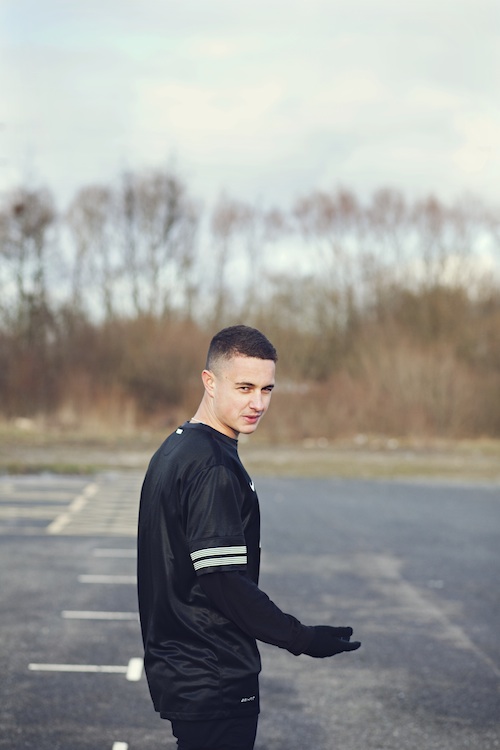 WE GET OUT AND WALK TO THE TOP LEVEL OF the car lot; Leary wants to show us the view. It's Britain's shifting economic priorities writ large: in the foreground, the retail park and the Porsche dealership nobody can afford; in the background, the metallic fog of factories. Most of them are still working but probably not for long.
"It'll only be another 40 or 50 years before they have to tear the whole thing down," says Leary. "That'll disappear, and this shopping center will stay."
As we head into Marks & Spencer to get something to eat, it's impossible not to notice Leary's youth. It's a Tuesday afternoon, and he wears a gray Nike sweatshirt and black tracksuit bottoms, an unobtrusive gold chain slipped under his top. Leary, 24, is lean and looks like he could outpace most people over 100 meters (he played right wing for his childhood soccer team). His parents separated when he was 3, and Leary lived with his mother. His dad deejayed in bars and was into Kraftwerk and New Order. He made his own music and lent his son keyboards to play with. At 10, Leary heard rap music—specifically Wu-Tang's "Gravel Pit"—for the first time on Radio 1. "I remember hearing Ghostface's verse and thinking, 'What the fuck is this? This is crazy,' " he says, grinning. "Somewhere down the line I discovered MTV Base and would spend all day watching videos like Kanye's 'Through the Wire,' older stuff like 'Nas Is Like' or British stuff like Dizzee. All the Jay Z singles. All the amazing Busta videos. I was obsessed with it all."
Once Leary began pursuing a postgraduate degree in teaching, he'd started listening to more "serene and beautiful" music, artists such as Grouper, Tim Hecker and Brian Eno. A friend gave him a cracked copy of the production software Cubase, and a holiday break from class work allowed him to fuse his tastes, sampling rapper Tyga's "Snapbacks Back" to create rough ambient-rap records like "Fuck It None of Y'all Can Rap" and "Thrown Like Jacks"—the latter building on the mist-laden intro of Grouper's "Wind and Snow."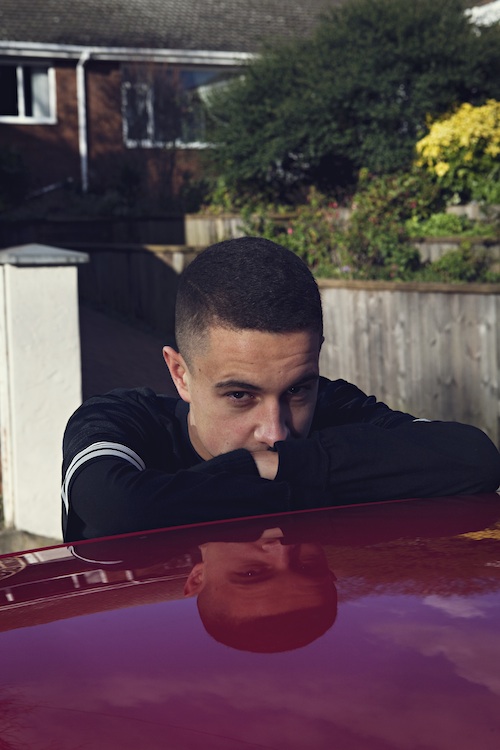 "It was very literal," he says. "I was listening to Tyga and Grouper, so I did a song that had a Grouper sample and a Tyga a cappella…. My whole thing is to make a beat that appeals to both people who like rap and people who like experimental music. I want to stretch that spectrum."
As Leary's Evian Christ recordings gained momentum with a Tri Angle Records mixtape, Kings and Them, artists were looking to collaborate, yet Leary never stopped thinking about teaching, or wondering how producers like Four Tet "keep the energy going" for decades.
"I don't know if it's in me to be around that long," he admits. "Maybe, but it's a lot of work…and it's no problem for me to go back and teach. I'd love to do that. How many jobs can you do where you have 40 people in a room, and they're all excited to be there?
"I'm not one of those guys who grew up on YouTube videos of production techniques. I've never invested that much in this really, so all the stuff I'm getting out of it is an amazing and beautiful thing, and when it's done, I'm happy to just say it's done and not drag it out."
As cynical as that sounds, Leary is simply trying to be realistic. He's aware of the open-ended opportunities he's facing, and more than willing to explore them while he can, even if that means leaving Ellesmere Port for New York to pad his production credits.
"I'm trying to do all this stuff with rappers and singers," explains Leary, "and one thing I've learned is that if you're not in a studio with them, nothing happens. These guys are so busy that when they've read an e-mail, they forget about it instantly. I don't know if you've noticed, but there's not many rappers and singers in Ellesmere Port."
http://youtu.be/CPyKAmKxOAw
YEEZUS WAS FINISHED WITH A FLURRY OF LAST-MINUTE, Rick Rubin–guru'd activity—including the random call Leary received from Kanye West's engineer: " 'Kanye's working on something,' " Leary recalls. " 'We need rap beats. The blueprint is really experimental. A lot of distortion. Think Nine Inch Nails and contemporary electronics. You've got two days.' "
He quickly "pulled some stuff out of the bag" to send, and after a week of no response and diminishing hope, an e-mail arrived: "Kanye loves these. He wants to keep all of them." Leary submitted the files, and after another lengthy silence, a 2 a.m. e-mail offered an invitation just as Leary was ready to shut down his laptop for the night: "Kanye wants you to come to Paris immediately. There's a flight at 7 a.m. We need you to get on that. We'll sort everything out, don't worry about it."
"We just hung out there for a couple of days working on stuff," he says. "He was playing me stuff that he had for the record already, like the Daft Punk songs, early versions of those. He showed me around his flat and was just a really nice, warm, welcoming dude." Working with Kanye was the first time Leary had ever stepped inside a recording studio.
"Outside of having just met this world-famous megastar who I grew up watching videos of, it quickly becomes professional," he says. "You're a producer; he's an artist. You have a shared goal, which is to make a sick electronic album. You get on with it very quickly. It just becomes about music. It doesn't matter about levels of fame…. Not to say it wasn't a weird day—a very weird day."
"Maybe I've gone too far one way on this one, but fuck it, I think I'm all right to experiment."
In the past 12 months, Drake, Tinashe and Tyga have all mulled over Evian Christ productions. As did Rick Ross, who was interested in a "game-changing" industrial groove not far from Yeezus. But Ross ultimately declined. We ask what will happen to the Ross track, and Leary can barely disguise how much this one stung. "Nothing," he says. "[Artists] hit up guys like me because they're partly invested in this idea of being progressive and cool and this resurgence of independent producers. When it comes down to picking 10 songs for an album, they're always going to go with the Pharrell hook that's produced by Dr. Luke, not some weird six-minute jam that I've made. It's hard to close out these records.
"Kanye is the one dude who's like, 'This is not experimental enough. This is too poppy. Make something else.' The other guys are like, 'We don't get it.' Kanye is a dream to work with. No one else gives you that level of creative freedom. When he wants you to work to a blueprint, the blueprint is: 'Don't make a rap beat. Anything but a rap beat.'"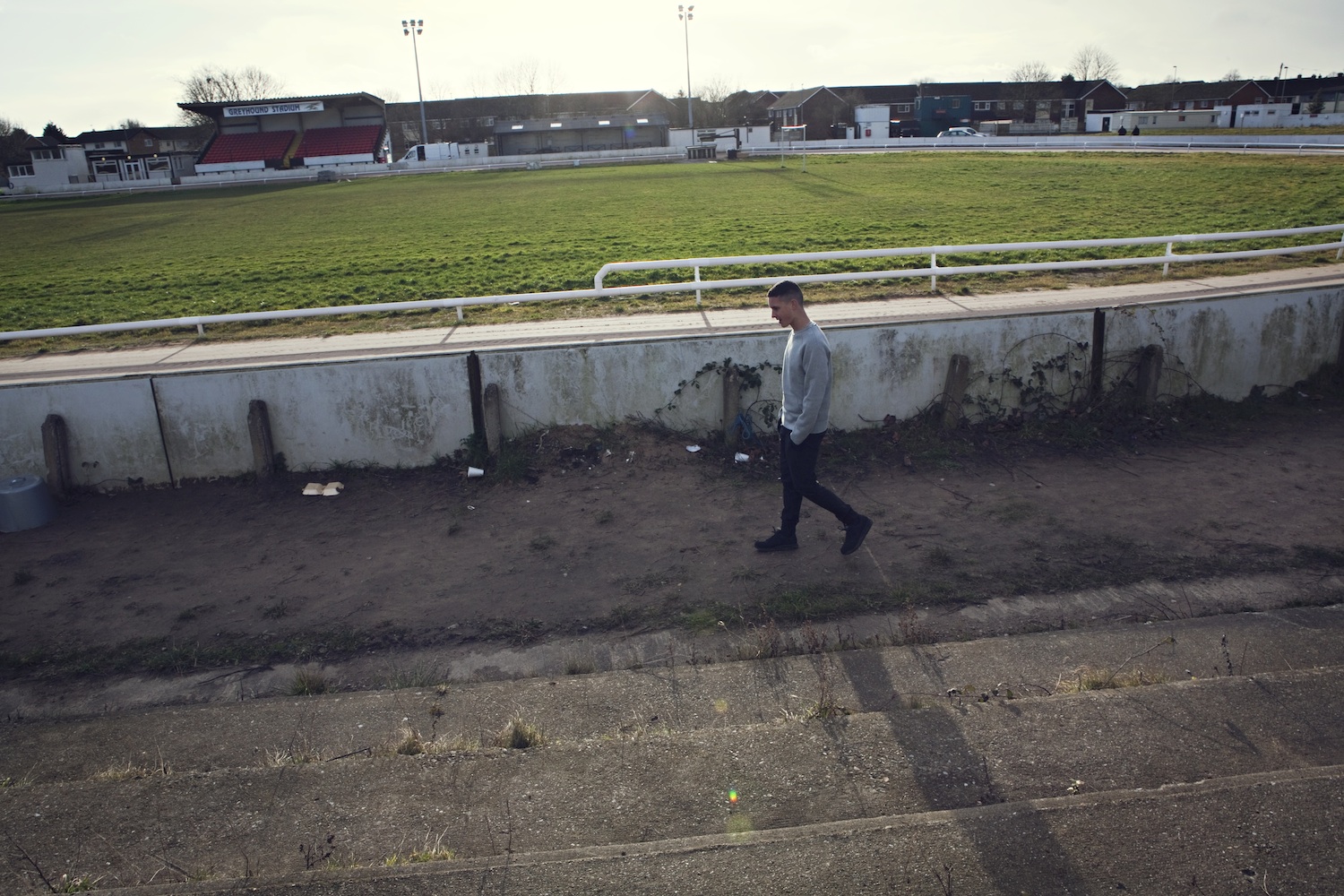 AFTER LUNCH, WE GET BACK IN THE CAR AND head through Ellesmere Port. As we drive past a decimated pub, Leary mentions the rumors that it was burned down, along with a handful of others, as part of an insurance scam. "I wouldn't blame them," he says ruefully. "It's bloody hard to do anything around here. There's no money anywhere."
We arrive at a bar Leary frequents after playing soccer. As we order beers, he tells us about the Freddie Mercury tribute act that regularly performs here, as well as various magicians. Untrained as a stage performer, Leary had to learn in front of live audiences like the Pitchfork Music Festival and Basilica Soundscape. DJing used to terrify him, but he's gained enough confidence to feel comfortable doing a small tour behind his new Waterfall EP. The release—another disorienting collection of dive-bombed breaks and tortured traces of trance, ambient, hip-hop and techno—paves the way for an LP he's readying for early 2015. If it meets the same challenges as Waterfall, we can expect a divisive cross between the "big room electronic rap" of TNGHT and the nightmarish noise of Wolf Eyes.
"Maybe I've gone too far one way on this one," he admits, "but fuck it, I think I'm all right to experiment. I didn't want to make music to stroke your beard to. Electronic music live can often be so serious and so smug, but everyone just stands around. I need to be entertained when I go out. I want my music to be fun, or if not fun, then at least physical."
We finish our pints and head back to his car. Leary says he has a bunch of ideas and songs but notes that only about 5 percent will survive his rigorous editing process. There's also the issue of getting distracted by other projects—like the next Kanye West record. "I've got to get home and write an Otis Redding–style beat for him," explains Leary. "He e-mailed last night. He wants something that sounds a bit like Otis Redding, a bit like Mobb Deep."
As Leary drives us back to Ellesmere Port's tiny train station, we compare the way he abruptly went from a rap-obsessed fan to a Kanye–co-signed producer with the unlikely prospect of—bear with us—a ChampionshipManager player landing a spot with an actual soccer team. "That's a good analogy," he says. "You'll have to work that into the piece."
We argue that no one who reads self-titled is going to know about Championship Manager—a series of computer games that simulate the act of running a soccer team.
Leary shrugs. "Put it in anyway," he says. "See if you can get away with it." It's one of those weird juxtapositions that could only have come from the mind of Josh Leary. He nods as we pull into the parking lot. "That's what I'm in this game to do." //
The previous story was taken from the spring issue of our quarterly iPad journal, which is now available on the App Store.