Words RUSSELL MILLS
In 1994 I was living on a back road just outside of Ambleside in the Lake District, Cumbria. My home was a wonderful old house made up of two conjoined houses: the earliest, a 17th century farmhouse and the latter, a Victorian addition of 1841. My studio was in a 17th century barn next to a stream. It was formerly the home of Dora Wordsworth—Wordsworth's favorite daughter—and her family. The house was visited by Wordsworth, his family, and all the Romantic poets. Neighbors had included Thomas and Matthew Arnold, Thomas De Quincey (he wrote Confessions of an English Opium Eater in Fox Ghyll, the house next door), various members of the Wordsworth family, and every so often Woodrow Wilson who would come to visit in secret, staying at a cottage a few hundred yards down the road. The road itself, known as Under Loughrigg, was and is recognized as one of the most beautiful walks in the Lake District, had been walked by a galaxy of cultural stars, thinkers and visionaries, including Wordsworth, Coleridge, Southey, Tennyson, De Quincey and one of my ultimate heroes Kurt Schwitters, amongst many others.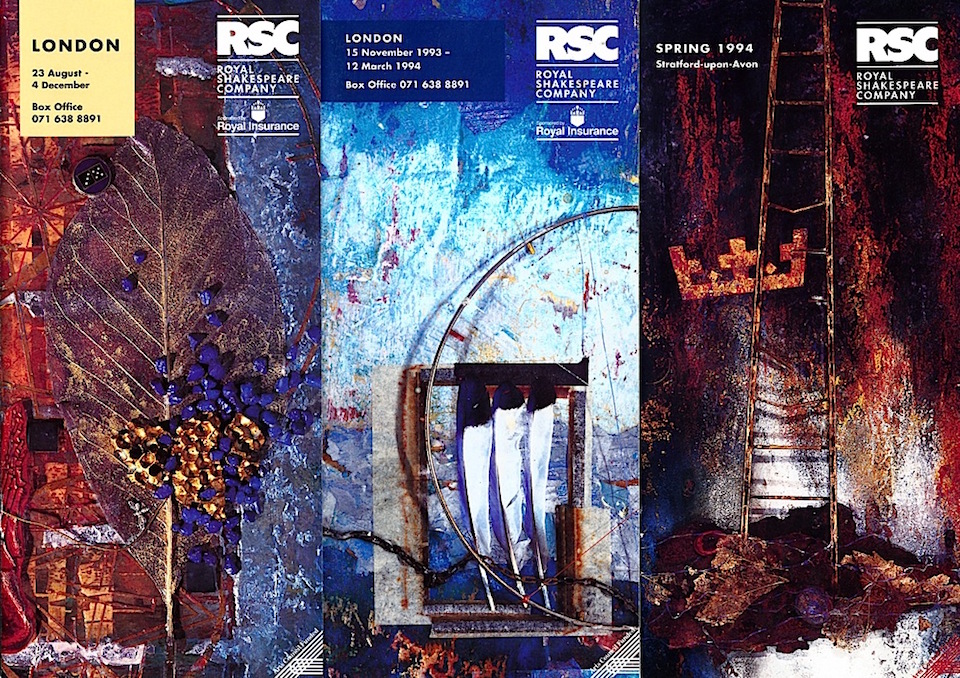 At that point I was in the middle of working on a year-long commission for the Royal Shakespeare Company, producing artwork for use in all of their print campaigns (posters, programs, flyers, etc.) at their three venues in Stratford-upon-Avon, Newcastle, and London. One beautiful spring morning I was outside in the garden taking a break, having a coffee, and reading the paper. The view I had was over fields to the River Rothay, across the valley down to the little town of Ambleside with its church steeple and irregular clusters of roofs set against the range of fells called Wansfell. My neighboring farmer was out with his Border Collies rounding up the sheep. It was an idyllic, bucolic, rural, very typical reassuring English view; very old world.
The phone rang. It was Trent Reznor's then manager, who having introduced himself, then introduced his then-designer Gary Talpas, and finally Trent himself. His manager was on one phone in Cleveland, Gary on another, also in Cleveland, and Trent was on another phone, possibly in LA. It was my first experience of a conference call and given the context of where I was, what I was looking at, and the project I was currently busy with, it seemed fairly surreal. They explained that Nine Inch Nails were preparing a new album; they'd seen my work and liked it very much and they asked whether I'd be interested and able to undertake artwork for this forthcoming album—The Downward Spiral. I told them that I knew NIN's work and was a great admirer, and that, yes of course I'd be very interested in taking on the commission. Having got over the preliminaries Trent and I talked for about 20 minutes about ideas and possible directions. I came off the phone already knowing the kind of territory that I thought I should explore and I began work that afternoon.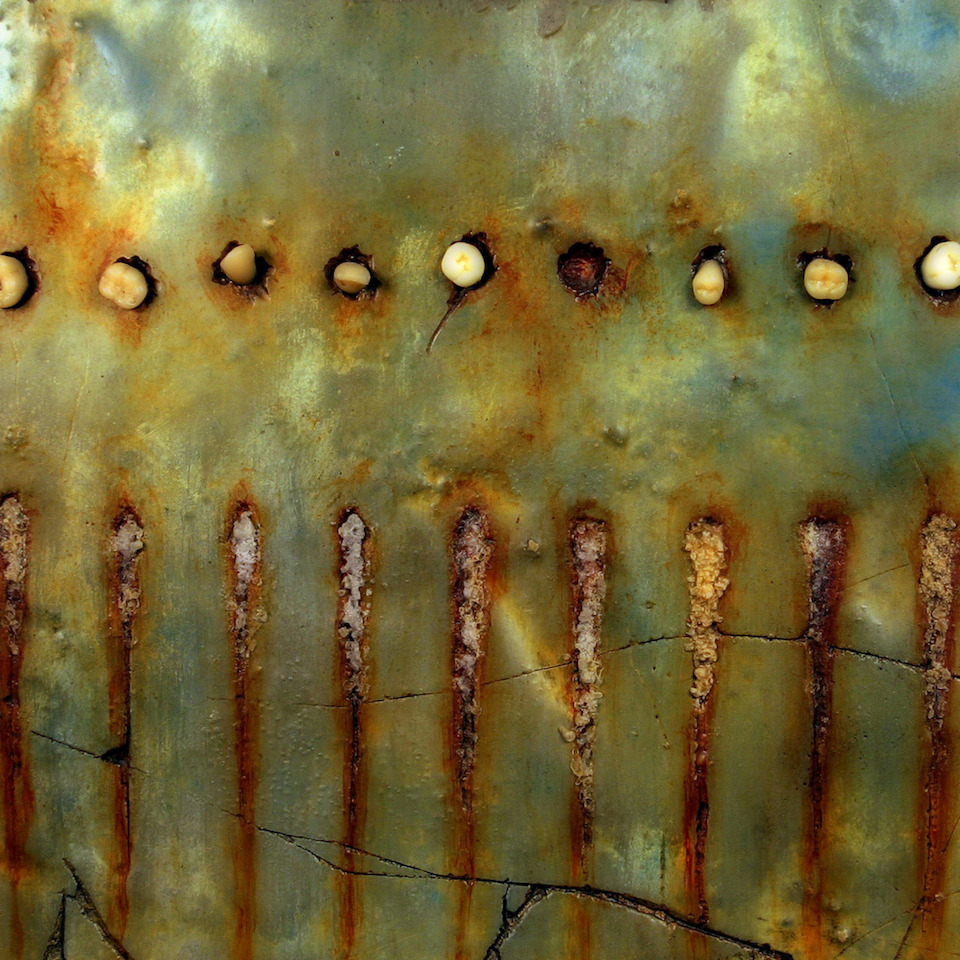 Two days later his manager called again. He said that Trent doesn't work with people he hasn't met and that I was to go to Manchester Airport (my nearest airport) on such and such a day, fly to LA to meet Trent. Two days later I was in LA. I was met by Gary who took me to book into my hotel, the Hotel Mondrian on Sunset Boulevard—"a parallel universe of perpetual possibility". My room was the penthouse, a huge suite on the top floor, big enough for several large families, with views over LA and the hills. I had one backpack with me.
He then took me for a quick tour of some of the beaches. It was drizzling rain, grey, bleak and the beaches were empty. I wasn't too impressed or interested. That evening: dinner with Trent, Gary and the other members of NIN in the hotel restaurant. We talked more about the ideas we'd already discussed on the phone a few days earlier, bringing them into sharper focus. Trent didn't talk much, he let me talk while he stared at me, as if he was checking me out. The other members of the band were charming, occasionally entering into the conversation, but mainly talking between themselves. It was all very low key. After a couple of hours Trent and co. left, leaving Gary and I to talk over a drink. Gary then left as he had to drive back to Cleveland.
I was alone in a city I had no knowledge of, I didn't know anyone there, and I was due to fly back to the UK the next day. I was considering venturing out to wander, look around, sniff out the area, possibly find a bar, when out of the shadows of the restaurant a figure I vaguely recognized emerged. It was the Irish singer and musician Gavin Friday. I'd met Gavin several times in Dublin and London, usually in the company of an old friend the Edge of U2, who I'd first met in 1984 at Slane Castle when they were recording The Unforgettable Fire with another of my old friends, Eno.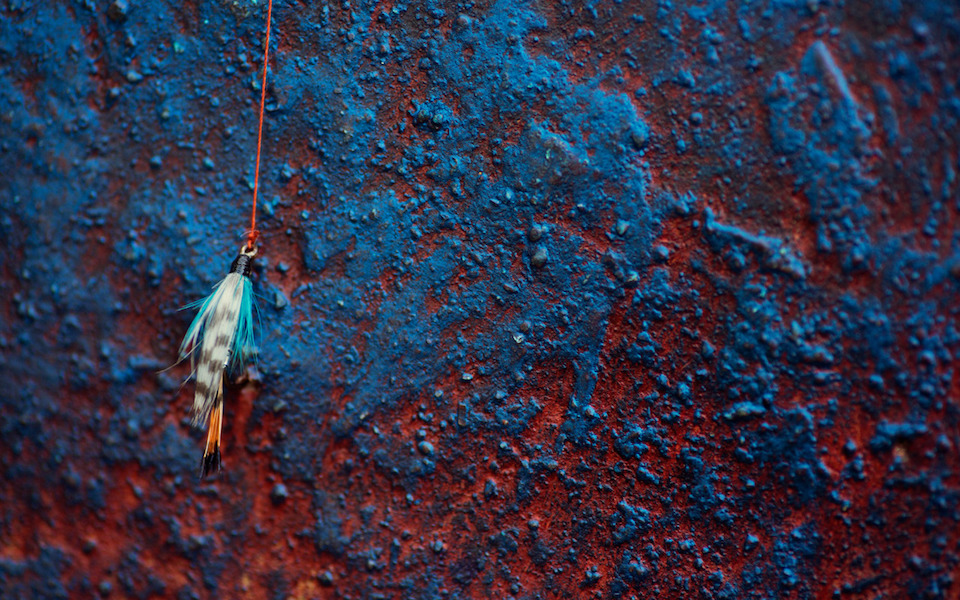 We headed for the bar. He had been in LA working on some soundtrack work for a few weeks and was bored out of his skull and incredibly frustrated with the place and the people. He told me he'd been spending every day working and having to deal with people, well arseholes, who were constantly wanting to change what he was trying to do. He was desperate for intelligent conversation—for English/Irish conversation—about art, politics, culture, music, films, humor. We talked about everything and anything well into the morning and got fantastically drunk. I think it was about 4:00 a.m. when we staggered up to our rooms, giggling uncontrollably. On the occasions since when we've met he has always given me a huge hug and thanked me for being their that night. I reciprocate as I think that fortuitous meeting saved us both that night.
I returned home and just got on with the work, becoming totally immersed in the project, eventually producing about 30 new mixed media works towards uses on what became The Downward Spiral album. Other commissions followed every so often: Further Down the Spiral, March of the Pigs, Closure, etc.
And then in December 2012 Trent called again…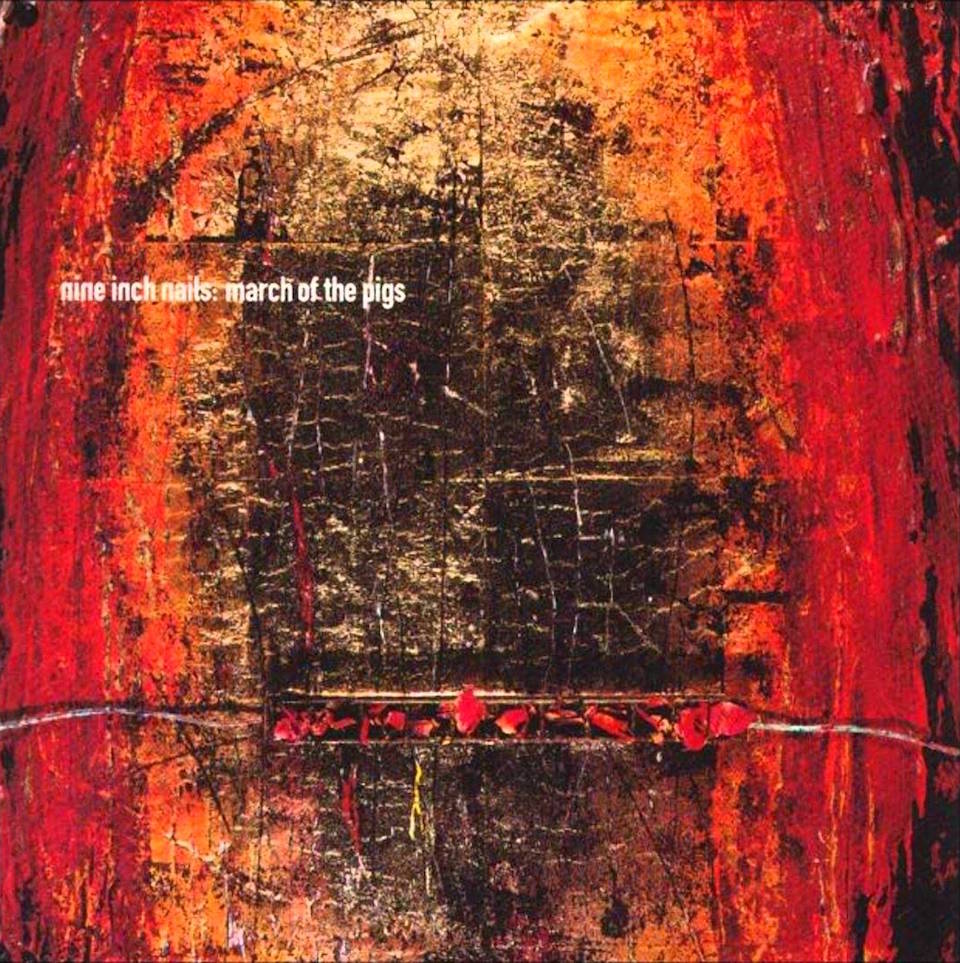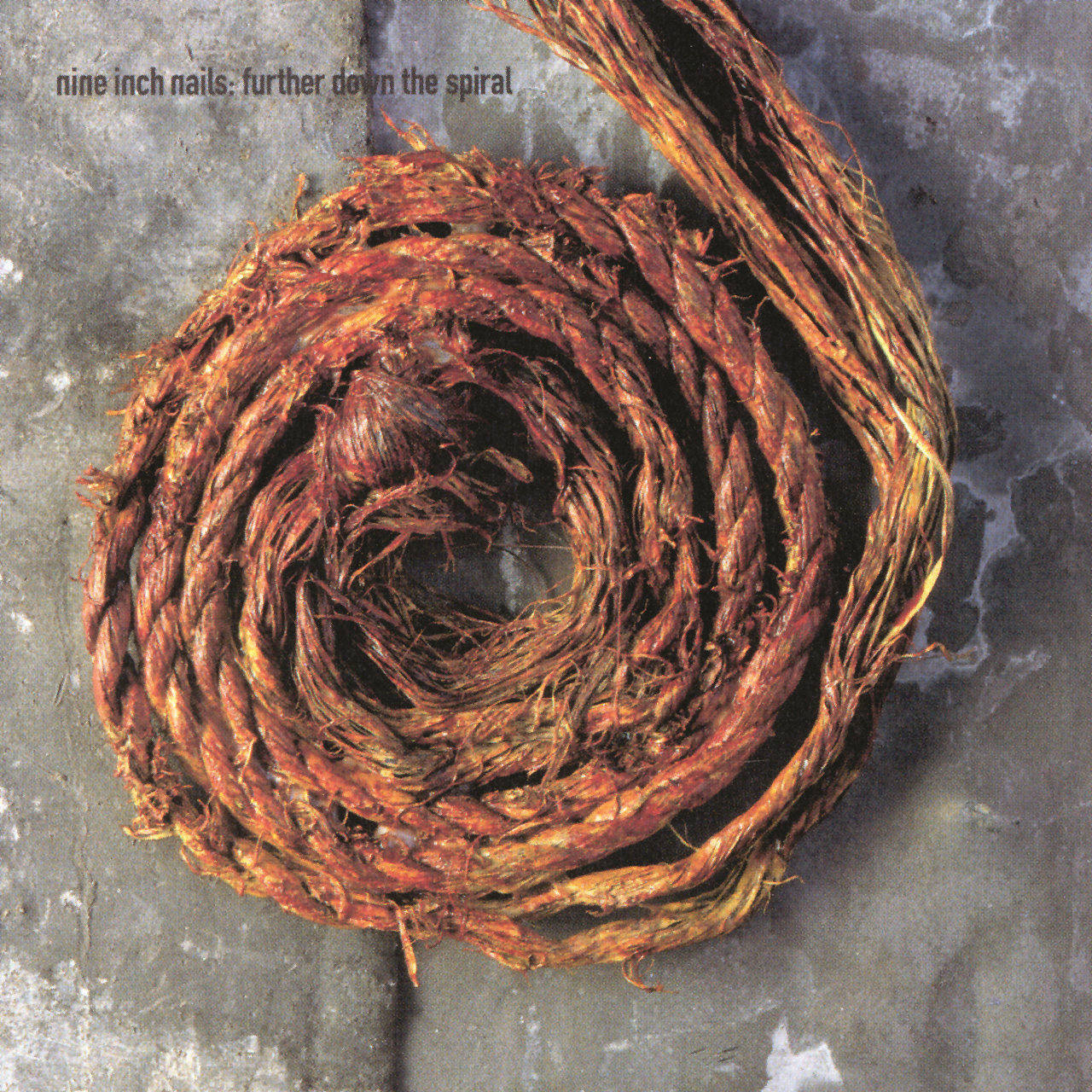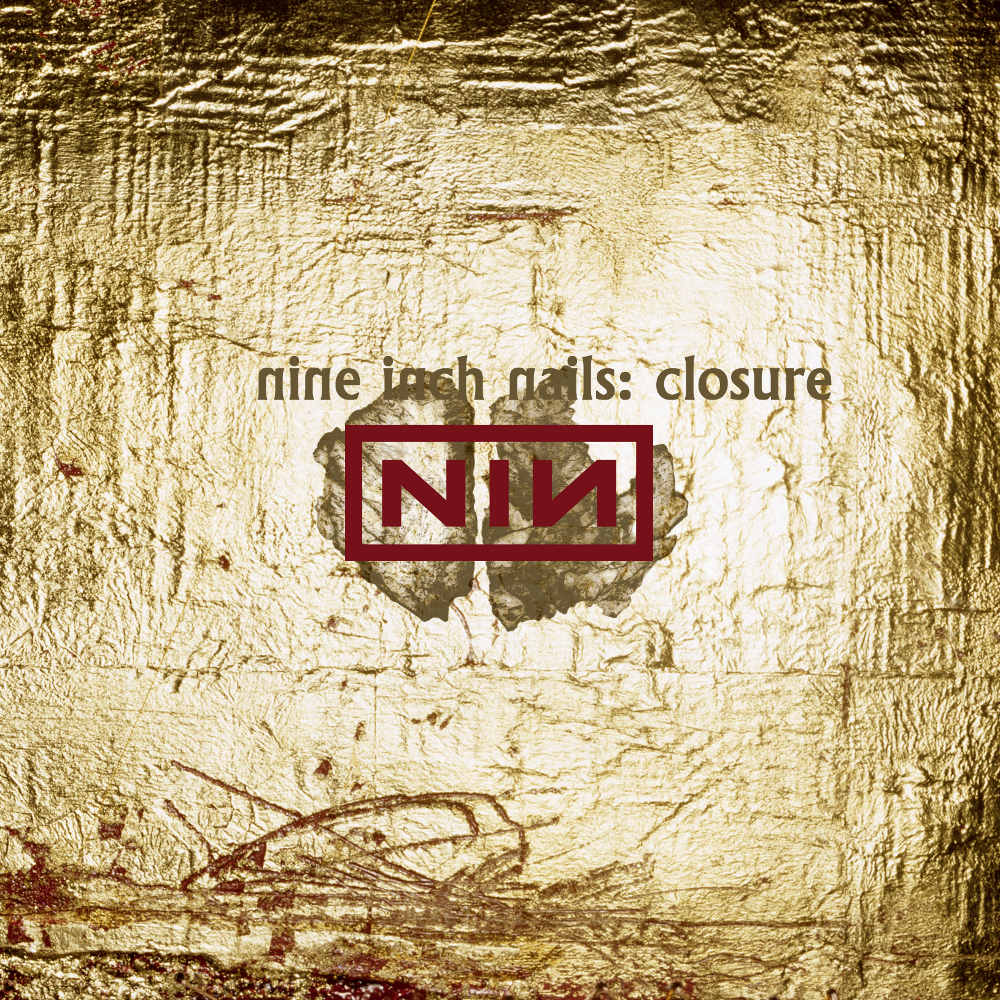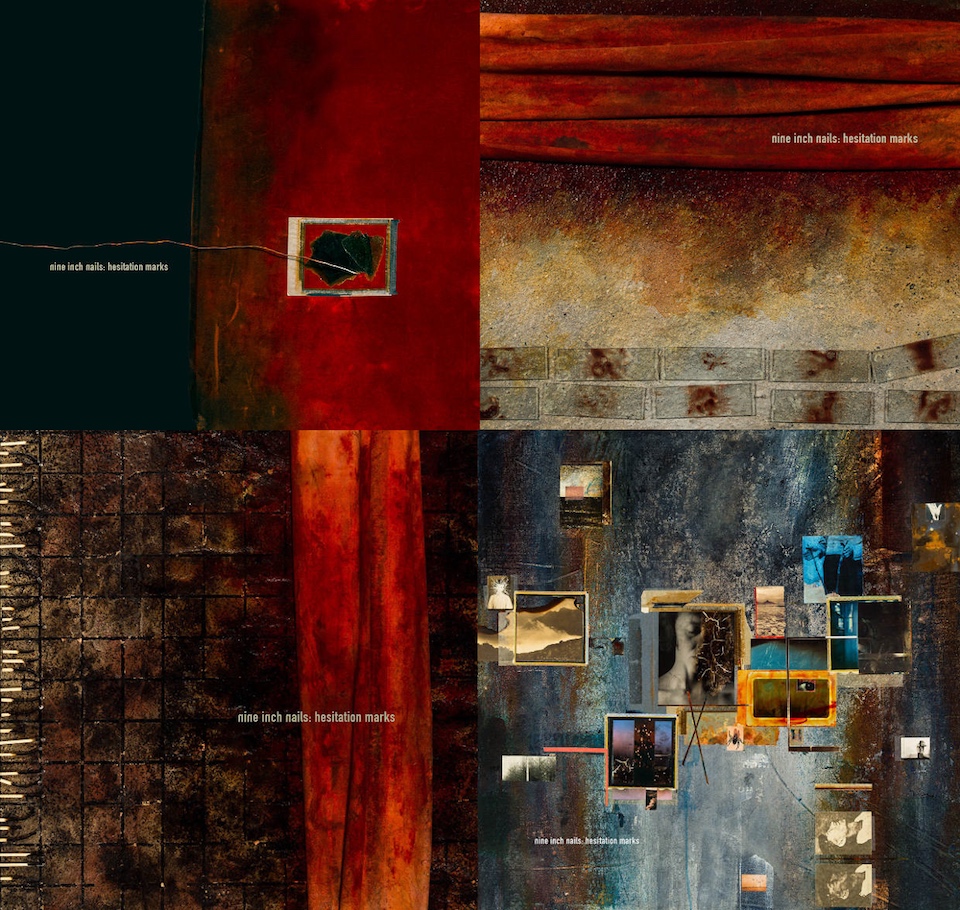 'Cargo in the Blood', a deluxe, limited edition book exploring Russell Mills' work for Nine Inch Nails, is now available here. Check out a trailer for it below, along with excepts from the inside and edited portions of Mills' extensive artist notes.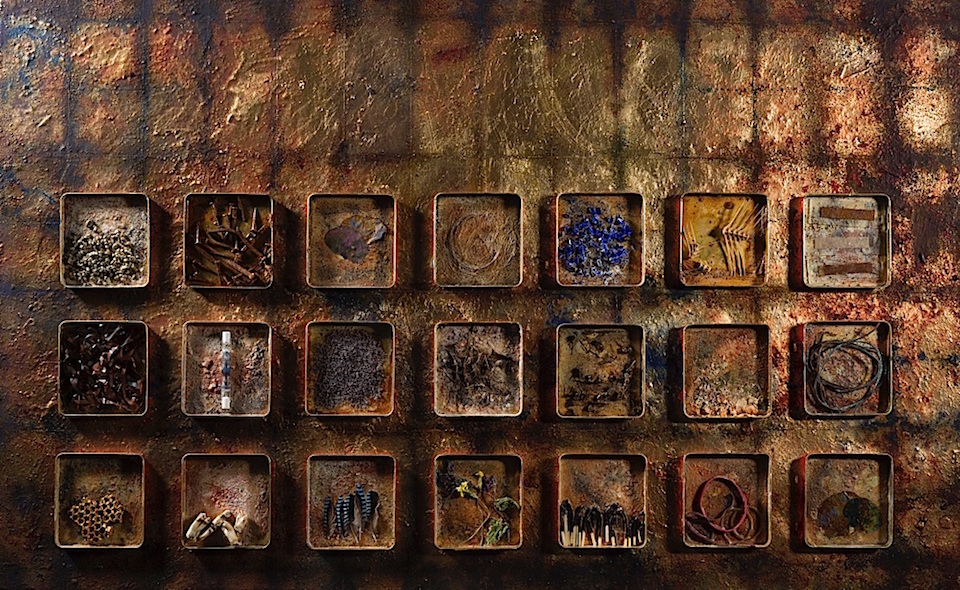 BEGINNING WITH SKIN (2013)
"We collect and surround ourselves with objects that carry meaning. Quiet yet charged with potential, transfused with the significance of the meanings that they have accumulated in everyday life. Objects, be they rare treasures, shabby detritus or sentimental knick-knacks, be they exotic, bizarre or mundane, become part of our identity. Yet they have their own histories: the scars of use, the fingerprints of previous owners and the secret powers of entropic slow time create a distinct material presence that is a record of an object's life as an instrument and as a possession. An object acts as mnemonic device, which triggers that high voltage spark of associative connection. Raking over the trivial or irrational, we are continually seeking to wrestle subtle indications of meaning and mortality from the grubby fragments of our past."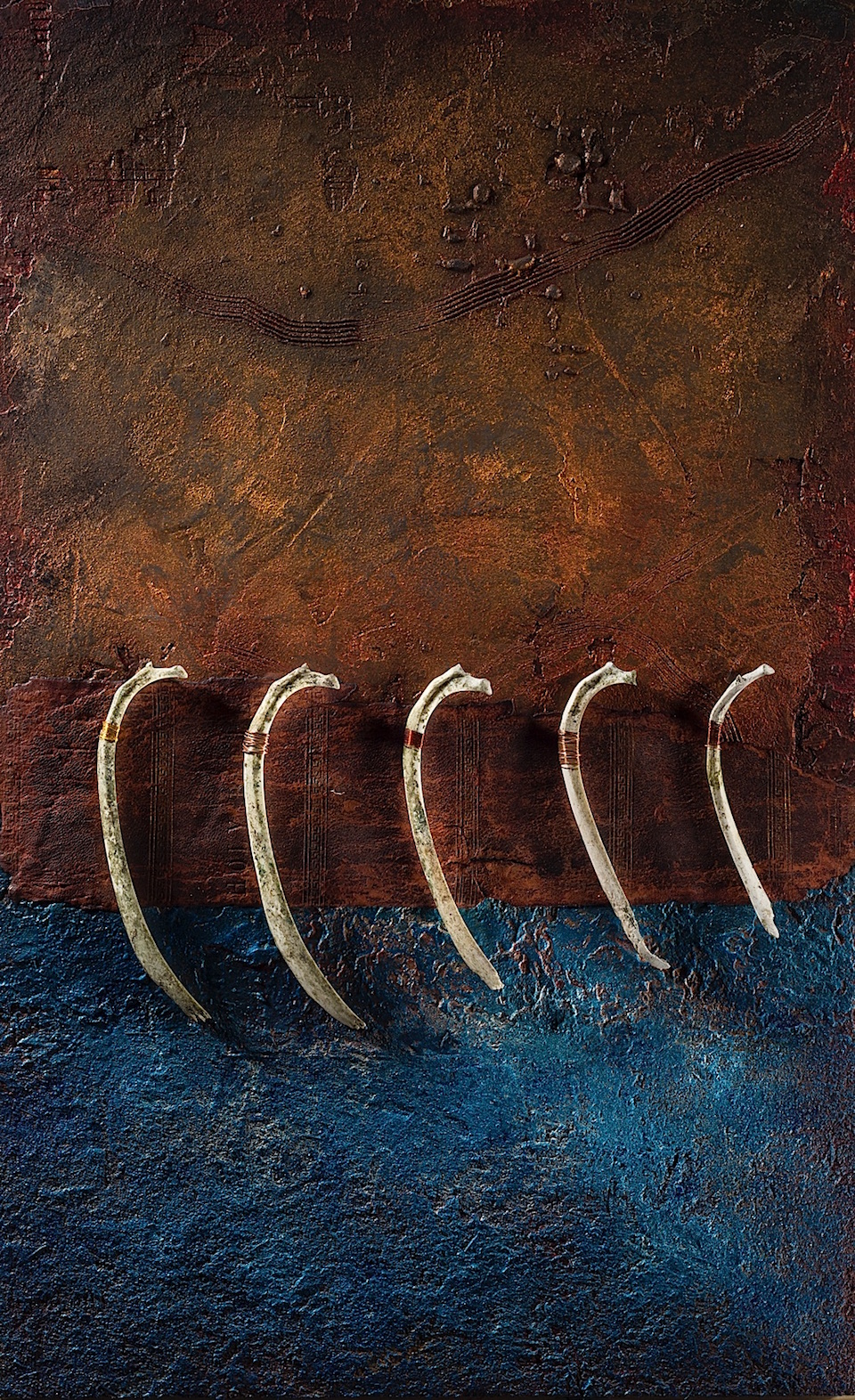 CARDINAL (2013)
"This is another piece about control, which attempts to warn against any controlling ideology that, like bellicose patriotism, claims a monopoly on virtue or propagates that a higher being has chosen some while condemning others."
CARGO IN THE BLOOD (2013)
"The ground is made of two pieces of velvet: a deep red representing the visceral, the real, and a deep blue suggesting the cold and the analytical. Where they meet they have been singed with a blowtorch, producing a hybrid color, they suggest both a collision and collusion: a bruise that heals."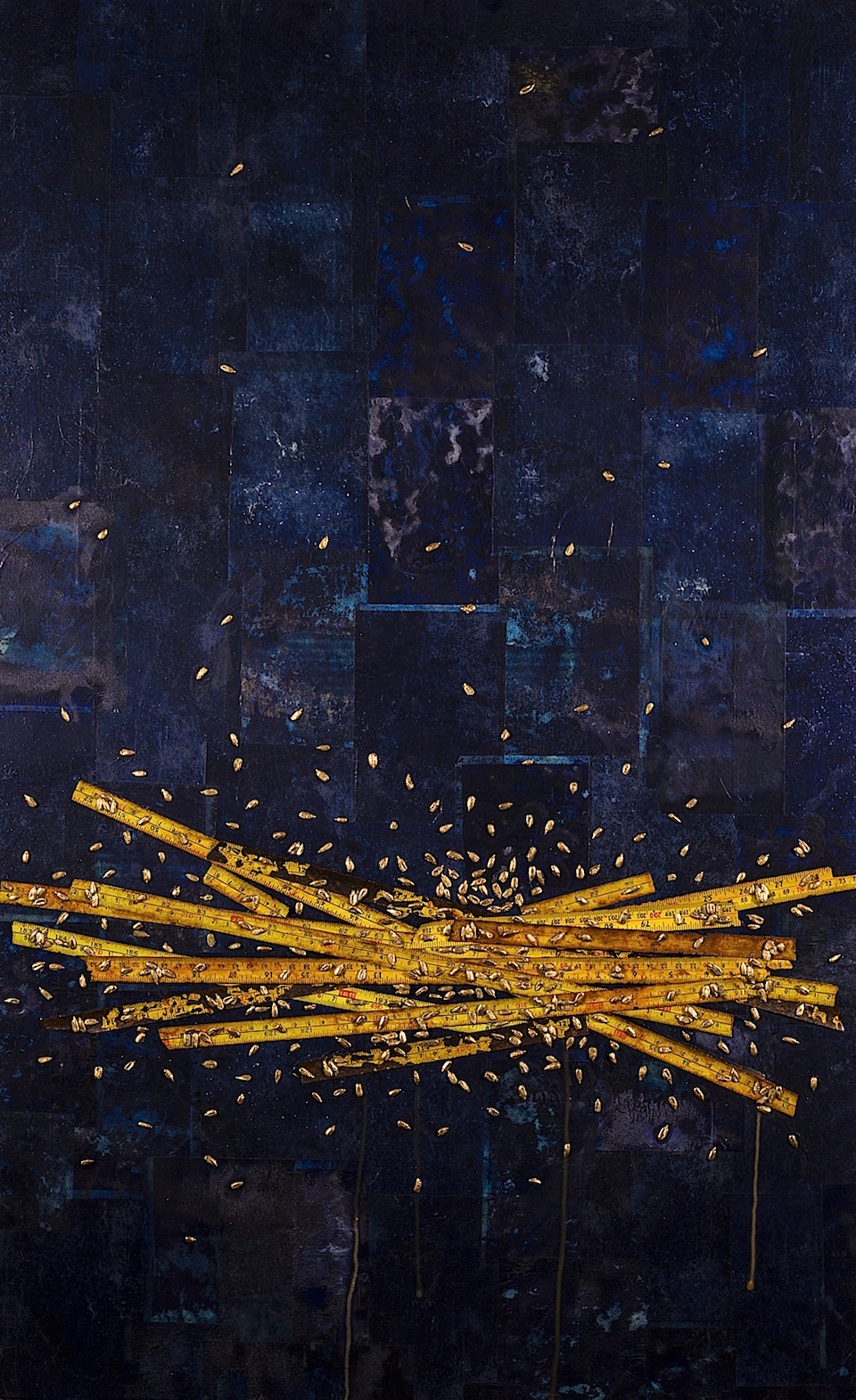 DIFFERENT SKIES (2013)
"There is order and regularity in both nature and society, as there is also complexity, chaos and randomness. The work does not question these facts, but rather is concerned with how, in our attempts to measure everything, from the speed of light to the quality of life, we reduce everything to a graph, a statistic or a diagram of quantifiable data."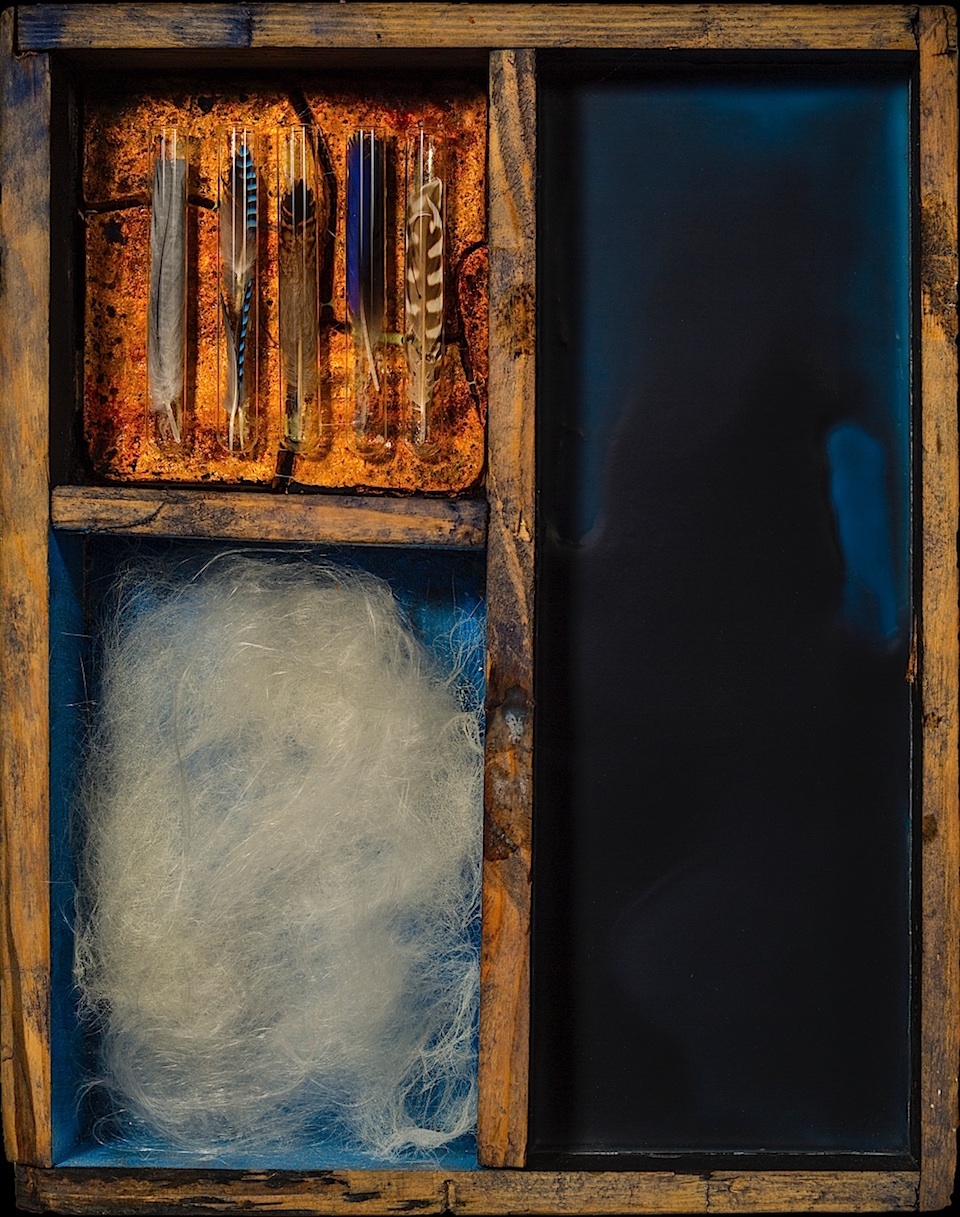 ESCAPING GRAVITY (2013)
"This piece is also homage to my father who died in 2011 aged 91.
He served in the Second World War as a rear gunner in Avro Lancaster Bombers, completing 49 tours of operation, many of them '1000 bomber' raids. Bomber Command rear gunners suffered the highest casualty rate of all the British Armed Forces in the Second World War and at the time of his death my father was one of the last surviving members of this dwindling body of men; he was also one of my best friends.
The textures of the work convey a story. A bed of deep blue wax resembles the endless depth of a night sky; most bomber raids that my father flew on were made under the cover of night. A dense swirling web of angel hair resembles a ball of protective cumulus cloud-cover and also memories of the last family Christmases spent before my parents separated and divorced. Our Christmas tree was always shrouded in angel hair, producing soft diffused haloes around the trees' lights. Beneath the row of test tubes, a slab of plaster, earth and pigments creates the solid down-to-earthiness of the work itself and of my father."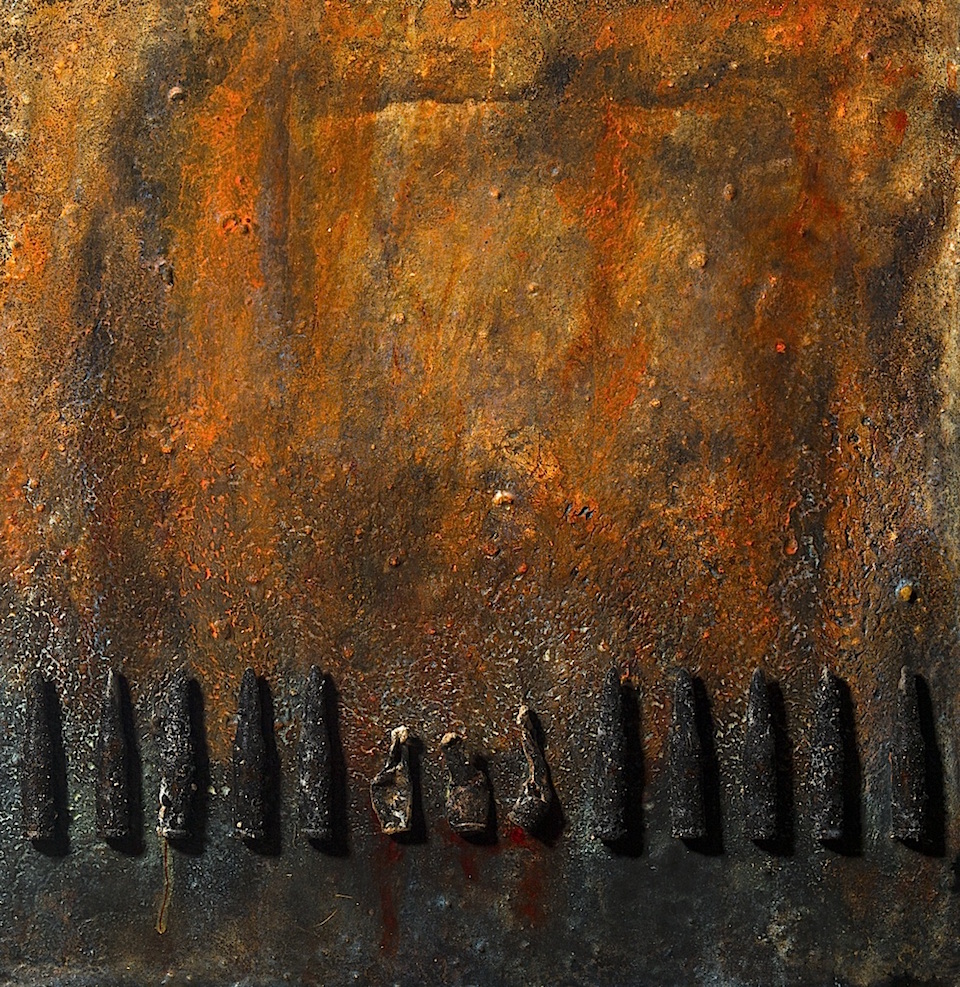 EVERY KNUCKLE OF ORE A BULLET IN A SOLDIER'S EAR (2013)
"A line of unfired and spent ammunition, clad in coal dust and embedded in earth, suggests not only man-made destruction, but also a naive desire for all weapons of killing to be outlawed and retired permanently."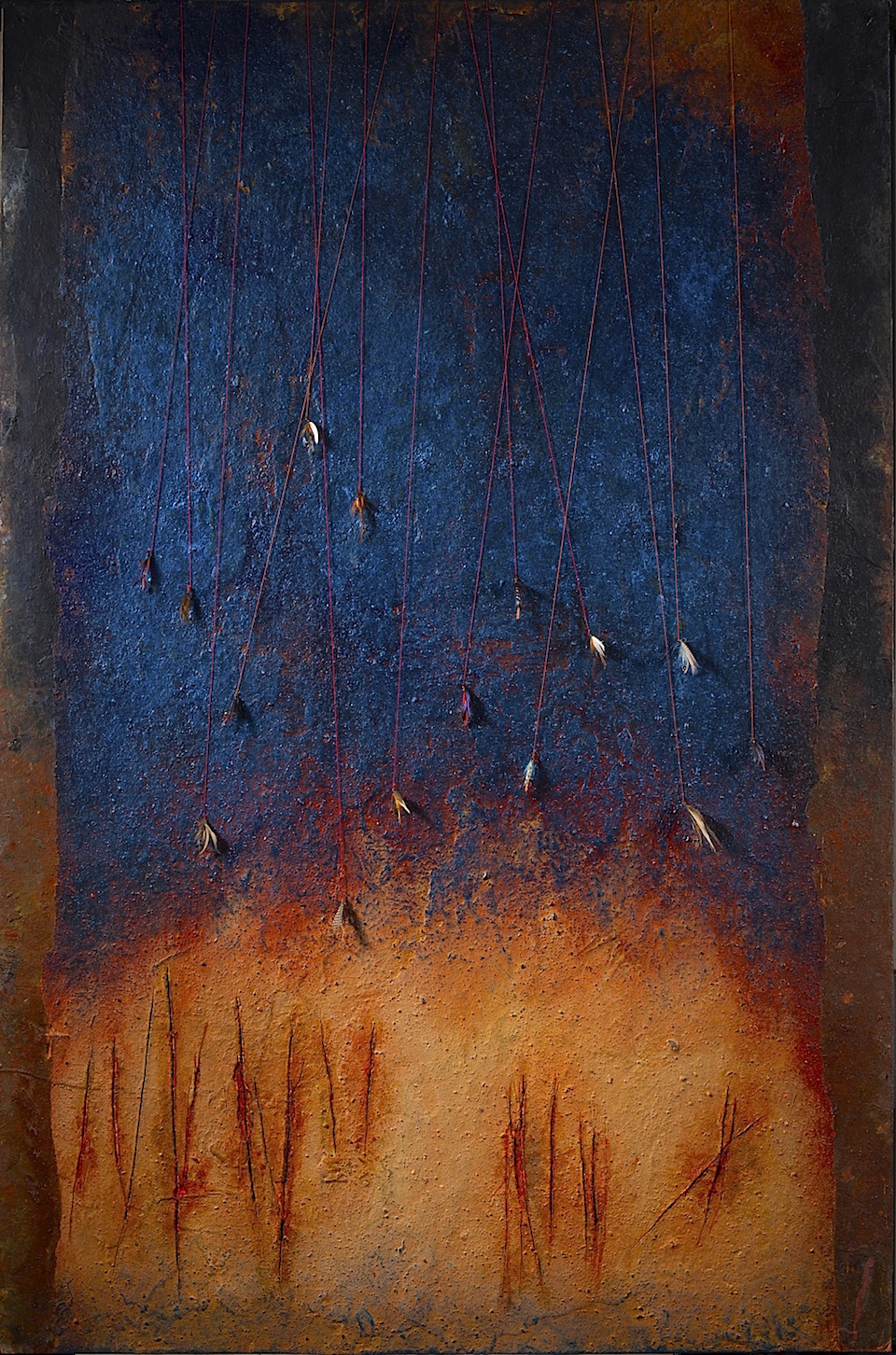 LURES (2013)
"There may be a chasm between the promised and the delivered. This piece alludes to ideas about control achieved by deception and to the tenacity of the human spirit in the face of unimaginable despair.
Beauty can be skin deep or illusory; what glitters may not be gold. Calamity, even death can lurk behind some of life's most dazzling enticements. A feathered fishing lure, delicate, dazzling and jewel-like, is no more than glamorous bait for a barbarous trap."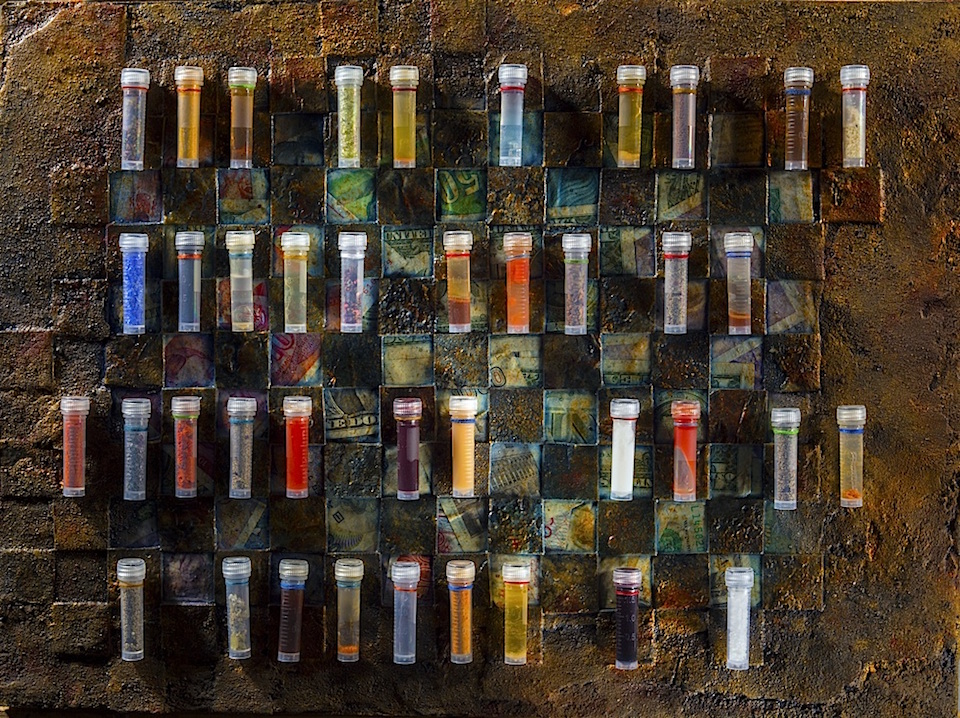 ZUGZWANG (2013)
"The work's title, Zugzwang, is a German word meaning 'compulsion to move'. Used in chess it describes a position in which a player is forced to make a move that, regardless of where the move is to, will lead to loss or severe disadvantage. It is the move of reluctant suicide."