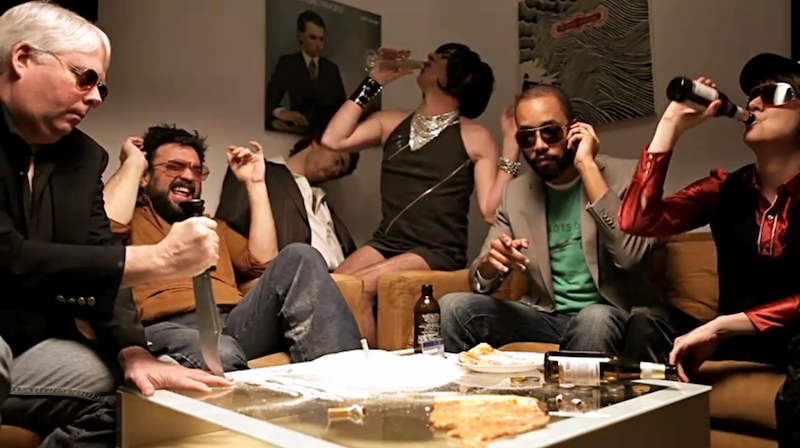 If you have even the slightest interest in music and were on the Web yesterday, then there's a good chance someone told you to watch "Moves," a New Pornographers video featuring appearances from Ted Leo, Horatio Sanz, Kevin Corrigan, Wyatt Cenac, John Oliver, Todd Barry, John Hodgman, Bill Hader, Paul Rudd, and enough underground comics to keep the Upright Citizens Brigade busy for a night. In 24 hours, it's earned more than 90,000 views, proving yet again that we don't want our MTV. We simply want twisted treatments like a docudrama called The Rise and Rise of the New Pornographers.
In the post below, we talk to director Tom Scharpling, a.k.a. the host of The Best Show on WFMU and one-half of Scharpling and Wurster with Superchunk drummer/A.C. Newman impersonator Jon Wurster. As it turns out, that part with the pizza and rails of pure cocaine never really happened…
"When he told them that we were shooting a video for the New Pornographers, they looked at him like he was a weirdo"
So you seem to have a lot of famous friends. Can we safely assume you were watching the Super Bowl with the entire cast of The Daily Show and anyone who's ever released a comedy record on Sub Pop?
I watched the Super Bowl by myself, thank you very much. I don't know where the Beautiful People were last night but they weren't at my house. Although Julie Klausner did extend a very thoughtful invite to watch the Puppy Bowl at her place.
You developed the concept for Ted Leo's "Colleen" video in 2007, but didn't step behind the camera until Ted's "Bottled In Cork" clip last year. What made you feel like you were finally ready to try your hand at directing?
I didn't want to direct until I really thought I was ready. I watched a lot of people do it, like my friend Michael Bellino, who directed the "Colleen" video. And I watched on the Monk set a ton when I worked there. But when Ted asked me if I wanted to direct I had to think about it for a day or two; I wanted to make sure I was up for the challenge before ruining someone else's musical career.
You've written for such popular TV shows as Monk, Tom Goes to the Mayor, and Tim and Eric. What have those experiences taught you about the entertainment business that you could then turn around and apply to your music video work? Maybe what not to do?
The main thing I've learned is how hard you have to work to get the most out of your budgetary dollar, and that's why working with my producers Rob Hatch-Miller and Puloma Basu is a dream come true–they squeeze every cent out of our budgets and make sure it's up there on the screen.
Going back to "Bottled In Cork," did anyone from Green Day's camp end up commenting on how it basically rips the Broadway version of American Idiot a new one?
Nobody ever responded to us goofing on them, which disappointed me a little bit. Although I will say that the cast of the Broadway show works VERY hard to pull off that show and I give them all the credit in the world for having that level of talent. It's just that the show itself has no reason to exist.
Shifting to "Moves," how did you manage to convince Bill Hader and Paul Rudd to appear in such a short, bizarre cameo at the beginning?
I asked Bill if he would be in it and he wrangled Paul. They've both been very complimentary about the Scharpling and Wurster CDs that we've put out over the last bunch of year–[they're] really great guys. They could not have been more generous with their time when we were shooting. They were ready to try anything.
Whose idea was that short 'trailer'? Is it meant to be a stab at the post-Apatow school of movies that Hollywood seems to adore these days?
It was my idea. And I really don't think we're taking shots at Apatow movies at all–it's a shot at the super broad comedies that Martin Lawrence seems to get drafted into appearing in.
You got quite an awesome mixed bag of people playing the New Pornographers in the video. Care to point a few of them out and why you decided to cast them in their 'roles'?
Everybody was so great. I'm not gonna play favorites! But Jon Wurster was so brilliant as Carl. Once he put that wig on his head the role was his, and he owned it all the way down the line.
Did it take some prodding to convince Ted Leo to play Kathryn Calder?
It was actually Ted's idea! He pitched it to me and then I called him a day or two later and said, 'Were you serious about playing Kathryn?' And he was, thankfully.
Esther Crow is one person from the video that we didn't recognize at all. Could you tell us a few things about her?
Esther Crow is a really funny actress/performer in the NYC area who does some amazing one-woman stuff. She's also the frontwoman for a great band called The Electric Mess. You can get info on her at www.esthercrow.com.
You and Jon obviously have a long-running relationship on WFMU and as Scharpling and Wurster. What's kept the two of you working together for so long beyond your supposed shared love of Get a Life?
He is still the funniest person I have ever met and without a doubt one of the nicest people on the planet, and it's nice to have the relationship keep going like it has been. I truly think that we haven't hit on our best stuff yet!
Speaking of Get a Life, any thoughts on Chris Elliott's new Adult Swim show, Eagleheart?
I have seen lots of the show over the last year, plus because I'm friends with [writer/director] Jason Woliner. It's a great show and it's gonna get greater during the season.
It's great that you worked Other Music into the "Moves" video. What are some records you've recently bought from the store?
I bought the Syl Johnson box from them, which everybody should get. It's AMAZING.
So the entire "Moves" video is based on the band's 'true story' right? Especially the part where they're doing blow off a piece of pizza?
Come on, son. You know better.
Seriously though, was anyone from the band on set to watch the hilarity ensue?
Unfortunately the band was in Australia when we were shooting it. I would've loved to have had them in the video in some way.
Any other behind the scenes stories you can share?
When Wurster had to get his wig trimmed in Tompkins Square Park between shots, a group of kids came up and watched. When he told them that we were shooting a video for the New Pornographers, they looked at him like he was a weirdo. But he was sitting on a park bench having someone style his Ronald McDonald-colored wig, so I can't blame them entirely.
'The Rise and Rise of the New Pornographers is a great riff on just how ridiculous docudramas can be. Got any favorite ones from over the years though?
I am always partial to the Jackson 5 story, with Lawrence Hilton-Jacobs portraying the Jackson patriarch. Although Walk the Line is pretty ridiculous in its own way.
Canadians sure are funny, aren't they?
Yes!
GQ called you one of "the funniest men you haven't heard of yet" in 2010. Will the rest of us hear about you before 2011's over? Any other music videos, writing, etc. we should know about this year beyond your work on WFMU?
I'm working on two TV shows right now, hoping that they'll go forward and land on your TV set. I'm also finishing up a screenplay. I'm hoping to do a couple more music videos over the next couple months and there are a couple aspirational writing things I'd love to get rolling with that I'm keeping secret. Plus plenty of Best Show for everybody!