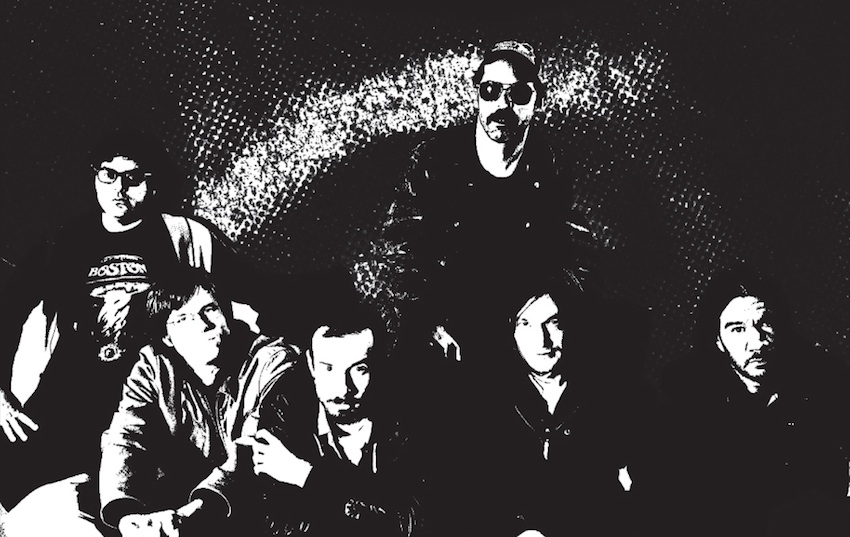 Soldiers of Fortune celebrate the release of their debut Mexican Summer 12" at Zebulon in Brooklyn tomorrow. In the post below, we premiere Ball Strenth in its entirety–nearly 40 minutes of groove-riding rock, spread over just four tracks–along with commentary from band members Kid Millions, Matt Sweeney, Brad Truax, and the one they call Crazee…
"We came totally unprepared–showed up in the studio with our dicks in our hands with no idea how it was going to play out"
YES TO EVERYTHING (MATT SWEENEY, LEAD GUITAR/VOX)
"Yes To Everything" is the song I sang on the Ball Strenth album. We are all lucky to get to live in a universe that is out to destroy us. I was doubly lucky to choose to be a Soldier Of Fortune. As I recall, the SOF had a window to jump through: 48 hours in a beautiful place with a beautiful man named Chris who knew how to record the sounds that could be made there. It was August and the weather in NYC was hot beyond comprehension. The lyrics were written with these things in mind, within eight minutes. Papa and Kid sang their souls on this song as well. The lyrics are something like:
Pull the lights from my eyes
So the better days will rise
Saying
Yes to everything
Yeah the night's getting great
Got new twists to staying straight
She said
Yes to everything
Found the gains in the lack
Cuz I'm finally getting back
To saying
Yes to everything
When there's flames on the wings
I can take what it brings
I said
Yes to everything
(Say 'yes to everything' for as long as sounds good)
TUNNEL RATS (BRAD TRUAX, BASS)
When we went to record this record, we came totally unprepared, showed up in the studio with our dicks in our hands with no idea how it was going to play out or sound. The only vision we carried in the studio with us, was to make it sound like the Soldiers, and I don't think we even knew what that was.
SOF sort of pride ourselves on being this anti-band, who doesn't practice, rehearse, or write songs, set lists etc. We rely on instinct, intuition, chemistry, and the vibe of the moment. "Tunnel Rats" is a perfect example of what happens when we're in a room together, and warmed up. Pretty sure this was at least a 20-minute jam, widdled down to seven minutes–the one song we edited, sculpted, cut and pasted, with NO OVERDUBS. I'm happy the end result still sounded like the Soldiers playing live in a room, capturing the essence of the band.
WORM (KID MILLIONS, DRUMS/VOX)
This song is about transcendent self-loathing and Ryonen's Clear Realization. The singer of the song is not Ryonen though. The obliteration does not necessarily create clarity. He's not seeking truth. He is what he is–a worm. He has no face.
SLEEPING SENTINEL (CRAZEE, LEAD GUITAR/VOX)
The lyrics and singing on this are the result of a long weekend of guitars and listening back to guitars. It was crazy hot and the studio A/C couldn't mask the Mekong-like humidity outside. I was pretty spent. I ate some greasy Polish food and drank a few terrible gin & tonics made with flat deli tonic, sour limes, and no ice to get some courage. These were not smart ideas. I was tired, dyspeptic, and epically paranoid–it took all the Strenth I had. I opted for a future-space-war-spy, jailbreak, soldier-in-the-shit vibe to capitalize on my mood…and for maximum video game/action movie licensibility. 
I hope you enjoy it. (And you as well, Rock Star Games!) [Mike] Bones had the funny idea to drop the guitars in the last verse, early '80s hardcore-style–and we trade leads throughout. Sweeney came up with the title and the idea to repeat the first vocal line in each verse; he also did most of the backing vocals. Barry's organ riff is hard to pick out of the slop, but trust me, it's nasty. Thanks for listening and to my fellow S.O.F.
My rods and cones got crossed when I left home
I feel a danger deep in my chromosomes
Ever since I met that dark-haired girl
Et tu everybody in the whole wide world
My rods and cones got crossed when I left home
I asked her pass the sugar and the weaponry
Sweetness don't last as long as the jeopardy
Go eat the lotus fruit
You'll still see brutal truth
So won't you pass the sugar and the weaponry
The sentinel's asleep on the prison wall
My bride awake and weeping on the widow's walk
I dream of my returning
She keeps a candle burning
The sentinel's asleep on the prison wall
My shadows dodge and weave in the infrareds
I hear the floodlights flash like castanets
I feel the soil shift
Sent sincere from the thick of the shit
My shadows dodge and weave in the infrareds