Photo MICHAEL STOCKTON
Family plays a major role in Before We Sleep, the foggy debut album of Fatima Camara, a Toronto native making sense of her memories—growing more distant by the day—after a move to Berlin. Due out this Friday through the Milan imprint Parachute Records, it's shared in full here along with Camara's exclusive track-by-track commentary…

"SKELETONS IN THE SAND"
I chose "Skeletons in the Sand" to be first track on the album as I think it sets the mood without giving too much away. Here you are introduced to my Juno 106, my old and dirty bass guitar, the ghostly sounds of my baritone ukulele after being run through an old memory man echo/chorus pedal, and computer beats using classic drum samples. These instruments and elements run throughout the album. The name refers to a game my niece River and I played last summer on the beaches of Lake Erie which entailed us building skeletons in the sand using seashells. She came up with the name and I think it nicely captures the contrast between the light and dark themes that are present in this song and across the album in terms of both music and underlying stories.
"FAMILY DINNER SONGS"
Another recurring element in the album are samples of recordings I made at my father's 65th birthday dinner. Sometimes family would bring instruments to our family gatherings and after dinner there would be singing (and maybe dancing). The voices in this song are my cousins singing traditional Portuguese folk songs. As I got older I came to really appreciate these moments that I had often taken for granted growing up. This was the case, even more so after I moved away from "home" to Berlin. It was nice to relive those memories when editing these recordings and working on these tracks.
"FOLKLORE"
Again, the voices of my cousins are heard here. They are singing a very old call-and-response folk song that is sung and played differently across islands and regions. I liked playing with the time change in this song and seeing how the same samples worked in both faster and slower BPMs. I always heavily effect the family samples and often include background dinner conversations and sounds. Though these samples are woven throughout all the tracks on the album to a degree, on some songs they are more audible than others. I tried to liken them to the way memories fade in and out, loop and blur.
"MOONLIGHT IS HER FAVOURITE COLOUR"
Often the bass tones I use reveal my love of old dirty new wave. This is the case in this song probably more so than any other. I don't own a guitar nor do I know how to play one, so often I use my bass to play higher melodies as well. There are a few layers of bass in this track, something I often do. This layering can get a little muddy in terms of separating bass lines, but sometimes that also sounds good. Here the family samples used are hardly audible but still very present.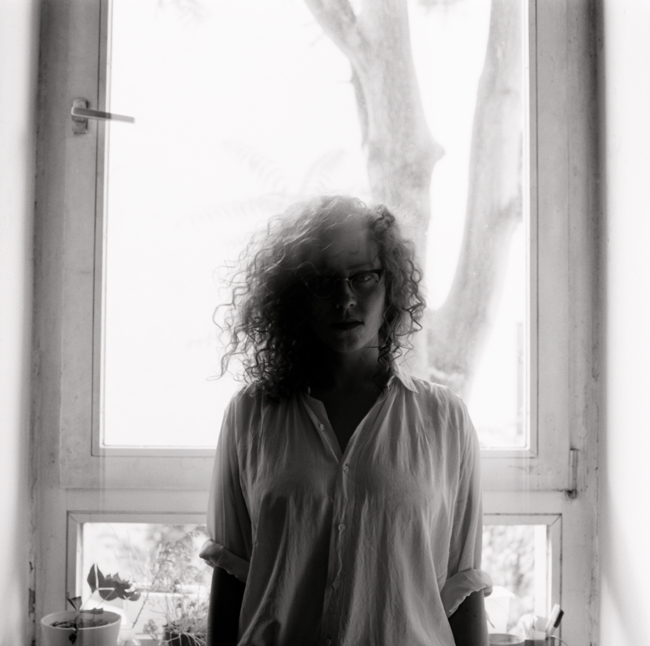 "WHILE SHE SLIPS OUT (WITH MEMORIES OF 16COLOURS, 2MISTAKES)"
Born outside of the computer, this song was mostly written in my bed while recovering from knee surgery. It was a nice moment to be creative. I had recently gotten my baritone ukulele and was loving the way is sounded when run through my Memory Man (echo/chorus/vibrato) effects pedal. I found the mic pickup on this instrument interesting and played with using it to record other sounds through the body of the ukulele. I used far fewer layers in this track as I liked the breathing space.
"16colours, 2mistakes" refers to a piece of art that a close friend had made. She passed away in the time I was working on the album, and so of course this experience and all its related waves of emotion have made their way into the music. This happening also reinforced the family theme I was working with.
"JUST WAKING UP"
Dennis Lindfors, a good friend who I played music with for a time, gave me some bits and pieces of his own productions to play with. Amongst them was a one-minute recording of the melody and drums of this song. I was playing with the idea of singing and did a late-night take with the piece and added different layers of bass. Those first takes were using the mic of my computer, and while I later tried rerecording with a proper mic, I stuck with the original as they seemed to have a feel that was lost in my later attempts. I then extended it to three minutes and used faint family samples as distant back-up singers.
"SINKING CALM"
Here I used a lot of delay as I liked the looseness it created. It's almost a little too much at times but I liked the resulting tension. I enjoy echo and delay in general when creating drum patterns as well as melodies. The Juno plays a subtle role in this one, just adding layers of atmosphere more than anything else. I brought it in to build more tension in the song as I felt the melody was at moments a little too light for what I was trying to do.
Just as in the music, I also play with this mix of light and dark or moodiness in the lyrics. The reference to the fair, a place of childhood fun, but with feelings of loss and being lost oneself. Common experiences, and here I look at how we might be okay with them and letting those uncomfortable moments come and go.