Photography RASMUS WENG KARLSEN
Unlike Kasper Bjørke's last solo LP Fool—which arrived on April Fool's Day with a few subtle winks and a healthy sense of humor—After Forever (hfn music, September 22nd) is the Danish producer's descent into moodier shades of artful pop music, inspired by everything from motorik-powered Krautrock melodies to synth-driven film soundtracks that work best on an open highway under the cover of night.
"After Forever is good for dark, sad dancing," he explains, "or a headphone journey inwards. I feel like I really went somewhere else on this album, to a place where I haven't been before. Out of my safety zone and into a darker space."
In the following exclusive, Bjørke gives us a guided tour of every track, sharing the guest stars, post-punk parallels, and chance encounters that shaped his ever-evolving sound along the way…
"RUSH" (FEAT. TOBIAS BUCH)
Tobias is one of the coolest and most laid back people that I know. He also has an amazing falsetto and I am a sucker for a good falsetto. If I could sing, I would sing like that. I used to do A&R for this Copenhagen indie label some years back and one of the bands that I signed was The Late Great Fitzcarraldos. Tobias is the lead singer in that band. He lives in LA and makes this unique blend of psychedelic soul that I absolutely adore. So Tobias was an obvious collaborator for my album. I had been making the instrumental track in my summerhouse—with the fireplace going, trees all around, deer walking by—and I remember sending him the instrumental demo last winter from there. He freaked out and totally nailed the vibe right away. I then brought in the bass player from WhoMadeWho to redo the synth part that I had made and play it really sloppy. I think that track sort of sets the tone for the whole album; that's why I decided that it should be the opening track and the first single. The music video has the same dark, sensual vibe as the song.
"SYLVIA" (FEAT. CTM)
This track was basically done in around three days. I asked Cæcilie Trier (a.k.a. CTM, also part of Choir of Young Believers) to collaborate with me and she said yes, but only if she could be part of it from the very beginning and not just sing on an instrumental track that I send over, like I normally do with featured vocalists. So she and I went into the Red Bull Studio in Copenhagen and recorded this track over two days and then used the last day to polish it off. CTM brought an old Roland D 50 synth with her, which has a distinct '80s sound. I ended up buying one of them after our session because it's so cool. Its steel drum sound is especially perfect. It's definitely one of my favorite tracks from the album and has this Madonna/Sade vibe going. Funny enough, CTM wanted to record her vocals directly into her laptop, not through the amazing high-end equipment at the studio. I really like the way her vocals complement the clean '80s production of the whole track.
The music video was made by Kiani del Valle, a dancer and choreographer who lives in Berlin.
"MARBLED BLOOD" (FEAT. SOHO REZANEJAD)
The idea for this track came up a while after I first met Soho, a very talented up-and-coming artist who lives in Copenhagen. She told me about this crazy experience she had; I asked her to write that into some lyrics and then do it as a kind of spoken word over the instrumental that I then sent her. She also added some synths on her own, which I am very excited about. It's one of the darker and longer tracks on the album and it sets a certain kind of mood… It has a bit of a soundtrack feeling to it, which is no coincidence as I have always been a big fan of movie soundtrack composer legends such as Vangelis, Gioigio Moroder, Cliff Martinez, etc.
"TNR" (FEAT. JAAKO EINO KALEVI)
One of my good friends introduced me to Jaakko Eino Kalevi's track "No End" and I was completely blown away by this Finnish multi-instrumentalist. No wonder why he recently got signed to Weird World, the sub-label of Domino Records. I wrote Jaakko via Facebook and a few months later we DJ'd together at a festival in Denmark and had loads of fun; I was in particular impressed when he dropped "No, No, No" by Destiny's Child. Anyway, the track "TNR" turned out to be this dark, synth-y '80s anthem and Jaakko sings about the type font Times New Roman, which is somehow really weird but also makes perfect sense at the same time. There is also a really special video for this single, made by a Belgian animation team called Alpaca Animation, which is a lot of fun to watch.
"GRIT"
This is the first instrumental track on the album and is quite Kraut inspired. I'm a big fan of NEU! especially, and I tried to get some of that energy into it. Originally I asked Trevor Jackson to collaborate with me on this track but he suggested we did a cover of a Wham! song instead, so that's something we still need to finish at one point. "Grit" turned out to be totally different than I intended but sort of defines that love for Kraut and the constant beat with layers slowly being added. I had the drummer from MØ´s band, Rasmus Littauer, play live drums and percussion on it, and after that I did a session with a excellent Danish guitarist called Jonas Struck, who I have also worked with before. It is also one of the few uptempo tracks on the album.
"LIES" (FEAT. NOMI RUIZ)
Dominique Keegan, my old friend from Plant Music who released my first solo album In Gumbo back in 2007, introduced me to Nomi. I have been a fan of her work since she was in Hercules & Love Affair and again, the collaboration went quite smooth. Nomi sent over the vocals to an instrumental track I had made already, but then I moved the instrumental to a totally different track and removed her chorus, so it ended up just being the verses and the bridge parts. Nomi will use the chorus on another song of her own and she asked me to produce it, based on the original production I had made first. Two for one! There is a bit of Michael Jackson's "Beat It" in the way that Nomi sounds so pissed off in her vocals. I'm also quite happy with the guitars; they were added very late in the process, but I think they give a certain tropical feel to the song.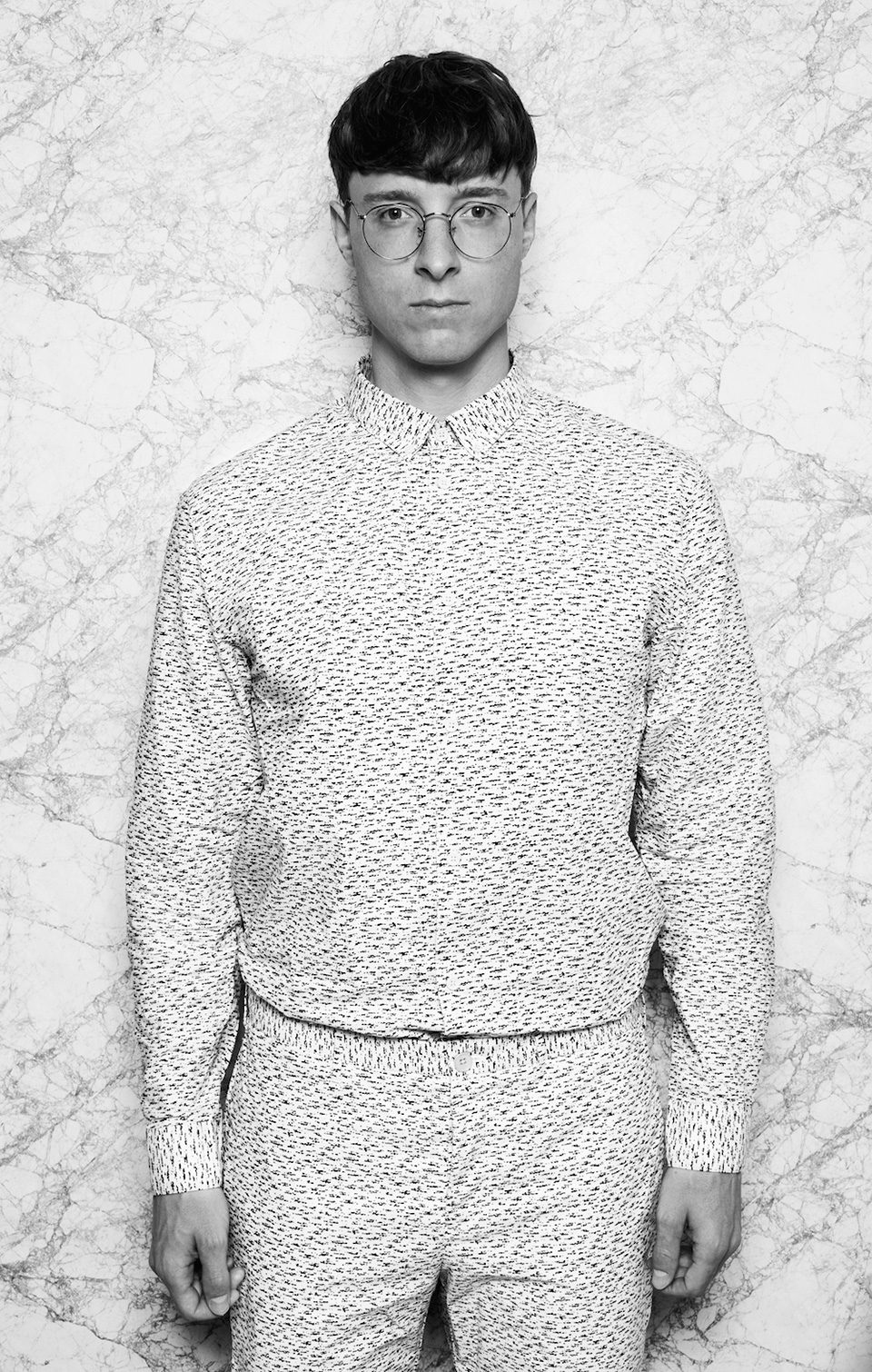 "INTO SMITHEREENS"
I had done the demo for this instrumental track in my summerhouse using a lot of software synthesizers. I also knew that I wanted something warmer on this track as well. Mixing analog with digital has always been a thing for me so I brought this track along with a couple of other instrumental demos to New York, where I went into the studio with my close friend Kurt Uenala. Kurt has recently been doing some pretty great things, like co-writing tracks with Dave Gahan on the latest Depeche Mode album. Being a huge Depeche Mode fan, I really wanted to go in that direction with the tracks I brought with me. Besides being a great co-writer, Kurt is also a pretty cool bass player, so we developed a very Cure-inspired bass line and added that. I am thrilled with how it turned out and I think this is my favorite instrumental track on the album. It's sad, slow and quite pretty.
"APART" (FEAT. SISY EY)
On the way back from that trip to New York, I was DJing in Reykjavik, and during the set of my friend who was also DJing, these two girls came up and started to sing over the music. I instantly knew that I had to do a track with them, even though the album was nearly done at this point except for some details and the final mixing. A few days after returning from Iceland, the girlfriend of one of the girls hooked me up with the contact to their band Sísý Ey. The day after that, I was on a plane to Paris, making the sketch for the track. I had pretty much the whole idea for the instrumental locked in when I got there, so I sent the demo over, and within a week, the whole track was done and somehow completed the album. To me it's the strongest song if you look at it from a commercial perspective. This will also be the next and final single from the album, which will be released in November with a couple of very exciting producers delivering remixes.
"FOREVER"
The closing track is another combination of my production efforts in the summerhouse and then taking that demo and idea for a track with me to New York to finish it with Kurt Uenala. He has a couple of my favourite vintage analogue synthesizers; The Jupiter 8 and the SH-101, which we used heavily during our co-writing sessions. The main theme I did on a software synthesizer but I decided to keep it in as it was – even though its super simple and quite naïve. The bass lines are by Kurt and I think that actually saved the tracks life in the end. I was struggling with finishing it – but the bass made it alive and more relevant somehow.