Photography SHAHRAM IMEN
"What I remember is mouthfuls of hallucinatory mushrooms and lots of tearful laughter in the wee hours of the night," guitarist Christopher Sprague says of the Naked Lights song "Nicht Leiden." It's surveyed and streamed in the following exclusive along with the rest of the Oakland band's new record On Nature, which is due out this Friday through Castle Face.

1. "NEW CARRION"
Christopher Sprague: Carrion (from the Latin caro, meaning "meat") refers to the dead and decaying flesh of an animal. Carrion is an important food source for large carnivores and omnivores in most ecosystems. The second half brings me to a place I like, perhaps early Sonic Youth and Bow Wow Wow are a subconscious point of reference.
Camaron Stephens: Attempting to reference the ambient yet often chaotic tones of everyday dramas, the composition challenges to mimic the sound of fire alarms, tornado and air raid sirens, and the soundtrack of your internal mental panic.
Aurora Crispin: The title of this track came before my time, yet thinking of the sensitive human flesh tubes that are our moving bodies through space we are now clicking, hearting, favoriting, star-ing each others' blips of speak online, and our current relationship to technology/communication is all Lisa Frankish, and now the lucky charms of technological phraseology become the "common language of our global community" according to Twitter. Yikes; you can just give me a call- speak mouth to mouth, although my new phone plan only covers 1,000 minutes a month.
2. "PICTUS"
Camaron: Using staccato notes to create a domineering and ominous feeling of unraveling time, we originally set out to approach the beginning of the song with our interpretation of what the sound of a swarm of insects sounds like.
Josh Lindenfelzer: Named after our good friend Aaron Diskin's band from Brooklyn, Lycaon Pictus. Dripping with charisma and musicianship, they were a really good band that was way underrated and overlooked. Though the tune sounds nothing like them it reminds me more of Arab on Radar in that it is kind of jarring and obnoxious.
Aurora: The names of some of these songs came about before I joined the band. This is one. The sound felt like a swarm of bees, the blur of living in a city, the constructed "naturalness" and maybe finding a way to be mindful amidst the mess.
3. "ON NATURE"
Josh: Christopher's bass reminds me of Jah Wobble on this one. The drums were attempting to emulate the vibe from the track 30 Seconds Over Tokyo by Pere Ubu. I had mentioned at a rehearsal that I've always wanted to do something with Herzog's rant in Burden of Dreams and Aurora was cool enough to go home and adapt it into lyrics.
Christopher: Inspired by a Werner Herzog rant from the documentary Burden of Dreams and Levene/Wobble-era PiL (Metal Box). This track inspired our album title of course, and sort of shaped the album art as a nature vs. machines concept realized.
Camaron: We're all big Werner Herzog fans in the band, and we felt particularly inspired by Burden of Dreams, a documentary by Les Blank that chronicles Herzog's struggle to make Fitzcarraldo, a film about pushing a steamship over a mountain and holding an opera in the jungle. I like to think that this song, and really the entire album, takes its inspiration from Herzog's infamous rant in that film. In fact, the lyrics here are more than partially quoted from that philosophically memorable conniption.
Aurora: As everyone else also reflected on, our mutual love of Herzog sprouted inspiration of this overwhelming semi-dark headspace of loving and being disgusted, in awe of the natural play of all things growing and rotting away. The ever-pressing cycle of beauty in decay and glowing life definitely seems to be the theme of detail throughout the album.
4. "NICHT LEIDEN"
Camaron: Improvised entirely in the studio while recording the album. We couldn't figure out how to end a song that seem to come out of thin air quickly, so we resolved to keep driving it faster and faster until it became this free jazz, car crash, freak-out thing.
Christopher: The fall apart ending features AM gospel radio and a xylophone, among other sounds that we were subsequently and joyously "tripping" on. Aurora came in at a later date (sans shrooms) and improvised her entire vocal take on the fly and in one take; we all felt pretty floored by her performance, both in delivery and lyrical content. Goblin's Suspiria soundtrack was an influence on the giant echoing tom fills.
Josh: This is part of a song that never came to be. The chorus was possibly my favorite part of any of our songs we play but it was axed unanimously. No matter how much I whined, in the end majority ruled.

5. "HEDGES"
Christopher: The development of "Hedges" morphed from another track we had. I remember sweaty Oakland nights waiting around to rehearse, putting on health and effeciency, and unanimously appreciating the rhythms of Charles Hayward and the mighty This Heat and perhaps some Adrian Sherwood-produced dub infections of the same era. Creation Rebel and Mothmen comes to mind. I also remember feeling that we had somehow broken through to something bigger than being just a feeling or sound or influence; some type of synchronistic musical growth had occurred.
Aurora: I remember this being a nice trail out from a practice that sprouted into something really slow and mellow, an extra gummy, dubby, and chewy-feeling song like early Studio One recordings at half-speed. The molasses shift was surprising to throw in the set, but turned out to be one of my favorite songs on the album, and one that I was a part of writing. The title comes out of a phrase in the song; "edges touching edges" reflects on relationships, fantasies and histories. Most of the lyrics came out of this—heavy energetic sexual tension ­being denied (manipulative prior relationships), as well as the fantasies of other unavailable contexts. The title got translated from edges to hedges and stuck.
6. "MECHANICAL EYE"
Josh: A studio dick around. Nice and sloppy, it was my vision when it started to make it a sort of head nod to The Residents song "Whatever Happened to Vileness Fats Night Club Scene." In the end it doesn't actually sound like it, but my skronky sax playing somewhat brings the vibe…. maybe?
7. "BLUE INK"
Camaron: In the quieter middle section of this track, I experiment with creating a creaking plucky sound heightened by goat toes and cattle bells using a muted harmonic. Harmonics are perhaps my calling card on this album. At the end of the song, Hash and I came up with a call-and-response idea, in which he would play a note and I would immediately follow it with the exact same note.
8. "MOSTLY BAG"
Camaron: This song was written long before any of the other songs on this album. Because of that, it seems to follow a more typical punk format but with perhaps a random nod to Gang of Four. When coming up with new material, we often shoot video of our practices to reference. In the recording of this song the video was covered mostly by a plastic bag that blew into the frame.
Christopher: Josh and I wrote this one and presented it to the others. We filmed it and the video ended up being mostly of a plastic grocery bag and nothing much else.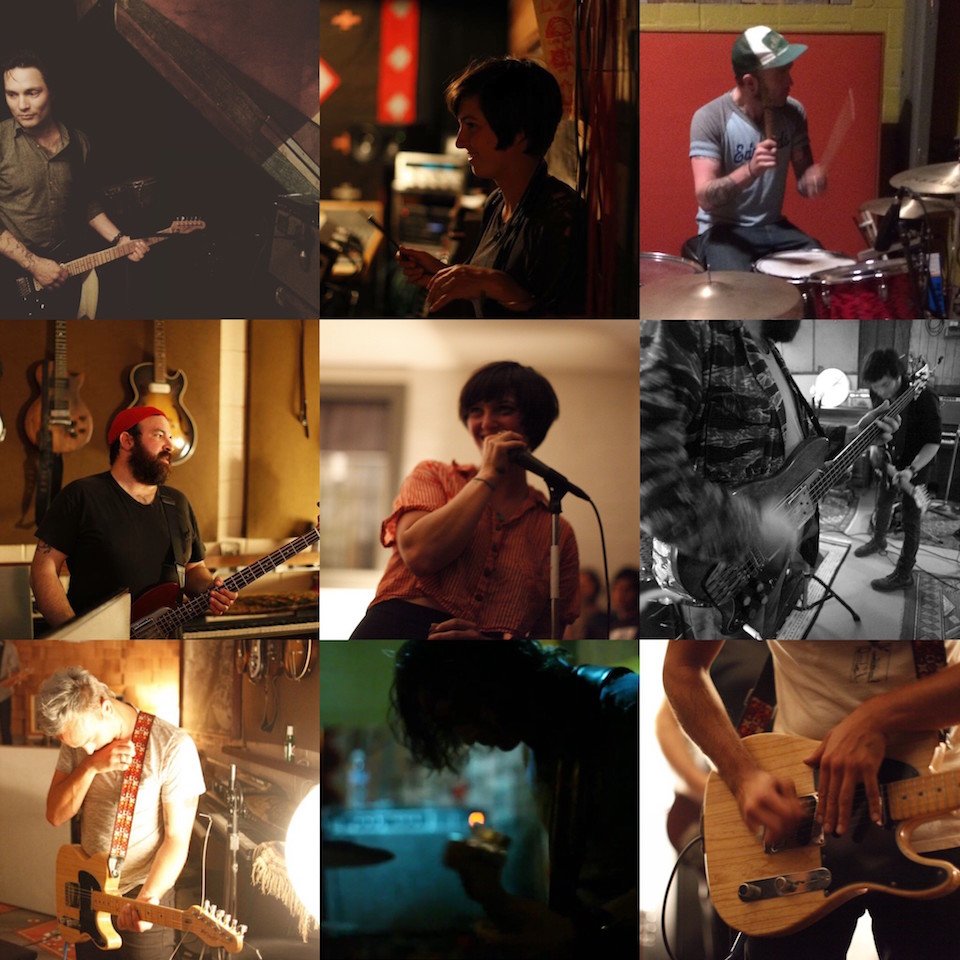 9. "POOL ON A PLATE"
Aurora: The tail end of practicing another song, out came some glint of this song. I think it just got untangled as we were maybe waiting for others to tune or something and just started building itself, composed simmered and sautéed. At the time I was also taking aqua aerobics classes at night after work with a friend, at the downtown Oakland YMCA with an incredible teacher. He played a full range of music—from a soundtrack mix (The Good, The Bad and The Ugly, Ghostbusters, Rocky, Blondie's "Call Me") to Aretha Franklin, 2 Chainz and other Oakland Top 40 tunes—and brought a light to this space that awakened people in a way that is rare and beautiful. His positive light turned these over and underweight octogenarians into teens again; and the mix of ages, backgrounds, ethnicities, abilities, orientations, etc. were dissolved while we were all in this Olympic-sized pot of water. There we were: noodles. Laughing, flailing, singing, cheering each other on, and being wacky together. The lyrics came out of this experience paired with the sudden shift I felt after walking out of the gym and getting cat-called during my bike rides home. After such a freeing out-of-mind/body trip in a pool, on a plate, similar to naked:nude.
10. "CLOCK SUPPORT"
Christopher: Another 100-percent improvised studio outtake. Had some two-inch left on the reel. The engineer Jonah said go, so we did. Aurora did her vocals after the fact. I hear heavy DNA/Arto Lindsay vibes with the guitars.
11. "SILHOUETTE"
Aurora: These between songs came about as jams; I honestly think I pulled a book off the shelf for this one. Single take, wasn't sure what would come of this at the time. Which shape was yours?
12. "BARREL"
Josh: This is an older one. We were trying to come up with a new idea for a song. I sang a bass line to Christopher that was along the lines of the melody in "Barrel" and he just busted it out. Then I played the beat and the guitars all fell in line. It was very organic and quick. The vibe was inspired from when I was on tour drumming for Lycaon Pictus a few years prior. We had played at a place called Narwhal Arms in Providence with Killer Whales from Chicago. Their bass player uses a fretless bass and it was funky but with a punk rock sensibility. That kind of muddy funk sound with a Beefheart rhythm was the end result.
13. "PEEP HOLE"
Christopher: Built out of an organ, bass and drum recording, then the rest of the freaks took over. Always somehow felt perverse to me and might also somehow be the scariest track?
14. "TREPANNING"
Christopher: Mushrooms were kicking in.
15. "UNDO"
Christopher: Our shortest track on the album. Are you in or are you out? Gets to the point pretty quick. Urgent; not like Foreigner though, more like having my head caved in by the the influential Scissor Girls at the Fireside Bowl in Chicago as a youngster. Nice finish.