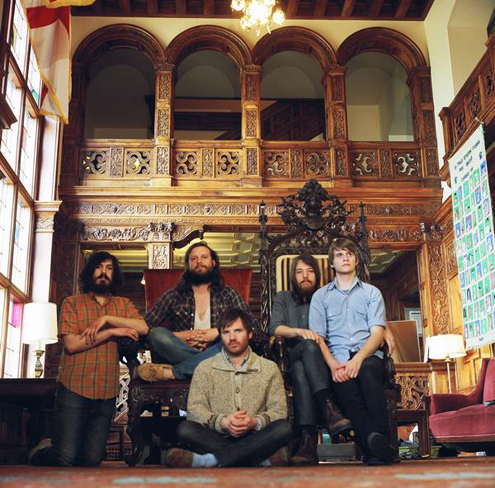 Wondering when MTV's gonna play music videos again? They certainly do on Subterranean, today's answer to 120 Minutes. Presenting the show's clip of the week, an s/t exclusive …
self-titled has restricted their previous Fleet Foxes coverage to encouraging you not to buy their album, so when they gave us a chance to blog about our video of the week we couldn't resist recommending the band's "White Winter Hymnal" music video. Over at MTV2 Subterranean we enjoy our Americana music, our My Morning Jacket albums, and sipping on a good light beer while playing some hacky sack. In all seriousness though, we are great fans of The Shins, MMJ, early Wilco, the late Graham Parsons and all that jazz so we find that Fleet Foxes naturally appeals to us.
The video for "White Winter Hymnal" was created by Grandchildren, which is the production name for one Sean Pecknold, the brother of Fleet Foxes vocalist/guitarist Robin Pecknold. He's done previous work in animation, including a lot of shorts that seem to stylistically bite on legendary indie rock director Christopher Mills (Modest Mouse, Interpol, Broken Social Scene).
Claymation is an unexpected medium for this video, but the basic premise of changing seasons and nature in general is a nice fit. While the lighting could have been better (night is perhaps too dark, daylight not light or long enough as the old clay man spins from night to day) the representation of sadness in the clay characters and an intense feeling representing the Pacific Northwest is spot on.